Sassari is located nine kilometers away from the coast, inside the Asinara Gulf, and is the fifth Italian city by broadness (546,08 km²). Its territory, a great combination of hills and a fertile plain slowly fading into the sea, has been a blessing and the main reason for this city's prosperity for several centuries now.
A lesser visited destination in Sardinia, Sassari is nevertheless an interesting city and if you happen to be roaming around the north of the island, you may add it to your itinerary and spend a few days exploring its surroundings too.
Curious to find out more? Continue reading!
A Brief History Of Sassari
The area was inhabited since prehistoric times, as the many menhirs, Domus de Janas and 150+ nuraghe show, and is also the location site of a very particular building: the altar of Monte d'Accoddi, an enormous pyramid-like sacred burial ground which was supposedly used until the end of the Bronze Age.
Sassari was constantly inhabited throughout the Nuragic and Roman eras but became a proper, autonomous city in the Middle Ages when the people residing in Porto Torres (back then called Turris Libisonis) left the coast to seek shelter from the Saracenic invasions. The first walls and defensive towers were built during this time, starting from 1294, after Sassari became a Genova ally.
Last capital city of the Giudicato di Arborea, the city became an Aragonese colony in 1420 and stayed as such until the Savoy family bought the whole of Sardinia in 1720. From then on, Sassari grew and became a rich, trade-oriented city like it was in the ancient times before the colonizers' greed and several plagues had weakened it, and proceeded to develop and follow the course of Sardinia's history, now as part of it and not longer as an independent entity.
Sassari has always been a city rich in turmoil, and uprisings, as well as cultural revolutions, have always been constant in this city: more than a governor has been shooed away by Sassari's fierce people, and more than a few artists have found their ideal working haven there. This has brought, throughout the centuries, constant, unstoppable changes in customs, ideals, art, and has made the city a place of innovation, for example with the foundation, in 1617, of the first Sardinian University.
This constant thirst for change and improvement is what made Sassari the rich city it is now, full of relics and buildings from every historic period and with various artistic influences. Finally, let's see all the places you shouldn't miss when visiting!
Make sure to read my post The History Of Sardinia.
What To See And Do In Sassari, Italy
I Candelieri Festival
Held yearly on the 14th of August, the Candelieri festival is reason enough to go to Sassari – it's been taking place each year for over 700 years!
It's a celebration in honor of Our Lady of the Assumption, known for having stopped three plagues that devastated the island. The core of the celebrations is the Descent of the Candelieri, during which the "Gremi" which are the nine worker guilds in Sardinia, walk throughout town carrying ornately decorated, enormous candles.
If you are traveling with children don't miss the descent of and for children!
Make sure to read my post The Most Famous Events And Festivals In Sardinia.
The Cavalcata Sarda
Held every year on the second to last Sunday in May, this festival is a celebration of beauty. People from all around the island head to Sassari to parade in traditional dresses and jewelry, and there also are people on horses, equestrian races and horseback acrobatics.
Attending is free but if you prefer sitting down, make sure to grab a ticket from TicketOk in Sassari – it costs €10.
Piazza Castello
This is the recommended starting point if you are having a walking tour of Sassari. It gets its name from the ancient Aragonese castle (Castello) that used to be there, built in the 14th century and demolished in 1877 because considered a symbol of oppression and slavery, as it belonged to the ancient Spanish colonizers and had been the site of the Spanish Inquisition Court in Sardinia.
You can still see a part of the old building that has been excavated and is now open to visits. The square has been the main meeting point in the city since the 1300s and is still loved and cherished by the citizens, as it represents the middle ground between the old Sassari and the new one, represented by Piazza Italia.
For a walking tour of Sassari, click here.
Piazza Italia
Located right outside the medieval fortifications and was one of the first urban innovations of the 19th century, when the defensive walls were demolished and the city expanded and partially rebuilt to accommodate more people and the new needs of modern society and industries.
On the square's center there's a statue of Vittorio Emanuele II, sculpted by Giuseppe Sartorio. Its inauguration ceremony was also the beginning of an important and typical event in Sassari: the Cavalcata Sarda.
This place is, like Piazza Castello, a hot meeting spot for locals and tourists and directly leads to two buildings considered to be symbols of the city: Palazzo Sciuti, now headquarters of the Provincial Government, which was originally the place where Kings and Queens visiting Sassari stayed; and Palazzo Giordano, a beautiful Gothic palace from 1878 which is now the main branch of a big bank chain.
If you keep walking from here, you'll find more important pieces of Sassari's art and history, its most beautiful churches.
San Nicola da Bari Cathedral
The church, commonly called Duomo, became a cathedral in 1441 but already existed as a paleo-Christian sacred area from earlier times. There's not much left from its first components, as it was rebuilt in the late 12th century, but you can still see some remains under the apsis.
This church is considered an architectonic gem, and despite it having a lot of styles piled up through time, many say that it would look ugly and incomplete if it were to miss a single detail. Being the most important church in town, it surely won't leave you disappointed after visiting!
Santa Maria di Betlem Church
This is another beautiful church. Despite its humble outside appearance, its Romanic façade hides a splendid, sumptuous Gothic inner structure, rich in relics and decorations as it was custom during those times. Its symbol, the statue of Madonna di Betlem (or Della Rosa) is made of polychrome wood and its beauty is granted to leave you gobsmacked.
Fontana di Rosello
After visiting these two important religious monuments, why not look for a quiet place to take a rest?
Unanimously considered Sassari's symbol, this beautiful fountain is located next to the homonymous hill and bridge, and was built to symbolize the endless flowing of time, represented by its twelve mouths (the months in a year) and four statues (the seasons).
The monument was seen as a great innovation in concept and style at the time it was built (the beginning of the 17th century) and has been admired by artists and commoners since. Of the four statues, the only original one left is stored in Palazzo Ducale; the other three were destroyed during an uprising: this means all four statues at the fountain are copies, but nevertheless stunning.
Giardini Pubblici
Sassari's public gardens are located in the city center and are about 2900 square meters wide. They were first built around 1870 and now count three separate areas. The first one, between Via Tavolara and Viale Italia, is surrounded by an enclosure and is the only area with kid-friendly spots.
The second area, between Via Tavolara and Via Coppino, is the broadest and hosts a collection of trees, both indigenous and foreign, and two stunning fountains. The third and last area is located between Via Manno and Viale Italia and is mainly used as a rest area by the urban subway users.
Emiciclo Garibaldi
This walking route is famous for its numerous shops and cafes, where you can take a rest after – or in between – your touristy activities. When it was planned (after Italy's unification), the architect in charge had thought of building a big, round square where people could meet and enjoy some time together, but the project was never brought to full conclusion and the round-to-be square remained the semi-circular place you can see nowadays.
Museo Nazionale Sanna
Founded in 1931 and originally just a private artworks collection owned by the Sardinian deputy Giovanni Antonio Sanna, this is one of the best museums in Sardinia. After some renovations and the addition of more items, coming from both private collections and public excavations, the museum now counts seven rooms in which the artworks are accurately displayed and cataloged by age and era. It's a must-visit place for every lover of Sardinian history and art.
Food tour!
Italian food is very regional, and regional food gets even more local. To get a proper taste of all local delicacies, why don't you consider joining a guided tour? Tours will typically go to the market and include several tastings or have a full meal at the end.
For a market tour of Sassari with a meal at the end, click here.
For a street food tour of Sassari, click here.
There is much more to do and see in Sassari, and it would be impossible to give you a full list… but now, how about getting to know something you can see and do in Sassari's vicinity?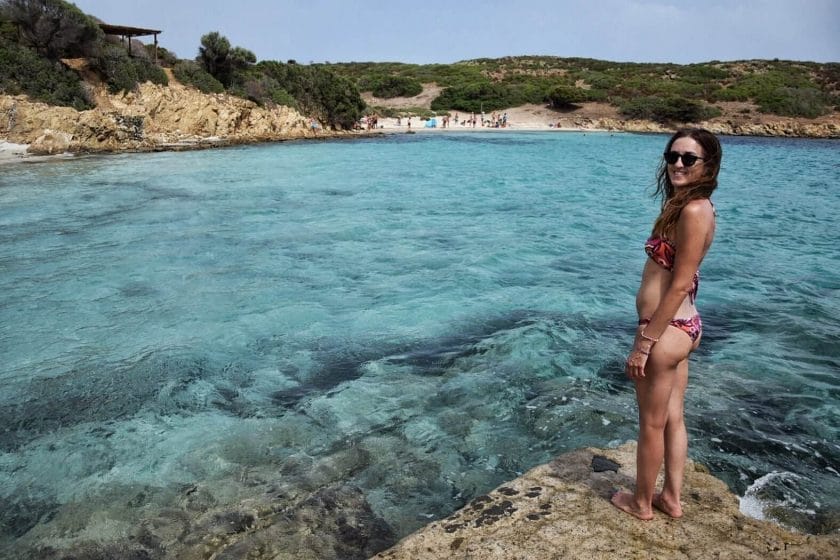 Asinara Island
Since Sassari is located right in the middle of the Asinara Gulf, it would be a pity not to visit this unique island. You probably already know its symbol, the white donkeys that made this island famous, but did you know there is much more to see?
The Asinara island has been inhabited since ancient times, and its prison has been the place where a lot of highly dangerous criminals were locked, because of the island and sea conformation that made escape almost impossible.
If you choose to invest a day to visit, you will meet more than a kind guide who will tell you all about anything Asinara related. It is definitely worth your time, and I highly recommend you make a plan to go there! If you're not a fan of Sardinian fauna or high-security-jail-related stories, there's still plenty of peaceful beaches to sunbathe at.
For a guided tour of Asinara Island, click here.
Make sure to read my post The Ultimate Guide To Asinara Island.
La Pelosa Beach
Speaking of beaches, you can't miss out on the Stintino area and its most famous beach, La Pelosa.
Often considered one of the most beautiful beaches in Europe, and sometimes even in the whole world, La Pelosa is a tropical heaven-like kind of beach with crystal clear water and soft, pale sand. My only recommendation is to get there a bit early since it's a very popular place and it tends to get crowded over the day.
Check out my posts A Short Guide To Stintino and A Quick Guide To La Pelosa.
Alghero
If you're staying in Sardinia long enough, don't miss out on the chance to visit Alghero. It is also known as the "Sardinian Barcelona" because of the peculiar Catalan influence which still permeates the city, to the point that its inhabitants speak Catalan and celebrate religious rites that are almost identical to the ones held in Barcelona. It's a city to fall in love with, unique and incredibly charming.
Check out my post A Complete Guide To Alghero.
Castelsardo
Another place you shouldn't miss out on is Castelsardo. This village was founded by the Genoese Doria family and takes its name from the castle (castello) that overlooks it. It is especially famous for the rites held during Holy Week and, of course, for its stunning beaches. There is also a very particular museum you shouldn't miss: the Museo dell'Intreccio Mediterraneo.
Find more about Castelsardo here.
Basilica di Saccargia
If you're looking for some attractions closer to Sassari, consider going to the Basilica di Saccargia church. Located in the nearby Codrongianos village, it was firstly completed in 1116, on the pre-existing ruins of a monastery, thanks to the financial support of Costantino I di Torres who, after visiting another monastery, praying the Virgin Mary for a son and having his wish granted, decided to repay the monks by gifting them a new church and a place to live and pray.
The church was built in a Romanic-Pisan style and is considered one of the most stunning churches on the island; its silhouette, even from afar, is indeed a breathtaking sight.
Make sure to read my post The Most Beautiful Churches In Sardinia.
Monte d'Accoddi Altar
This is a structure that can only be found here in Sardinia and nowhere else in Europe, and is considered quite a mysterious building by archaeologists. Its shape recalls a Mesopotamia ziggurat, and it was certainly used as a sacred temple or altar.
Historians date its building back to before the Nuragic era and are unsure about who, how, and why it was built, especially because there's no other similar ruin to refer to in the area. Many speculate that it was built by a Sumerian priest who was exiled in Sardinia.
Villa Piercy
A bit more distant from Sassari (about 80 kilometers) Villa Piercy is well worth the drive. It was built at the end of the 19th century by the British nobleman Benjamin Piercy, who was in charge of supervising the railroad's building work. This was his family's private mansion and he often used to host parties where the most influential people of the times were invited. The manor has a wide and impressive garden in which you can admire a lot of exotic plants.
Make sure to read my post A Guide To Visiting Villa Piercy.
So, are you curious yet? Time to start planning your trip to Sassari!
Further Readings
Make sure to check out my other posts:
Pin It For Later!