La Pelosa is one of the most beautiful and most photographed beaches in Sardinia. At its northwestern tip, this small beach with beautiful, fine sand and shallow, transparent waters is and a favorite spot for locals and tourists alike, and it's easy to see why: it is incredibly scenic, and its conformation makes it a perfect spot to relax on a hot summer day.
The beach popularity caused it a lot of damage in the last couple of decades, with its surface receding. So, in an attempt to protect it, local authorities have implemented a set of rules which include the need to book your visit in advance. But this is just one of the things you need to know before going.
Continue reading to discover everything you need to know about La Pelosa, how to plan your visit and how to make the most of it.
Everything You Need To Know About La Pelosa Beach
La Pelosa Beach
La Pelosa is a small beach of just about 300 meters – and no more than 60 meters wide. It's located on the northwestern tip of Sardinia, facing Isola Piana, which is at about 600 meters from it, and – even further north, Asinara Island, one of Sardinia's National Parks.
As it is quite exposed to the wind, this beach is a perfect place to practice water sports such as windsurfing, kite surfing and sailing.
But when the wind is not blowing, you will definitely think you have landed in paradise: the tranquil waters are ideal for stand up paddle boarding (SUP), snorkeling, swimming and kayaking.
And if you want to observe marine life, you will find two diving centers (Asinara Diving Center and Roccaruja Diving Center) where you can sign up for diving expeditions to Asinara Island and Capo Falcone. 
Check out my post A Complete Guide To Diving In Sardinia.
The beach is equipped with anything you may need for the day. You will find a couple of kiosks serving quick meals, snacks, gelato and all sorts of drinks and where you can reach all sorts of beach equipment such as umbrellas, sun beds and even kayaks and pedalos.
If you wish to secure an umbrella and sun beds you really need to call in advance. +39 336-817234 is the number for Cooperativa Golfo dell'Asinara. Reservations are only available for the entire day (no half-day bookings, unfortunately) and quite pricey.
The Aragonese Tower
Much like in other beaches in Sardinia, La Pelosa has its very own Aragonese watchtower, known as La Pelosa Tower, which was built for defensive purposes in 1578 and stands 6 meters tall in a private islet north of the beach.
You can't visit the tower inside, but you can definitely swim or walk there to admire the views.
La Pelosa Tickets
In order to access La Pelosa beach between June and September you will have to make reservations via a local app or the website of La Pelosa Stintino. Tickets are €3.50 and you are allowed to book for up to 8 visitors.
Keep in mind that the beach gets fully booked in the peak months of July and August so if that's when you intend to visit, make sure to book well ahead!
La Pelosa Stintino App only works between June and September, when access to the beach is limited, so don't be surprised if you try to book a spot at the beginning of May or in October and the site appears to be down. You may wish to call or send a whatsapp message to +393773158887 to double check if that's the case.
Important rules of behavior for La Pelosa Beach
La Pelosa is a highly protected beach and in order to preserve its beauty all visitors are asked to observe a basic set of rules of behavior. Here they are:
Bring a straw mat and lay your towel down on top if it – this is done to avoid bringing sand away from the beach. Rangers will be walking around the beach to make sure you have a straw mat and if not, you may get a fine. Don't have a mat? They sell them for a small fee at the info center where you need to validate your ticket.
Smoke in designated areas only. Again, you may get a fine if you are caught smoking outside of designated areas.
Once leaving, make sure to rinse your feet in one of the many public fountains scattered along the beach.
Don't take shells, stones or sand from the beach – this rule is actually valid for all beaches in Sardinia. If you are caught with it, you will be subjected to a fine. Read more about it here.
Unfortunately, dogs aren't allowed at La Pelosa – so leave your furry friends at home the day you visit.
There are trash cans at the beach, so you really have no excuse to abandon your trash!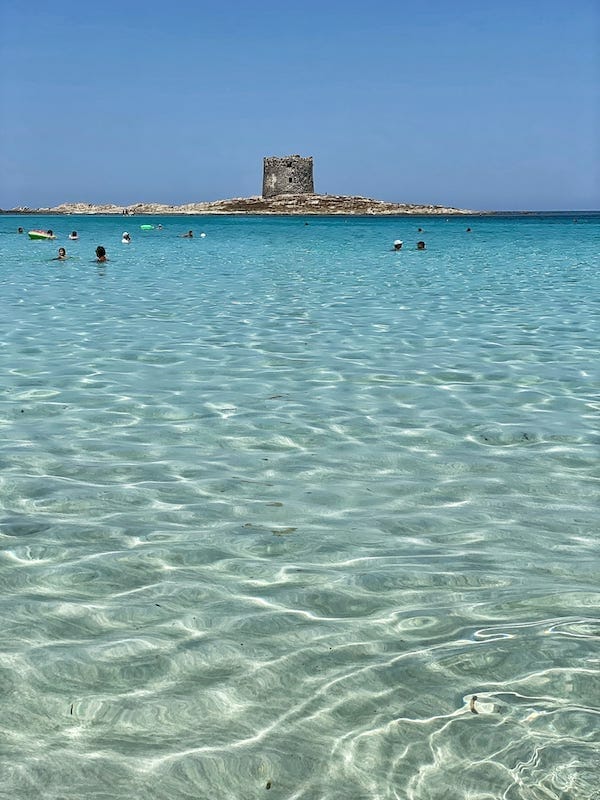 Boat tours
There actually aren't regular day-time boat tours of La Pelosa, but many tours that go to Asinara Island will pass close to La Pelosa on the way, and there are some sunset tours that on the other hand go directly to La Pelosa.
To book your sunset boat tour to La Pelosa, click here.
How to get to La Pelosa
La Pelosa is located in Capo Falcone, at just 2 kilometers from Stintino, one of Sardinia's prettiest small towns in the province of Sassari, founded in 1885 when 45 families moved there from the island of Asinara.
If you are staying in the village, you can easily get to the beach by public bus. Alternatively, the easiest way to get there is by car. Keep in mind that the parking fee is actually quite expensive (€2 per hour and up to €20 for the whole day).
Other nearby beaches
The surroundings of Stintino are actually packed with many beautiful beaches, so if you were unable to reserve your spot at La Pelosa, you can still linger in the area. Ezzi Mannu, Le Saline and Pazzona all offer beautiful shallow waters and fine sand mixed with tiny white pebbles.
Closer to La Pelosa, La Pelosetta beach, to its north, and Punta Negra and Tamerici, to its south, are other lovely spots.
Where to stay to easily access La Pelosa
You won't have shortage of good accommodation options near La Pelosa. You can opt to stay in the village for best access to restaurants and bars, or right by the beach if you just want to be able to walk there. Here are a few good places:
B&B MARE DI FUORI – Modern, comfortable rooms make this one of the best places to stay in the area. Some even have a jacuzzi. It's great value for money.
CALA SANT'ANDREA APARTMENT – This large apartment is perfect if you are traveling with a group of friends or for a family with children. It's fully equipped for a comfortable stay.
Make sure to also read my post The Best Hotels In Stintino.
Further Readings
Are you planning a trip to Sardinia? Make sure to check out my other posts:
Pin It For Later!