Among the numerous beautiful beaches of Caprera, in La Maddalena National Park, Cala Napoletana, located on the northern of the island, is certainly one of my favorites because it is completely surrounded by vegetation and beautifully isolated.
This is one of the most spectacular postcard sceneries of La Maddalena Archipelago: wait for the peak hours of the day to take the perfect shot, when the sun is high, there are no shadows and the colors of the sea and sand are bright and brilliant.
If you are planning a trip to La Maddalena Archipelago and would like to get to know this beach, continue reading this post as I will explain how to get there and what you can expect during your visit.
For more beaches and things to do in Caprera, head over to my post A Guide To Caprera Island, Sardinia: 8 Best Beaches And More.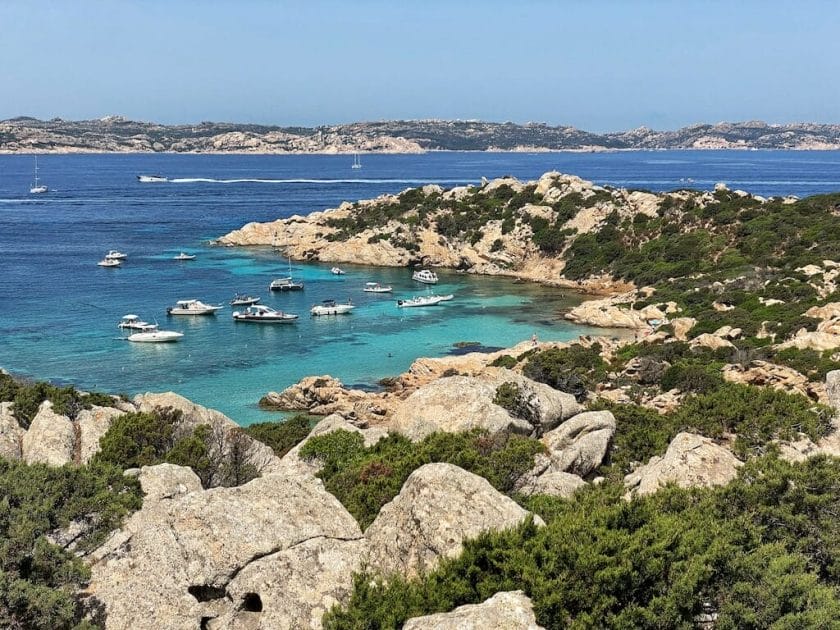 General Information About Cala Napoletana
Cala Napoletana beach is actually made of two beaches, one next to each other and separated by large granite boulders. Both beaches have very fine white sand and are surrounded by the Mediterranean scrub and amber-colored granite rocks.
The sea at Cala Napoletana is incredibly beautiful thanks to its unique transparency and to its bright turquoise tones, and shallow, sandy seabed where you can observe lots of marine life.
Especially on the sides of the beach, closer to the rock formations, you can snorkel and observe lots of fishes.
Both beaches at Cala Napoletana are well sheltered from the wind, so it's an ideal place to go on a windy day – though make sure to check out the direction of the wind and keep in mind the beach faces west.
The only element of this earthly paradise that might bring you back down to earth is that, most of the time, Cala Napoletana gets quite crowded. Despite not having a nearby parking lot (you can only get there on a hike or by boat) that makes the beach easily accessible, its beauty attracts many people.
Let me however stress that unless you arrive very early in the morning, it might be difficult to find enough room to place your umbrella and lay down your towel. I recommend keeping your eyes open and waiting before taking photos and going for a swim, in case somebody leaves and you can take their spot.
There are no facilities at Cala Napoletana, so bring whatever you need for your time there: water, food, sunscreen, towels and a beach umbrella for shade.
Wild boars in Cala Napoletana and the nearby beaches
Cala Napoletana and the coves near it are frequented not only by humans but by animals too.
Let me explain: a wild boar lives next to the beach, considering it as its home. Therefore, if you take food with you, keep it somewhere that is not easily accessible: the boar is not shy, in fact it is used to people, it is fast and very strong (not aggressive, but hungry).
Once it bites a backpack, consider it lost.
Don't get too close to it, even though the boar is likely to get close to you, especially if it smells something tasty. Please don't shout if it passes by you: if frightened it could hurt, usually actually unintentionally.
How To Get To Cala Napoletana
You can reach Cala Napoletana by sea, or, preferably, on foot through picturesque paths: a short one and a longer one. Along the long one you can admire more beaches.
Since I actually hiked to Cala Napoletana (both the short trail and the long one) in this post I will explain how to get there on foot.
If you do not wish to walk but would rather go by boat, keep in mind that group tours of La Maddalena Archipelago don't stop at Cala Napoletana. You'd either have to rent a small zodiac or find a private tour where you can decide on the itinerary.
Short trail to Cala Napoletana
The short trail to Cala Napoletana is about 2 km (1.2 miles) long and starts from the Giuseppe Garibaldi Memorial – Arbuticci Fort, a museum that is entirely dedicated to the Italian national hero.
From La Maddalena, you will have to make your way to Caprera and then follow the road signs to the Garibaldi Memorial and Arbuticci parking lot – that's where you can park your car or bike. To be clear, the Arbuticci parking lot is at the very end of the road and you will find a kiosk there that serves gourmet sandwiches and drinks. You can park on the side of the road if needed.
The trail starts right behind the kiosk and it's easy to follow – there are some signs along the way too.
At the crossroads, next to the fortification, take the northernmost path. The trail goes downhill through the Mediterranean scrub, passes through a grove of holm oaks, and then again into the Mediterranean scrub among plants of myrtle, helichrysum and heather.
As the vegetation thins out, turn left at the crossroad toward Cala Napoletana and continue downhill until you reach some ruins. This is a lookout point. Have a break here to enjoy the breath-taking views: you can see the Strait of Bonifacio (which separates Sardinia from Corsica) and the islands of Budelli, Razzoli and Santa Maria.
The walk continues on granite rocks, until you catch a glimpse of the intense turquoise sea of Cala Napoletana. Keep walking till you reach the beach. To go back, you will have to follow the same trail – this time, uphill.
It should take you around 20 to 30 minutes to walk down to Cala Napoletana from the Arbuticci parking lot (one way) though much of it depends on your pace and how often you stop.
Long trail to Cala Napoletana
The long loop trail starts from Cala Garibaldi parking lot and goes through 5 beautiful beaches. Plan to spend the whole day away so you can stop at beaches for snorkeling, enjoy the walk in the scrub and take lots of photos.
I recommend wearing a hat to shield your head from the sun, bring lots of water and food because there are no kiosks at any of the beaches. Apart from water, food, sunscreen and a beach towel, try to walk as light as you can.
To get to the trailhead from La Maddalena, where you will be sleeping, follow the road signs, drive past the bridge connecting Caprera to La Maddalena, and turn left at the first intersection.
Then continue on the dirt road until you reach the parking lot where you can leave your car or bike. If you are unsure about these directions, can easily get to Cala Garibaldi by following your GPS.
The total walking time to get to Cala Napoletana from Cala Garibaldi is approximately 1.5 hours one way. The walking time however is average – the time you actually take to get from one beach to the other will depend on your pace and how often you stop for views or to catch your breath.
First stop: Cala Garibaldi
The parking lot is next to the beach, so the first stop on the route is obviously Cala Garibaldi. Here you will find fine golden sand, crystal-clear turquoise sea surrounded by rocks and Mediterranean scrub.
Because of its shallow seabed and accessibility by car this beach is suitable for families with children and can get quite crowded.
The small, shabby pier that you see here was used by Garibaldi to dock his boats. In the pine forest on the left you can see wooden bungalows that belong to a small holiday resort that was very popular in the 1970s and 1980s.
Ten years ago, it was abandoned and now it is in a state of despair. Unfortunately for safety reasons, due to the presence of crumbling buildings, the pine forest is not accessible to visitors.
Second stop: Cala Serena
The trail to Cala Serena starts just behind Garibaldi beach, towards the north. Follow the path in the scrub for about 20 minutes until you reach Cala Serena.
This little cove won me over: there were very few people and I enjoyed it as if it were a private beach. Cala Serena has very fine white sand contrasting with a crystal-clear turquoise sea and the green Mediterranean scrub behind it.
Let me know if you could resist the beauty of this sea and not have a refreshing swim. If you want to see a memorable sunset, I recommend coming back in the evening or taking this route to walk back to your car or bike.
Let me remind you that this beach also has no services.
Third stop: Cala Faldarini
Once you have filled your eyes with the wonderful landscape Cala Serena and taken your best shots, continue north on the path through the vegetation for about thirty minutes until you reach Cala Faldarini.
Cala Faldarini is even smaller than Cala Serena. It has fine, grey / golden sand and crystal-clear sea. Rest for a bit and cool down with a swim before staring to walk again, still heading north for about 20 minutes.
Forth stop: Cala Caprarese
To get to Cala Caprarese you need to pass through a steep path between the rocks. Since it is not easily accessible and there is a small pond and no obvious access, it remains one of the least frequented beaches even in high season and one of the wildest on the island.
Only the more adventurous come this far and are rewarded by its beauty: a tiny beach with fine sand and a clear turquoise sea surrounded on either side by granite rocks.
Unfortunately, the first time I visited I was not that lucky; in fact, a swell had brought in lots of seaweed that covered the sandy shore and the initial part of the shoreline. If you want to avoid any disappointment, ask the people you meet on the trail or locals about it and in case continue to Cala Napoletana.
When I visited the second time, the beach was really at its best: pristine clean as you can see in the photo above, and my friends and I were the only people at the beach!
Final stop: Cala Napoletana
From Cala Caprarese, the trail continues north. Follow it and in about 15 minutes you'll reach Cala Napoletana. The turquoise sections of the sea that open in front of your eyes as you walk will make the route very pleasant and give you the energy for the last effort of the hike.
An extra stop: Cala Crucitta
There is another beach nearby that deserves to be seen: Cala Crucitta. If you don't want to miss it, from Cala Napoletana continue walking north. You can then return directly from here to Cala Garibaldi.
Cala Crucitta has a crescent shape, golden sand and the sea has spectacular colors – from the turquoise of the shore to the deep blue offshore.
This beach is wild and suitable for snorkeling thanks to the variety of marine life. This small paradise can sometimes be spoiled by the arrival of boats that get very close to the shore despite the rules that say they shouldn't.
Way back
The way back goes through the Mediterranean scrub and heads south. It is about 4.5 kilometers (2.5 miles) and takes about an hour and a half to reach Cala Garibaldi, so don't leave the beach too late in the evening otherwise you may end up walking in the dark.
Bring a flashlight in case you want to stay at the beach until sunset, but I personally would avoid walk in the dark because of wild boars. They usually do not attack humans but, if they have cubs or are disturbed, they can turn out to be not so friendly!
It is very likely that near the souvenir shop next to Garibaldi's house, you will come across a family of wild boars: they live in the area and are often curious of people. Please not to feed them and don't get too close. They are wild animals and might hurt you even unintentionally with their tail.
General info about the long trail
The total length of the trail is about 9 km (5.5 miles) with very little the elevation gain. However the heat, especially during peak hours of the summer, can make the hike challenging. For this reason, I recommend starting to walk early in the morning and returning in the late afternoon.
The trail is marked but it is not always clear which way is the shortest. My friends and I had to turn back for small sections. Don't get frustrated if this happens to you: the beaches make the hike really rewarding!
To avoid missing the trail, try to always look for signs on the rock or along the trail. If you have a compass on your phone, always follow north to reach Cala Napoletana and south to return. Don't worry, you won't get lost: you will see plenty of other people on the way.
There are viewpoints that make the walk impressive as well as the vegetation and its scents.
If you prefer you can do the route the other way around, starting at Cala Napoletana or Cala Crucitta and ending at Cala Garibaldi. The hike can be done in every season.
Simple Rules To Follow In Cala Napoletana
I'm sure you'll love the beauty and the nature of Cala Napoletana. To keep this and the other tiny coves of Caprera as magical as they currently are, please follow a few simple rules to help protect their delicate ecosystem (and to avoid a fine):
DO NOT STEAL SAND – Yep, that is actually forbidden in Sardinia – whether in Cala Napoletana or in any other beach. If you are caught with it, sand will be confiscated and you will receive a fine (and trust me, police officers at customs and security in airports and harbors search for that specifically!). The same applies to pebbles and shells. Care to know more? Read my post What's The Deal With Sardinia Sand Theft?
LEAVE MARINE LIFE ALONE – Unless you are on a fishing expedition, it is also forbidden to catch (and even simply touch) fish. Do not take marine stars or jelly fish out of the water. Jelly fish may sting, but they are actually protected as they do help keep the delicate sea environment.
DO NOT HARASS OR FEED ANIMALS – As mentioned throughout this post, the beaches of Caprera, including Cala Napoletana, are frequented by goats and boars. This is their natural environment – keep a safe distance from them and do not feed them for the sake of a photo. Human food is bad for them!
PICK UP AFTER YOURSELF – There are no trash cans in Cala Napoletana. Bring a bad with you and take any trash you may have and dispose of it once back. Any waste, and especially plastic waste, harms the environment and takes years to get decomposed. Remember we do separate and recycle in Sardinia.
DO NOT LEAVE CIGARETTE BUTTS IN THE SAND – Smoking is unhealthy and you really should not do it. As a non-smoker I can tell you that we do smell cigarettes from a distance, even when outside, and yes it bothers us. Until the day smoking is entirely forbidden in Sardinian beaches (that's already the case in some such as La Pelosa, in Stintino) do your bit and do not leave cigarette butts in the sand.
Further Readings
These other posts will help you plan your visit of La Maddalena Archipelago:
Pin It For Later!