If you are traveling to Sardinia, you have the option to fly into three different cities – Cagliari, the capital at the south of the island; Olbia, the capital of Costa Smeralda at the northeast of the island; and Alghero, which is on the northwestern coast of Sardinia.
If you are flying to Cagliari and looking to spend a few days in the city, you will need to make your way from Cagliari airport (known as Aeroporto Cagliari Elmas, officially called Mario Mameli Airport, airport code CAG) and located at the outskirts of Cagliari, closer to a small town called Elmas, to the city center.
Let's see the options you are given for this short but necessary trip, which are plenty.
Make sure to also read my post Which Are The Airports In Sardinia?
How To Get From Cagliari Airport To The City Center
By Train
The easiest way to get from Cagliari Airport to the city center is by train. There is approximately one every 20 minutes, starting at 5:00 am until 9:00 pm. The station is only 300 meters away from the airport – literally a 5 minutes walk.
Once you are out of the Arrivals terminal, just follow the signs "To the Trains" and you'll be there in no time. Tickets to Cagliari city center are €1,30 each and you can buy them at one the automatic vending machines inside the airport and the station, on the app (Trenitalia), online via the Omio app, and in some lotto and tobacco shops.
The trip from Aeroporto Cagliari Elmas to Cagliari central train station takes less than 10 minutes. The main train station in Cagliari is located close to the harbor between the historic districts of La Marina and Stampace, where most guest houses, bed and breakfast and apartment rentals are located. Both areas are within easy walking distance from the train station.
To get your train tickets via the Omio app, click here.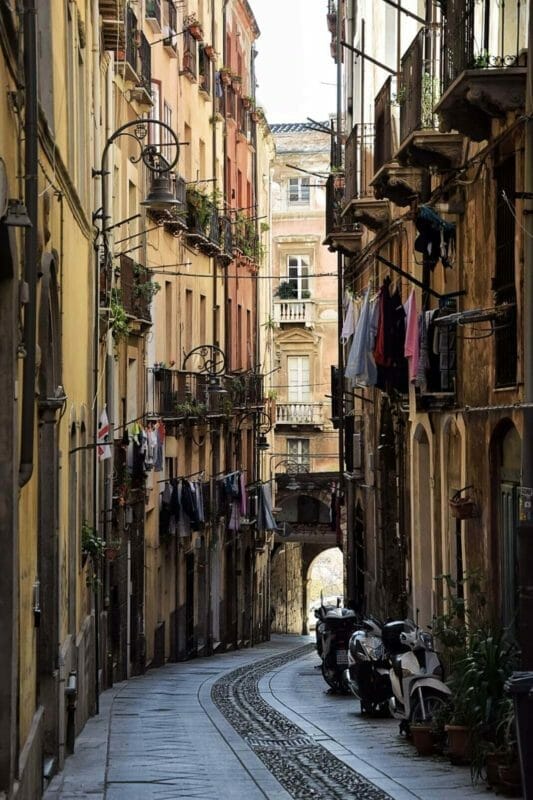 By Public Bus
There aren't many public bus options from the Aeroporto Cagliari Elmas to Cagliari city center. The bus serves as a supplementary service at those times the trains aren't running.
There is, in fact, a single route (line 160) at 11:45 pm, serving passengers arriving with a late flight.
There are, moreover, other two buses departing during the day, line 501 leaves at 2:22 pm (leaving from the Arrivals terminal) and line 747 at 9:56 am (leaving from the Departures area).
Tickets are € 1.30.
Where to get off the bus in Cagliari
It depends on where exactly in the city you are going, but generally speaking, unless you already have your GPS set for your hotel, the best option is to get off at Cagliari Central Station, which is located in Piazza Matteotti – close to the train station, and between the historic districts of La Marina and Stampace. From there, you'll be able to hop on another bus to another area in the city, or walk to your accommodation.
By Taxi
Taxis are indeed the best way to move from and to the airport. Although the taxi service is quite pricier compared to public transportation, it is also way more comfortable. You will be picked up and brought anywhere you like to; your luggage will be taken care of (and you won't have the hassle of having to carry it up and down a train or a bus); you will share your ride with people you know and nobody else.
You will find taxis waiting for passengers right outside the Arrivals terminal, typically in a line where you will have to hop on the first one available. Official taxis in Cagliari, like in the rest of Italy, are white and will have a "taxi" sign on top. I have never experienced unofficial taxis waiting around the airport terminal for passengers, but if that happens to you just walk out and find an official taxi instead.
Taxis from the airport operate on a flat fee which varies depending on the area of town where you are directed, and on the time you are traveling.
A ride to the city center during the day costs €17. At night, the same ride will cost €20.
By Private Transfer
If there is a larger group traveling or you simply want to book your transfer from the airport ahead of time, you can do that online. Some hotels may be able to arrange a pick up for you. Alternatively, you can easily do it on sites such as Viator. The price of private transfers varies from company to company, and depends on the number of people and on the kind of car you are picking.
The most reliable booking site for airport transfers in Sardinia is AirportTransfer. They hire reliable local companies that have English speaking drivers and well-kept cars. The booking process is very easy and the website user friendly, and once you book you can able count on 24/7 customer service and free cancellation. They have very competitive prices too. You can book your private transfer from Cagliari Elmas Airport here.
You can also book your private transfer here or here.
By Car
Of course, if you're planning to stay in Cagliari and visit the city only, you can rely on public transportation. However, if you are planning a longer trip around Sardinia and want to visit the area, beaches, parks and so on, you are better off having a car.
So, what are the steps to get from Cagliari airport to the city center?
First of all, you'll need to rent a car.
Cagliari Elmas airport has plenty of rent-a-car offices and you'll surely find the best option for your trip. The offices are located partly on the corridor on the far left from the arrivals gate and partly outside the airport (just follow the signs, you'll effortlessly find yourself there). My recommendation is to book in advance and go to the office with your booking ready, to avoid last-minute problems and excessively high prices.
Check the prices of car rental in Sardinia here.
Once you have your car, Cagliari city center is only 8 km (5 miles) away from the airport. You can easily get there via SS 130. Mind the traffic, those roads are always busy!
Whatever means of transportation you choose for the short trip from Elmas to Cagliari, I hope you will enjoy your time there!
Further Readings
These other posts may come in handy when planning a trip to Sardinia:
Pin It For Later!