Cagliari nightlife is thriving.
If you're planning a trip to Sardinia, there's a good chance you'll be visiting the capital city of Cagliari. And if you're visiting Cagliari, there's an even better chance that you'll be on the hunt for the best spot to enjoy a drink. If you're craving the best cocktails, beer, and wine in the city, then look no further than my list here of the best bars in Cagliari.
Don't worry— I did the hard work and research for you, hopping from bar to bar to ensure you, dear reader, would get the best advice on the top bars for Cagliari nightlife. If you're looking for the hottest, trendiest, coolest bars in Cagliari, turn up the music and grab yourself a drink, because we're about to waltz our way through the Cagliari bar scene. Waltz or boogie? The choice is yours.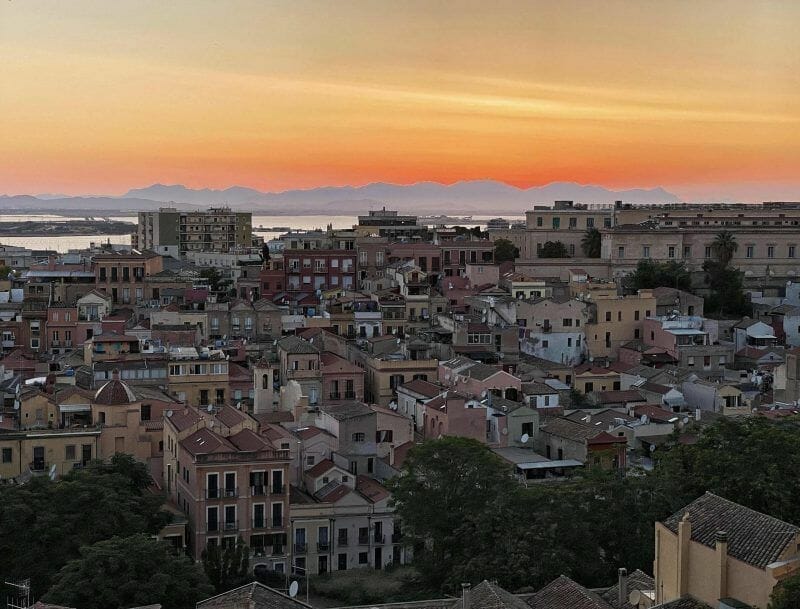 Cagliari Nightlife – A Guide To The Best Bars In Cagliari
Castello
Head over to my Instagram account and it won't take you long to realize that Castello is one of my favorite neighborhoods in town. Perched on top of a hill, it's a maze of narrow alleys, derelict buildings, churches, museums, art galleries. For the purpose of this post, you will be happy to know that it is also home to some of the best bars in Cagliari. Here are my favorite.
Caffé Libarium Nostrum
Get ready to soak up some incredible views as you sip on a swanky cocktail at the trendy Caffé Libarium Nostrum. You might be a fan of the location of this bar. Why is that, you ask? Because it's perched directly on top of the city's medieval ramparts, in the Castello quarters. That just kicked the cool factor of Caffé Libarium Nostrum up a few notches, didn't it? The terrace where you can enjoy a drink is just about the perfect location for sunset (I guess the photo above gives in a little!).
This bar also has a full-blown restaurant, so reserve a table ahead and enjoy the food, the drinks, and the views! Seriously though, I do recommend reserving a table ahead of time!
GOOD TO KNOW: Libarium makes the best cocktails in Cagliari.
PRACTICAL INFORMATION: Libarium is located in Via Santa Croce 33. It's open daily from 7:30 am to 2:00 am.
Caffé degli Spiriti
Perched atop Cagliari's bastion, Caffé degli Spiriti promises guests a tremendous view of the city below and for decades it's been one of the hotspots of Cagliari nightlife, especially in the summer. With cozy hammocks and private couches and daybeds with billowing drapes, Caffé degli Spiriti serves up fantastic cocktails in comfort, paired with a beautiful view.
If you're looking for the perfect bar in Cagliari to enjoy a tranquil evening on some comfortable furniture, all while enjoying the sea breeze and reasonably priced food and drinks— Caffé degli Spiriti is the place to be!
GOOD TO KNOW: It's not uncommon that DJs play live at weekends.
PRACTICAL INFORMATION: Caffé degli Spiriti is located in Via Torino 16 on the Bastione di Saint Remy. It is open daily from 10:00 am to 3:00 am.
De Candia
De Candia is a wine and spirits bar serving classic Italian drinks paired with delectable appetizers. There is a small, quaint outdoors area, as well as a cozy inside place. Expect retro music and a classic vibe.
The most random (and my absolute favorite) part of De Candia is that there is a small barbershop nestled into a nook in the back of the bar. So, if you happen to want a little haircut or a shave while the bartender is making the cocktail of your dreams, kill two birds with one stone at De Candia.
PRACTICAL INFORMATION: De Candia is located in Via Mario de Candia 3, in the Castello quarter. It is open from Monday to Saturday from 7:30 am, and closes at 9:30 pm during the week, save for Thursdays and Saturdays when it closes at 3:00 am.
Villanova
This is probably my favorite historical quarter in Cagliari. Much quieter compared to the three others, it's a neighborhood proper, with small local shops, little squares where kids still enjoy playing ball games; a couple of good restaurants and bars. I wouldn't say it is one of Cagliari nightlife hotspots, but I still recommend going there for a walk to check out what's open. Below are my favorite bars in the area.
Biffi American Bar
Ever wanted to feel like you've stumbled into a hidden gem so hidden that you have to ring a doorbell to be allowed entry? You'll feel like you're walking straight out of a James Bond movie when you visit the Biffi American Bar in Cagliari. There's not even an outdoor sign— it's just a plain doorway and unless you know it is there, you will think this is just an apartment building!
With red velvet booths and a menagerie of bottles crammed into every nook and cranny behind the wooden bar, Biffi American Bar is one for the books. Staff is also dressed in retro-style, and old-school polite.
Biffi American Bar does serve up delicious cocktails. They are quite expensive, but honestly the best in town. Their basil martini is a must-try. This bar, with its air of mystery, is quite the swanky experience for travelers. I seriously recommend going to Biffi American Bar for some of the best Cagliari nightlife – and I mean seriously!
PRACTICAL INFORMATION: Biffi is located in Via San Giovanni 6. It opens daily from 10:30 pm to 3:00 am – so it is quite the place for night owls.
Florio
In Italy we use the word "bar" to refer to a place where you can get hot or cold drinks, spirits, wine and beer, some light meals – and which is open from the morning until late evening. This is what Florio is. You will find inside seating, but I honestly recommend sitting on one of the outdoor tables, for they face one of the cutest squares in the city. I wouldn't say they make the best cocktails in town, but the atmosphere is as local as it gets, so make sure to visit!
PRACTICAL INFORMATION: Florio is located in Via San Domenico 90, in one of the city's nicest squares. It is open daily from 10:00 am to 1:00 pm.
Stampace
This part of town isn't just very charming – home to some of the most beautiful churches, narrow streets, colorful buildings; it is also one of the best areas to go for Cagliari nightlife, and one of my favorite. Below are my top choices for bars in the area.
Il Merlo Parlante
Il Merlo Parlante is one of the most popular bars in Cagliari. It's been there forever – I honestly can't remember a time when it was not around. It is an international pub serving dinner – mostly delicious sandwiches, and drinks— that definitely includes the late-night fare! There's also a fantastic ale selection, especially IPAs, but I recommend the chocolate stout. Il Merlo Parlante is a laid-back and relaxed bar. There's no glitz or glam vibes to it. However, the vast selection of beers won't disappoint even the pickiest of beer drinkers!
Keep in mind that il Merlo Parlante is just Corso Vittorio Emanuele, one of Cagliari's main pedestrian streets; while it might be a little difficult to locate, it's worth not being surrounded by the hubbub of fellow tourists. Sometimes a low-key evening and a beer is exactly what the doctor ordered.
PRACTICAL INFORMATION: Il Merlo Parlante is located in Via Porto Scalas 69. It is open daily from 8:00 pm to 3:00 am.
Old Square Irish Pub
The Old Square Irish Pub in Cagliari isn't your typical Sardinian bar. It's a true blue Irish pub that serves fish and chips and giant burgers. The high roof, mezzanine floor, and outdoor seating area are huge bonuses!
While this pub isn't raucous and rowdy as you might imagine other Irish pubs are, it's the perfect spot to enjoy a good conversation and an ice-cold beer. There's also live music on the weekends.
Craving a Guinness? Head over to the Old Square Irish Pub!
PRACTICAL INFORMATION: Old Square is located in Corso Vittorio Emanuele II 44. It is open daily from 11:00 am to 2:00, and to 3:00 am on Fridays and Saturdays.
Inu Sardinian Wine Bar
Inu Sardinian Wine Bar is a stellar wine bar where you can sip traditional Sardinian wines while enjoying locally-crafted cheese, cured meats, and mind-blowingly delicious bruschetta. Enjoy the intense flavors of Sardinian wine and food while surrounding yourself in a warm atmosphere. It's the perfect spot for an aperitif, dinner, or a late-night drink or nibble!
Don't let your trip to Sardinia pass without a visit to the Inu Sardinian Wine Bar in Cagliari! It's a real local gem.
Make sure you read my post "A Guide To Sardinian Wines" so you know what to pick when visiting!
PRACTICAL INFORMATION: Inu Wine Bar is located in Via Sassari 50. It is open daily from 7:00 pm to 2:00 am, except Mondays when it closes at midnight. Reservations are recommended during the weekend.
La Marina
La Marina truly is the hotspot of Cagliari nightlife. If you have just one night in town and you want to see what it is all about, this is where you should go. It's an incredibly vibrant, multi-cultural neighborhood where sitting one next to the other you will find local restaurants and kebab shops; bars and vintage shops. Bar Barcelona is one of the most famous ones in town, but it attracts a younger audience of exchange students, so I am not a regular there. The ones below are my favorite.
Sabores Wine Bar
I have been to this bar last night. Come to think of it, I go there at least once a month. It's one of the best wine bars in Cagliari!
In the heart of Cagliari nightlife hotspot La Marina, Sabores Wine Bar is more than just a bar. It's a deli and little shop boasting a nice selection of wine, beer, and local products. Sabores definitely has a cozy and relaxed atmosphere, so if you're heading out in high-heels and a dress, this isn't the spot. But if you're looking for an exceptional meat and cheese board that's reasonably priced, paired with local Sardinian wine, this is a great spot to be!
Since Sabores Wine Bar is such a small spot, it can be very difficult to snag a table. Make sure to call ahead and make a reservation to guarantee your thirst will be slaked and your belly filled!
GOOD TO KNOW: Samuele, the lovely host, speaks very good English and will be up for a conversation. Definitely mention my name when visiting.
PRACTICAL INFORMATION: Sabores is located in Via Lodovico Baylle 6. It is open Mondays to Saturdays from 10:00 am to 3:00 pm and from 6:30 to 10:00 or 11:00 pm depending on the day.
Hop Corner
Hop Corner feels like a cave: it's dark, moody, and charming. When live bands grace Hop Corner, you'll love the acoustics. Bands range from bluesy music to David Bowie impersonators— you never know what to expect at Hop Corner!
The burgers are constantly raved about, and while I opted for the gnocchi, Hop Corner doesn't disappoint. With freshly baked bread (right there on the premises) plus a good range of beers in this ancient stone cellar of a bar, your night at Hop Corner will be one to remember.
PRACTICAL INFORMATION: Hop Corner is located in Via Principe Amedeo 14. It is open daily from 7:00 pm to 1:00 am. It closes at 2:00 am on Fridays and Saturdays.
Cagliari Center
Though Cagliari nightlife is honestly better in its historic quarters, the center of town with streets such as Viale Trieste, Via Dante etc is home to a few very good bars. I have my personal favorite.
Bier Keller
Bier Keller is a German bar and eatery in Cagliari. Expect large-portioned meals, crispy pretzels, and a wide selection of German beers – all at competitive prices. Concerts are held at Bier Keller regularly; if you're lucky, you might show up on the right night and get to sing along good live music. It's a pity the acoustic isn't great but the atmosphere definitely makes up for it. You may want to reserve in advance at weekends.
PRACTICAL INFORMATION: Bier Keller is located in Viale Trieste 14, not far from Corso Vittorio Emanuele.
Outside the city center
If you have a car, head out of the town center for more bars – some are actually among the best bars in Cagliari!
Il Birrificio
Modern and trendy, il Birrificio is not just a steakhouse, restaurant, and bar—it's also a brewery. If you love tasting artisanal beers, go to Il Birrificio on the double – and make it a double!
Don't let the word steakhouse scare you, my vegan and vegetarian friends, there are absolutely options for you as well.
Sample creative beers from the Poetto to the Biddanoa, or why not try the Pirri. I mean, when have you had the chance to sample beers like that? Nowhere? Then don't miss out on the opportunity and head on over there.
As one of the best breweries and bars in Cagliari, expect Il Birrificio to be packed; definitely book a table ahead, so you don't end up disappointed. With beers this good, you might even end up broken-hearted. Avoid the heartbreak and book ahead!
PRACTICAL INFORMATION: Il Birrificio is located in Via Newton 24. Don't let the outside fool you, as it's actually quite cozy inside. It is open Monday to Saturday from 8:00 pm to 2:00 am.
Cafè Etnico
This is one of my favorite bars in Cagliari, a place I love going to whenever I happen to be in the area.
With a pomegranate red interior and pin-striped flooring, this bar is a sight for sore eyes. And while the bamboo chairs might not be the peak of comfort, the vibes are worth it. Serving breakfast, lunch, dinner, and drinks, Cafè Etnico is more than just a bar. In fact, it's very popular for just stopping by for a quick cup of coffee and a croissant! With a wide variety of drinks, this is definitely a trendy bar in Cagliari to grab a delicious beverage at— no matter what time of day it is!
PRACTICAL INFORMATION: Café Etnico is located in Via Rockfeller 39. It is open Monday to Saturday from 7:00 am to 1:00 am. Make sure to book in advance for larger groups.
BFlat
When it comes to Cagliari nightlife, BFlat is hard to beat.
BFlat is one of Cagliari's best bars and live music venues. While it's billed as a jazz spot, you can absolutely expect a surprise when you show up. This club features live bands that cover the entire musical spectrum – from rock to pop to Latin!
Given the location, it very much is a local spot. Expect to see lots of people getting up on the dance floor and busting some moves for hours on end!
If you want to guarantee yourself a table, I recommend booking ahead of time. As I said, BFlat is a popular spot!
PRACTICAL INFORMATION: BFlat is located in Via del Pozzetto 9, in Quartiere del Sole.
Poetto Beach
Nothing beats a night out at Poetto Beach during the summer. As this still is very much part of town, you can get there by public transportation until late. Enjoy the beach during the day, and the bar scene at night. Make sure to go right before sunset as the views are incredible – I took the photo above myself a couple of weeks ago!
Le Palmette Beach Club
Le Palmette is one of the best bars in Cagliari along Poetto Beach. Once just a bare wooden kiosk, it evolved to become a more trendy place where you can now have a great selection of drinks and even a delicious seafood dinner. It's remained casual, but since Poetto is one of the main areas for Cagliari nightlife, you may want to book in advance.
PRACTICAL INFORMATION: Le Palmette is located at Prima Fermata, Lungomare Poetto. It is open Sunday to Wednesday from 8:00 am to 9:00 pm and Thursday to Saturday until 10:30 pm.
Emerson Beach Club
Another great bar along the beach, Emerson is a great place for a sunset drink. You will find anything ranging from a quick snack or light meal to a dinner proper, and a great drinks list, all in a classy setting. The views of the beach, the sea and Cagliari's Sella del Diavolo promontory are stunning.
PRACTICAL INFORMATION: Emerson is located at Quarta Fermata, Lungomare Poetto. It is open Monday to Wednesday from 8:00 am to 1:00 am, Thursdays and Sundays from 8:00 am to midnight, and Fridays and Saturdays from 8:00 am to 2:00 am.
Check out my post Everything You Need To Know About Poetto, Cagliari's Best Beach.
Final Thoughts Cagliari Nightlife
Whether you're looking for a pub n' grub or a delectable local beer in a swanky environment, Cagliari nightlife has an abundance of bars that seem too good to be true. If you want the best drink with the best vibes, consider heading to one of the aforementioned bars on my list! These tried and true favorites certainly won't leave you wanting more! Or maybe just one more drink…
If you've visited a bar that I missed or believe to be the best bar in Cagliari – let me know! I'd love to hear from you in the comments below.
Further readings about Cagliari and Sardinia
Make sure to read my other posts to plan your perfect Cagliari getaway!
Pin It For Later!