There are many great restaurants in Cagliari. If you are looking for authentic restaurants in Cagliari, where locals go, you are in the right place. I am a local and I have a thing for a good meal out!
If you are visiting Cagliari and think that tasting local dishes is part of the trip (one of the best if you ask me), you will be curious to learn about the best restaurants in Cagliari. I have tried them all, so the restaurants in Cagliari mentioned here truly are a local's recommendation, and 100% authentic!
Throughout Italy the culture of food and eating well and healthy is very widespread: we really care about what we are eating, where it comes from and how it is cooked. Each region has its own peculiarities, local products and traditional dishes and Sardinia makes no exception, considering it's an island and so isolated from the rest of the country.
We usually eat out to relax after a long working week and to meet friends. I've tried all these restaurants in Cagliari and I like each of them for several reasons: good food is obviously the first and most important but not it's not the only one.
I do pay attention to the service, the location and good value for money. The restaurants mentioned in this post are not cheap but, anyway, thanks to the quality and freshness of their products I think they are worth every cent.
Continue reading to discover the restaurants in Cagliari you really should not miss.
You will find this post contains almost no food photos. That's because I like eating and when dishes come to the table, I immediately start tasting rather than waste time taking photos!
You should also read my post 21 Best Restaurants In Sardinia – Recommended By A Local.
The Best Restaurants In Cagliari
Chiaroscuro di Marina Ravarotto
This small restaurant right on the quieter part of Corso Vittorio Emanuele II quickly became a favorite of mine. It serves dishes of the local tradition of inner Sardinia – you will find pani frattau and filindeu on the menu, as well as desserts such as sebadas. However, while respecting the tradition, all dishes have a more modern, interesting twist.
The menu changes seasonally, but if you have a chance try Marina's version of the campidanese sauce – she uses it as the filling for her ravioli, and trust me they are delicious! There is an extensive wine list and the sommelier will help you pair your meal with a fabulous wine.
The atmosphere at this small restaurant is relaxing, sophisticated yet friendly. Service is attentive but never too formal. Considering the quality of the food, prices are reasonable.
You will find Chiaroscuro in Corso Vittorio Emanuele II 380, in the lively Stampace District. It is open for lunch from Thursday to Sunday, from 12:30 to 3:00 pm, and for dinner from Tuesday to Saturday from 8:00 to 11:00 pm. Reservations are recommended and can be done via the app The Fork.
La Paillote
This is by far my favorite summer restaurant in Cagliari – I celebrate my birthday there every summer. It's perfect for a special occasion and for a romantic night – plan to be there in time for sunset to grab a drink, and then sit for dinner and expect a fantastic culinary experience.
The menu changes on a regular basis to reflect what's seasonal and to give way to the chef's creativity. You will find dishes that combine local ingredients with exotic ones to create the most unique flavors. Ceviche, tartare, pasta and fish dishes – everything is worth trying.
A sommelier will be there to help you pick the best wine to pair with your food. Service is spot on, though friendly. It's expensive – on average you can expect to pay a minimum of €70 per person for a meal. But the quality of the food, the service, the views and the atmosphere make it truly worth it.
La Paillote is a strictly seasonal restaurant located in the tiny Cala Fighera cove, off Calamosca Beach. It usually opens at the end of April until mid October and serves breakfast, lunch, aperitives and drinks, and dinner. You should definitely make reservations, especially for special occasions.
Bistrot 100
A new addition to this selection, I had visited this restaurant a couple of times before, but a meal yesterday convinced me it truly deserved a mention. It's in the center of Cagliari but out of the main tourist track, so frequented mostly by locals.
The atmosphere is cozy – nice tables, book shelves, the bar right in the middle of the dining room, and a small private room for special occasions at the back. It's perfect for a meal with friends and even for a romantic night out.
The menu mostly reflects local traditions but there are some modern touches that make the dishes unique. I tried the polpo and it was cooked to perfection, and the fregola was so good that I vowed to go back just for that. It had just the right touch of cayenne pepper to make it spicy.
Service is impeccable. Prices are on the expensive side – more or less in line with similar restaurants in Cagliari. But given the quality and the service, it's definitely worth paying!
Bistrot 100 is located in Via Tuveri 100, right in front of the Questura of Cagliari. It's open for lunch Tuesday to Sunday from 12:30 pm to 3:30 pm, and for dinner Monday to Saturday from 7:30 pm to 10:30 pm. Make sure to book a table in advance – you can do that via the app The Fork.
Duanima
I have recently discovered this small restaurant and I can foresee going again and again.
Duanima is a small, very stylish restaurant tucked in a lesser known spot of Cagliari city center, away from the main tourist trail yet in a convenient location. You have to know it's there in order to find it. But once you do, you will regularly want to visit.
Since the location is out of the main areas frequented by tourists, this has so far remained a local spot. And while it makes an excellent use of local, seasonal ingredients, don't think of this as a traditional restaurant as it's far from it. Chef Luca Floris creates his masterpieces by mixing and matching the best ingredients on the market. He even bakes his own (absolutely delicious) bread.
You have the option of picking what you want from the regular menu, or opt for a tasting menu (with or without wine pairing). One tasting menu has four courses (plus an hors d'oeuvre), the other has six courses.
For the four-course menu you have the option of choosing whether you want a meat or fish / seafood based meal; the 6-course menu will be a mix.
Every dish will be adapted to your dietary requirements (ie lactose intolerance, allergies, etc: make sure to point them out when you reserve your table, and ask if they have vegetarian and vegan options).
We opted for the four-course menu with wine pairing and we wowed at every taste of the food, and at every sip of the wine (a different wine is masterfully paired with every course). We had a selection of white and red wines – most of them local and from Altea, a smaller winery in Serdiana.
The service is spot on: personable, rhythmed with just enough waiting time to fully enjoy each course and wine. The chef often pops out of the kitchen so that's your chance to ask for his secrets!
Given the quality of the food and the service, prices are quite reasonable – just don't expect to pay €30 for a full meal!
Duanima is located in Via Satta 28. It's open for dinner Tuesday to Sunday, from 8:00 to 10:30 pm. Make sure to book a table in advance – you can do that via the app The Fork. They occasionally open for lunch too – but you'd have to call to make a special request for that.
Cielo at Palazzo Tirso
There are two restaurants at Palazzo Tirso, a newly opened luxury hotel in Cagliari. My friend and I recently tried Cielo, the restaurant located on the rooftop terrace, and loved it, so I thought I'd add it to my selection.
First of all, the location can't be beat. Go there for dinner on a spring or summer day and you will enjoy views over Cagliari's harbor and spanning all the way to the Castello District.
Service is spot on: the maitre will go above and beyond to make sure your expectations are met and that the menu is modified according to any specific dietary requirements you may have.
But finally, let me talk about the food. The menu is quite varied, with options for people who prefer fish and seafood, meat and even vegetarian dishes. When we ate there we had the magnificent ceviche (the sous chef is from South America, so he knows what he's doing with that!) and a delicious linguine with a seafood sauce dish.
This is not a cheap restaurant – expect to spend around €80 per person for a full meal (appetizer, main and dessert) and a glass of wine. It really is fine dining at its best.
Cielo is Located in Palazzo Tirso Hotel, in Piazza Deffenu 4 and not far from the Via Roma. It's open every day and works as an all day dining place. If you intend to dine there to celebrate a special occasion, make sure to request a table in advance via the restaurant's website, and ask for a table with a view.
Sa Cardiga e Su Schironi
Just outside Cagliari, in Maddalena Spiaggia, on the way to the beautiful beaches of Chia and Santa Margherita you can find this restaurant, considered an institution and one of the best restaurants in Cagliari (though to be fair, it's a bit outside of town). Beloved by locals and tourists, it's usually crowded.
Ingredients used to prepare the dishes are fresh, well cooked and even the presentation of the courses (from appetizer to dessert) is well-finished. You can choose from à la carte menu or a testing menu (both for fish and seafood dishes).
Selection of wines, both national and international, contributes to the overall experience. A maître will help you pick the right one, once you've made your food order.
Service is impeccable, every time I've been there the waiters were welcoming, very kind and helpful and food delivered pronto.
Sa Cardiga e Su Schironi is open every day for lunch from 12:00 to 2:30 pm and for dinner from 8:00 to 11:00 pm. Please take care to note the restaurant is closed on Mondays and, for dinner, on Sundays.
Josto
Josto is one of the nicest restaurants in Cagliari, located in the center in Via Sassari. Its owner and master chef is Pierluigi Fais: a young and talented man who started his business first in Oristano (one of the main cities on the island) and moved to Cagliari in 2017.
Pierluigi's cuisine is not traditional but innovative. I recommend to try his 'spaghetti alla bottarga' (bottarga is the Mediterranean caviar and it consists of mullet's eggs) and 'Pecola Bollita 2.0' a revisited dish of sheep meat.
Josto's menu is not very long because courses change regularly and everything is fresh and seasonal. You can choose from a la carte menu or a tasting menu. I usually go for the last one because it is great value for money.
The restaurant has a post-industrial style and its staff is kind and professional.
Josto is open from Monday to Saturday for lunch from 1:00 to 2:30 pm and for dinner from 8:00 to 10:30 pm.
Osteria Kobuta
Kobuta in Japanese means 'suckling pig'. The name of the restaurant could not represent its essence any better: in fact 'sukling pig' in Sardinian is Porceddu and Porceddu is also the last name of the owner and main chef of this restaurant, Riccardo Porceddu.
Riccardo is a proactive businessman and he regularly organizes events in partnership with other restaurants of Marina district: like the typical Japanese street food to be eaten on the go during happy hour or special menu on Sundays for lunch.
In addition I must say that he's very kind and helpful: every time I call him with a special need he always helps me to sort it out.
Here you will find a fusion between Sardinian traditional cuisine and Japanese. I know it sounds weird, but trust me: it's delicious. You should definitely try Pani frattau, Fior di Fregula and Matcha-misù.
The tasting menu will bring you through Riccardo's concept of food. Every dish is a real taste of heaven, in fact Kobuta is considered one of the best restaurants in Cagliari.
Vegetarian and lactose intolerance options are available.
The restaurant is located in Vico Carlo Felice 12, in Stampace, one of my favorite districts in Cagliari. Osteria Kobuta is open from Wednesday to Monday for lunch from 12:00 am to 2:30 pm, aperitif from 6:00 to 8:00 pm and for dinner from 8:00 to 11:00 pm. In summer it closes on Sunday (all day) and on Monday morning.
Lo Scoglio
Are you dreaming of a romantic dinner with fresh fish and seafood and amazing views? If so, Lo Scoglio is the right place: a wonderful terrace directly on the water and fabulous sunset views.
Lo Scoglio was opened in 1958 by Giovanni Manconi and his family is still running the restaurant, which is known to be one of the best restaurants in Cagliari. Fish is so fresh that you can eat seafood crudités with no worries.
My personal advice is to try linguine all'aragosta (linguine pasta noodles with lobster), the house specialty. It's a bit expensive but worth it.
The restaurant is located in Spiaggietta S.Elia. You can easily get there following the directions to the Lazzaretto of Sant'Elia, and from there follow the signs to the restaurant. Lo Scoglio is open for lunch and dinner from Tuesday to Saturday. On Sunday it stays open for lunch only.
Toyo Sushi
If you are mad about sushi and you can't let a week pass without eating it, then Toyo is the place for you. This lovely restaurant is located in the heart of Cagliari, in in Via Lodovico Baylle the Marina district. It easily is one of the best restaurants in Cagliari.
The places itself is beautiful with exposed brickwork and high arches in an old restored building. You can dine outside out when the weather is not too cold (or too hot!).
Fish is fresh and sushi and sashimi are skillfully made. I love the crispy nido roll, ricciola tartare, tartufo tonno and ebi flo but there are so many things to try that I can't possibly list them all. Vegetarian and vegan options are available too.
Delivery is available, but only within Cagliari city limits.
Toyo Sushi is open every day for lunch and dinner from 12:00 to 3:00 pm and from 7:00 pm to midnight.
Da Marino al St. Remy
Not far from Bastione St. Remy, from which its name comes from, in Via San Salvatore da Horta, you can find one of the most famous restaurants in Cagliari.
Da Marino al St. Semy is located in an old building that has been recently restores and the atmosphere is intimate and welcoming.
The staff is extremely kind and helpful: Marino is the main chef and has a long experience which he got in a number of countries such as Switzerland, France, Germany and Great Britain. Silvana, his wife and business partner, will take care of you during your meal.
Most importantly, the food is delicious, prepared using fresh ingredients of high quality and very well cooked and presented. The wine selection is wide with regional, national and foreign wines and includes various labels of excellent level.
My advice is to order the tasting menu in order to have the opportunity to try different things and taste them with a local wine.
Da Marino al St. Remy is open every day for lunch and dinner except on Sundays.
Pani e Casu
Pani e Casu is located in Via Santa Croce in the Castello district, and has one of the most beautiful views in town. From the terrace you can admire the harbor, the sea, Largo Carlo Felice and the Sette Fratelli mountain chain.
In this restaurant you can taste our local specialties from the starters with different kinds of cheese and ham, continue with a main course like culurgiones (a fresh pasta filled with boiled potatoes, fresh mint and pecorino cheese), malloreddus (Sardinian traditional pasta), maialino arrosto (sucklin pig) and finishing with an amazing sebada (a fried fresh pastry filled with mild cheese and lemon grind and smothered with honey), pardula and much more.
My personal advice is to book in advance and ask for a table with a view. Be there for sunset when the sky turns red, orange and pink and Cagliari is even more beautiful.
Pani e Casu is open from Tuesday to Sunday from 1:00 to 3:00 pm and from 8:30 to 11:00 pm. On Monday it remains closed for lunch.
Lord Nelson
Going out from the center of Cagliari, in Via Tevere 2, you will find Lord Nelson.
This family-run restaurant will make you jump back in time: Lord Nelson was an admiral of the British army who became famous for his success as a sea warrior during Napoleonic wars. The style of the restaurant reminds of that age with flags, paintings and a seafaring atmosphere.
The food is good and fresh, with traditional recipes but also modern elaborations made with local and seasonal ingredients. You can taste both meat and fish courses and there are options for vegetarians too.
Lord Nelson opens from Tuesday to Saturday for dinner from 8:00 to 11:00 pm and on Sunday for lunch from 1:00 to 3:00 pm.
Antica Cagliari
Antica Cagliari is located in the district of Marina in one of the nicest street of the old center, Via Sardegna.
In this restaurant you can taste traditional Sardinian cuisine. I recommend trying the fregola ai frutti di mare (a typical Sardinian pasta with seafood), zuppa di cozze (mussels chowder) and fritto misto (fried squid, prawns, little fish and vegetables).
Culurgiones and tagliata are also delicious. There are some options for vegan, vegetarian and gluten intolerant.
The staff is welcoming, kind and very efficient. The owners have just opened a new location at Poetto beach, with a beautiful terrace by the beach.
Antica Cagliari closes on Mondays and for the rest of the week is open for lunch and dinner from 12:30 to 3:00 pm and from 8:00 to 11:30 pm.
Dal Corsaro
Dal Corsaro is one of the only two One Michelin Star restaurants in Sardinia. As you can imagine everything here is meticulously organized and prepared from the very first step till the moment you walk out the door after your meal.
The restaurant is in Viale Regina Margherita, a beautiful street with fashion stores, boutiques, hotels and lots of places of historical relevance. The location itself is beautiful and nicely decorated: it looks like a dining room in a beautiful house rather than a restaurant.
The main chef, Stefano Deidda, is young and talented. His family restaurant has been appreciated for years but only when Stefano became the main chef, it received the Michelin Star.
There are two tasting 'surprise' menu. The first one consists of 7 courses and the second one of 11. You don't know what you are going to eat till the time the dish comes to the table. When booking or at your arrival the staff will ask about any food allergies, intolerances or dislikes in order to create the perfect meal for you.
But this is more than a meal – this is a real experience: particular ingredients with different types of cooking and textures create unique combinations. You can choose to match each dish with a wine to highlight the flavors.
If you are looking for a place for a special occasion or if you want to try something different and unique then this is the right place.
On Mondays the restaurant is closed while during the rest of the week is open for lunch from 12:45 to 3:00 pm and for dinner from 7:00 to 11:00 pm.
Luigi Pomata
Luigi Pomata is a talented chef with a family history in the restaurant business: both his grandfather Luigi and his father Nicolo were chefs. Luigi started his career in Carloforte working in his father's restaurant 'Da Nicolo' and learning from him his family's secrets and recipes.
But Luigi developed his own way of cooking while working abroad, in New York and London.
Starting from bluefin tuna, a traditional element of Carloforte cuisine, Luigi experiments and enhances the raw materials reinterpreting traditional dishes in a contemporary way.
I recommend to try his cous cous and his tasting menu in order to have a full experience of his way of cooking. Here you can find options for vegetarians, vegans and gluten intolerants and, please, note that the portions are not big – you can't really share a dish.
Luigi Pomata is the owner and main chef of three restaurants, all located in the heart of Cagliari. Luigi Pomata is in Viale Regina Margherita.
Luigi Pomata is open from Tuesday to Saturday for lunch and dinner from 1:00 to 3:00 pm and from 8:00 to 11:00 pm while on Monday it is open for dinner only from 8:00 to 11:00 pm.
Jope
Going away from Poetto beach, Jope is a lovely restaurant located in Via Polonia in Quartu S.Elena (a town that right next to Cagliari and part of the metropolitan area).
This steakhouse is known for the delicious meat, cut in different ways and perfectly cooked or even raw in a fantastic tartare. You can choose among pork, beef and horse – a local specialty. The quality and the freshness of the meat is guaranteed and this is the reason locals love it.
I love to eat their T-bone steak with a glass of red wine, better if it is a Cannonau, and with some freshly fried potato chips.
The staff is very professional and helpful and will guide through the different types of meat to make you choose the right one.
Jope is open for dinner only from Monday to Saturday from 8:00 to 11:00 pm.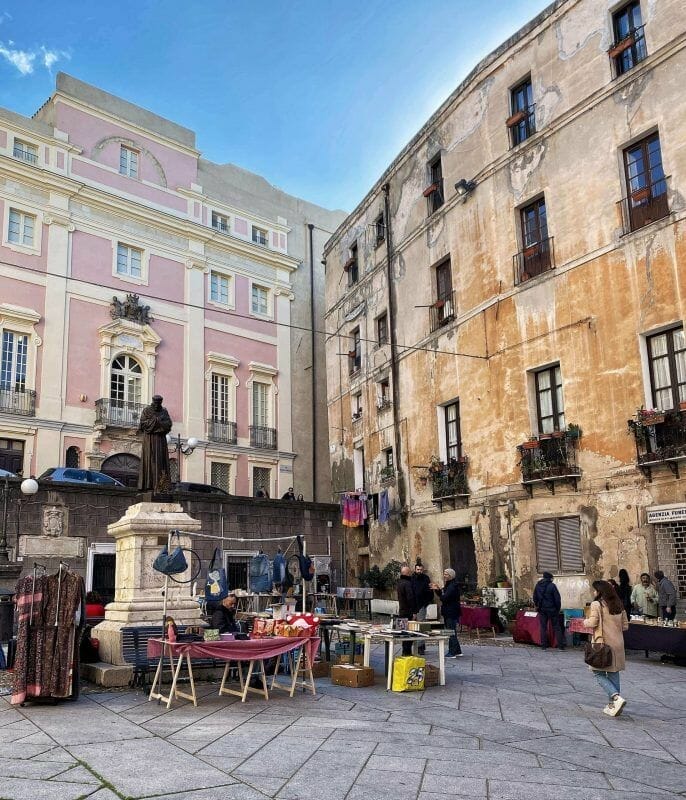 Cucina.eat
Cucina.eat is more than a restaurant: of course you can go there for a lovely meal (from a late breakfast or a brunch till dinner) but you can also purchase kitchen equipment, cookbooks and a selection of homemade products coming from farms that pay great attention to nature, environment and genuineness.
Located in Piazza Galilei, not far from the main shopping area, this 'more than a restaurant' serves daily dishes that are prepared with ingredients bought at the nearby San Benedetto market.
There is no fixed menu – it literally changes every day! You won't find a long menu because everything is fresh and seasonal and this is something I appreciate – I hope you do too.
The restaurant is beautiful and modern with a big counter in the middle and shelves with wines and food all around. The staff is helpful so I'm sure they will give you all the explanations you need to make the right choice and to match the right wine to what you order.
You can go to Cucina.eat from Monday to Saturday from 10.30 am to 11:30 pm. It's closed on Sundays.
I Sarti del Gusto
I've already mentioned I Sarti del Gusto in my list of best cafés in Cagliari and I think it deserves to stay in this list too.
I love this restaurant for many reasons: perfect location in one of the nicest streets of Cagliari, via Sulis; two dining areas, one indoor and one outdoor; few tables so the staff really takes care of their guests; and, above all, the delicious food.
The owners, Gianluca Fanni and Riccardo Massaiu, after having had separate careers, decided to be more than friends and started their adventure as business partners. Gianluca will welcome you and guide you through the courses while chef Massaiu, backstage in the kitchen, will prepare a perfect meal for you.
You can start with a lovely breakfast/brunch with scrambled eggs, pancakes, crispy bacon, croissant, marmalade; have a tasty business lunch; order a lunch box. But honestly, I believe that you need to go to I Sarti del Gusto for dinner – and make sure to book in advance.
I Sarti del Gusto is open Tuesday to Sunday from 8:00 to 11:30 am for breakfast and brunch; from 1:00 to 2:30 pm for lunch; and from 8:00 to 11:00 pm for dinner.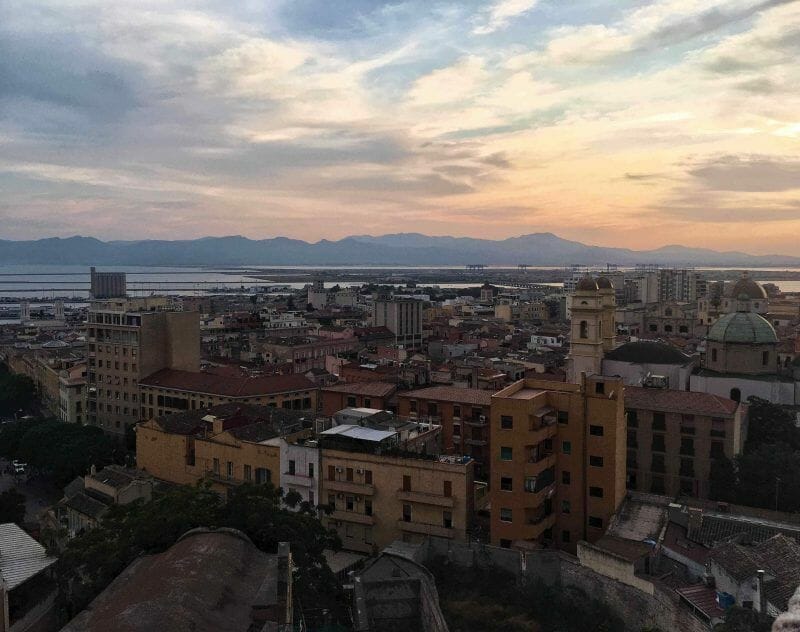 La Locanda dei Buoni e dei Cattivi
This restaurant is part of a social project that wants to give a second chance in life to people who have committed minor crimes in order to train them to a good job and keep them out of trouble.
Even raw materials, such as oil, are purchased from nearby communities such as La Collina, in Serdiana, and grown on land confiscated to organized crime.
The cuisine is a modern reinterpretations of Sardinia most traditional dishes prepared using local and seasonal products. Bread, pasta and desserts: everything is homemade.
You can find this restaurant in a private villa in via Vittorio Veneto, near Teatro Massimo and not far from the city center. You dine indoor or in the beautiful garden of the villa.
La locanda dei buoni e cattivi opens from Monday to Friday for lunch from 1:00 to 3:00 pm and for dinner from 8:30 to 11:30 pm. On Saturday it is open for dinner only.
Final Considerations
Getting to know a place through its food is one of the most fun things to do when traveling. Other than the restaurants, you may wish to try a food tour and / or a cooking class – they are a great way to learn more about local culture!
Further Readings
Curious to learn more about Cagliari and its delicious food? Check out these posts:
This post was written by Strictly Sardinia contributor Elisabetta Tavani.
Pin It For Later!