Baunei is a small village in one of the most remote, pristine areas of Sardinia and the whole Mediterranean basin. Its location, surrounded by steep mountains and wild nature – though really close to the sea – has made the place so difficult to reach; so much so that almost nobody has been able to conquer it.
There has never been any need to actively protect it either: it's one of the few coastal areas where they never built any watchtower to keep an eye on the Saracen pirates: nature alone did a great job.
Despite its wild appearance, Baunei's territory is home to several gems. First of all, it's close to some of the most famous Sardinian beaches, such as Cala Goloritzé, Cala Mariolu, and Cala Luna. Moreover, nature itself is one of Baunei richest possessions: here, you can have some of the best hiking and climbing experiences in Europe.
The area isn't poor in archeological remains either: there are plenty of Nuraghe, Giant's Tombs, and a few temples to visit. And, of course, Baunei itself is a village worth spending some hours exploring.
Whether you came all the way to Baunei to enjoy some time on a heavenly beach, have an adventurous tour of the mountains or you are just stopping by before heading to your next holiday destination (maybe closer to the coast?), you will not be disappointed with it. Here's what you can see and experience in the area.
The History Of Baunei
The area where Baunei is located was inhabited since prehistoric times. There are numerous Nuraghe and Giant Tombs you can visit that testify to human presence already in prehistoric times – the most famous of which are the Coa e' Serra Nuraghe complex and Osono Giant Tombs.
The first time Baunei is mentioned in an official paper is the year 1316, in a census of the Sardinia's villages. It became, like the rest of the island, property of the Aragonese in 1324. Nothing extraordinary ever happened to the village, because of its isolated nature: even the pirates, who attacked Sardinia for several decades, didn't dare to adventure up the mountains – nor close to the coast.
In modern times, the village has become famous thanks to its stunning nature – both the marine and the hinterland area are unique on the island – and tourists are starting to go there to enjoy the pristine nature and the dreamlike beaches.
What To See And Do In Baunei
Baunei is the typical Sardinian mountain village: steep, narrow streets and reserved-looking locals who are actually very warm-hearted. However, there is not much to see in the village except for the San Nicola da Bari Church.
The majority of the area's charm is concentrated in Santa Maria Navarrese, Baunei marine district. Despite the scarcity of attractions inside the village, there is an overabundance of things to do outside it: continue reading to discover the best ones.
Visit an archeological site or two
Baunei territory is rich with nuraghe, Giant Tombs, and Domus de Janas. Of course, you will need a car to get around (or you could book a quad tour – I'll get to that later) and explore the mountains as you wish. Among the best places, you should definitely pay a visit to the Grutta 'e Janas Cave, an ancient (4000 BC) sacred cave that has been recently excavated and is now even more easily accessible.
Another place worth a visit is the Coa 'e Serra Nuraghe complex. Set at 511 meters (1,676,ì.5 feet) above sea level, on the top of the Golgo plateu, this is one of the easiest nuraghe to reach in the area, and is guaranteed to leave you breathless with the view. Moreover, this ruin has a unique shape that hasn't been found in any other nuraghe in Sardinia – definitely worth your time, right?
To visit the Giant Tombs, you can join a quad tour that will bring you to Osono site (the most important one) and to many other places. Be sure to ask about it at your place of stay, they will surely know about it and how to book it! Alternatively, you can book it online here.
Read my post The Most Interesting Archeological Sites In Sardinia.
Hike the trails of the Selvaggio Blu
Selvaggio Blu ("Wild Blue") is the name of one the most panoramic, suggestive, and intense hiking trails in Europe. Its name comes from the fact that it mixes the wilderness of the Sardinian mountains with the deep, mysterious blue of its seas, in a tour that leads you through the most hidden, spectacular corners of the territory of Baunei.
There are a multitude of trails that can be followed, and hiking the whole Selvaggio Blu itinerary requires about a week. Many people just hike some trails – for a one-day adventure. These are perfectly doable independently. But if you aren't short on time and energy you could book the whole tour (you can't hike the Selvaggio Blu alone) and experience Sardinia's true heart and soul.
Make sure to read my post The Best Hikes In Sardinia.
Go rock climbing
The Supramonte area is a paradise to climbing lovers, and Baunei offers plenty of natural spots where to do so. One of the tourists' (and locals') favorites is the Pedra Longa rock, where you can choose among several climbing options and find the one the best fits your skills. Other great spots – but not the only ones – are the Atlantide Cliff and the Ichnusa Cliff. Finally, for a top experience you can climb Cala Goloritzé's Pinnacle.
For a guided climbing expedition of Pedra Longa, click here.
For information on climbing Cala Goloritzè's Pinnacle, click here.
Make sure to read my post Where To Go Climbing In Sardinia.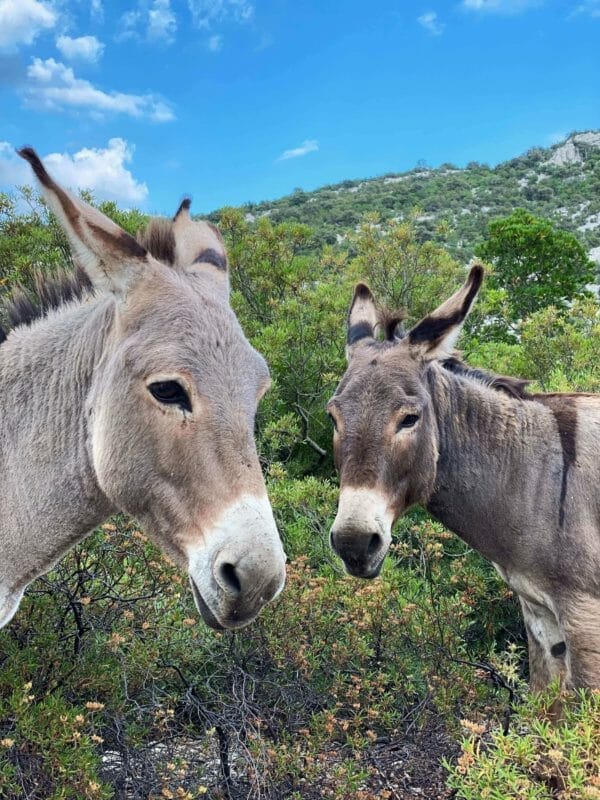 Explore the Golgo Plateau
The Golgo Plateau is home to one of the few spots of primary forest left in Europe and to one of the deepest natural pits, called Su Sterru. This literal hole in the ground is about 270 meters (about 889 feet) deep and of ancient origin: you can reach it by hiking on a trail passing through the many Mediterranean trees of the Supramonte.
Be careful though, it's not fenced once you get there, don't get too close, it's extremely dangerous. A legend says that a dragon used the pit to hide after assaulting the villages and that St. Peter came to the rescue and imprisoned the monster underground, in the abyss, never to be seen again. To thank the Saint, the locals built a small church which is still used nowadays – you can visit it during your hike.
Another sight in the Golgo Plateau is the Maschera di Pietra – Stone Mask. You can reach it on a short trail that departs right behind the Rifugio Cooperativa Goloritzé.
If you plan to drive around the Plateau, watch out for animals – the area is packed with very friendly donkeys, wild boars, pigs and many other animals!
Go on a boat tour along the Gulf of Orosei
Baunei is located close to the top of a mountain, and reaching the beaches takes, therefore, some time and often a good amount of hiking from the spot where you can park your car. With a boat tour, you will be brought to the best sunbathing and swimming spots in the whole area, and all in one day and with no sweat.
Sure, seeing the beaches from above is stunning and it takes your breath away… but so is reaching them comfortably and actually spending some more time being lazy and enjoying the incredibly clear waters.
Boat tours usually depart from Santa Maria Navarrese – Baunei marine area. You can book your tour here.
Make sure to read my posts A Concise Guide To The Golfo Di Orosei and The Best Gulf Of Orosei Boat Tour.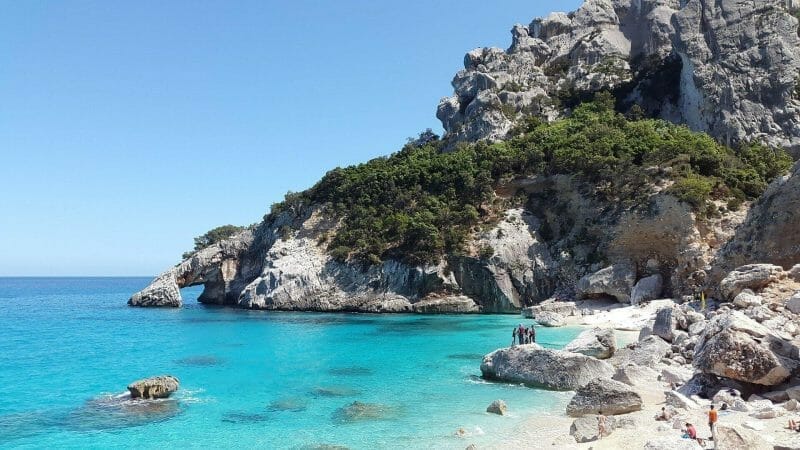 The Best Beaches Near Baunei
You are never too far from a beautiful beach in Sardinia, and that's also the case for Baunei.
Like I said, reaching the beaches in the area by car is impossible. You will need to drive until some point, then park your car and hike your way to the sea. Don't worry, though: the reward is more than enough to keep you going. Once you set your foot in any of the heavenly coves of the area, you will immediately forget your strain. Here's some of the greatest beaches in the territory (and in all of Sardinia!):
Cala Goloritzé
This beach is the symbol of Baunei and its most famous spot. It can only be reached after a one-hour hike (it's forbidden to use any motorboat inside this cove) and, once there, the crystal-clear water contrasting with the white of the cliffs will surely make you speechless.
The mountains seem to directly rise from the sea (or sink in it) and the whole place feels like something out of a dream. It's definitely the beach you shouldn't skip. Be sure to carry your camera with you: both the hike and the beach have a lot of picture-worthy spots, starting from the famous arch and the pointy pinnacle in the background.
As this is a protected beach, only a limited number of people are given access every day. You have to book your visit in advance via local app.
To book a boat tour with a stop outside Cala Goloritzé, click here.
Check out my complete Guide To Cala Goloritzé.
Cala Mariolu
This beach can be reached both via a (very challenging) hike that departs from the Golgo Plateau and by boat. It's famous for its emerald water and its sand, composed of tiny white and pink round pebbles. The water isn't too deep and it's a great spot for not-so-skilled swimmers and snorkeling lovers. In the past, Cala Mariolu was the place where the monk seals would mate and live.
Unfortunately, the constant presence of fishermen shooing them away and hunting them has drastically reduced their number. Although the area is now off-limits and protected, and tourist numbers capped daily, only a few of them are seen every year.
Read my post The Ultimate Guide To Cala Mariolu.
Cala Luna
There is an ever lasting dispute between the municipality of Baunei and Dorgali over where the beach is actually located – much of the dispute is due to the fact that the municipalities border here.
This beach can be reached both by sea and by land via a few hiking trails. The colors of the sea and the white sand make it into yet another paradise-like beach, but there's more than that in Cala Luna.
You will find a small clearwater lake – which changes in shape every year depending on several factors – and five caves that can be explored. Cala Luna is also home to several rare animals, such as hawks and eagles, and less rare ones like the boars, who sometimes come to the beach and even sniffle on the visitors' bags hoping to snatch some food away!
For a guided hike to Cala Luna departing from Baunei, click here or here.
Head over to my post The Best Guide To Cala Luna.
Cala dei Gabbiani
Literally called "The Seagulls' Cove", this beach is the meeting place of hundreds of seagulls (after sunset, when the tourists have left). If you decide to get there by hiking, keep in mind that it will take about three to four hours from the starting point.
This is one of the reasons why this cove is so appreciated by people, though: not many are determined enough to walk there, so the place is always more quiet and peaceful than the rest of the beaches on the Gulf of Orosei. Rewarding, after a long and tiring hike! The sand and water are very similar to Cala Goloritzé: white, pearl-like sand and a rocky, deep bottom, not suitable for amateur swimmers.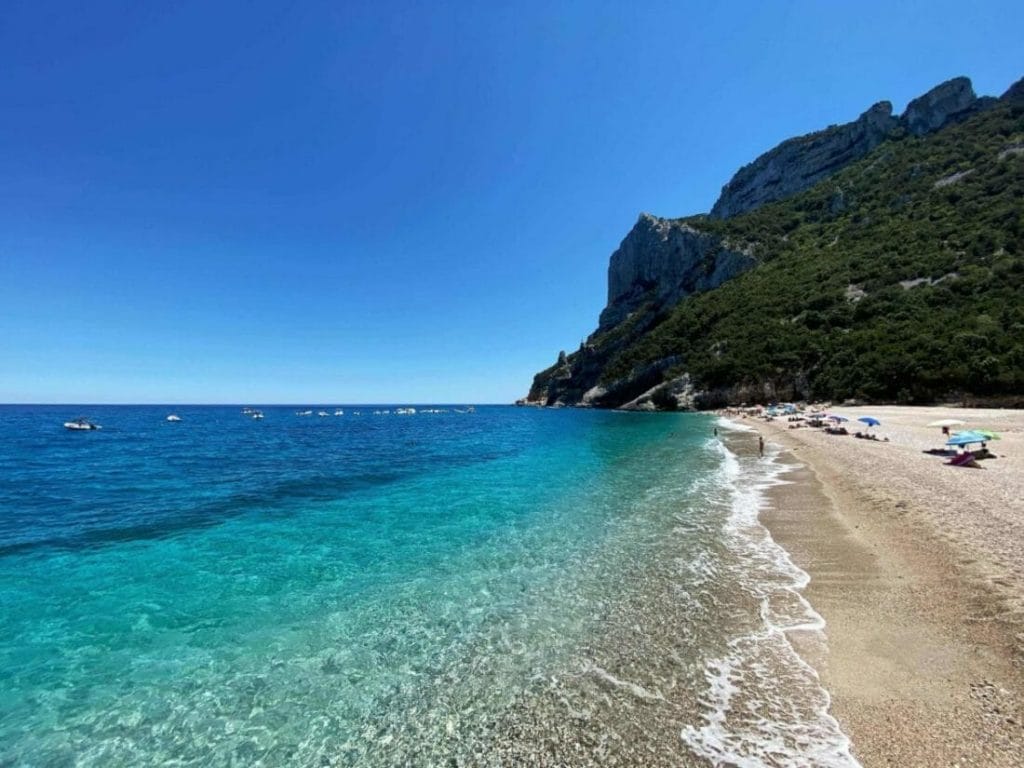 Cala Sisine
Another cove where mountains and sea meet, Cala Sisine is better reached by boat, but if you have a 4X4 vehicle you can actually get as close as 2 km (1.2 miles) from the beach, and the hike to get there will be incredibly easy.
It's not as famous as the previous beaches I have mentioned, but well worth a visit nonetheless. It's great for snorkeling, relaxing in the middle of nature, and to just enjoy some hours in a place that really seems far away from everything.
For a boat ride to Cala Sisine, click here.
Read my guide to Cala Sisine here.
Piscine di Venere
The "Venus' Pools" are, like their name suggests, something only gods could have created. They can only be reached by boat: once you're there, look under your boat. The water is so clear that you can't tell how deep it is, almost as if you're floating in the air! You should definitely dive from your boat and enjoy the time in this – probably once inhabited by Venus herself – corner of heaven.
Not all boat tours departing from Santa Maria Navarrese will take you to the Piscine di Venere. Tortuga runs expeditions that go all the way there – and other beaches along the coast – for a very reasonable price.
Cala Biriola
This small cove is located immediately before the Piscine di Venere beach. Here, the sea still carries the unmistakable emerald color that is only found in this area, and you can spend some hours laying on the soft, white sand, basking in the sunlight without a thought in the world.
Practical Information
Where to sleep in Baunei
There aren't many places to sleep in Baunei itself – for more accommodation options you will want to look into Santa Maria Navarrese. Nevertheless, if you prefer staying there here are some good places to stay.
B&B I Cinque Mori – This Bed and Breakfast offers private bathrooms in every room, free Wi-Fi, a common dining room and a continental breakfast served every morning.
B&B Selvaggio Blu – Another Bed and Breakfast loved by guests, it offers free parking, free Wi-Fi, and all the comforts you might need from your accommodation. Its position is also great for the ones who are planning some hikes.
Hotel Goloritzé – One of the few hotels in the area, this place offers free parking and excellent service to the tourists staying in Baunei.
Rifugio Cooperativa Goloritzé – Located in the Golgo Plateau and completely immersed in nature, this nice small hotel provides all sorts of rooms – including dorms – and has an on site restaurant offering local specialties. It's the best place to stay if you intend to hike in the area.
Make sure to also read my post The Best Hotels In Santa Maria Navarrese.
How to get to Baunei
Baunei is located on the State Road SS 125 (called "Orientale Sarda – Sardinian Eastern Road").
From Cagliari, you will have to follow the directions to Muravera and once past that, continue to Tortolì and then follow the signs to Baunei.
If you are coming from Olbia, you will have to drive to Nuoro and then from there to Dorgali, where you can take SS125 all the way to Baunei. Beware it is very windy!
if you choose to spend some time in the Baunei, you'll find yourself living a novel-like adventure in the heart of the wildest mountains in the island.
Pin It For Later!