Cala Goloritzé is one of Sardinia's most celebrated beaches. Located on the Eastern coast of the island, in the gorgeous Gulf of Orosei in the region of Ogliastra, the setting of this small cove is simply paradisiac.
With limestone cliffs reaching a height of 500 meters; unique rock formations around it – the most notable one a beautiful arch at its southern end; tiny white pebbles that look like snow; a pinnacle that calls to be climbed and lush Mediterranean shrub and a forest of holm oaks, it's little wonder that Cala Goloritzé was declared a National Monument of Italy in 1995.
A favorite of locals and tourists alike, Cala Goloritzé is one of the most photogenic spots on the island. Follow the best Instagram profiles in Sardinia, and you'll see it regularly making an appearance. Read a post or article about the best beaches in Italy / the Mediterranean / the world, and there it is. Yes, Cala Goloritzé is that beautiful.
Mind you – it hardly is a secret spot anymore – visit in the peak summer months and you'll struggle to find a place to lay down your towel. Nevertheless, it's truly worth visiting, even though getting there requires a bit of effort.
Are you curious to learn more about Cala Goloritzé, and want to know how to get there and make the most of your time at this Sardinian jewel? Continue reading then!
Everything You Need To Know About Cala Goloritzé
Cala Goloritzé Beach
Cala Goloritzé was formed in 1962 as a consequence of a landslide that detached from a sandstone wall. This is not a sandy beach as you may imagine – instead of sand, you will find endless, minuscule white pebbles that make it completely unique. A 143-meters pinnacle rises above it (more about it below) and to the south there is a rock arch that many – including myself – enjoy climbing to then dive in the clearest, bluest waters you can imagine.
Climbing the arch if forbidden. Should you decide to do it regardless, don't even attempt it if you are not 100% confident in your steps and aren't sure you will be able to jump from a height of around 12 meters. Rocks can be slippery, and once you make your way up there is no way to get down unless you reach the top and jump in the water. Trust me, I have tried!
The beach is highly protected – in fact, boats must stay 200 meters from the shore and the area is regularly patrolled to make sure everyone respects that rule.
Water is immediately deep, and incredibly transparent – making Cala Goloritzé a fantastic place for swimming and snorkeling. You will have perfect visibility and be able to see the bottom even when it is 15 meters deep.
As I have already said, the water at Cala Goloritzé is of an incredible shade of blue, and so transparent that even when 15 meters deep you can still see the bottom. It's the perfect place to swim and snorkel.
If you enjoy swimming and snorkeling, make sure to swim all the way to the arch and then behind it. At its right, you will find a small cave that is fun to see.
One of the peculiarities of Cala Goloritzé is that spring water gets right onto the beach – from the rock formations around it – and in the water. So you can expect the sea to be colder than in other places in Sardinia. Furthermore, as there are lots of goats roaming around the area, it's not uncommon to see them get all the way down the beach and make their way to one of these sources to have a drink – despite the presence of many amazed tourists!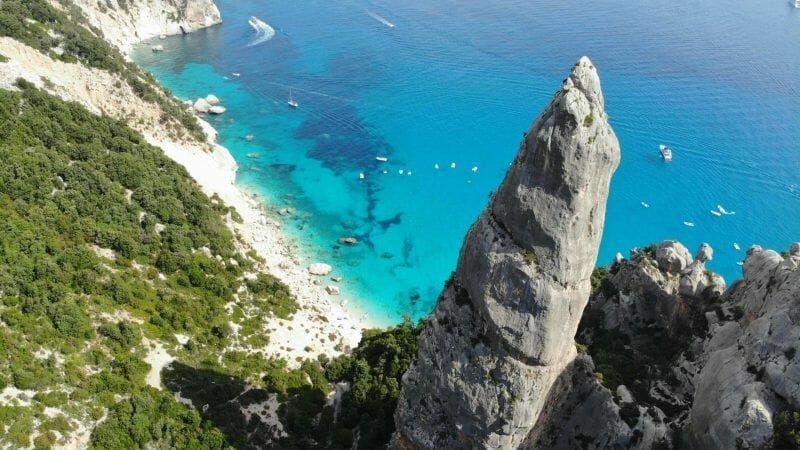 Cala Goloritzé Pinnacle
The symbol of Cala Goloritzé is Monte Caroddi, an Aguglia – literally "needle" and more specifically a pinnacle – that surmounts it with its 143 meters located on the southern side of the beach, where Eleonora's falcons like to nest. This limestone spire is a favorite of climbers, and there are various climbing routes on it. The most famous was opened by Alessandro Gogna and Maurizio Zanolla – AKA Manolo – and is known as the Sinfonia dei Mulini a Vento (Symphony of Windmills).
Make sure to read my post Where To Go Climbing In Sardinia.
Cala Goloritzé Tickets
A few years back the municipality of Baunei, where Cala Goloritzé is located, has introduced an access fee for any visitor wishing to spend the day at the beach – this is done to protect the beach, which as I have already pointed out is a National Monument; and to finance the maintenance of the trail to get to it.
To make sure to ensure your spot at the beach during the summer months, make sure to book in advance via the app Heart of Sardinia. You can book from 72 hours in advance. Tickets are €6 per person and include access to the parking lot. If you visit in the off season, no reservation is necessary but you will still have to pay the €6 fee once you get to the beginning of the trail.
Access to the beach is allowed from 7:30 am to 3:00 pm daily.
How to get to Cala Goloritzé
There is no real easy way to access Cala Goloritzé as you can't get there by car. The only way to reach it is either by boat or on a hike.
By boat
PRIVATE BOAT
If you know how to drive one, you can rent your own rubber dinghy in either Cala Gonone or Santa Maria Navarrese. Prices for a full day rental (from 8:00 am to 5:30 pm, by which you have to be back at the harbor) vary depending on the season and can be anything from €100 to €250 for the day, not including fuel. You should require to have a boat with a shade or parasol for the peak hours.
CHARTERED BOAT
Boat services to Cala Goloritzé depart daily from Cala Gonone, Arbatax and Santa Maria Navarrese – the latter being the closest access point. Keep in mind that boats can't moor within 300 meters from the shore, so they usually just stop by for passengers to jump in the water and swim around before continuing to explore the gulf or – more seldom – charter passengers to shore on a row boat.
These boat tours can be bought online:
Check out my posts The Best Boat Tours To Cala Goloritzé and The Best Gulf Of Orosei Boat Tour.
On a hike
The hike to Cala Goloritzé is one of the most rewarding in Sardinia. The trail starts at Su Porteddu parking lot, in the Golgo Plateau (where you will also find a nice kiosk serving quick meals, drinks and snacks), which is at about 20 minutes drive from Baunei. The hike is almost entirely downhill on the way to the beach, and a steep uphill on the way back.
Here are some technical data you may find useful:
DISTANCE – 3.5 km one way.
WALKING TIME – About 1 hour and 15 minutes to get to the beach; and 1.5 hours to get back up to the parking lot (unless you are better at walking uphill, in which case you may end up being faster!).
ALTITUDE DIFFERENCE – 470 meters.
The peculiarity about this hike is that you will be completely immersed in nature with no real sight of the sea until almost the very end, when you will be able to spot magnificent views of the cove below.
TIP: You really do need hiking shoes for this hike. Though I would classify it as moderate, the terrain can be tricky and slippery.
You can also join this guided hike to Cala Goloritzé that departs from Baunei.
Check out my post The Best Hikes In Sardinia.
Useful information
Here are a few more tips to make the most of your time at Cala Goloritzé.
BRING WHATEVER YOU NEED FOR THE DAY – This is not a serviced beach and you will need to bring whatever you may need for the day – from an umbrella for some much needed shade, to water, food and sunblock.
LEAVE ONLY FOOTPRINTS – There are no garbage bins at the beach. You will have to take back with you whatever trash you produce during the day. This also goes for cigarette butts, in case you are a smoker.
DON'T STEAL SAND – Or pebbles, in this case. Stealing sand, stones and shells from Sardinian beaches is a crime and if you are caught with it you'll end up with a fine. Read more here.
BEWARE THERE'S NO LIFEGUARD ON DUTY – Keep this in mind, especially in case you decide to climb the rock to dive in the water, or if the water is rough!
FINAL NOTE – As Cala Goloritzé is surrounded by mountains, the sun starts going down and the beach gets in the shade as early as 4:00 pm even in the peak months. Most people start leaving then, for fear of being stuck in the dark on the trail. The good news is that once you get on the main part of the trail, it will still be in full daylight, so you can linger at the beach a bit longer.
Other nearby beaches
The Gulf of Orosei, where Cala Goloritzé is located, is home to some of the most scenic beaches in Sardinia.
Two hundred meters north of it you will find "Spiaggia delle Sorgenti'"(Springs Beach), where spring water gets onto the beach flowing between the rocks.
Further north, there are the gorgeous Cala Mariolu, where you'll find tiny white pebbles white as snow, which give it the name Ispuligi de Nie (literally "snow flakes" in Sardinian); Cala dei Gabbiani; Cala Biriola; Cala Sisine, located at the end of a ravine which was once a river bed; the Pools of Venus, a stunning swimming spot; and finally Cala Luna (pictures above), set of the famous movie "Swept Away."
There even are a few caves – namely the Grotta del Miracolo and Grotta del Bue Marino, once inhabited by monk seals.
Check out my post 30 Great Movies Filmed In Sardinia And About Sardinia.
Where to stay to easily access Cala Goloritzé
Depending on whether you want to hike or take a boat to Cala Goloritzé, you should sleep in either Baunei or Santa Maria Navarrese. Both have good accommodation options. I have tried and recommend each and every one mentioned here:
Hotel Bia Maore – in Baunei, it has nice rooms decorated according to the local style. Breakfast is excellent.
Hotel Nicoletta – in the center of Santa Maria Navarrese, it features classic rooms and has access to a private beach area.
Further readings
Are you planning a trip to Sardinia? Make sure to check out my other posts:
Pin It For Later!