Fonni is one of the nicest small towns in Sardinia. Located on the Gennargentu Mountain, this is the highest Sardinian village at about 1,000 meters (3,281 feet) above sea level. It is mainly famous because of its ski infrastructure (Mount Spada and Bruncu Spina), for the pretty murals in the village, and for its traditional carnival rites. Another important event there is the horse riding competition held every year on the first August Sunday.
If you are planning a trip to Sardinia and wish to visit some lesser known places, Fonni is certainly one you should consider. Curious to find out more? Continue reading!
A Brief History Of Fonni
The area where Fonni is located was inhabited since Nuragic times. There are still two amazing sites from this era that can be visited: the Gremanu complex, the only Nuragic aqueduct on the whole island, and the Madau Necropolis. They are both well-preserved and open to tourists.
Although being set in the heart of the Barbagia mountains, an area that was hard to control, Fonni and its surroundings were eventually conquered by Romans and made into a postal station.
During the Middle Ages, it was part of the Arborea Kingdom and was later handed down among feudal lords until Sardinia became a Savoy property in 1720.
Like many other villages in the mountains of Sardinia, Foni was greatly influenced by Christianity and it had several churches built throughout the centuries.
The Best Things To Do In Fonni
Ski
I bet this one caught you by surprise, right? If you visit Sardinia in winter, Fonni is definitely the place to go.
Bruncu Spina Mountain is the most important ski complex on the island: it is, in fact, one of the few areas where it regularly snows every year, therefore, also the coldest area in Sardinia.
Many locals go there to enjoy a day of fun and the complex is well kept and easy to use. There is a total of five slopes with varying difficulty, and some other services like lodges and a restaurant.
Observe the many murals
There aren't as many murals in Fonni as there are in San Sperate or Orgosolo, but they are all important and pretty nonetheless. You can find a map with every mural's location and a brief explanation about them in many places: the hotel or B&B you will stay at will likely have one.
The locals are also very nice and won't hesitate to help you find the best itinerary to see each mural – keep in mind that Fonni is a mountain village at quite an elevation and wandering aimlessly can cost quite a bit of sweat! Plan your itinerary accordingly.
The murals are all located in the old city center and on the walls of the most important buildings, so you will likely visit the city's hot spots while already being in search of the murals.
Make sure to read my post The Best Street Art And Murals In Sardinia.
Now, let's see what are the other places to visit in Fonni.
Visit the Museo della Cultura Pastorale
The Sheep Herding Traditions' Museum is located inside an old, traditional house and showcases the place and the way of life of the locals from the late 1800s, when transhumance was the main activity in the village. It's a must-go for whoever is interested in knowing the old folklore, seeing the daily tools and clothes, and understand a little more about the simple yet rigorous life of the old communities of the Barbagia region.
Pop by the Madonna dei Martiri Sanctuary complex
This complex consists of a convent, the Santissima Trinità Church, and the San Michele oratory. Although it was built in the17th century, the place was used as a police station and city hall for quite some time, until it was given back to the Franciscan monks in 1960.
Pass by San Giovanni Battista Church
Lovingly called "the Pink Church" by the locals, this Church guards some important silver relics but, unfortunately, has been closed since 2018 because of some structural damages.
There are other minor churches around Fonni and even some rural ones outside the village: the most famous (and still used) ones are Nostra Signora del Monte Church and San Cristoforo Church. Many churches host the so-called cumbessias in their vicinity: these structures are ancient shelters appositely made for pilgrims visiting the religious buildings.
Go to Madau Giants' Tomb
Madau is the most impressive of the Giant's Tomb found in Pratobello, about 15 km (little over 9 miles) from Fonni. With a funerary room measuring 22 meters (over 72 feet) and a large space for funerary ceremonies, this is one of the most interesting archeological sites in Sardinia.
The complex actually counts a total of 4 Giant's Tombs including this one, all built on the valley of Madau River. Researchers believe these were burial sites of the nearby Gremanu nuragic village. If you have your own car when visiting Fonni, it's definitely worth including this site in your itinerary!
Hike to Punta la Marmora
Fonni is a great starting point to hike to Punta La Marmora.
This is one of the most beautiful hikes in Sardinia, and contrary to many others on the island, it's typically a summer hike. With its 1,834 meters (6,017 feet), Punta la Marmora is the highest peak in Sardinia and a great area to observe the sky. That's why many locals hike this peak around 10 August, so that they can spot the shooting stars.
The hike is a challenging one that starts from an area called S'Arena, about 35 minutes drive from Fonni. That's where most spend the night, camping. A wake up call at 4:30 am is followed by the 13.6 km (8.5 miles) there and back hike to Punta La Marmora, from where to observe a magnificent sunrise with views that – on clear days – span all the way to the coast and the sea.
Explore Montes Forest and Monte Novu
Montes Forest is actually located in the territory of Orgosolo, but it's only a 15 minutes drive from Fonni, making it an excellent place to go for a walk in the woods.
This is one of the largest holm oaks forests in the Mediterranean basin! The most notable part is Sas Baddes, an area with holm oaks that reach up to 82 feet (25 meters) in height, and where you'll also be able to spot the wild rose of Gennargentu – a beautiful flower of a deep red color that's unique to the area and that only blooms in the spring months.
Within the territory of Montes Forest you'll also find Monte Novu San Giovanni natural monument, with spires as tall as 230 feet (70 meters); and the remains of a few nuraghe, the most important one being Nuraghe Mereu.
Finally, the forest is also a fabulous place to observe local wildlife, which include wild boars, mouflon, wild cats, lepers, foxes, royal eagles and more.
Lago di Gusana
A 10 minutes drive from Fonni, in the territory of Gavoi, Gusana is an artificial lake built between 1959 and 1961 by blocking the Gusana River with the intent to store water for hydroelectricity, and covering an ancient Roman bridge. The lake is beautifully set between the mountains of the Barbagia region and a perfect place for a relaxing walk.
Enjoy Fonni's Carnival
Carnival is an important festivity in the Barbagia area, and Fonni is no exception. Its traditional costumes are called Urthu and Buttudos and represent the eternal fight between man and nature.
The Urthu (Bear) is chained up and held by the Buttudos, its owners and tamers, and tries in every way to break free and wreak havoc, climbing on stuff and picking on the crowds, especially women. The beast fights with all its might, but in the end, the civilized side of the world wins and the bear is tamed every time.
Another typical mask, which is in great contrast with the Urthu and Buttudos, is the Mascheras Limpias, delicate characters who dress to hide their body and gender and don't even talk in order to better disguise themselves. They are also in charge of the Carnival's closing ceremony, consisting of holding a fake trial against a puppet called Ceomo and symbolizing Carnival: the puppet is found guilty and burnt down every year, signaling the end of the celebrations.
Go to the Palio
Another important event in Fonni folklore is the Palio, a horse riding tournament. It is considered similar to the Siena Palio and it takes place on the first Sunday of August every year, in the San Cristoforo racetrack, next to the homonymous rural church.
The main event consists of a race where anyone (Sardinians, Italians or foreigners) can participate as long as they have lived in Fonni for a minimum of three months before the competition. The prize for the winner is quite consistent and there is often more than one race because of the high number of participants. Before the first race and in between the others, the public can also enjoy the sight of acrobatic races performed on the horse's backs by groups of riders.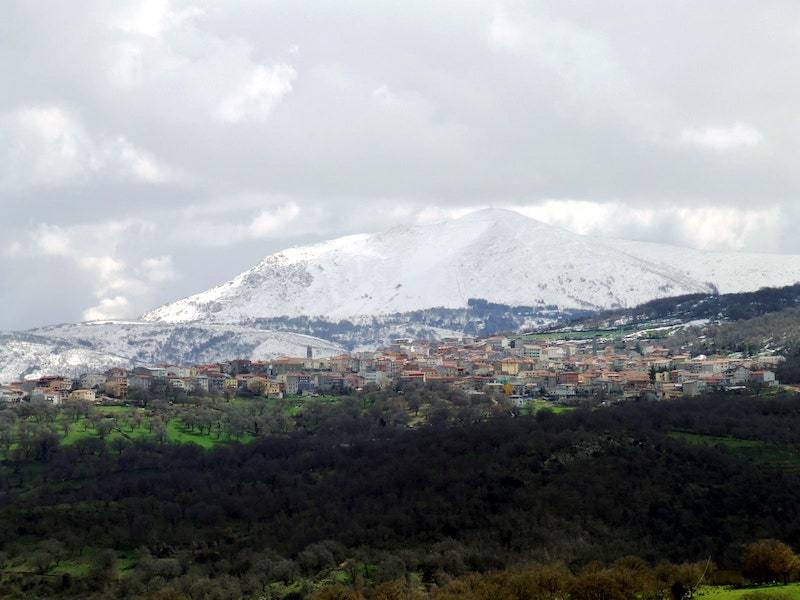 Visit Fonni for Autunno in Barbagia and Cortes Apertas
Autunno means fall in Italian. This series of events takes place, as the name suggests, during the fall, and is aimed at showcasing the traditions, foods, rites, and everything most authentic from the Barbagia region. Several cities take part in the events and the whole Autunno in Barbagia festival lasts for about three months.
Fonni participates with events which include guided tours, traditional food cooking and music performances, and many others that overlap with another typical event in Sardinia: Cortes Apertas (literally translated as open yards).
Autunno in Barbagia involves 27 villages in the Nuoro province and consists in hosting a "traditional weekend" in each of them, in turns. Every weekend, starting from the end of September and until the second half of December, a different village (or a few different villages) will "open its gates" to tourists and showcase their most valued traditions, especially food, clothing, and the old farming and commonly used tools.
It's a great chance to learn about the best-kept secrets of these small villages: some things you shouldn't miss in Fonni during the Cortes Apertas events are the tours of the murals, the guided tours of the ancient buildings and indeed the special food made for the occasion.
Fonni is especially famous for the savoiardi cookies, that are supposedly to be the best in Sardinia.
Make sure to read my post The Best Events And Festivals In Sardinia.
Practical Information To Plan Your Trip To Fonni
Where to sleep
Fonni is a small village but you will find some good accommodation options. Here are the best ones I have picked for you:
B&B La Dolce Sosta – This pretty Bed and Breakfast resembles a traditional Sardinian house and gives off a warm vibe. It's located in the city center and offers every comfort you might want.
Parco Donnortei Hotel – This resort is located less than 5 kms outside Fonni and is immersed in nature. It offers great rooms, free parking, a swimming pool and the possibility to take part in several activities.
Antico Restauro Apartments – Another wonderful place to stay in the city center, it offers an airport shuttle bus and various excursions, plus all the comforts of a private apartment.
How to get to Fonni
Fonni is connected to other towns and cities in Sardinia by bus. Here are the main connections:
FROM CAGLIARI – Take bus 9342 – it goes directly to Fonni, making several stops along the way.
FROM NUORO – Take lines 505, 506, or 9138.
FROM OLBIA COSTA SMERALDA AIRPORT – Take bus 514 to Nuoro and change there.
If you are traveling from other places in Sardinia, you will have to make your way to Nuoro, and from there take lines 505, 506, or 9138.
Many local hotels offer an airport shuttle service.
In general, if you want to explore the surroundings you are better off renting a car.
Check out the prices of car rental in Sardinia here. Make sure to also read my post A Guide To Renting A Car In Sardinia.
If you are coming from Olbia-Costa Smeralda Airport, follow SS 131 BIS to Nuoro and then follow the road signs to Fonni.

From Cagliari, take SS 125 (E25) to Oristano, then SS 131 BIS to Nuoro, and continue following the road signs to Fonni.
Fonni is a city worth visiting in every season. Whenever you choose to go, see you there!
Pin It For Later!