If you already saw some of my past blog posts, you'll know that I always recommend renting a car in Sardinia – that's, obviously, if you plan to explore more than just one place, and if yours is not strictly a weekend trip or a holiday at a beach resort.
But you might wonder, why do I keep saying you need to rent a car in Sardinia? There's a whole lot of reasons why I say renting a car in Sardinia is a must. It's about time I tell you. So, continue reading this post for my guide on car hire in Sardinia, with all the reasons to do it, and with plenty of tips on how to rent a car in Sardinia and on driving in Sardinia.
4 Reasons For Renting A Car In Sardinia
Sardinia is a great road trip destination
You may think I say this because I truly enjoy driving; however it is a well known fact that driving in Sardinia is, quite simply, a lot of fun. The island is a perfect destination for a road trip, with winding roads offering swiping coastal vistas; not to mention roads cutting through the mountains, canyons and the countryside.
Have I convinced you? Go ahead and check the prices of car rental in Sardinia here.
Public transportation isn't the best
Unfortunately, getting a car rental in Sardinia is the only good way to move around. Sardinian buses and trains don't run everywhere and anytime like in other parts of the world. Trains do connect the main cities but fail to reach smaller villages. The bus service, although stretching to more places, isn't always punctual and there are a few departures per day. This makes traveling very uncomfortable, ties you to a timetable, and really takes the fun out of a vacation.
Make sure to read my post How To Travel By Public Transport In Sardinia.
You can virtually reach any part of the island / your schedule is entirely up to you
Like I just said, public transportation doesn't reach everywhere in Sardinia. You should absolutely rent a car in Sardinia, especially if you're planning to visit some mountainous areas or the beaches in certain areas.
With a car, you'll be able to plan your schedule at travel at your own pace and time; stay as long as you want in a place (for example, if you want to see the sunset on a beach that would be impossible if you rely on public transportation!); go anywhere you want.
And what if you feel like visiting a place on a whim or want to go for dinner in another town or village? Surely you won't be doing that if you are traveling around by public transportation. You'd probably end up stranded somewhere and waiting two hours for another ride back.
The Best Tips To Rent A Car In Sardinia
And now, let me give you some specific tips collected from personal experience of renting cars during my travels! Car rental in Sardinia is generally great but require some attention as well. You are never too cautious when you go on a holiday.
Have your documents in order
Make sure to check your driving license is still valid. This may sound rather obvious, but is it? You have no idea how many people try renting a car in Sardinia and discover their driving license has expired!
Remember that unless you have an EU driver's license you'll need a valid international driver's license to drive anywhere in Italy. This obviously applies too when renting a car in Sardinia.
In order to rent a car anywhere in the world you will also need a valid credit card.
Where to rent a car in Sardinia
The best place to rent a car in Sardinia will be the airport's rent-a-car shops. You will, of course, find these shops outside in towns, villages and holiday resorts too, but the car hire in Sardinia's airports is easy to use and reach and usually offer the best rates. You just need to get out of the baggage claim area, find the right office and your car will be already waiting for you! It's this simple.
Why should you leave the airport and go looking for a shop somewhere you – maybe – don't even know how to reach? All three Sardinia airports are very tourist-friendly: you can't possibly miss the rent-a-car shops.
CAGLIARI ELMAS AIRPORT: Once you are out of the baggage claim area, turn left and go straight. Pass every shop and keep following the signs "Car Rental Services": some offices are (on your left) in the corridor leading to the train station, the others are right outside the airport, on the right side.
ALGHERO FERTILIA AIRPORT: The offices are located inside the arrivals terminal, right outside the baggage claim area.
OLBIA COSTA SMERALDA AIRPORT: Like in Cagliari's Airport, the rent-a-car offices are outside the airport, about 50 meters from the arrivals terminal. You can easily reach them on foot.
My go to company for renting a car in Sardinia and anywhere else in the world is Discover Cars. They are one of the best convenient and competitive comparison sites – you can use it to search the prices of all major car rental companies, and you can rest assured the engine will find you the best available deal. You can check it out here.
You may be wondering why I am not recommending local companies for car rental in Sardinia. There aren't any! Even the smaller local companies are now affiliated with larger multinational corporations – and that actually applies to the rest of Italy.
You should always book your car hire in Sardinia well ahead of your trip. Don't expect to just walk out of the airport and find what you need! Start researching in advance: the sooner you start looking, the better deal you'll find! Also remember that you can drop off your car at a different location from where you picked it.
Ready to rent a car in Sardinia? Check out the prices of car rental here.
Choose the right car for your trip
You'll need a different type of car rental in Sardinia depending on your itinerary. If you're planning to visit the cities, any small car will do: you really need something that you can park easily in the tight and hard to find parking spots; and that you are not afraid to drive through our incredibly narrow lanes.
However, if you want to see the mountains or the lesser-known coastal areas, you may be better off renting a small SUV or even a 4-wheel drive: the roads can be very challenging for a normal car.
And speaking about roads, be ready to encounter very tortuous roads during your trip: Sardinia is a mountainous region, and its roads are windy. If you suffer from motion sickness, better pack some medicines as well.
Here is a summary of the best tips to pick the best car for your needs:
Choose fully prepaid cars so that you don't have to pay anything on arrival.
Pick a supplier with 8.0 or higher ratings.
Look out for and make a note of the amount required for the deposit. Remember the main driver must have a credit card. You can also select for companies that only request a debit card.
Choose Full-to-Full fuel policies to avoid unexpectedly high fuel charges.
Beware of the allowed mileage — unlimited is best for long trips.
Read the pick-up instructions carefully.
Pay attention to the location types — locations in the terminal are more convenient than shuttle buses to the pick up place.
Ready to rent a car in Sardinia? Check out the prices of car rental here.
Buy insurance no matter what
You never know what's waiting for you on your holiday. It can be a relaxing, nice holiday, or there might be some inconveniences. Adding those extra euros will come in handy: even a flat tire can turn into a massive headache when you rent a car.
Thoroughly check the car before hitting the road
Don't be afraid to inspect the car down to its last bit. It's better to be overly nitpicky than ignoring something: rent-a-car offices sometimes try to make you pay extra for damages you didn't cause. Be sure to point out (and take a picture of) every scratch, bump, and irregularity you find while the clerk is showing you your car. It will save time, breath, and possibly money when you return your car.
Make sure to also check the small print of the rental agreement.
Be on time when you have to give the car back
Especially if you have a flight to catch. Don't be late, because you will have to find a place to refuel the car, and that may be tricky; and there might be a line at the desk or some problems. Get there with some time to spare and avoid unexpected and unpleasant surprises and speak to an agent to make sure everything is in order once you return your car.
Use a GPS but don't 100% trust it
Driving in Sardinia can be tricky, as roads are not only windy but at times poorly signaled and very poorly maintained.
Sometimes Google Maps or other GPS services will lead you to countryside roads, wrong roads, or even nonexistent ones, depending on the settings you choose, but they still overall do a great job. So, use them as a guide and reference but don't be surprised about the occasional mistake – it happens, you're not the first victim of a weird Google Maps itinerary.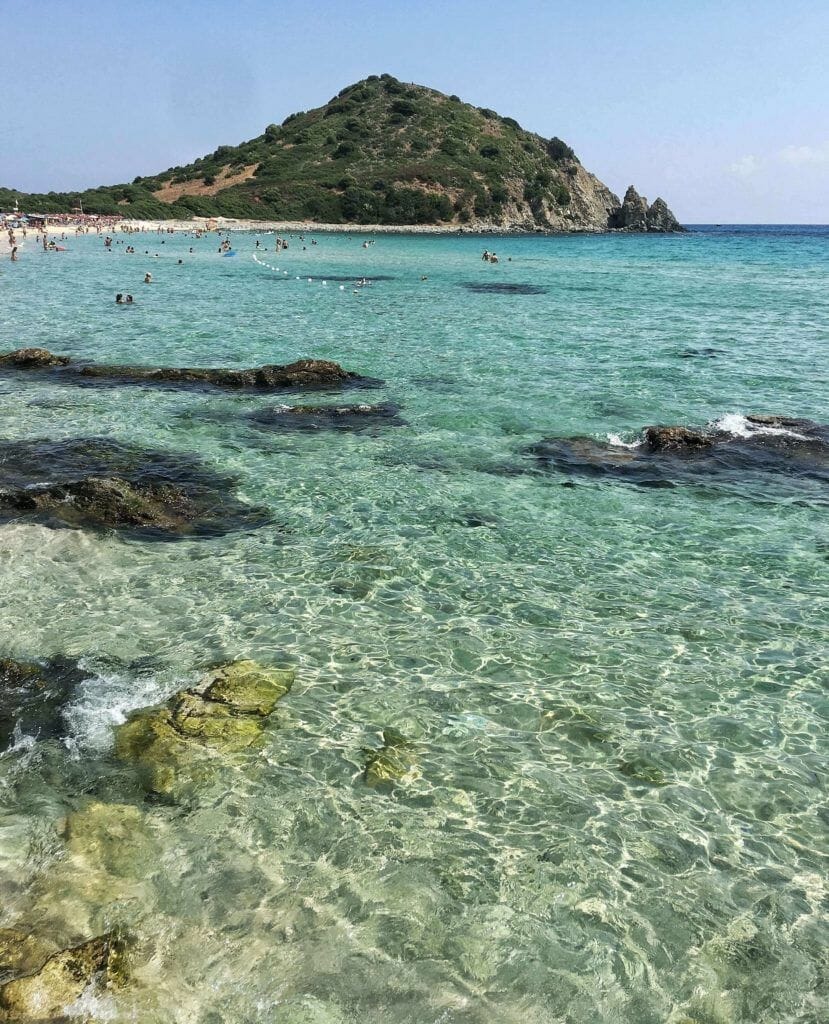 Respect local driving regulations
Like in every country, there is a set of rules to follow when driving in Sardinia. Be sure to strictly adhere to them! Pay particular attention to road signs: some cities often change them, so your GPS might not be up to date and you might be fined just because you didn't look at the road carefully enough.
Speed limits and speed cameras (called "autovelox") are also a common holiday-spoiling factor: keep an eye on them; the same goes for pay and display parking.
Last but not least, there's a lot of places where is forbidden to park your car: check the doors and gates for the specific signal; make sure that you pay your parking spot if necessary.
If you do get a ticket with your rental car you can rest assured the car-rental company will send you a notification at your home address and you will be made to pay.
What is a ZTL?
One of the trickiest things about driving in Sardinia are the infamous ZTL areas.
A "ZTL" is a restricted traffic zone. There are many of them on the island, usually in the city centers or in some specific natural/protected areas. You will recognize them as they look a bit like an electronic gate and there will be a bright sign. If it is red, it will read "varco chiuso" – gate closed, and that means you can't go through. If it is green, it will say "varco aperto" – gate open, and you can drive through.
The purpose of a ZTL is to make the streets safer for pedestrians or animals, preserve the city/site and lessen smog and gas emissions. You need special permission to drive through those areas at any time of day and the gates have cameras to catch any vehicle that drives through without permission. If you don't have permission (you won't!) and it's not a time of day when you can safely drive through, you will have to park your car outside the area and… enjoy a walk.
Absolutely no drunk driving!
Italian law on drinking and driving is quite strict, in line with drinking and driving regulations of other European Union countries. The breathalyzers are set so that they detect everything over 0.5% alcohol in your blood. This means, even a beer can lead to a fine. If you are driving, it's better be safe than sorry. Avoid drinking alcoholics of any kind: many policemen like to be fussy. Besides, it is dangerous!
I hope this has been an exhaustive guide on renting a car in Sardinia that will help you enjoy your holiday to the fullest!
Further Readings
Make sure to read my other posts:
Pin It For Later!