If you're visiting the area of Cagliari during your stay in Sardinia, you can't miss a one-day trip to San Sperate, one of the countless hidden gems on the island! This small village located only a few kilometers from Cagliari, became famous in the 1970s thanks to Pinuccio Sciola, a local artist who begun a project that's still going on and progressing nowadays: filling the city with murals – wall paintings in various techniques and styles.
San Sperate has often been described as an "open air museum" because literally every corner of this village has something to offer to the tourist's curious eyes, be it the aforementioned wall decorations, churches, a very suggestive park (the Parco Sonoro).
Before I tell you what there is to see in San Sperate, let me go through its history.
A Brief History Of San Sperate
According to archaeologists, the area surrounding San Sperate was inhabited since the 18th century BC by tribes of hunters and farmers; relics from the 13th century onwards show that, at the time, there was a Nuragic village and, therefore, the tribes had settled down and evolved into a full, working society with their religion and relationships with their neighbors.
The village later fell under Punic rule, as the four necropolises found around there show, and has gifted us with a unique relic from that time: the "Maschera Ghignante," a thespian mask in a perfect state of conservation.
The land was later conquered by Rome and was probably a center of medium importance as it is located on the way between Karalis (Cagliari) and Tharros.
San Sperate was conquered and ruled by the Vandals from 455 to 533 AC. Many bishops were sent to Sardinia from their hometowns in Africa (also under the Vandals) as a punishment, and they carried many important relics with them. Among those relics, Saint Augustine's ones are kept in Cagliari and San Sperate's ones are kept in their homonymous church and village.
After many changes of government and rulers during the Middle Ages, San Sperate became property (together with all of Sardinia) of the Savoy Family in 1720 and was regarded as their private land until Italy's unification in 1861.
Starting from the 1950s, the village started implementing their agricultural techniques and introducing new ones, together with new fruit types (especially peaches and oranges) which are still famous nowadays, so much that many families from the area (including mine!) drive to San Sperate's farms to buy top-quality fruit and vegetables.
In 1967, Pinuccio Sciola started planning and bringing to life an ambitious project aimed to give new value and fame to its village. But who was this man and what did he do exactly? Continue reading to find out!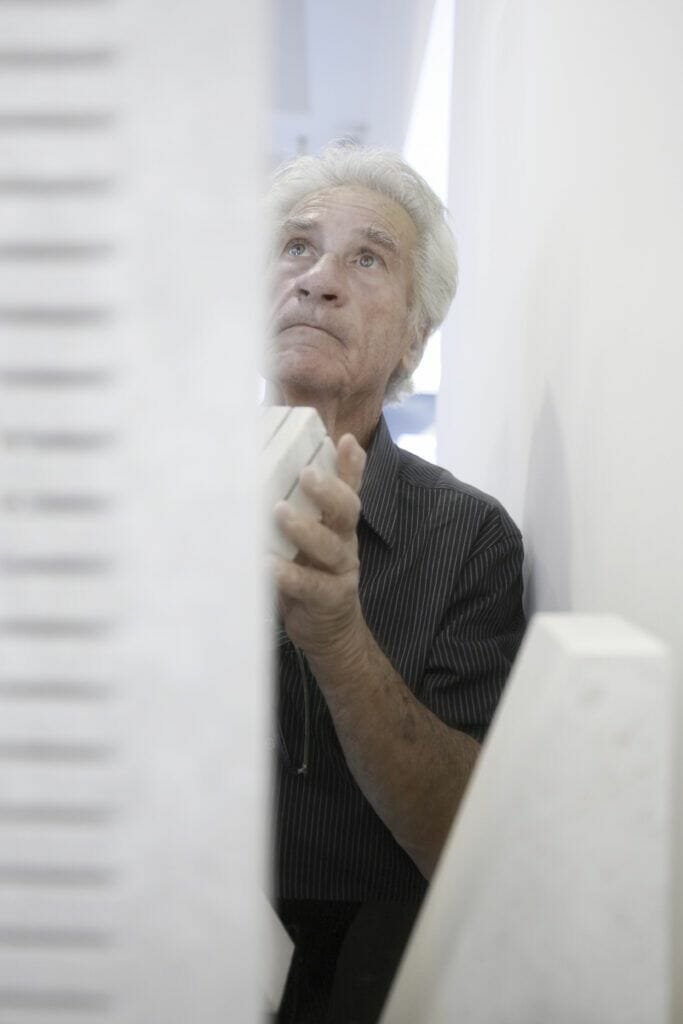 Pinuccio Sciola And His Role In The Village
Giuseppe Sciola was born in 1942 in San Sperate. He showed a great talent for sculpting since a very young age and, in 1959, he won a scholarship to study at Cagliari Arts High School, thanks to his work which he will later rename his "opera prima" – his first artwork.
After graduating, he started traveling around Europe, continuing his studies and meeting other great minds and artists of the 20th century. He was in Paris when the revolutionary movements from 1967-68 started, and it's that turmoil of heart and mind that Sciola carried back home and kept with him throughout all his life. To an extent, that big social revolution led him to another, artistic revolution in his hometown, San Sperate.
He firstly decided to paint all the walls of the village in white to celebrate Corpus Domini, and then to use those big, white walls as canvases. He painted many murals himself, and he called other friends, artists he met during his travels, to help him contribute to the making of the open-air museum we have nowadays, even inviting the common citizens to participate in this community work of art. This period of his life is known as "Anni della Calce – years of lime."
In 1973, Sciola got invited to Mexico City, where he met David Alfaro Siqueiros, one of mural art's founding artists. This meeting started a twinning between San Sperate and Tepito, a Mexico City district.
Once back in Sardinia, he started experimenting with sculpture, bringing a new aspect to this art: he worked on stones in a way that gave them sounds. He experimented with various kinds of stones, but his favorite ones were basalt and limestone. The collection of these artworks will later bring to the creation of the Giardino Sonoro – more about that i a bit.
Sciola has been traveling for all his life, teaching at universities, holding workshops and exhibitions, and winning countless awards and recognitions, and is considered one of the greatest modern artists of Sardinia and Italy. He died in 2016 and his two sons are now continuing to keep his memory and art alive, thanks to the Sciola Foundation which they opened some a few after their father's passing.
His artworks are displayed in many museums and squares all around the world – proof that his fame goes well beyond Italian borders.
What To See In San Sperate
The Giardino Sonoro
The Giardino Sonoro (Garden of Sounds) is an open museum consisting of megalithic structures, accurately sculpted by Sciola, which change their color depending on the light falling on them and also release different sounds based on their height, material, and density.
Visiting this place is a must, as it is completely unique and gives you a long-lasting memory and a one-of-a-kind experience, in between art and a full immersion in nature. The sculptures' style resembles the ancient menhirs and stone tablets from Sardinia's archaic times.
For a guided tour of the Giardino Sonoro click here or here.
The Murals
There are more than 500 murals in San Sperate, and no recommended itinerary to see them. You will just have to start walking, from any given point in the city to another, for how long your legs can hold, and see how many you manage to find and and take photographs of.
One thing for sure, you will not be disappointed: San Sperate's murales collection is constantly growing and changing. New murales are often added, others are erased and substituted, some are restored.
Artists from around the world visit San Sperate to give their contributions, making the village's walls a never-ending, forever evolving work of art, further enriched by the 100-or-so art installations made with iron, stones and other (often scrapped) materials.
The city has also recently added a new feature to the streets of the historic center: instead of the usual, black pavement, they laid a colored pavement down, making San Sperate even more colorful and picture-worthy!
Casa Tola
The Tola Baron's residence, which was designed by the famous architect Gaetano Cima, was built in the 1800s in a neo-classic style, though influenced by the typical Sardinian building style, consisting of bricks made by clay and straw (ladiri in Sardinian).
San Sperate Church
This church, called Parrocchiale di San Sperate, was built in the 1600s and is still used to keep the homonymous Saint's relics. The baptismal font is also noteworthy, as it is the bell tower where it is stored.
The Museo del Crudo
This place is an old manor, built with ladiri bricks as well, which has been renewed and is now used as a museum for temporary art exhibitions, or to host cultural events of all sorts.
San Sperate Agricultural Tradition
San Sperate has historically always been famous for and prosperous with its agriculture. The most famous products are tomatoes, citruses, and a variety of fruits; among them, the most appreciated and loved by people is indeed peach.
San Sperate's peaches are particularly juicy and tasty, so much that the village holds a peach festival every year in July, together with the religious San Sperate's celebrations. These peaches are of a particular kind which has found its ideal habitat in the village rich soil, and draw a lot of clients to the local farms, with people of southern Sardinia, including myself, driving all the way to San Sperate in order to buy its local peaches and other fruit.
Practical Information For Visiting San Sperate
How to get to San Sperate
Getting to San Sperate from Cagliari is quite easy and will not require a lot of your time. Take SS 131 towards Sassari, get out of the highway at KM 12.00 (Sestu roundabout), and take SP 4. You'll be in San Sperate after about 7 kilometers.
Alternatively, you can visit on guided day trips from Cagliari such as this one or this one.
Further Readings
Make sure to read my other posts:
Pin It For Later!