Did you know Sardinia in winter is actually great?
Sardinia is often considered to be a summer destination, and it's easy to see why – the long, crescent-shaped beaches, the inviting crystal turquoise sea, the chance to enjoy delicious food al fresco with stunning views. There's not much about summer in Sardinia that you won't like!
However, a trip to Sardinia in winter is still very much possible. If you don't like the heat or are simply looking for a holiday that will suit your budget, you may find winter is the best time to go.
There's much more to Sardinia than just beautiful beaches, with plenty of culture and history to occupy your time even during winter. In some cases, visiting during the off-season brings rewards all of its own that you just won't get in summer – carnival, anyone?
I think Sardinia is a gorgeous destination year-round, so I've put together this guide to help you see why you should definitely be visiting Sardinia in winter!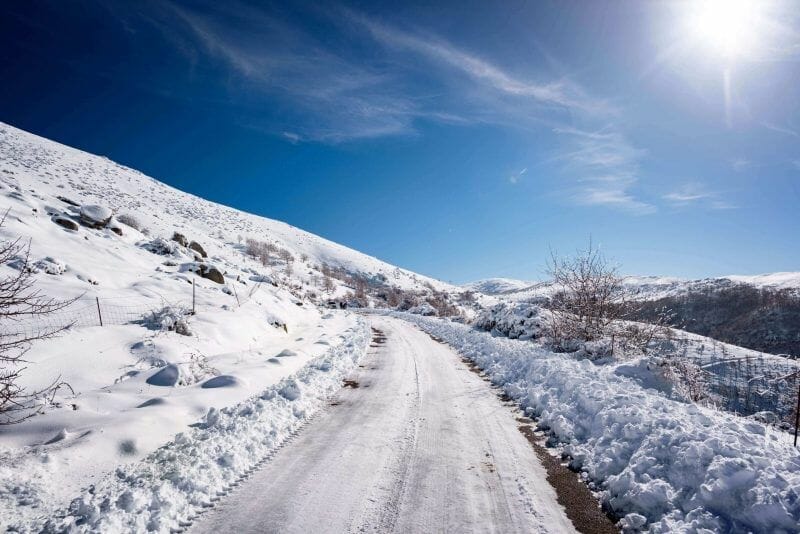 All The Reasons To Visit Sardinia In Winter
The weather is sunny (most of the time)
Sardinia may be known for its hot weather in the height of the summer, but in the offseason, it's a different story. Though it's not freezing, it's much cooler – but that doesn't mean the weather's bad. Most of the time, Sardinia is sunny – even in winter – and is one of the best destinations for winter sun in Europe.
The main thing you need to consider about Sardinia in winter is that there is a difference in weather between the coast and the interior mountain region, where the cost is pleasantly mild, and the mountains can get much colder, and receive regular snowfall (you can even ski there!).
In November, things get milder, with average daytime temperatures of around 13-17°C, dropping at night to around 8°C. In December, the island receives an average of nine hours of sunshine a day. Even though the average temperature for this month is around 11°C (with highs of 15°C), the days are crisp and usually sunny. It's a similar story for January. Inland, the climate is significantly colder – you can expect around 5-8°C during the day.
Sardinia in winter gets rain (or snow in the mountains), but it's minimal. All in all, the mild winters on the coast – especially compared to other places in Europe – make Sardinia a pleasant spot to explore.
Make sure to read my posts The Weather In Sardinia and Does It Snow In Sardinia?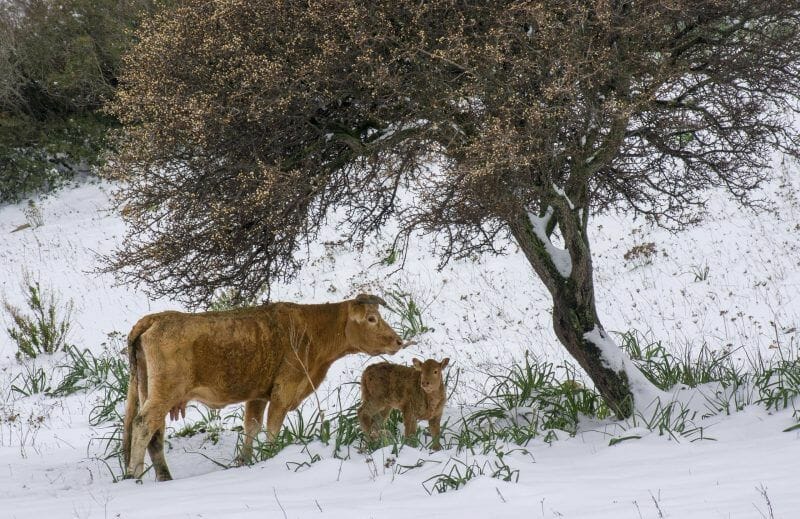 It's less crowded
Sardinia's beauty really attracts the crowds during the summer months. Who wouldn't want to spend a few weeks of warm, beautiful weather adventuring and luxuriating around one of the Mediterranean's most beautiful islands?
And it's not just summer. Tourist season starts in May in Sardinia and runs until September, with the island most recently (in 2019) welcoming 3.4 million tourists! That's a lot of people.
As you may expect, during the peak season, beaches are busy, restaurants and bars can be packed, and the top sights can get pretty crowded with visitors.
Outside of the tourist season, however, Sardinia is much less crowded. Sardinia in winter practically empties of visitors, leaving historic cobbled streets, archaeological sites, hiking routes and beaches virtually empty for you to enjoy. It's much easier to feel the local life and flavor of Sardinia without all the crowds!
It's cheaper to fly
With all those people flocking to Sardinia in peak season, the island is in high demand, so even getting there can come at a surprising cost.
Airlines consider high season in Sardinia to hit in May, June, July and August, while the cheapest month to fly here is November.
If you choose to fly to Sardinia during the offseason, especially from elsewhere in Europe, you can expect to win yourself a flight at a snip of the price it would usually cost.
Further helping matters is the fact that budget airlines such as Ryanair, EasyJet, and Eurowings fly directly to Sardinia from major European cities. That means even more chance of finding yourself a great deal.
Make sure to read my post How To Get To Sardinia: Routes From Italy And Europe.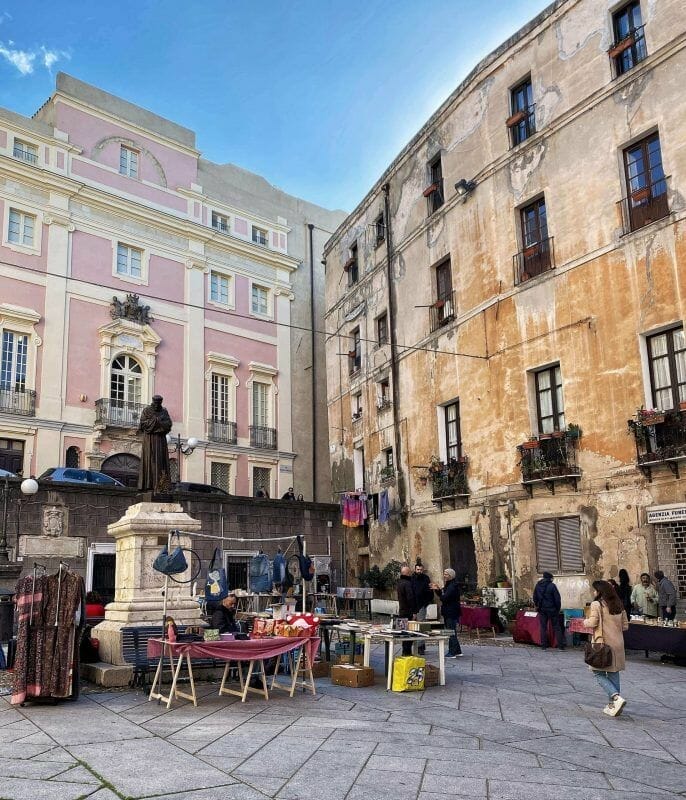 And cheaper to stay
Much like airline tickets, accommodation in Sardinia during winter is a lot cheaper. In "shoulder season" – from April to June and mid-September to October – room rates are much lower than their summer prices.
In low season (winter), prices for hotels and other forms of accommodation can be up to 50% less than in the summer months, which is an incredible reduction.
The potential to book yourself a bargain bed and breakfast or guesthouse is a great reason to visit Sardinia in winter, especially if you don't like accommodation prices eating into your budget. Far better to spend your money on other things, like exploring the island and eating lots of delicious local food!
Some hotels choose to close their doors completely during the offseason, but many stay open, and there's always the option of booking yourself an Airbnb for a more local stay.
Looking for your perfect accommodation in Sardinia? Read my posts:
Check out my post Is Sardinia Expensive? A Local's Perspective.
Cagliari is a fabulous city break
There are a whole lot of cities throughout Europe that have long been "city break" destinations – Paris, Brussels, London, to name just a few. But Cagliari, Sardinia's very own capital, should not be overlooked: it's got some serious city break credentials!
Winter in Cagliari provides the perfect backdrop for exploring the city's ancient streets and immersing yourself in its history. The cooler temperatures make exploring much more pleasant than it is during the sweltering summer heat.
And without the crowds, you'll have a much more peaceful experience exploring the alleyways, piazzas and old churches.
If you've never been to Cagliari, you're in for a surprise. This city is super interesting. There are different neighborhoods to discover, each with plenty of restaurants, bars and cafes to dip in and out of, as well as museums where you can get to grips with Sardinia's history. It even has its own beaches!
Cagliari is an excellent place for a city break, with enough of everything to make it a comprehensive experience. From culture to cuisine, it's a charming city.
These guided tours of Cagliari may be a good idea to get to know the city better:
You should also check out my posts about Cagliari:
You can't swim, but you can still enjoy the beaches
While it is often sunny in winter, the cooler air means the sea temperatures are also on the chilly side.
You can't really swim at the beaches during winter – unless you like swimming in cold water – but can definitely still enjoy the gorgeous stretches of sand and sea.
In fact, without all the sunbathers, swimmers, and beach-going families of summer, the beaches take on a whole new beauty – much more stark and serene.
Beaches in Sardinia come in many shapes and sizes – from long strips of sand to tiny white crescents tucked away in coves. You can still enjoy a walk along a beach on a sunny winter's day, wrapped in a warm sweater with peace and quiet to think and take it all in. Sounds good, right?
Read my posts:
Sardinia in winter is an excellent surfing destination too! Check out my post Where To Go Surfing In Sardinia.
It's a great time to go hiking
Sardinia has some excellent hiking opportunities. Away from the pretty towns and amazing beaches, there are miles upon miles of hiking trails hugging the coast and crisscrossing the island.
The various trails that lace around Sardinia come in various lengths and difficulties – some challenging, some easy – meaning they're available to use for practically any ability and fitness level.
That said, if you try tackling these in summer, you'll be sweaty, have the sun beating down on you the whole time, and need to carry a lot of water.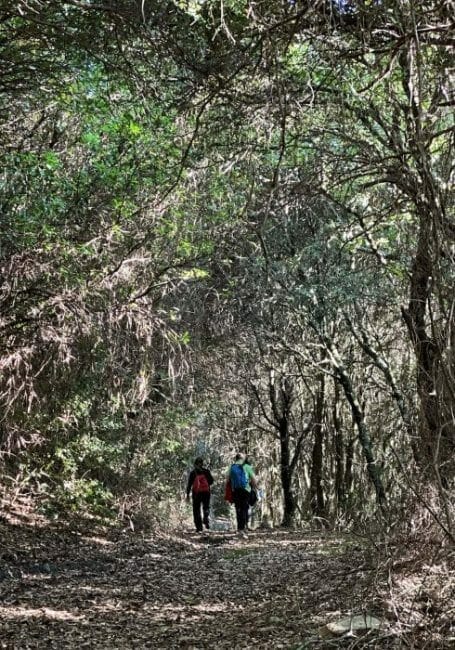 During winter, hikes in Sardinia still reveal the island's stunning natural beauty, with much less of that summer heat and intense sun that can make hiking much more grueling. It's a smart option to avoid hiking in Sardinia in summer, especially if you're not a confident hiker.
Although some spots, like Bidderosa Natural Park, aren't open in the depths of winter, many of the island's best hikes, can still be enjoyed in winter, even if there are fewer hours of daylight.
Looking for a guided hike? Here are some good options:
Make sure to read my post The Best Hikes In Sardinia.
There are many interesting archaeological sites
Sardinia is super historical. With a civilization older even than the Romans of the Italian mainland, Sardinia has an ancient culture all of its own, known as Nuragic.
Evidence of this culture is dotted around the island in the form of Nuraghe (which gives the culture its name). Many of these ruins date back as far as 1800 BC and are considered to be much more advanced than archaeological ruins of different Mediterranean cultures dating back to similar times.
Today, you can visit these nuraghe, some of which are UNESCO recognized! There are more than 7,000 of them, so you'll never be too far away from a part of Sardinia's indigenous past.
The island has seen many visitors come and go – the Carthaginians, the Romans (there are Roman ruins just about everywhere), Byzantines, Vandals, and various kingdoms and republics in medieval Europe.
These numerous conquerors have made their impact on Sardinia in everything from language and roads to food and culture. Visiting Sardinia during the winter allows you to see these vestiges of empires past without tour groups and other visitors diluting the atmosphere.
These posts may come in handy:
The Most Interesting Archeological Sites In Sardinia
A Guide To Nuraghe In Sardinia
Looking for a guided tour to the best sites? Here are some options:
And museums
With all that ancient and medieval history, it's a given that Sardinia has many museums proudly displaying its heritage. There are a lot of them to get around!
During winter in Sardinia, the museums are perfect for a place of cultured shelter during a particularly chilly morning or an afternoon downpour.
The National Archaeological Museum in Cagliari, for example, is the most renowned of Sardinia's museums. Spanning four floors, it presents an array of exhibits – from prehistoric cultures to Byzantine era finds. The National Museum in Sassari is an excellent place to spend an hour or two, as is The Archaeological Museum of Olbia, which tells the story of the city with shipwrecks, among other things.
For more modern history, visit Museo del Carbone, a fascinating mining museum in Carbonia where you get to venture down into the mine itself (pre-book for a language-specific guided tour).
If you're exploring Sardinia and interested in learning more about its heritage, simply duck into a museum. Not only will you stay warm, but you'll also learn about the ancient foundations the island is based on.
Check out my posts The History Of Sardinia And Where To Discover It and The 18 Best Museums In Sardinia.
And lovely villages and small towns
Sardinia isn't just about port cities, coastal towns, and beaches; there is a wealth of tiny towns and villages in the inland areas of Sardinia that are some of the most charming, down-to-earth places you will ever visit.
Since 2001, five of Sardinia's villages have made the cut to be ranked on the prestigious list I Borghi più belli d'Italia – or "Most Beautiful villages in Italy" – not an easy task!
Even the dozens that haven't won awards still have tons of old-world charm. Gatelli, for example, is a small place made entirely of stone, with a surprising amount of churches and sanctuaries. Bitti is an ancient village lying in a valley with Nuragic ruins nearby.
These places feel worlds away from the coastal areas of the island. The people are super friendly: if you choose to stick around for a while, they'll probably end up inviting you into their homes for lunch! Exploring in winter means zero crowds and very welcoming locals.
Read my posts:
It's when Carnival takes place
Though sunbathing on the beaches may not be an option, there's still a lot of fun to be had in Sardinia in winter. February offers one of the most exciting times of year – the time for Carnival!
Taking place on the last Sunday and Tuesday of Carnival (which will be the 14-16th February in 2021), one particular event stands out, and that is Sartiglia. This exciting event is held across two days and sees knights competing in a jousting tournament in the hope of winning the top prize – the Silver Star.
Elsewhere, Mamoida Carnival is one of the most famous events held around this time of year. Beginning on 17th January in the main square of Mamoida and continuing until Shrove Tuesday, it is certainly a spectacle to behold. You'll enjoy processions, masked dancing, jingling bells, plenty of food, and local red wine. Some locals believe that this celebration dates back more than 3,000 years, pre-dating Christian rites.
The capital of Cagliari sees Carnival festivities, with ox-drawn floats decorated with a colorful array of flowers.
As you can see, each community around Sardinia celebrates Carnival in different ways. Animal masks, food, and music are widespread. This makes visiting Sardinia in winter a unique experience – one you won't be forgetting about for a long time!
Make sure to read my post The Best Events And Festivals In Sardinia.
It's the perfect time to discover the traditions and culture
During the winter season, Sardinia has many different cultural celebrations and traditions. Carnival, with all its variations throughout the island, is just one of these.
But there are other ways to get in touch with Sardinian culture and understand the lesser-known side of Sardinia.
Sardinians are hospitable and generous. This is often shown through food! A visit to a small village or hamlet may result in an invitation to someone's house to sample some homemade fare.
In summer, every tourist blends into the crowd, but travelers in the winter months are rarer and more evident to locals – and that's a good thing!
For those interested in learning more about Sardinian identity, rural events and festivals provide insight and fascinating cultural experience.
Arts and crafts made using regional materials (from coral to chestnut wood) create a rich tradition in Sardinia, too. You can visit art galleries in cities, of course, but make sure to explore smaller towns to gain an insight into their metalworking, woven baskets and leather goods. They're made out of necessity and 100% authentic.
You can have all the earthy comfort food – and wine
It can be all too easy to be swept along with the crowds of tourists in summer, but winter is a time of authenticity – time to leave the tourist restaurants behind and see where (and what) the locals are eating.
One of the best ways to get to grips with culture (anywhere in the world) is with food. You can enroll yourself in any number of cooking classes in Sardinia to sample local delicacies such as sebadas (fried pastry) or meet the ladies who still make su filindeu – a fresh style of pasta as thin as a human hair – the traditional way.
Check out these guided food tours:
There are also wineries to visit. Sardinia has some wonderful wines, and it would be a shame to miss out on at least one tasting session at one of the many vineyards.
You can book your wine tour experience from Cagliari here.
Further Readings
If you are planning a trip to Sardinia, these posts will be useful:
Pin It For Later!