Sadali is a small village on the border between southern Sardinia and the Barbagia di Seulo, a historical region of the island. It is a charming medieval hamlet, surrounded by forests and Mediterranean scrub, a great place to see if you are planning a trip to Sardinia and want to discover it's most hidden gems – places that not even locals seem to know about.
If you wish to discover this magical place, in this guide, you will find information about the village, what to see, where to sleep and how to get there. Enjoy!
Make sure to also read my posts The Best Hidden Gems In Sardinia and The Nicest Small Towns In Sardinia.
Some Background Information About Sadali, Sardinia
The medieval village of Sadali is surrounded by truly spectacular natural landscapes. Located at an altitude of 700 meters (2,296 feet) above sea level on a limestone plateau called Su Taccu (The Heel), Sadali springs up among the forests and Mediterranean scrub, almost as if it was frozen in time.
Historically, Sadali has been inhabited since the pre-Nuragic and Nuragic periods, as proven by various ancient sites such as domus de janas and nuraghe found in the area. In the Middle Ages, like many small villages, it had various owners. The village even experienced the rule of Spanish feudal lords during the Spanish domination of Sardinia.
What To See In Sadali, Sardinia
Cascata di San Valentino
This spectacular waterfall is located near the Church of San Valentino. It is formed by perennial springs, with water falling into an underground chasm called "sa bucca manna" (the great mouth). Near the waterfall you can see an old 17th-century mill, operated precisely by the force of the water coming from the waterfall.
Su Stampu de Su Turrunu
On the border with Seulo, this waterfall ends in a small lake, partly covered by a cave. Su Stampu de su Turrunu is a tunnel developed over the years from the Tacchi rocks through water erosion. The waterfall that cascades into the pond, surrounded by lush vegetation is truly spectacular, as well as a relaxing experience.
Check out my post The Most Impressive Waterfalls In Sardinia.
Nuraghe Accodulazzo
Sadali also has something to offer to history buffs. Nuraghe Accodulazzo (also known as Nuraghe Accodulassu), located within the nuragic complex of Sadali, is a typical example of nuragic architecture, and stands as a witness to the civilization that inhabited Sardinia in ancient times.
Pieces of obsidian, shards and fragments of pottery from the Roman period have been found in the nuraghe. The nuragic complex also houses a so-called "tombs of the giants," evocative burial sites used in the Nuragic age.
Make sure to read my posts The Most Impressive Nuraghe In Sardinia and Who Were The Giants Of Sardinia?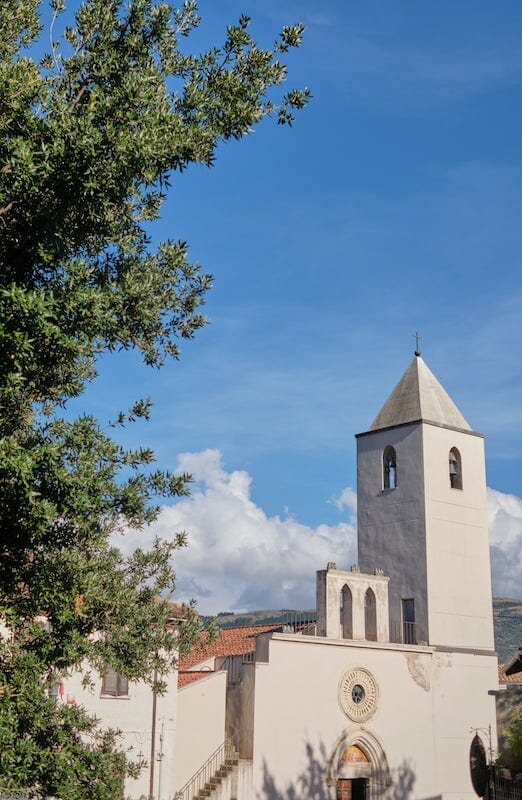 Chiesa di San Valentino and Chiesa di Sant'Elena
Although Sadali is known for its natural landscapes, I do recommend to walk through the medieval center, as there is a very unique atmosphere. Not surprisingly, the village is thought to be one of the most beautiful in Italy.
The center is home to two religious buildings: the Church of San Valentino and the Church of Sant'Elena. Both were built around the 10th century; in fact, they show typical signs of Byzantine architecture. Both buildings were renovated during the 17th.
Culurgionis Festival
Typical of the Ogliastra region of Sardinia, culurgionis are a stuffed pasta whose recipe varies from place to place, and in fact from family to family. The main ingredients are usually potatoes and cheese, but the kind of cheese used for the stuffing changes from one village to the other, and some recipes see the addition of mint, or garlic, or both – and the proportions always change.
Sadali has its very own Culurgionis recipe, and there's nothing better than a festival to get to try them! This take place each year in August, so if you happen to be in the region make sure to go!
Want to make culurgionis at home? Just read my recipe.
Practical Guide
Where to stay in Sadali
Sadali is easy to visit on day trips from Cagliari, Nuoro or Oristano. It is a really small village, so the accommodation options are a bit limited. However, should you want to stay overnight, you will find some rental apartments and vacation homes. Alternatively, you can find a couple of agriturismo in Seùlo, another small town near Sadali.
Make sure to read my post The Best Day Trips From Cagliari.
How to get to Sadali
Sadali is about 95 km (59 miles) north of Cagliari. The best way to get there is definitely by car.
From Cagliari you must take State Road (SS) 131 northbound. Once you get to Monastir (about 20 minutes drive from Cagliari), turn onto SS128 all the way to Serri. From there, take SS198 to Sadali. It will take you about one hour and 40 minutes.
There are no direct buses connecting Cagliari to Sadali, and the overall ride would take a minimum of 5 hours and a number of changes, so it's not the best idea!
The drive from Nuoro is a very scenic one along SS389 all the way to Seui, from where you have to take SS198 to Sadali. It will take you about two hours for around 105 km (little over 65 miles).
There are no direct buses running between Nuoro and Sadali either, but you can take a combination of buses 9138 and 9111 that will get you in Sadali in about three hours.
If your starting point is Oristano, the best route to follow is SS131 southbound until Sanluri, from where you need to take SS197 to Villamar, and then SS128 all the way to Sadali. It's 120 km (74.5 miles) and it will take you around two hours.
Once again, there are no direct buses from Oristano to Sadali – you'd have to take a combination of so many buses that might make you regret the choice of visiting. Rather, rent a car for the day and have a nice experience.
Pin It For Later!