You probably wouldn't imagine that, but there are many waterfalls in Sardinia.
While there's a song that says, don't go chasing waterfalls, I couldn't disagree more! When you're in Sardinia, you definitely need to go chasing waterfalls. There are so many spectacular waterfalls to see that you're going to want to plan your trip accordingly to not miss out on any of them.
The enchanting Italian island of Sardinia is known for more than just it's coastline— the waterfalls are legendary as well. Whether you're looking to plan a hike or jump into a pool under the rushing and gushing spray, Sardinia is a wonderful place to spend some time up and close with these natural wonders.
Here is a list of the waterfalls in Sardinia that I have visited, as well as all the details you need to plan your trip!
The town of Villacidro is also home to three of the most majestic waterfalls in Sardinia — Sa Spendula, Piscina Irgas, and Muru Mannu. It's a little town with a curious historic landmark – a wash house built in 1893 with an impressive metal and stone design. I'll mention these waterfalls below, but I just wanted to offer a quick point of reference before diving into the details!
The Most Scenic Waterfalls In Sardinia
Waterfalls of Piscina Irgas
The Waterfalls of Piscina Irgas offer a truly spectacular landscape, located in the Campidano in Monti Mannu forest, outside the village of Villacidro. Piscina Irgas reaches 45 meters and cascades into a deep jade-green natural pool below. When I visited, I was stunned at not just the height of the waterfall but also its shape. It streams down the mountainside almost in a perfect "waterfall" shape, which I would liken to the tail of a horse. It's spectacular!
I would recommend visiting in spring or fall when the rivers flood, and the waterfall is at full strength. However, it is still worth a visit in the summer months as it's one of Sardinia's year-round waterfalls.
The path to get the waterfalls consists of mixed terrain, transitioning from dirt to rock. There are even some steep and narrow stretches with overhangs over the gorge below. You'll then hike down to the waterfall itself; that path can get a little slippery, so make sure to take your time and go slowly. I also recommend bringing a friend just to be on the safe side!
It does take about an hour and a half to two hours to make the trek out to the Piscina Irgas waterfall. It takes you roughly 300 meters uphill. This path is qualified as a hard hike, given the narrow and steep path. As a side note, there are signposts marking the trail. There are two that will vie for your attention— the red and white signs for path 113 and the blue and white for path 109. You'll want to take path 113 and follow the sign that points you towards Piscina Irgas.
Muru Mannu
Muru Mannu is one of the tallest waterfalls in Sardinia. It's a vivid, shimmering testament to nature's wild beauty. As a single jump (a single cascade), Muru Mannu jets down the mountainside for 70 meters before plummeting into a pool. Situated close to Sa Spendula and Piscina Irgas in the town of Villacidro, Muru Mannu is not to be missed!
To reach Muru Mannu takes about two hours of trekking on a well-marked path ranked at medium difficulty. Bordered by the colossal Monte Linas mountains, with peaks that soar over 800 meters, and completely immersed in verdant woods, the hike to Muru Mannu is almost as unforgettable as the waterfall itself!
As previously touched on in the Piscina Irgas section above, the trail marked 109 is the one you want to follow to reach Muru Mannu. Expect to have to traverse a few fords. I wouldn't recommend hiking out to Muru Mannu during times of frequent and heavy rain, as this will make the trail rather treacherous. I would highly recommend visiting Muru Mannu from late spring to the start of autumn to avoid the rainy season.
Sa Spendula
Located in Villacidro, in the central-southern region of Sardinia in the Medio Campidano area, is yet another majestic waterfall, Sa Spendula. In the local dialect of Sardo, Sa Spendula translates to "the cascade." There are three consecutive water drops that have a 60-meter-high gap between them. They stream through a narrow gorge between Mount Margiani and Mount Omo. Best of all, these cascades form three separate, substantial pools.
Visiting Sa Spendula is best during autumn and winter when the falls are at their peak intensity. If you visit Sa Spendula during summer or spring, the waterfall will be more feeble. However, you can still revel in the cool spray and take a refreshing dip in Sa Spendula's pools.
If you're interested in going canyoning, there is a canyoning crew who can take you down in the canyon around Sa Spendula! It's rated as easy to medium in difficulty and is a solid half-day activity. For more information click here.
Sos Molinos
Sos Molinos waterfalls – whose full name actually is S'Istrampu de Sos Molinos – are among the prettiest waterfalls in Sardinia. Located at an easy distance from Santu Lussurgiu, one of the nicest small towns in Sardinia, and Bonacardo, they can be accessed through an easy to follow trail – which is partially paved – that goes through a beautiful forest, along which you gain a bit of elevation. The trail starts at the parking lot set along the road that connects the two villages.
They are formed by the Molinos River, and fall in a deep and beautiful gorge. The area where they are located takes its name from the presence of numerous mills that used to be put in motion by the waters fo the river.
The waterfalls are located at an elevation of 443 meters above sea level and fall down to the valley at 413 meters, which means they are 30 meters tall, distributed in five different jumps. What's peculiar about them is that contrary to most waterfalls in Sardinia these are active even during the summer months.
Cascata a Mare di Capo Nieddu
Sometimes, nature leaves you breathless. When you first lay eyes on the Cascata a Mare di Capo Nieddu, you're sure to feel your breath catch in your throat, your chest tighten, your jaw drop in wonder and awe. Cascata a Mare di Capo Nieddu is truly a sight to behold. Whenever I even see a photo of Cascata a Mare di Capo Nieddu, my mind immediately assumes that it has been photoshopped! Fortunately, I've had the honor of visiting this waterfall many times and can attest that it is real!
Cascata a Mare di Capo Nieddu is a river that jumps directly into the Mediterranean Sea, plummeting down from 40 meters. You can find this magical spot in the town of Cuglieri, which lies in the province of Oristano. This is the only waterfall that flows directly into the sea in Italy, and one of the very few in Europe.
What makes this sea waterfall so special is that it is not present year-round. You can witness its glory from November through May during the rainy season in Sardinia. During the rest of the year, it's a very faint and wobbly stream.
In order to get to the trail that leads to the waterfall, follow SS 292 that from Oristano goes to Cuglieri. Once you pass Santa Caterina di Pittinurri, at km 100.5, make a left turn on a small country road that is for the most part unpaved. Continue driving for about 1 km and once you get to the intersection take it right, drive over the bridge, and get to a gate – that's where you should park your car and begin walking.
It takes you about one hour to get to the viewpoint, on a walk that is mostly flat and easy.
Alternatively, you can follow this trail.
Cascata di San Valentino, Sadali
The Cascata di San Valentino in Sadali is the only waterfall to flow through an urban area. In fact, it cascades in front of a church!
The town of Sadali dwells in the central region of Sardinia and is a positively picturesque village. The church of Saint Valentine (the saint who marries and protects lovers) is the only church in Sardinia dedicated to the renowned saint or romance.
According to local lore, a robber tried to carry off the statue of Saint Valentine, but he stopped in front of the waterfall to admire it and then was unable to budge the statue a centimeter more! It was like it was glued to the ground. The townspeople of Sadali have passionately guarded this statue ever since.
As the Cascata di San Valentino is the only waterfall in Sardinia to burst through a town, it ramps up the town's romantic vibes a thousandfold! People visit this waterfall on February 14 to ask Saint Valentine to aid them in searching for their future partner.
The village of Sadali is encased in soothing cork oaks, holm oaks, and Mediterranean shrubs, making it perfect for a wonderful afternoon stroll. In the Addolí Forest, there is a unique water phenomenon: a stream that disappears in a hole, only to reemerge in a cave below as a waterfall. There's also a cave that, according to legend, is home to three fairies. Clearly, a visit to the Cascata di San Valentino in Sadali should be on your travel bucket list! This village has more than just a waterfall to explore and experience!
You can visit this magical town and waterfall anytime throughout the year— but of course, visiting around Valentine's Day makes the trip all the more special.
Su Stampu 'e su Turrunu in Sadali
I did just mention how incredible the village of Sadali is, right? Sadali is home to more than just the one urban waterfall; it's also where Su Stampu 'e su Turrunu resides. Deep in the lush Addolí woods is a natural phenomenon— a stream that disappears into a hole in ancient stone, then drops 16 meters into a pool inside a cave below! It's truly a natural wonder.
The cave has an even, round shape and is filled with plenty of light. The waterfall falls close to the entrance of the cave, and seemingly appears out of nowhere! The rushing sounds of Su Stampu 'e su Turrunu waterfall are amplified by the round cave walls— reverberating in a way that makes your heart sing.
It's very easy to follow this well-marked trail through the wild Sardinian forest downhill to Su Stampu 'e su Turrunu. There is a parking lot at the Janas cave, and the hike will take about 45 minutes. There are stairs and a guardrail for your safety.
Visit any time of the year, but preferably not on a day when it is raining as the stairs can get slippery!
Cascate Lequarci and Lecorci
Shooting down from the limestone peaks of the Buttes mountains are the colossal Lequarci and Lecorci waterfalls. Situated in the central-eastern region of Sardinia, nearly on the coast in the Ogliastra region, lies Ulassai—where you can find these megalithic waterfalls.
Ulassai is a territory rich in underground water, as well as plentiful springs and streams. All these factors result in these tremendous waterfalls, with Lecorci spewing straight into the river and then forming the Lequarci waterfall. Descending multiple rivulets from the limestone mountainside, Lecorci jumps one hundred meters, then gushes into Cascate Lequarci, which flows for another 75 meters before pouring into the awaiting lakes.
Lecorci and Lequarci have a width of nearly 70 meters. This means these waterfalls are truly enormous, in height and width – the most impressive waterfalls in Sardinia.
The Lecorci and Lequarci waterfalls are situated seven kilometers from the town inside a massive forest. There are dozens of trails you can take to get to the waterfall. If you're an avid trekker or even a free climber, 200 paths have been marked. However, if you want to skip the hike, you can see the waterfall from the road from Ulassai to Santa Barbara. There is parking near the waterfall.
I recommend visiting this waterfall during the rainy season as it's even more powerful during winter and spring!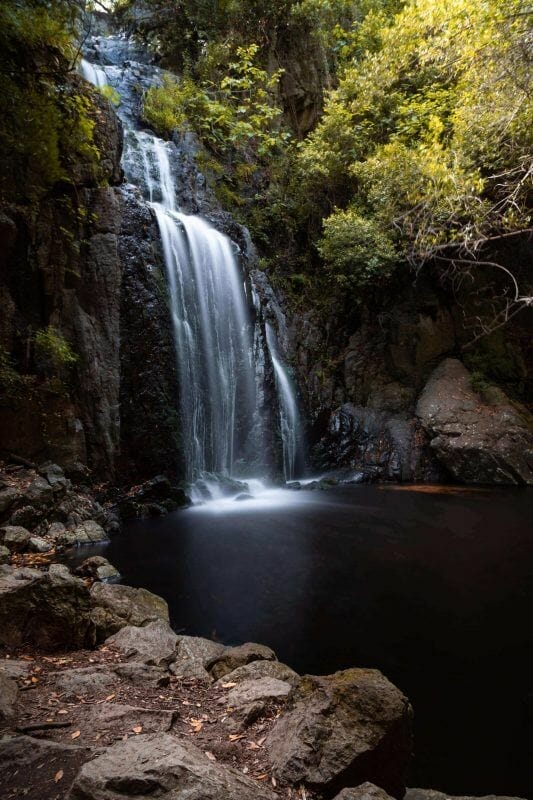 Cascata Rio Pitriscioni
Rio Pitriscioni is the main river flowing in the area of Monte Nieddu, near San Teodoro – one of the most popular tourist destinations on the north eastern coast of Sardinia, famous for the stunning beaches, the nearby islands of Tavolara and Molara, and for its incredible nightlife and food scene.
Crossing an area filled with rocky peaks, Rio Pitriscioni river passes through a canyon generating beautiful waterfalls and natural pools where it is an absolute pleasure to go for a swim – these certainly are among the most pleasant waterfalls in Sardinia.
The best starting point from which you can reach Rio Pitriscioni waterfalls is San Teodoro. You will see that nearby there are a couple of hiking trails of varying length and difficulty that you can follow to get there. My favorite one is a circular hike of about 5.5 km in length, of moderate to hard difficulty and with an altitude gain of about 500 meters.
Cascata di Mularza Noa
Bolotana is the kind of place that nobody would ever consider visiting. But when, for some reason or the other, you go there, you realize you have been missing out. That's certainly how I felt when I discovered the beautiful Mularza Noa waterfall, one of the prettiest waterfalls in Sardinia.
This waterfall is found in a local natural park called Parco Pabude. Created by the Riu Biralotta river (also known as Ortachis river), which starts in the Ortachis Plateau just 700 meters away and flows in a volcanic area, it drops for about 18 meters and is completely scenic.
Bolotana is at about 30 minutes drive from the Sardinian city of Nuoro, the main mountain outpost on the island. From there, it's an easy 15 minutes drive to Parco Pabude and an extra 10 minutes walk to get to the bottom of the waterfall. The trail is well marked.
Cascata di Triulintas in Martis
In the northern region of Sardinia, close to the north-central coast, is the Cascata di Triulintas in Martis. It's exceptionally easy to find this waterfall in Martis as there are tons of road signs pointing you in the right direction. There will be a dirt road with a dead-end where you can park, then an easy ten-minute walk to the waterfall. Keep in mind that there are no parking-lot signs – just pull over on the shoulder and park. There are also no signs marking the dirt path to the waterfall, but a wooden fence lines the way. Easy as pie, right?
In times past, Cascata di Triulintas was a burgeoning grain mill until floods destroyed it. However, there are still a few remnants of the mill around the Cascata di Triulintas. Jetting down from 15 meters, Cascata di Triulintas is the perfect spot for a little picnic. There's even a picnic table near the falls, so you don't have to pack a picnic blanket.
The best time of year to visit Cascata di Triulintas is from December to April as the currents will be running at their strongest during those months.
Is Corropus
Is Corropus waterfall is located in Gergei at Mount Trempu. It's a wild, stunningly beautiful area. Dwelling in the south of Sardinia, about 50 kilometers north of Cagliari, visiting Gergei makes for a great day trip if you're staying in the capital city. Moreover, Gergei borders the town of Barumini, renowned for its archeological wonders.
If you visit Is Corropus during the spring months, you'll find abundant flowers and even little mushrooms popping up all around the forest. Is Corropus flows into a large pool which is perfect for a refreshing swim.
From the village of Gergei, it takes about one hour of walking to reach Is Corropus waterfall. The waterfall isn't that large or tall, but it is a serene waterfall that I love to revisit time and time again. It's best to visit during December through April so that the waterfall isn't too weak and unimpressive. Between December and April, you can expect this waterfall to be much more hearty.
Sa Stiddiosa
Seulo is a small town in the Barbagia mountainous region of Sardinia at about an hour and a half drive from the capital city of Cagliari. Not far from there, Sa Stiddiosa is one of the most famous waterfalls in Sardinia, thought to be a little slice of heaven along the Flumendosa river at 300 meters above sea level.
The name Sa Stiddiosa means "leaking" and comes from "is stiddius" which refers to the the small drops of water falling. This isn't your typical waterfall – but more like a mist that falls from a water source into a gorgeous, small emerald lake along the river where swimming is simply fabulous.
You can get to Sa Stiddiosa via a hike of about 7 km and medium level difficulty – depending on how often you stop (and you will, trust me) the hike can last up to 7 hours and you definitely need a guide for that.
Alternatively, you can pick a shorter and much easier trail of less than 3 km. Just follow the signs that from Seulo point to Gadoni. After about 1 km, right by the small countryside church of Santa Barbara, you will find a sign pointing you to Sa Stiddiosa. You can follow that road for a few more km until you get to the parking lot and then park the car and continue on foot.
Which of the top waterfalls in Sardinia is calling your name? Are you ready to take the jump?
For a guided tour to some beautiful waterfalls in Southern Sardinia click here.
Further Readings
Make sure to check out my other posts about Sardinia:
Pin It For Later!