There are many fabulous Agriturismo in Sardinia. This post will share the best ones – as experienced by a local.
The concept of agriturismo was born in the 1960s but only became popular during the last thirty years. Since then more and more tourists have picked an agriturismo as their accommodation option during their holidays. But what is an agriturismo?
Literally farm-stays, agriturismi are places away from the cities, generally in the countryside, hills or mountains, or in some ancient villages, where you can experience rural life and eat traditional, local food. Most of them have rooms for the guests and offer the opportunity to see how animals are raised, or how to farm the land, and more activities.
Agriturismi vary in types and activities offered, depending on the owners' choices, but are always required to have a piece of land or some typical, traditional activity as part of their offer, because the main objective of these accommodation options is that of giving value and spreading knowledge about the agricultural life in a particular part of the country.
Most people who choose to stay in an agriturismo for their holidays do so to escape the chaos of the cities, and maybe try some new experience. But of course, there is a downside to this: these places are usually isolated and not well connected by public transportation. If you choose to visit an agriturismo in Sardinia, you will necessarily need a car. Driving is essential to get anywhere near these places.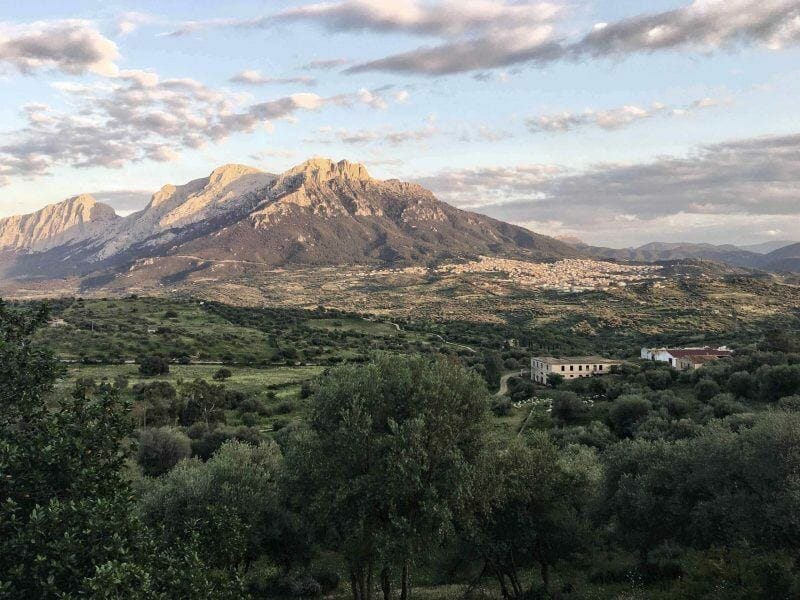 What Is An Agriturismo And Who Is It For?
Agriturismi are suited for every type of tourist. Due to the many, diverse options they offer, everyone can find the right place for an incredible holiday. Solo travelers, couples, families with kids, groups of friends – really, everyone – can find an agriturismo to suit their taste and travel needs.
From romantic locations with spa and pools to exciting horse-riding courses, agriturismi really have a huge range of options available.
Another great thing about agriturismi is that they are usually affordable, budget-friendly places, especially if you choose the half-board option where you have breakfast and either lunch or dinner with your room.
But there's more! If you don't want to spend the night in an agriturismo but still want to try good food and fun activities, that's also possible! Many locals here in Sardinia, as well as tourists of course, go to have lunch or dinner at an agriturismo, where portions are very generous and food earthy, tasty and wholesome. Prices aren't that bad either: the average cost of a full meal in an agriturismo in Sardinia is about €35.
The range of activities at an agriturismo in Sardinia
As I said, many choose to visit an agriturismo to enjoy a delicious meal made with locally farmed ingredients. But this is just the most common thing to do there. Many agriturismi offer the opportunity to learn how animals are raised, or how to farm some vegetables – a common option chosen by schools, which plan school trips there. Some places offer cooking classes as well.
Other activities you will find on offer at an agriturismo include kayaking, canoeing, horse riding, or similar sports. Couples opt for more romantic locations, usually agriturismi that choose to combine their territory's promotion with more modern features, like spas, outside (often panoramic) infinity pools, meals with a scenic view, and the like.
Facilities at agriturismos
A good agriturismo in Sardinia (and in Italy, of course) will have a range of facilities and services that are typical of other accommodation options. Make sure to check before booking whether a specific service is available, and in doubt send a quick email to confirm.
Pool
This is not the case for all agriturismi actually – just the fanciest ones. Keep in mind that in Sardinia we have amazing beaches anyways, so you won't really need a pool!
Room cleaning
Depending on the agriturismo your room will be cleaned every day, every three days or just once you leave. The same applies to linen and towels.
Air conditioning
Sardinia tends to get very hot in the summer, so most agriturismo (unless in the mountains, where it cools down at night) will have air conditioning – either free of charge or for a small additional fee.
Laundry service
Most agriturismos will have a laundry service available, either in the form of a washing machine available for use – but keep in mind on most cases you won't have a tumble dry and will have to use a clothing line to dry your stuff; or a pick-up laundry service.
Mosquito nets
These are usually applied directly to the windows. You may however want to ask the owner, just in case.
Wi-Fi
Oftentimes a good agriturismo is set in a gorgeous, yet isolated place and phone service may be scarce. Wi-Fi will usually be available in common areas, and depending on how strong it is you may also get int in your room.
Now that you know what an agriturismo is all about, let's find the best one for your stay in Sardinia.
The Best Agriturismo In Sardinia
A great thing about agriturismi is that, despite them being a bit difficult to find and reach, the majority of them are easily bookable – you will find them on most booking engines such as booking.com, agriturismo.it and occasionally even Airbnb. Many also have their own site.
Are you curious about a good agriturismo in Sardinia yet? Here's a list of the best places.
Canales (Dorgali)
This is by far my favorite agriturismo on the island. The location is stunning. Canales is located nearby Dorgali and all its attractions (from ancient ruins to the beautiful beaches of the Gulf of Orosei) and overlooks the Cedrino lake, where you can enjoy some kayaking.
It's a massive property about 1 km from the main road so you will enjoy your sleep completely immersed in silence. Food is delicious and all of it traditional and prepared with ingredients from the farm.
All the rooms are equipped with every comfort, free toiletries and private bathrooms. All the building is covered by free WiFi and is pet-friendly.
Guthiddai (Oliena)
Guthiddai offers kayak tours on the Cedrino Lake, hiking and trekking tours, general tours of the area, and much more. It's located in an area rich in natural monuments, ruins, secular forests and close to some great beaches (it's a short drive from the Gulf of Orosei), so you can't really get bored. Moreover, the agriturismo is surrounded by nature and takes pride in its locally-farmed food.
Parco Donnortei (Fonni)
This agriturismo is actually a 3-stars hotel affiliated with Monte Arcosu WWF Park. Here, together with great hospitality features, you can enjoy excursions in the park, trekking and hiking courses, rent a quad or a bike and join a local guide to explore the area, and much more. Parco Donnortei also organizes activities for schools and families, during which you can learn a lot about the local fauna and farm animals.
Is Perdas (Gergei)
Located in a great place, just a short drive from some of the most important Nuragic sites on the island, and immersed in nature, Agriturismo Is Perdas is especially famous for the type of sleeping options it offers. In fact, together with the normal rooms, you will have the possibility to stay in a glamping tent, which is a tent equipped with every comfort and on a wooden platform, that keeps it higher from the ground.
It's a stunning place and the fireplace (in case you visit in the winter months) with the friendly cats roaming about give it a homey touch.
Sa Mandra (Alghero)
One of the best places where to taste traditional Sardinian food, Sa Mandra is also an educational farm where kids can learn how to raise animals and make bread and cheese; and adults can have a gastronomic tour and try all the local delicacies.
Sa Mandra also has a museum about Sardinian crafts and traditional objects, to keep the memory of the Island's past alive.
Casale degli Ulivi (Alghero)
Surrounded by olive trees and just a few kms from Alghero and its beauties, Casale degli Ulivi is a great place for a relaxing stay away from everything. The countryside is an excellent get-out for whoever needs peace, silence, and good food. And you'll have the gorgeous beaches of Alghero, the cultural life and the many restaurants and bars of the city at easy driving distance.
Su Massaiu (Turri)
This is one of my favorite agriturismo in Sardinia. I have stayed there recently and only have good things to say about it. First of all, it is beautifully immersed in the Campidano countryside, an easy drive from Su Nuraxi, the most famous archeological site in Sardinia.
It is an incredibly peaceful place where you are guaranteed quality sleep, and even better food. Breakfast is all about local and seasonal ingredients – yogurt is locally sourced from a very small dairy factory nearby! And the traditional meals on offer are a real feast and a celebration of traditional Sardinian cuisine.
There is a pool to splash on the hottest days and plenty of space for children to run around safely.
La Quercia (Arbus)
La Quercia is just a few kilometers from Arbus and its beautiful beaches (does Piscinas ring a bell?) and offers top-quality rooms and services. The food, obviously farmed locally, is delicious and served generously; the rooms all overlook a different side of the scenery and are equipped with everything you might need and more.
Is Cheas (San Vero Milis)
Is Cheas is a luxury agriturismo/boutique hotel offering suites with a private pool (and every comfort). The place is immersed in nature and surrounded by grapevines: one of the main activities you can enjoy here is, in fact, wine tasting – San Vero Milis is famous in Sardinia for its wines! You can also try to join a cooking class, horse riding lessons, or simply relax in your incredible suite.
Nurazzolas (Villaputzu)
Nurazzolas is an agriturismo that has made sustainability its motto. Everything is fueled by solar panels, the water is constantly recycled, and the whole place is entirely devoted to a life together with nature.
If you choose to stay here, you will be surrounded by beautiful olive trees, try their homemade olive oil, and have the possibility to reach some beautiful beaches in minutes. Villaputzu is in fact close to Muravera and Costa Rei.
Tenuta Petra Bianca (Palau)
Just a few minutes from the beautiful Maddalena archipelago beaches, Tenuta Petra Bianca offers wine tasting experiences, canoeing and kayaking, and several excursion options in the area.
The agriturismo is an incredible, cozy building immersed in nature and directly overlooking the turquoise North Sardinian sea.
Domo de Resteblas (Berchidda)
An excellent agriturismo, with a pool, surrounded by olive trees and vineyards, where to enjoy excellent food and wine, and incredible views. You can explore the area and its nature or simply enjoy your stay in this peaceful countryside villa, where nothing and no one will dare to disturb.
Tenuta le Terre 1927 (San Teodoro)
San Teodoro is one of the most famous tourist destinations on the Island and Tenuta le Terre is just a few km from its beautiful beaches. Here, you can enjoy some excellent typical food – both Sardinian and strictly Gallurese dishes – while being immersed in nature. You can also take horse riding lessons, or explore the area on your own.
Further Readings
Still undecided? Read this post to plan your visit!
Pin It For Later!