Malloreddus is one of the traditional pasta of Sardinia, the kind of food you can expect to eat on special occasions: no festival occurs in Sardinia without malloreddus being abundantly served. Eaten at home, on Sundays, you'll also find it in good trattorie (local eateries) or agriturismi. Restaurants usually serve variations of the traditional malloreddus alla campidanese dish, or simply ignore the traditions and prepare them with other new (and delicious) sauces.
Would you like to make malloreddus alla campidanese at home? My recipe is slightly revisited by close to the traditional one.
The Origins Of The Name Malloreddus
Some say it comes from the Latin "mallolus," which means morsel, little bite. Others that it comes from "malloru," which in the Campidanese dialect of the Sardinian language means bull. Malloreddus would thus mean "calves."
The name "gnocchetti sardi" with which people outside of Sardinia refer to this kind of pasta is a reference to its shape. In fact, they look like small potato gnocchi. However, they taste nothing like them: there are no potatoes in the mix, but just durum wheat semolina, water and salt for a texture that is significantly sturdier, toothier. You'd have to boil malloreddus for hours in order to overcook it (please don't try this at home!).
Tips To Make Malloreddus Alla Campidanese
Buy the pasta online
The shape of malloreddus
Malloreddus look like small striped shells measuring around 1 inch (2 cm) in length, and 1/4 inch (about 6 mm) in width. They are made by mixing semolina wheat, water, salt and – occasionally – saffron.
Once the dough is smooth and soft, it is stretched into strips of about 6 inches (15 cm) and cut into small cubes and hand rolled on a round reed basket called ciuliri – another traditional product of Sardinia. There now even are gnocchi boards, which make the process much simpler! Once they are ready, they are left to dry out.
Why are some malloreddus colored?
Some kinds of gnocchetti sardi have a bit of saffron in the mixture and thus become of a slight yellow color and have a fuller flavor. This ingredient – often referred to as the red gold of Sardinia – was first introduced on the island by the Moors.
You can freeze the sauce
Just make sure to eat it within 90 days.
You can prepare the sauce in advance
You may prepare the sauce a day or two in advance, but cook the pasta only when you are ready to eat it!
Use the sauce on other pasta
Of course! This sauce is particularly good on short penne pasta.
Don't add garlic
Some would say to go for it, but it is completely unnecessary. For added flavor you may want to add a tiny bit of saffron – but dose the amounts properly or the flavor may end up being overpowering. For this recipe, 1/4 of a teaspoon is more than enough. Add it to the meat once it is cooked.
Used an aged cheese
You may used aged parmesan (Parmigiano) cheese instead pecorino cheese if you prefer the flavor.
Where can I find Sardinian sausage?
Sardinian dry and especially fresh sausage may be hard to find but you can try to ask your butcher to prepare it for you: one of the key ingredients is fennel seeds, which gives it an extra delicate flavor.
Can I make malloreddus with other sauces?
Campidanese sauce is definitely a favorite – and there are many slight variations of it. Here in Sardinia, you will find them the famous gnocchetti sardi (Sardinian gnocchi) also served with a bottarga (tuna fish roe) and clams sauce; or "a casu furriau" – which literally translates as "thrown cheese:" they are just served with saffron and abundant pecorino.
Another version is "malloreddus alla nuorese," which are prepared with fresh Sardinian sausage, plum tomatoes, dried sheep ricotta and wild fennel.
Yield: 2 to 3
Malloreddus Alla Campidanese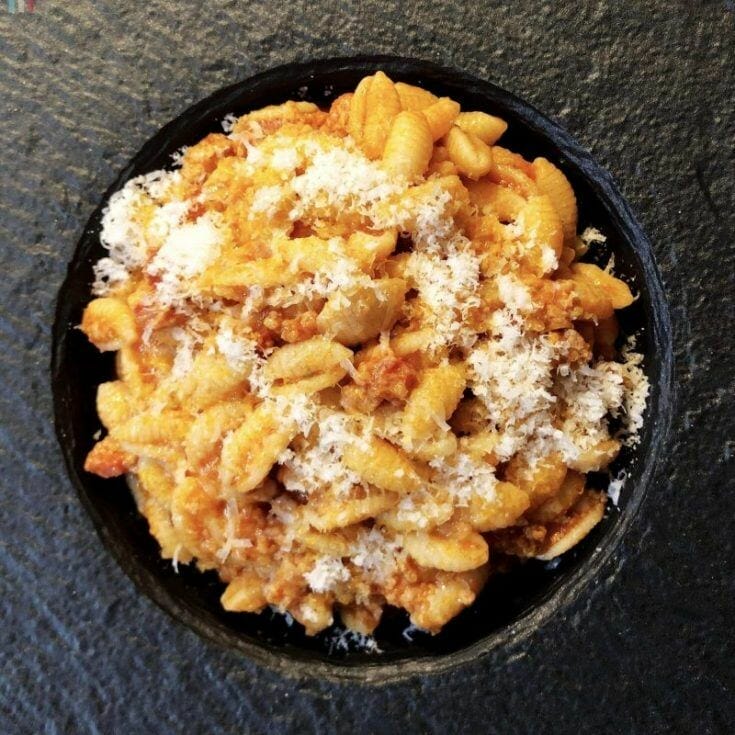 A traditional recipe, slightly revisited, for a mix of unique textures and aromas. Guaranteed success.
Additional Time
2 minutes
Total Time
2 hours
17 minutes
Ingredients
For The Sauce
1/2 White onion
1/2 Red onion
0.1 pound (60 grams) dry sausage
0.7 pound (300 grams) fresh sausage
0.7 pound (300 grams) ground pork
2 tablespoons of extra virgin olive oil
1 sprig of rosemary
3 pinches of fine salt
3.5 cups (800 grams) of tomato sauce
For The Final Dish
2 cups (200 grams) of Malloreddus
1/5 (20 grams) cup of grated pecorino fiore sardo
1/3 cup (80 grams) of grated semi-seasoned pecorino
Abundant slightly salted cooking water
Instructions
STEP 1: PREPARE THE INGREDIENTS
Peel the onions. My advice is to use a mixture of red and white onion for flavor. I use half red onion and half white onion: cut them in brunoise (small cubes).
Chop the dry sausage into small pieces and take off the casing from the fresh sausage.
STEP 2: PREPARE THE SAUCE
Heat the oil in a pot, add the onions and the rosemary and leave to brown 2 minutes over medium heat.
Add the dry sausage and let it brown for 2 more minutes, then add the fresh sausage, let it color and immediately add the minced meat.
Continue stirring in order to separate the ingredients. After a couple of minutes of browning add the salt and tomato passata.
Bring to a boil then put the flame to the minimum and cover with a lid.
Leave to cook for up to 2 to 3 hours to reduce the sauce.
STEP 3: COOK THE MALLOREDDUS AND SERVE
Bring a pot of slightly salted water to a boil and throw in the pasta.
When cooked, drain and immediately pour the pasta into 300 gr. of sauce.
Add the grated pecorino cheeses and a few drops of extra-virgin olive oil and serve.

Notes
Chef's Tip
The secret for a perfect dish is to properly stir in the cheese and letting everything rest for a minute before serving.
You can freeze whatever is left of the sauce for future use.
Nutrition Information:
Yield:
2 to 3
Serving Size:
1
Amount Per Serving:
Calories:

1345
Total Fat:

100g
Saturated Fat:

35g
Trans Fat:

1g
Unsaturated Fat:

54g
Cholesterol:

294mg
Sodium:

4392mg
Carbohydrates:

30g
Fiber:

7g
Sugar:

19g
Protein:

82g
Further Readings
Check out the following recipes:
For more readings about Sardinia, make sure to check my other posts:
This post was written by Strictly Sardinia contributor Gianni Simonetti. All photos in this post to be credited to Gianni Simonetti. Make sure to check out his Instagram channel for more delicious recipes.
Pin It For Later!