Trying to understand how to get to Sardinia? This post has you covered.
If you're reading this, it means that you are wondering what the best way to get to Sardinia from Italy or Europe is. That's great news! The Italian island of Sardinia is not just where I was born; it's a major source of love and pride for me.
Since you're gearing up for your trip, I'm here to help you plan how to get to Sardinia. As a local, and a fellow traveler, I have taken every mode of transportation under the sun to get back home after gallivanting around Europe. Let's get right to the good stuff— the flights and ferries to get you here.
Background On Sardinia
Sardinia is the second-biggest island in the Mediterranean, following Sicily. It is approximately 162 miles (around 160 km) in length and sits 116 miles (188 km) from the coast of mainland Italy.
There are two only ways of getting to Sardinia: by air or by sea. Flying is significantly faster, not to mention also cheaper – though granted, traveling by ferry gives you the opportunity of bringing your own car, which is a great commodity when traveling around the island.
Now, without further ado, let's see how to get to Sardinia.
Make sure to also read my post Which Are The Airports In Sardinia?
How To Get To Sardinia By Air: Flights To Sardinia
By far, the easiest way to travel to Sardinia is by plane. There are three airports to fly into on the island – Cagliari, the capital sitting on the south of the island; Alghero, in the northwest of Sardinia; and Olbia, in the world-renowned Costa Smeralda region in the northeast – you can also take a look at the map I have posted at the end of the post for reference.
Airports in Sardinian cities are actually close to the city they serve, and a quick bus, train or taxi ride will take you straight to the center of town.
Main Routes And Airlines
Most domestic flights to Sardinia come from Rome, but there are also plenty of flights from Milan, Bari, Catania, Palermo, Pisa, Turin, Bologna, Naples, Venice, and Verona.
If you're looking to fly from other cities in Europe, most major airports fly to Sardinia as well, including Brussels, Dublin, Frankfurt, Barcelona, Madrid, London, Oslo, Stockholm, Munich, Basel and Paris – but you may want to look at the secondary airports where budget airlines go. KLM has direct flights from Amsterdam to Cagliari.
The main airline companies that have direct flights to Sardinia are Alitalia, KLM, Lufthansa, and AirBerlin.
The high season for tourism in Sardinia is the summer, so there are more flights between the months of June through September.
For the best deals on flights to Sardinia, click here.
Budget flights to Sardinia
Low cost airlines that fly to Sardinia – some year round, others just seasonally – include Easyjet, Eurowings, Volotea, WizzAir and RyanAir. The cheapest international flights are usually from London, Barcelona and Madrid.
Some budget flights only operate from May through October.
GOOD TO KNOW: Budget flights often depart at impossible hours, forcing you to get a taxi or rent a car to drive to the airport, or to sleep close to the airport for a night. Although they are meant to be budget friendly, they aren't quite so during peak season – summer, Christmas and Easter. Just as well, they aren't cheap if you add things such as luggage. Fly off season and carry-on only and you are bound to score a great deal.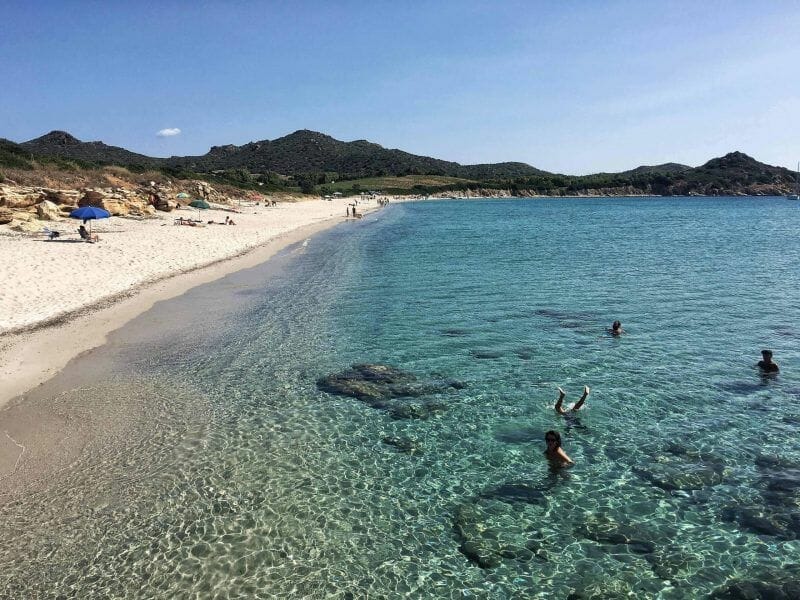 Cagliari Airport
Cagliari Airport (code CAG, known as Cagliari Elmas) is the main airport on the island and serves up to 3 million passengers each year. It serves southern Sardinia and is the airport you should use if you intend to explore the southern part of the region.
Alitalia has the greatest number of flights – usually direct from Rome or Milan and through there from a variety of other destination in Italy / Europe and the rest of the world; as well as less frequent direct flights to other cities in Italy. Direct flights from Rome last just under 50 minutes. Flights from Milan last about 70 minutes. There also are direct flights to Milan Malpensa MPX airport.
Other than Alitalia, the following airlines operate flights to Cagliari: British Airways, Air France, Delta Airlines, Iberian, and Lufthansa. Budget airlines that offer flights to Cagliari include Ryanair, Eurowings, and Ryanair.
Direct flights from Cagliari Airport come from Brussels, Amsterdam, London, Manchester, Geneva, Zurich, and Berne. The airports in France that operate flights to Cagliari Airport are Paris, Nice, Bordeaux, Toulouse, Lyon, and Nantes – keep in mind these cities are all served by budget airlines.
Most major cities in Italy and Germany provide direct flights to Cagliari Airport.
How to get from Cagliari Airport to the center of Cagliari
By Train
Cagliari Airport is easily connected to the center of town – Piazza Matteotti Train Station – via a direct train. It takes about 7 minutes to get there and a one-way ticket costs €1.30 and can be bought in the arrival hall and at the station, as well as online. Trains operate from 5:00 am to 9:00 pm, with departures every 20 minutes.
By Taxi
You will also find an abundance of taxis outside the arrivals terminal. They take between 10 and 15 minutes to get to the city center, depending on the area and on the time of day. Taxis operate on a flat rate system, and cost between €17 and €20 depending on the time of day and on the area where you are going.
By Bus
Finally, you can get to Cagliari city center by bus. ARST operates bus 160 to the center of Cagliari (Piazza Matteotti central bus station) just once a day at 11:45 pm, after trains stop riding – it will wait for the last flight to land before departing. During the day, you can count on buses 501 and 747, but there are very few rides. Tickets cost €1.30.
For complete information on how to get from Cagliari Elmas Airport to the city, read this post.
Olbia Airport
Olbia Airport (Olbia Costa Smeralda, airport code OLB) is the best airport to fly to if you wish to visit the northeast of the island – places like Santa Teresa di Gallura, Budoni, San Teodoro, La Maddalena Archipelago and obviously Costa Smeralda.
The main airline companies flying direct to Olbia are Alitalia, AirBerlin and Lufthansa. Easyjet is the best choice for a budget flight to Olbia.
Direct flights to Olbia can originate in lots of different European cities, including Zurich, Brussels, Amsterdam, London, and Manchester. Additionally, most major airports in France, Germany, and Italy — around ten different cities in each of the three aforementioned countries – have direct connections to Olbia.
How to get from Olbia Airport to the city
By Bus
Buses 2 and 10 depart every 10 to 20 minutes and take you into town in around 10 minutes – you can get tickets on the bus for €1.50 or at the information desk inside the terminal.
By Taxi
Taxis from the airport to the city charge about €15.
If you are traveling to Costa Smeralda or other places, you will want to rent a car directly at the airport.
For more information on how to get from Olbia Costa Smeralda Airport to the city, read this post.
Alghero Airport
Alghero Airport (Fertilia, airport code AHO) sits in the northwest of Sardinia.
Flights are mainly operated by Alitalia, and budget airlines include Ryanair, Easyjet, and Wizz Air.
Direct flights to Alghero can be found from Geneva, Amsterdam, Brussels, London, and Manchester. There are no direct flights from France, and only three German cities— Berlin, Frankfurt, and Menninger— offer direct flights from Germany. Again, most major airports in Italy provide direct flights to Alghero Airport.
How to get from Fertilia Airport to Alghero town center
By Bus
Bus rides are available from 5:00 am to 10:30 pm and take around 30 minutes to get to the city center. Tickets cost €1 if bought at the terminal and €1.50 if bought directly on the bus.
By Taxi
Taxi rides are in the range of €25.
How To Get To Sardinia From Outside Of Europe
There are no direct flights from North America, Asia and Australia and New Zealand to Sardinia, so you will have to fly to Rome, Milan, or a major European hub like Amsterdam to catch a connecting flight.
Flights to Rome and Milan are available from all main cities in the United States such as New York, Miami, Boston, Philadelphia, Atlanta, Chicago and Los Angeles and are operated by – among others – Alitalia, Delta, and American Airlines. There also are daily flights from Toronto with Alitalia and AirCanada, as well as from Montreal.
If you are coming from Australia or New Zealand you will have to break your journey in multiple legs – usually via Hong Kong or Singapore, then via Rome or Milan where you can catch a connection to Sardinia.
For the best outside deals from outside of Europe, click here.
How To Get To Sardinia By Sea: Ferries To Sardinia
If your travel schedule allows for it, taking the ferry is definitely a good option to get to Sardinia. Best of all, you can bring your car along for the ride which means you can move around more easily when in Sardinia.
Ferries to Sardinia are available from mainland Italy, Sicily, Spain and France.
Where are the ports in Sardinia?
Ferry Ports in the North are Olbia, Porto Torres, and Golfo Aranci. The ferry port on the east coast is Arbatax, which is connected to Civitavecchia. Lastly, Cagliari is the arrival port in the south.
There also is a ferry port in Santa Teresa di Gallura which connects Sardinia to Corsica.
Ferries from Italy to Sardinia
Ferries to Sardinia are available year round but run most frequently during the tourist high season between June and September – that's when they will also be most crowded, not to mention expensive!
The main companies operating from mainland Italy to Sardinia are Tirrenia, Grimaldi Lines, Moby, Grandi Navi Veloci and Sardinia Ferries / Corsica Ferries.
Ferries depart from Civitavecchia (about 50 miles from Rome), with connections to Olbia, Arbatax and Cagliari; Genoa, with connections to Porto Torres and Olbia; Livorno and Piombino, with connections to Olbia and Golfo Aranci; Naples and Palermo, both with connections to Cagliari.
Most ferry services from Italy are overnight and – depending on the route – can take anything between 7.5 and 15 hours, so you have the option of getting your own cabin for the duration of the trip, go to bed almost as soon as the ferry departs and wake up in Sardinia.
You can book your ferry to Sardinia here.
Ferries from France and Spain
Ferries also travel to Sardinia from France and Spain. The ports in France are Toulon and Marseille and you can also travel from Ajaccio and Bastia, in Corsica. The most popular routes are from Marseille to Porto Torres, which takes around 10 hours and is operated by La Méridionale; and from Nice to Golfo Aranci, which is operated by Sardinia Ferries and take up to 13 hours.
The only port in Spain that services Sardinia is Barcelona; the ferry operates from Barcelona to Porto Torres on Grimaldi Lines. The journey takes just under 12 hours.
Traveling from the UK to Sardinia by car + ferry
I don't really recommend that you drive all the way from the UK to Marseille or Nice to take the ferry to Sardinia. It's a long journey and if you want to do it in a healthy way, you will have to break it down in a couple of stages and between the cost of gas, ferry tickets, hotels, food and many toll roads you need to take in France it just won't be any cheaper.
For more information on ferries to Sardinia, read this post.
Final Thoughts On How To Get To Sardinia
I hope this post has brought some clarity on how to get to Sardinia.
I wish you safe travels on your journey to Sardinia. No matter which route you take, you'll feel right at home as soon as you set foot on Sardinian soil. Luckily, there are great routes from most major European cities, and lightning-fast flights from Italy, too. However, if you're able to take the ferry, I hope it's smooth sailing for you, as it's always been for me!
Safe travels! Bon voyage! Buon viaggio!
Further Readings
Make sure to check out my other posts about Sardinia:
Pin It For Later!