Cala Gonone is the only seaside hamlet of the bigger Dorgali. It's a small, small coastal town, in one of the best areas of the Gulf of Orosei. Being a village that lives off tourism, there are different places catering to different types of tourists, from huge luxury resorts to family-run guest houses.
Cala Gonone is a place of stunning beauty: from the incredible beaches to the hiking trails, from the nearby natural wonders to the ancient ruins in the area, you will have plenty of things to do should you decide to visit. The village itself has some gems to offer too: you should definitely explore its streets and immerse yourself in the atmosphere, visit the artisans' boutiques and try the local food and wines!
When you visit the Dorgali/ Cala Gonone area, be sure to rent a car or come with yours. Public transportation on the island isn't the best (and getting to Cala Gonone by bus is a hassle) and a car will give you a lot more freedom to explore and follow your own schedule. You can rent a car in every Sardinian airport.
For guidance on renting a car in Sardinia, read this post.
A Brief History Of Cala Gonone
The area where Cala Gonone is located was inhabited and busy since Nuragic times, as the many ruins show. Greek and Romans also used to come here often for their trades, and the latter founded several colonies along the coastline, which offered safe shelter from the wind and decent possibilities of earning thanks to its central position in the Mediterranean sea.
Unfortunately, the countless pirates' invasions in the Middle ages forced the locals to abandon the villages and build new ones more inland, safer and protected by the labyrinth-like Supramonte mountains and forests.
The official foundation of the modern village is 1878, when the first church started being built. Cala Gonone was slowly repopulated and, starting from the last century, proceeded to become the pulsing heart of the local tourism economy, thanks to the stunning places around there, and especially the beaches.
The Best Beaches Near Cala Gonone
Cala Gonone has its own beaches and coves – some are public, some are private, owned by the various resorts. However, we are talking about one of the most beautiful marine areas in Sardinia! There's plenty to see there.
Below is a small list of beaches you should not miss during your holiday in Cala Gonone: you can access them via boat, or with a hike (of varying intensity); some are even reachable by car – meaning the parkings are close enough to the actual beaches, so you can avoid walking under the sun for hours.
Spiaggia Centrale
This is Cala Gonone's main beach, where the aristocrats used to go some centuries ago. A simple glance and you will immediately understand why! Pristine water, white sand, and it's also conveniently close to everything useful in the village.
Palmasera
Located inside a resort, this beach is equipped with every comfort. Trying water sports, exploring the area on a zodiac, or doing absolutely nothing except tanning under the sun, everything is possible there.
Cala Cartoe
This is probably the best beach to visit with kids: the parking is close so they won't get tired, and the water is very shallow and safe for them. If you want to relax and let your children run freely, Cala Cartoe is your best pick.
Cala Fuili
Like a fairytale, this beach hides behind a forest and can be found by climbing down a staircase. This is the last beach you can reach by car from Cala Gonone, and where the trail to Cala Luna starts.
Water is almost immediately deep, and the cove is actually pebbly – so it's not the most comfortable place and actually not suitable to children. The secluded area is granted to gift you with a magical experience, away from your worries and the modern world's noise.
Cala Luna
Cala Luna is one of the rare, long, sandy beaches in the Ororsei Gulf. It's about 800 meters long and can fit a lot of people, contrary to the main coves in the area. It's another spot for climbers and also the finish point of a beautiful, moderate hike which starts in Cala Fuili. Located on the beach there are several scenic caves.
Make sure to read my post A Short Guide To Cala Luna.
Cala Goloritzé
This beach is the symbol of the Orosei Gulf – but it actually belongs to the municipality of Baunei. It's usually the last stop on boat tours of the area. You can also get there by hike from the Altopiano del Golgo, where the trail starts but the hike is worth the view!
Here you can challenge yourself to some free climbing, enjoy the breathtaking views or take as many pictures as you need to fill your camera roll.
Cala Goloritzé is quite a precious beach: be sure to be extra careful and follow all the rules you will be given to enjoy a peaceful excursion!
For more information on Cala Goloritzé, read this post.
What To See And Do In Cala Gonone
Go on a boat tour
The Gulf of Orosei can best be enjoyed with a boat tour, the best way to visit all the lovely beaches and hidden gems in a day, and significantly more relaxing than hiking. There are various options suitable for everyone, from cheap-ish mini cruises to a private tour with an expert skipper.
You can book your boat tour from Cala Gonone here.
Read my post The Best Boat Tours From Cala Gonone.
Visit the Sea Oxen Caves
This incredible cave complex can be reached via boat from Cala Gonone and the guided tour lasts about one hour. The caves got their name from the monk seal (the locals called it "bue marino" which translates as sea oxen), which used to live there until the last century, when the fishermen recklessly started hunting them, because they fed on too many fish, according to them.
The seals slowly stopped coming to the caves and are now nowhere to be found, but the caves remain a beautiful place to visit nonetheless.
Head over to my posts A Guide To Visiting The Grotte Del Bue Marino and The Most Beautiful Caves In Sardinia.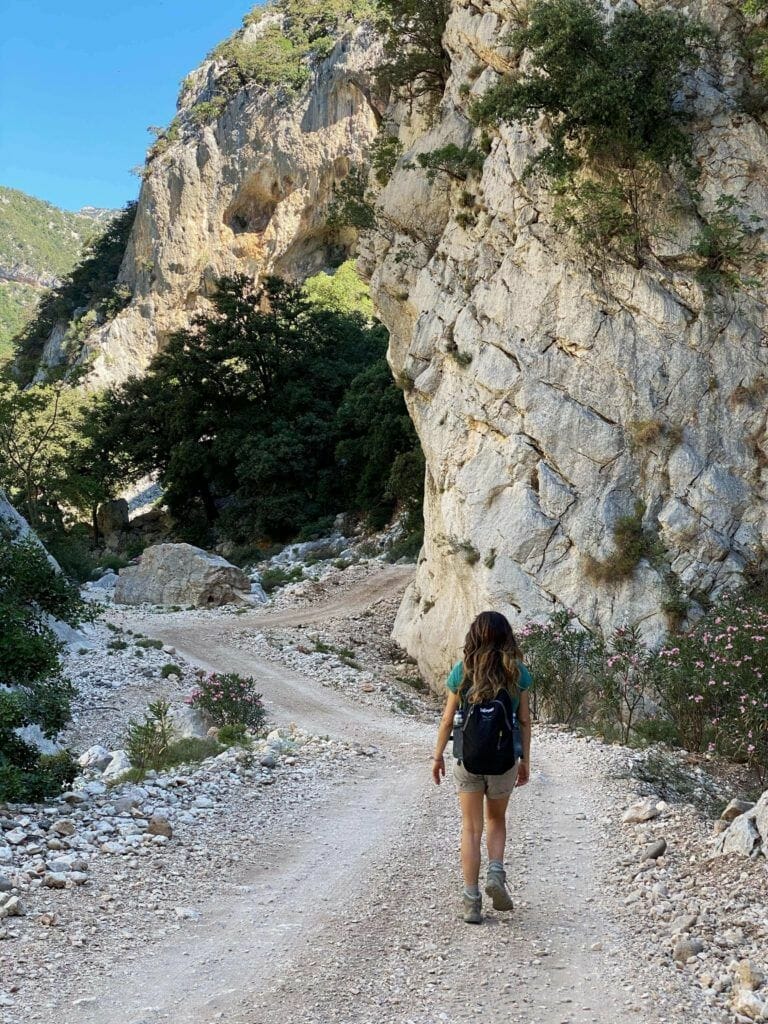 Go for a hike
The whole area around Cala Gonone is a paradise for trekking and hiking lovers. Of course, you will need to pick your itinerary carefully, taking your skills and strength into consideration, but I'm sure you will find something for yourself. From a simple hike to a beach to trying out a part (or the full course) of the famous Selvaggio Blu, there really is a hike for everyone!
Check out my post The Best Hikes In Sardinia.
Go to the Aquarium
Located in Cala Gonone town, this is a good place to bring your kids if they get tired of the beach – and to enjoy a different day yourself, too. The aquarium has been recognized as a high-standard park, and received an award for keeping its animals in excellent conditions, respecting their needs.
Cala Gonone Aquarium is open daily from 10:00 am to 5:00 pm. Admission is €12 for adults and €6,50 for children up to 12 years old. For more information, click here.
Visit Tiscali
If you are a fan of ancient civilizations, you should make it a point to go to Tiscali Nuragic Village. It's a well-preserved Nuragic complex not too far away from Cala Gonone that can be reached via a nice, scenic hike. If you book a guided tour you can discover everything about its old inhabitants, their society, and their secrets.
To book your guided hike to Tiscali, click here.
Read my post The Best Archeological Sites In Sardinia.
Explore the Supramonte
The Supramonte is an area of extreme naturalistic value, the purest heart of Sardinia, still quite wild and even unexplored in some parts. If you like getting lost in nature and its beautiful monuments, you should try to visit places like the Golgo Plateau or Su Gorropu Canyon. You will be up for an unforgettable adventure!
Read my post A Complete Guide To Supramonte.
Practical Information
How to get to Cala Gonone
The easiest way to get to Cala Gonone is by car.
The closest harbor is Arbatax and the closest airport is Olbia (which also has another harbor). If you come from Arbatax, you just need to follow State Road SS 125 to Dorgali and then follow the directions to Cala Gonone, which is another 20 minutes drive.
If you arrive from Olbia, follow State Road SS 131 to Cagliari/Nuoro until the junction to Lula/Bitti/Galtellì/Oliena. Here take SP 38, then SS 125 to Dorgali, and follow the road signs to Cala Gonone.
Where to eat and sleep in Cala Gonone
As any proper tourist hamlet in Sardinia, Cala Gonone is home to several excellent restaurants. Here are the best choices:
IL PESCATORE – The best seafood restaurant in the area, it's not cheap by the mixed seafood appetizers are to die for.
RISTORANTE PIZZERIA SAN FRANCISCO – Easily the best pizza in town, and they also prepare some excellent pasta and seafood dishes.
GELATERIA FANCELLO – If you fancy ice-cream, this is where to go.
In terms of accommodation, you will find several options too – including a camping site on the northern side of town. Here are some good options:
B&B CASA DEL SOLE – Located in a great position inside Cala Gonone, this Bed and Breakfast is equipped with every comfort, offers free parking, free WiFi, and is pet-friendly. Every room has private bathroom and coffee/tea makers. Book it here.
HOTEL NETTUNO – With an excellent central position and comfortable rooms with air conditioning and everything else you might need, Hotel Nettuno is indeed a great pick in Cala Gonone. You can easily reach all the major beaches from there, or just have a nice swim in the hotel's pool. The place also has free parking, free wifi, and some great common spaces. Book it here.
APARTMENT CONCHIGLIE 2 – For the ones who prefer spending their holidays in a home-like environment, an apartment nearby the beaches is the best option. Here you will have everything that can be normally found in a house, free parking, free WiFi, an airport shuttle service, and much more. The place is also pet-friendly. Book it here.
Make sure to also read my post Where To Stay In Cala Gonone.
Pin It For Later!