Together with Su Nuraxi of Barumini, Nuraghe Palmavera is one of the best kept nuraghe in Sardinia and a must see when in Alghero.
If you happen to be visiting this part of the island, you will have no shortage of fun activities to enjoy and places to visit. But while most travelers visit Sardinia – and with that, Alghero – to make the most of the beaches, did you know that the area is scattered with unique archeological sites?
For more information about Alghero, read my posts A Complete Guide To Alghero and The Best Beaches In Alghero.
You see, this part of Sardinia has been inhabited since the beginning of time: the land was favorable to human settlement, and the coast was the best feature the ancient populations could hope for, since they based a great deal of their activities on the sea. Greeks and Romans first and the Saracen pirates later, then the Spanish and the Catalan always benefited from the Sardinian coastline.
But before them, Sardinia's indigenous civilization used to roam the land, both in its interior and on the coast: the Nuraghe Palmavera was built exactly in between the mountain and the sea, in a place so prosperous that the Romans used to call it "The Nymphs' Harbor".
Before giving out the details about this specific place, let me briefly explain who its builders were.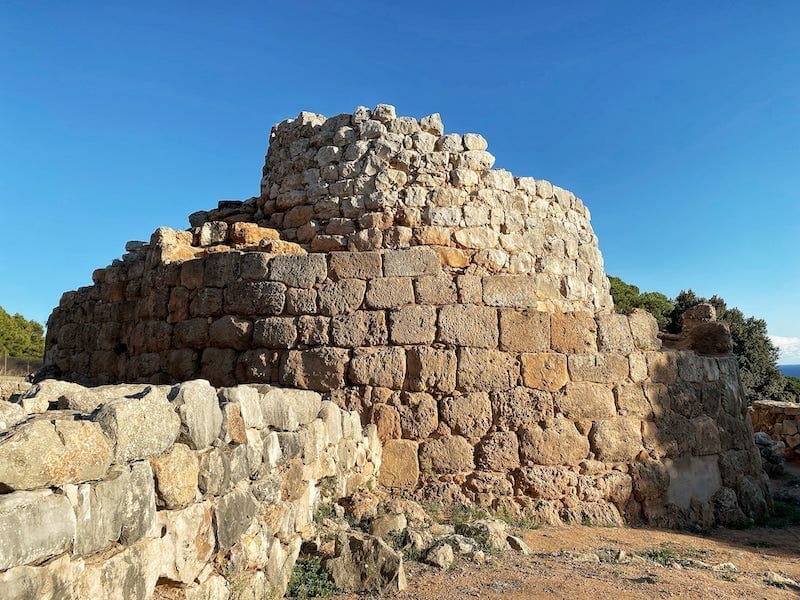 Who Were The Nuragics?
The Nuragic civilization was a Sardinian indigenous population who lived on the Island from the Bronze Age (ca. 2300 BC) up until the late Roman era (ca. 6th century AD), in certain areas. They take their name from the unique buildings they used to live in, called Nuraghe: there are about 8000 Nuraghe scattered around Sardinia, all in different stages of conservation.
The debate about what level of civilization the Nuragic people had is always very heated, and there are very contrasting opinions about it: some scholars suggest that they were a primitive society, based on hunting and fruits/vegetable gathering, while others are quite adamant about them being a more complex society with an alphabet and a structured hierarchy.
The truth is, of course, in the middle: the Nuragic civilization has lived in Sardinia for several centuries and has likely evolved over time. Moreover, had they stayed a primitive people forever, they would have never built elaborate complexes like the nuraghe.
Make sure to read my post The Most Famous Nuraghe In Sardinia.
Everything You Need To Know About Nuraghe Palmavera
Nuraghe Palmavera is a well-kept Nuragic complex, with some unique features that make it a place of great archeological interest. The main building shows traces of being built during different eras, further proving the fact that the Nuragics weren't a static civilization. The whole complex, which is now formed by about 50 huts – for the common people – and the main buildings dedicated to the more important parts of the clan, was originally four times bigger.
Once you start walking around the village and getting closer to the defensive walls protecting the main towers, you will feel like time has been rewinded. If you close your eyes, maybe you can even picture the place filled with people and life.
One of the main features of Palmavera Nuraghe Complex is the "council room" where the most important members of the village – likely, the elderly – used to gather and discuss. Here, you will see a seat looking like – and probably being – a throne, reserved for the village's leader.
The ruins have been excavated for a long time and several objects, some of them very important, have been found and are now kept safe in Alghero and Sassari's respective archaeological museums.
The most special relic found there is a miniature of the Nuraghe itself, which can help you imagine and understand what its original structure was.
Unfortunately, Nuraghe Palmavera was abandoned around the 8th century BC because of a terrible fire and has likely been robbed of many treasures by the other populations who set foot in the area.
Practical Information To Visit Nuraghe Palmavera
How to get to Nuraghe Palmavera
Nuraghe Palmavera isn't far from Alghero.
The easiest way to get there is by car. You will need to follow the directions to Fertilia (where Alghero Airport is located), then take State Road SS 127 bis to Porto Conte-Capo Caccia; and you will soon find road signs pointing to Nuraghe Palmavera.
If you'd rather use public transport, you can take bus 9320 or 9321 – you can get off at Lazzaretto Beach and walk from there (about 20 minutes) or ask the driver to drop you off at the Bivio Le Bombarde and walk from there (about 15 minutes).
Nuraghe Palmavera tickets and opening hours
The site is open every day except Christmas day, following this schedule:
NOVEMBER TO MARCH: 10:00 am to 2:00 pm
APRIL TO OCTOBER: 10:00 am to 6:00 pm.
The tickets are €5,00€ (full price) and €4,00 (reduced price) for visiting the nuraghe only; €8,00 (full) and €6,00€(reduced) for Nuraghe Palmavera + Anghelu Ruju Necropolis (more about that below). Audio-guides are available from the ticket office for €3.
Guided tours of Nuraghe Palmavera
There are several boards around the site where you can read some relevant information that will help you understand more about this nuraghe. However, if you are into archeology a guided tour may be a good idea.
You can book a tour directly with the site by calling +393294385947 – the website (which is only in Italian) doesn't however specify prices and whether tours are available in languages other than Italian.
Alternatively, you can book a guided tour online that also includes transportation and a visit of the nearby Anghelu Ruju Necropolis, and a knowledgeable local guide in English. For more information, click here or here.
Anghelu Ruju Necropolis
As mentioned above, together with Nuraghe Palmavera you can also visit another important archeological site, Anghelu Ruju Necropolis. This is the largest Sardinian necropolis, made of about 40 Domus de Janas, nooks dug into the rocks. It was discovered by chance in 1903 by workers of the nearby Sella & Mosca vineyard and, through a number of excavations, it has given scholars countless relics which are now stored mostly in Cagliari's archaeological museum.
The burial style at this necropolis is typical of the pre-Nuragic civilizations, who used to bury their loved ones with tools that were dear to them or would prove useful in the afterlife. Of course, the higher in the hierarchy the dead, the more precious their grave goods were.
Tickets to Anghelu Ruju necropolis are either cumulative with the one for Nuraghe Palmavera, or sold separately like this:
FULL TICKET €5,00
REDUCED ENTRANCE FEE €4,00
Anghelu Ruju necropolis is open year round from 10:00 am to 2:00 pm.
You can get to Anghelu Ruju Necropolis by following State Road SP 42 towards Sassari-Porto Torres. The site is literally on the other side of the road to Sella & Mosca vineyard.
For guided tours of Anghelu Ruju Necropolis and Nuraghe Palmavera which also include transportation from Alghero click here.
Further Readings
If you need more help in planning your trip to Alghero, you will find these posts useful:
Pin It For Later!