Pula, a small town in southern Sardinia, and its surroundings are among the prettiest and most diverse areas in the region. People go there all year round: summer is indeed the best season if you love sunbathing, but surf and kite surf fans adore its beaches' winter waves.
The village is located less than 40 kilometers (25 miles) away from Cagliari and is famous for the variety of attractions it has to offer: first of all, of course, its beaches are nothing but stunning; if you leave the resorts' area, you will find yourself in a peaceful and not-so-crowded area with white sand and emerald waters. And once you have spent enough time near the sea, you will surely find plenty of other things to keep you entertained.
Pula itself is famous for its nightlife and great hospitality, while its vicinity is filled with activities' options to fit everyone's needs. Among them, I recommend visiting Nora's archeological site, Sant'Efisio Church, and Nora's lagoon, home to several rare and endangered birds. I will talk in detail about these and many other points of interest, so buckle up and enjoy the read!
A Brief History Of Pula
The current Pula village was founded during the Middle Ages when the inhabitants of the near Nora had to definitively escape their homes because of the pirates' increasing raids. This coastal village, however, has much more ancient origins: it was, in fact, founded by the Punic and later conquered by Rome, and was, therefore, one of the greatest cities and harbors in ancient Sardinian history, if not the most important among all.
Once the Roman Empire fell, Nora lost all of his prestige and was easy prey to the barbarian tribes trying to conquer the Island. As I said before, the inhabitants took shelter in the inner part of the area and several watchtowers were built to keep the new village safe from outside threats.
During this slow depopulation process, Nora was administered by Cagliari's Giudicato, Pisa, and then the Aragonese who fought with Arborea's Giudicato for a while before permanently conquering it. Both Nora and Pula, of which the population was slowly but steadily growing (until the 1652 black plague), had many owners until Sardinia was bought off by the Savoy family in 1720.
Check out my post A Brief History of Sardinia.
What To See And Do In Pula
Pula is a village of 7,000 inhabitants, so there's not much to do inside the city except enjoying the nightlife; this will be a list of attractions scattered around the area.
Nora Archeological Site
This is the most important and famous attraction near Pula. As I previously said, the city was founded by the Punic people and inhabited until the Middle Ages but lived its golden age during the Roman era.
You will still see many details from the houses, thermal complexes, and public buildings; the theatre is still in good shape and used for some summer events and there are many temples still standing after all this time, as well as some amazingly kept underwater mosaics that can be seen through a snorkeling tour.
There also are some Nuragic remains a little outside the ruins, as proof that the village had already a certain influence during pre-historic times. Nora is considered, and indeed is, the best-preserved archeological site of the Punic and Roman eras.
Make sure to read my post A Complete Guide To The Ancient City Of Nora.
Torre del Coltellazzo
The main tower of the several built to prevent the pirates' raids, it's the watchtower with the best view of the Nora area and was turned into a complete fort some decades after it was built. It is also called Sant'Efisio tower to honor the Sardinian and protector saint martyr, who was apparently killed in Nora. In the 19th century, when the pirates' menace was long gone, it became a lighthouse.
Sant'Efisio church
The church is located in the Nora area and is dedicated to the patron saint of Sardinia. It was built in the 12th century and is an important stop-over for the procession held during the Sant'Efisio rites in May.
Make sure to read my post A Quick Guide To Sant'Efisio Festival.
Museo Civico Archeologico Giovanni Patroni
This museum is located in Pula city center and is a permanent exhibition of Nora-found relics, both religious and of common use and, generally speaking, tries to reconstruct Pula's history from its foundation onwards. There is also an interesting exposition about relics found underwater.
Booking is not required. Tickets: Adults €2,50, kids €2.
Capo Spartivento and Gutturu Mannu Parks
Capo Spartivento is a natural area home to flamingos and other endangered birds. The place has been subjected to strong winds and water surges that shaped the cape's rocks and formed the dunes its beach is famous for. Thanks to its position, there has been an important lighthouse on the cape, which has only been dismissed very recently: its building has now been turned into a luxury hotel.
Gutturu Mannu natural park is mostly made of granite and is famous for its fauna, which includes many indigenous animals such as the Sardinian deer and boars, and for the hundred-years-old forest of typical Mediterranean trees. It covers an enormous area of 35k square kilometers and is therefore considered one of the most important natural parks of Italy. If you are a fan of trekking and hiking, you should definitely plan a day there.
The Old Roman Road Nora-Bithia
As the name suggests, this is the ancient street that once linked the two villages of Nora and Bithia and is now a pretty simple hiking trail that offers incredible views. It starts from Cala Bernardini and is about 5 kilometers (3.1 miles) long one weay: ideal for everyone who wants to have a relaxing walk but isn't in the mood for a long hike.
Check out my post The Best Hikes In Sardinia.
The Best Beaches in Pula
Pula is famous for its numerous beaches and inlets. There really is a lot to choose from and you surely will find a place to suit your tastes.
Nora Beach
Right next to the archeological site, this sandy beach has a flat, low bottom and is good for kids and beginner swimmers. It's one of the most famous beaches in the area and is, therefore, quite crowded, so be sure to get there early.
The beach is equipped with kiosks selling food and drinks and where you can rent whatever you may need for the day. There is a large parking lot.
Santa Margherita di Pula
Pula most famous beach is a 10-km stretch of incredibly fine sand, the clearest waters you could hope for, and a thick forest of Mediterranean Pines. The beach is actually made up of a series of smaller coves and longer beaches separated by rock formations – each with its own name (Cala Marina, Cala Bernardini, etc). Most are serviced by luxury resorts – the most famous one is the Forte Village Resort.
Various trails and dirt roads through the forest lead to the beach, which is fully equipped for an incredible day.
Su Guventeddu
Another famous beach in Pula, with a low and flat bottom that makes it ideal for families. It's fully equipped for a wonderful day. In winter, surf and kitesurf lovers gather here to practice and have some fun in general.
Spiaggia dei Fichi
Immediately next to Su Guventeddu and very similar to it, this beach takes its name from the figs (fichi) trees that grow there.
Cala d'Ostia
A beach loved by tourists and water sports lovers alike, it's located next to the homonymous watchtower and has pretty, clean water and a mixed rock and sand bottom.
Cala Verde
A fantastic place for snorkeling and similar activities thanks to the many boat tours leaving the small tourist harbor every day.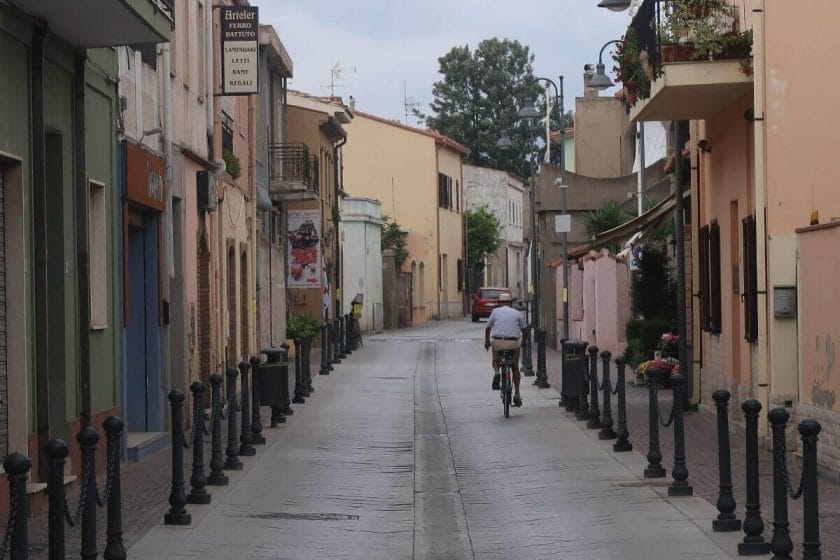 Practical Information To Plan Your Trip To Pula
How to get to Pula
Pula is easy to reach from Cagliari.
By Car
From Cagliari city and Elmas airport, take SS195/SS131 to Pula. It's less than 40 kilometers (25 miles) away.
Check the prices of car rental in Sardinia here.
By Private Transfer
If you have lots of luggage or are traveling with your family, and don't feel like driving, your best option will be to actually book a private transfer. There are several reliable companies that offer good cars and English speaking drivers.
You can book your private transfer from the airport to Pula here.
By Bus
ARST buses 129, 133, 139, 143 depart at regular intervals from Cagliari, the trip takes about 50 mins.
One-way bus tickets cost €3 and can be bought here.
Where to sleep in Pula
There aren't many proper hotels in Pula town, since the area is filled with beach resorts – the best in Santa Margherita di Pula. The most common choice from tourists is apartments or guest houses managed by private hosts, which also tend to be neat and close to the main points of interest.
Destino di Nora – A beautiful Bed and Breakfast immersed in nature, with all the comforts and only a few hundred meters from Nora and the beaches. Breakfast is included, as well as an airport shuttle service. Ideal for couples or small groups.
Nora Club Hotel – Located inside Pula, this hotel is surrounded by a private garden and each of its rooms has a private patio overlooking it. The place also offers two pools and SPA services. Breakfast included.
Italianway-Locanda della Meridiana – Another structure located in Pula, this apartment features a swimming pool, a garden, and rooms with anything a tourist might need. Beaches and other attractions are just a few minutes away.
Forte Village Resort – if you are looking for a great resort, that's where you need to go. There are various resorts to pick from, based on your budget. Inside, you'll find excellent restaurants – including one run by chef Gordon Ramsay, and plenty of activities.
Where to eat in Pula
Albeit small, there are quite a few excellent restaurants in Pula. Here are the places I recommend the most:
Mema – using local seasonal ingredients, this restaurant focusses on modern cuisine and unique combination to create mouthwatering dishes. Opt for the tasting menu for a full culinary experience.
Cucina Macri – just outside Pula, this restaurant well deserves its Michelin start! Service is spot on and the food absolutely delicious. It's not cheap though, I shall warn you!
Fradis Minoris – another Michelin restaurant, and another fantastic dining experience.
Final Considerations
Although Pula and its area have much more than these few things to offer, I tried to give you a brief but comprehensive list of what you could visit and do there. Consider it as a starting point to do more research and create your perfect holiday!
Further Readings
Make sure to read my other posts:
Pin It For Later!