Are you thinking of renting a car in Cagliari? Great idea! Car rental in Cagliari is easy and while it may not be nearly as cheap as it is in other parts of Italy (that's because of the somewhat limited availability), having a car rental remains the most convenient way of getting around.
Cagliari is the capital of Sardinia and a beautiful city with centuries of history and tons of things to do and see. From the incredible city views to the stunning beaches and parks in the area, a trip to Cagliari is always a lot of fun, and you will remember it for life.
You will need some time to explore all the main landmarks, but if you plan your itinerary wisely, you'll end up having great experiences, take lots of amazing pictures, and probably want to come back in the future. But, in order to enjoy your ideal itinerary, you will need to plan how to get around Cagliari and its vicinity.
While renting a car in Cagliari is not necessary if you only intend to explore the city, I wholeheartedly recommend doing that if you want to get out of town, visit the nearby beaches, archeological sites and even the wineries.
Curious to find out more? In this post, I share what you need to know about car rental in Cagliari and add some very useful local tips!
Make sure to also read my posts A Guide To Renting A Car In Sardinia, A Guide To Renting A Car In Olbia and A Guide To Renting A Car In Alghero.
Should You Be Renting A Car In Cagliari?
Sardinia is an excellent destination for road trips. If you like driving, you should consider planning a thorough exploration of the island with a car: there is no way you'll be disappointed.
Make sure to read my posts The Best Sardinia Road Trip Itinerary and The Most Complete 10-Days In Sardinia.
However, driving in Sardinia is often not just a fun activity, but a real need. While public transport in Cagliari itself works well, the same can't be said for buses and trains around the island. On the contrary, public transportation in Sardinia is overall awful, and having your own car is infinitely more comfortable.
Check out my post How To Use Public Transport In Sardinia and How To Travel By Train In Sardinia.
Renting a car in Cagliari is, therefore, more of a need than an option. Despite – as already stated – the city being decently served by the local urban buses (CTM), once you are outside Cagliari you won't find nearly as many means of transportation. Also, having your own car will set you free from timetables, bus schedules, and a lot of stress, since you'd be following your own schedule and moving according to your needs.
And if you plan to have some trips outside the city – or if you want to mainly spend your time at the beach outside of Cagliari – a car is your best option and often your only one. Believe me, getting out of and coming back to the city on public transportation if you want to go beach hopping is simply not doable.
But there's more! If you happen to have a lot of luggage, renting a car is definitely way more comfortable than climbing up and down several trains and buses with your heavy bags and suitcases.
Have I convinced you? Go ahead and check the prices of car rental in Cagliari here.
What You Must Know Before Renting A Car In Cagliari
Car rental in Cagliari
You will find all major international and Italian car rental companies in Cagliari – Herzt, Locauto, Sicily by Car, Budget, Avis, Sixt and Europcar all have offices at the airport, along with some lesser known companies such as Noleggiare, Autonoleggio Sardinya, Ichnusa Rent and others.
Checking out the prices of car rental on each and every of these companies can be time consuming, so I recommend using a comparison app that will help you with that. My go-to company in this case is Discover Cars – that's where I normally find the best deals.
Check the prices of car rental in Cagliari on Discover Cars here.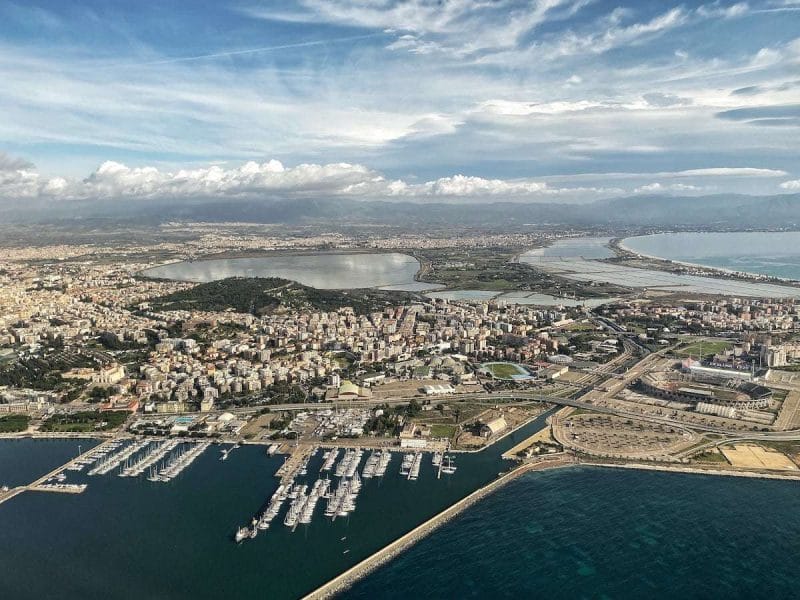 The best pick up location for renting a car in Cagliari
The best car rental in Cagliari is definitely at the airport. Some may tell you that renting directly in town is cheaper, but it isn't. Some others will even suggest that you may want to rent in a smaller nearby town, but first of all prices are more or less the same, and secondly you need to get there – which may not be so straightforward. So, save yourself the hassle and pick up your car at the airport.
But before getting to Cagliari-Elmas, there are a few things you should know. You should always book your car beforehand, especially if you are planning to visit during the most crowded months, like the summer and the weeks big festivals – such as Sant'Efisio – are held.
Landing at the airport with no car rental reservations and expecting to find a good car at a decent price is a bit of fantasy; you might even end up not finding any available vehicle. Don't forget that being on an island which is scarcely populated the availability of car rental in Cagliari is definitely more limited than in other parts of the country!
Check the prices of car rental in Cagliari airport here.
Anyway, once you have booked your car and landed at Cagliari-Elmas airport, finding the car rental offices will not be difficult. Once you are out of the arrivals area, you just have to turn left, following the "To The Trains" signs: some of the rental car offices are on your left, along the corridor, while some others are outside. Keep following the signs, cross the street and you will find them on your right.
Once you get to your car, make sure to check it thoroughly while the car rental employee is still with you. Look for any scratch and tiny bump that might be there from before you actually drive the car – you don't want to pay for damage you didn't do once you give the car back to the office. Alternatively, make sure to get full insurance – one that cover also the tiniest scratch. In this case, you won't have to worry as much!
Remember that you don't have to give the car back to the same office where you took it: as long as it's the same brand chain, you can leave it in another location – best if another airport once you are ready to fly home.
Check the prices of car rental from Cagliari airport and how much it would be to drop off in a different location here.
Which car should you rent?
Finding the right car for you greatly depends on the type of holiday you are planning and the number of people coming with you. Of course, if you are having a family trip, you will need a larger car than if you were traveling solo.
If you are planning to visit Cagliari and not leave the city, a smaller car might be the best option. Many streets (especially in the historical center) are quite narrow and not suited for bigger cars – you might end up scratching or damaging them. You could even consider a hybrid or fully electric car: they are small, easy to drive and there are plenty of recharging stations around.
Another issue you need to take into consideration is parking: staying inside the city will mean limited parking spots and lots of rules to follow. A smaller car would help you immensely; driving an electric one will give you some more freedom too since these cars are allowed inside the limited-traffic areas (called ZTL). If you are worried about the battery running out, leave that concern aside: every parking lot in Cagliari has at least a recharging station.
If you are traveling with friends or family, you will likely need a bigger car, and the same goes for the ones who plan to take some trips outside the city or use Cagliari as a base and explore the neighboring area. You can't fit all your beach or picnic equipment into a small car! To sum it up, remember to take your plans and the number of people with you into consideration when booking your car rental.
Here's how to pick the best car for your needs:
Give preference to fully prepaid cars so that you don't have to pay anything on arrival.
Choose a supplier with 8.0 or higher ratings.
Look out for and make a note of the amount required for the deposit. Don't forget the main driver must have a credit card – though some companies only request a debit card.
Choose Full-to-Full fuel policies to avoid unexpectedly high fuel charges.
Prefer unlimited mileage for long trips.
Read the pick-up instructions carefully.
Prefer picking your car at the airport terminal vs. using a shuttle bus to get to the pick up location.
Remember that unless you have an EU driver's license you'll need a valid international driver's license to drive anywhere in Italy. This is a requirement when renting a car in Cagliari.
Pick the best car for your trip around Cagliari here.
Drive to and from Cagliari Elmas Airport
Cagliari and Cagliari-Elmas airport are only 7 km (4.3 miles) apart. Having a car will make the trip to and from the airport extremely easy: you will just have to follow State Road E25 and the road signs. Of course, the traffic will hugely influence the duration of your drive, but you will reach your destination in a fair amount of time anyway.
Make sure to read my post How To Get From Cagliari Airport To The City Center.
Parking in Cagliari
If you follow the signs from the airport, you will end up in the heart of town, typically close to the harbor. From there, it's easy to reach the Marina and Stampace historic districts where I recommend to stay. You can park your car at the large paid parking lot that is right by the train station and from there walk to your accommodation, or drop off your bags and then go park your car (but beware some areas may be off-limits to non-residents cars).
There is also a large covered paid parking lot along Viale Regina Elena, from where you can take the elevator to Castello district or walk down Villanova district; and one in Via S. Alenixedda from where you can access San Benedetto district.
If, on the other hand, you plan to stay closer to Poetto Beach, you should not have issues finding a parking spot near your accommodation.
Pay attention to the lines on the ground: white parking lines indicate free parking; blue lines the paid ones; and yellow lines are reserved parking spots for the disabled. Never park on a yellow parking spot, even if you couldn't find any other parking: leaving aside the fact that it's an extremely selfish and rude gesture, you can be fined up to €700 and your car will be towed.
Driving in Cagliari
When you drive in Italy, you have to pay attention to a lot of rules and things – and the same goes for Cagliari. Cities in Italy have some specially designated areas where it's forbidden to drive unless you are a resident, except for electric cars and some other cars with a special permit. These areas are called ZTL (Limited Traffic Zones) and are usually located in the historic city center and alongside beaches or other crowded promenades.
Driving in Cagliari means you will be dealing with a lot of traffic, roundabouts, and traffic lights and will likely struggle to find parking sometimes. Free parking is a rare treat even for us locals who know where to look, but luckily, there are plenty of places where you can park for a small fee.
Last but not least, be careful to speed limits: Cagliari – and many other cities – have a speed limit of 30 km/h in many areas and the city is full of speed cameras. You don't want to get a fine for speeding!
Pin It For Later!