There are some fabulous beaches in Cagliari.
The capital city of the Italian island of Sardinia is more than just a hub for arts, culture, history, and gastronomic delights! Cagliari is home to some truly stunning beaches. If you're looking for the best beaches in Cagliari, look no further than this guide.
As the capital city, Cagliari is one of the most underrated beachside Mediterranean destinations. Since Cagliari dwells on the southern coast of Sardinia, there are plenty of beaches to go around! In fact, the locals do take advantage of the Cagliari beaches throughout the year – for sun tanning and swimming in the summer, running and biking during the spring and fall, or for a stroll in the chilly winter months. I'm one of those locals who just can't get dragged away from the sand.
Oh, Sardinia! When it comes to Italy's second-largest island, it's downright impossible to pick the best beaches. Luckily, I'm a local and I love the beach! I've spent thousands of hours on the sandy shores of Sardinia, and I want to share my love of the beaches in Cagliari with the world.
Whether you're a swimmer, a surfer, a birdwatcher, or just a beach bum— I've got you covered!
One quick side note before we dive into all the fun facts about the best beaches in Cagliari— please do not remove any sand, shells, or rocks from any beaches in Cagliari, Sardinia – or in the world. Want to know why? Click here.
The Most Beautiful Beaches In Cagliari
Poetto Beach
Poetto Beach is a favorite among locals. Although it may not be the most distinctive beach in Sardinia, it's still an amazing urban beach. With eight kilometers of soft, fine sand, Poetto Beach covers a lengthy stretch of shoreline from Sella del Diavolo (Devil's Saddle) to Quartu Sant'Elena.
Sella del Diavolo is a mountain that offers astonishing views; if you don't feel like hiking to the top, you can always paddle through the cerulean waters around this iconic landmark. Directly behind Poetto lies Parco Molentargius, one of the best spots in Cagliari to spot pink flamingos and other rare birds.
All along Poetto Beach lies a biking and running path that you'll find people exercising on year-round. Given that the climate is pretty agreeable all year, take advantage of the Poetto Beach trail and cover as much of the eight-kilometer path as possible! What's better than going for a jog while listening to the waves ebb and flow?
Moreover, Poetto has clear and shallow waters, so families traveling with small children love Poetto Beach. Lifeguards are on duty, too.
Poetto is a well-serviced beach and umbrellas, sunbeds, and various beach equipment are available to rent. There's also small restaurants and stands where you can buy light meals, snacks, and various other items. Moreover, Poetto Beach is dog friendly in designated areas, and it's easy to get to by public transportation! All these reasons factor into making Poetto Beach the most popular beach in Cagliari. It definitely does get super crowded in the hot summer months!
Surfs up? Poetto does have good surfing swells in the winter months, especially on windy days or right after a storm blows through.
LOCAL PRO-TIP: Poetto beach faces strong mistral winds, so make sure to check the wind-level before heading to Poetto – unless you don't mind sand blowing on you from time to time. If you're craving a beach day in Cagliari during high winds, consider Cala Fighera or Calamosca for a more sheltered location.
How to get to Poetto Beach
Getting to Poetto beach is as easy as pie! Just take the bus from the city center of Cagliari (Piazza Matteotti). You can take either the PF or PQ bus to get to Poetto beach. Since the beach is eight kilometers long, the bus will make multiple stops. I recommend getting off at the sixth stop, or at the next one at Ospedale Marino, for a less crowded beach-going experience!
Check out my complete guide to Poetto here and read my post Where To Go Surfing In Sardinia.
Calamosca Beach
Calamosca Beach is a small cove with two promontories guarding it on either side. To the west, you'll see the renowned Sella del Diavolo mountain. On the eastern side is Capo Sant'Elia, which has a gloriously antiquated lighthouse.
Lauded for its powdery white sand – almost as soft and white as baker's flour – juxtaposed with transparent aquamarine waters, Calamosca is a shimmering example of Sardinia's beauty. Since Calamosca is a cove, it's also very protected from the winds. The water is calm and shallow, so if you are looking for the ideal swimming spot in Cagliari, this is it!
Directly on Calamosca Beach lies an old hotel with some historical buildings behind it. There's a stall called "Le Terrazze" on Calamosca beach where you can rent beach equipment like sunbeds and umbrellas. There's also a vendor selling light lunch options, drinks, and scrumptious gelato. Gelato on a Sardinian beach is definitely a bucket-list item!
LOCAL PRO-TIP: By following the road to the left of the parking lot, you will come to the trailhead of Sella del Diavolo. Believe it or not, the hike up Sella del Diavolo isn't too difficult and will only take about two hours round trip! It's well worth the hike; from the top, you'll bask in sweeping views of the Gulf of Cagliari, Molentargius Park, and Poetto Beach. However, you'll definitely need hiking boots. Don't try to tackle Sella del Diavolo in flip-flops— trust me!
How to get to Calamosca
To get to Calamosca beach, hop on the bus 5-11 from the city center of Cagliari. There are bus stops right along Via Roma.
Check out my post 10 Parks In Cagliari You Should Visit.
Cala Fighera Beach
While this may sound a little dramatic, trust me – it's true: Cala Fighera isn't just one of my favorite beaches in Cagliari, it is one of my all-time favorite places on the whole island of Sardinia! I truly will never get tired of soaking up the serene vibes at Cala Fighera.
Cala Fighera is a small, rock-ridden cove devoid of sand. There are soft stones and minuscule pebbles; however, there is no soft sand. That means sitting on a sunbed or chair is much more comfortable than tossing down a beach towel! Since Cala Fighera is a cove, it is protected from the wind and has crystal-clear waters. Plus, the rocks in Cala Fighera make it an incredible spot for marine life. Fancy a snorkel anyone?
Fun fact! Cala Fighera is gay-friendly and nudist-friendly. Embrace the diversity and find camaraderie and community at Cala Fighera.
While it is a tiny cove, there is still a kiosk there that rents essential beach gear like sunbeds and umbrellas. The kiosk sits below the restaurant, La Paillote.
La Paillote is one of the best restaurants in Cagliari. You should definitely plan to enjoy lunch or dinner there! You'll be dining open-air with views of the beach below; divine, freshly-caught and local seafood is served daily. You'll want to reserve a table in advance, though, as La Paillote does get quite busy.
How to get to Cala Fighera
Unfortunately, public transportation doesn't go to Cala Fighera. When I'm not driving my car, I usually get to Cala Fighera by taking the 5-11 bus to Calamosca, then walking or renting a bike and biking the rest of the way. If you decide to hail a taxi from the city center, it's a relatively short ride, so it won't be too expensive. Keep in mind that there is a brief hike down to Cala Fighera from the road.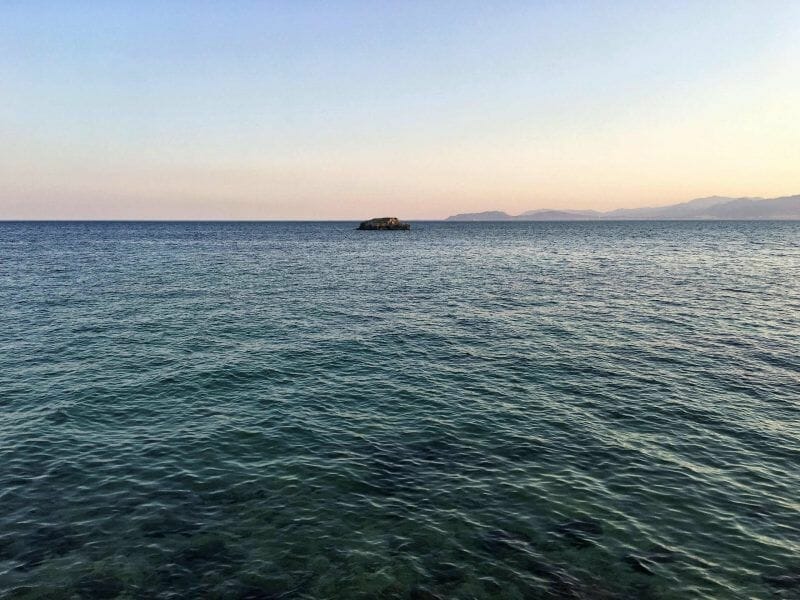 Sant'Elia Beach
Some unpopular things are unpopular for a reason, like mullet hairstyles. But there are a few unpopular things that really ought not to be, like Sant'Elia beach. Sant'Elia beach is one of the least frequented beaches in Cagliari. That doesn't mean Sant'Elia isn't positively lovely; it just means it's a little more private, exclusive, and intimate.
Sant'Elia is a quaint beach situated close to the Sant'Elia stadium, by the Levanta del Porto pier. It has fine, white sand and clear, turquoise waters. There are no lifeguards on duty and no kiosks, vendors, or restaurants— all of which contributes to the seclusion. It's a very local beach, so you won't encounter crowds of tourists. In fact, you might not see any tourists at all!
Quite close to Sant'Elia beach is the Torre del Prezzemolo tower, built on a rocky outcropping over the sea. You can also walk to the Fortino di Sant'Ignazio, a military structure built on the hill of Sant'Elia. Constructed in 1792, this is a beautiful old stone structure that shouldn't be missed! Fortino di Sant'Ignazio is best accessed from Viale Calamosca, which is right on the way to Calamosca Beach.
How to get to Sant'Elia beach
The easiest and fastest headache-free way to get to Sant'Elia beach is by car. Take the same directions I previously mentioned to Poetto Beach, but take it in the direction of San Bartolomeo / Sant'Elia. Follow the signs pointing towards Lazzaretto, then take a left to head towards Ristorante Lo Scoglio. Sant'Elia beach lies just after that restaurant. There is a small parking lot to pop your car into.
Cala Regina Beach
Situated less than a brief 30-minute drive from the center of Cagliari, Cala Regina just happens to be one of the best beaches in Cagliari and its immediate surroundings. It is located in the "Terramala," which is in the municipality of Quartu Sant'Elena.
Cala Regina is a small cove dominated by a Spanish watchtower, simply called the Cala Regina tower. You're welcome to walk up to the tower to take in the sweeping views!
Since Cala Regina is a cove, it's protected from the wind. It's one of the best beaches in Cagliari to head to when the mistral winds are strong! Moreover, Cala Regina is encompassed by ample Mediterranean vegetation, like eucalyptus and pine trees.
Be aware that Cala Regina has a shallow seabed that almost immediately dives into deep water. That makes it a great snorkeling spot with abundant marine life, but not the best for small children.
There are no lifeguards on duty and no restaurants, vendors, or kiosks, so make sure you bring whatever you need with you— plenty of water and snacks! Lastly, there is a large car park where RVs and campers are allowed to park.
How to get to Cala Regina
From the center of Cagliari, follow the directions I already laid out to Poetto Beach, then continue straight until you reach the end of the beach and an enormous roundabout. Turn right and follow the directions towards Villasimius. The road you're on will be the SP17. Keep your eyes peeled for a sign on the right that directs you towards Cala Regina.
Make sure to read my post A Short Guide To Cala Regina.
Mari Pintau Beach
Sometimes a girl just needs a tropical fix! When that desire arises, I head off to Mari Pintau Beach. In Sardinian, the name Mari Pintau translates to "the painted sea." Mari Pintau has truly earned its name; it's one of the most stunning beaches in Cagliari – and all of Sardinia! With water the color of gemstones— jade, emerald, turquoise, aquamarine, and topaz— your heart will swoon over the dazzling, visually arresting, brought-to-life painting that is Mari Pintau beach.
It is a pebbly beach, so make sure to bring a chair with you or rent a sunbed from the kiosk on the shoreline. Mostly frequented by locals (since it sits outside of the Cagliari city limits), you'll rarely encounter more than the occasional tourist.
The seabed is shallow, and the pebbles give way to soft sands in the water.
Like Cala Fighera, Mari Pintau is another gay-friendly and nudist-friendly beach in Cagliari. Personally, I've never really noticed any nudist beachgoers as they tend to isolate themselves pretty far to the right corner of the beach. Wondering about other gay-friendly beaches in Italy? Visit Nomadic Boys' post about the best gay-friendly beaches in Italy.
How to get to Mari Pintau
Mari Pintau is just a little farther down the same road that goes to Cala Regina on the SP17. Continue on the road past Cala Regina, and the sign for Mari Pintau will pop up on the right side— beachside! There's not a real parking lot, so just park along the road near the head of the trail that will lead you down to the beach.
Make sure to read my post A Quick Guide To Mari Pintau.
Nora Beach
Nora beach is one of the best beaches in Cagliari that falls outside of the city limits. It's a small beach situated very close to the renowned Nora archeological site, just a few dozen kilometers southwest of Cagliari.
On one side of the beach, there is a rocky outcropping where the Coltellazzo Spanish tower is perched. This tower always reminds me of Game of Thrones! It's a beautiful old monument. While it can't be visited inside, you can still climb to its entrance and soak up the view of the Gulf of Cagliari and the ruins of Nora – and see all the way to the rolling hills of Santa Margherita!
Directly on Nora Beach lies the Church of Sant'Efisio, a popular place for summer weddings. It's not uncommon to see weddings being celebrated there during the summer months. Also, right behind Nora Beach is a little lagoon that pink flamingos regularly frequent. Dying to see a flock of these hot pink birds of paradise? Don't miss stopping by the little lagoon behind Nora!
Since Nora is well-protected from the wind, it's a great beach to go to when the winds are strong. Nora Beach also rarely gets unbearably crowded, so you'll have plenty of space to lay back, relax, and linger in the Sardinian sunshine.
Luckily, although Nora beach is a small beach, it still has a kiosk where you can hire sunbeds and umbrellas. Also, it's accessible to disabled individuals.
If you need a little break from the sand, visit the Nora Archaeological site and take a step back in history! The Nora Archaeological site is one of the most important archaeological locations in Sardinia and really shouldn't be missed; it's a glorious testament to Sardinia's Roman era.
If you'd like to join a guided tour of the site, consider this archaeological tour of Nora from Cagliari.
How to get to Nora
From Cagliari, drive along SS195 heading towards Pula. When you come to the first exit to Pula, take it! Follow the road's signs as it points you to Nora and then continue to the parking lot, which requires a small fee to park your car.
For more easy day trips from Cagliari, check out my post The Most Incredible Day Trips From Cagliari.
Guided Tours of the Top Beaches In Cagliari
As a local, I firmly believe that guided tours aren't the best way to enjoy the Cagliari beaches. The Cagliari beaches are quite easy to reach using public transportation, or maybe your accommodation will be within walking distance! Regardless, there are a couple of must-see Cagliari sites that will be included on most city tours, along with a stop on the beach. For that reason, I wanted to suggest the best tour options.
Tour of Beaches Close to Cagliari
Are you looking to check out some of the beaches outside of Cagliari's city limits? There are some stunning beaches right outside of town. If you're craving a trip to the dreamy beaches a little farther outside the city center, I recommend renting a car. As you know, when you rent a car, you have complete freedom to explore to your heart's content!
However, if you're not interested in renting a car, you can always hop on a guided tour. For your convenience, I'll make a quick list of your tour options below. Just be aware that they don't stop at all the beaches I'll cover in this post.
Further readings about Cagliari and Sardinia
Planning on visiting Sardinia? Make sure to read my other posts:
Pin It For Later!