There are many incredible wineries in Sardinia and visiting at least one is a must-do!
When planning your trip to the idyllic Italian island of Sardinia, I'm sure that a winery visit is on your list! If going to a winery isn't on the docket, then I'm betting that at least drinking wine is on there. That's why I wanted to write a little bit about the best wineries in Sardinia to show you the ropes, and to get your journey of sipping started.
Sardinia is famous for its ancient vines and for producing some of Italy's best wines. In my humble opinion, a trip to Sardinia isn't complete without touring a wine estate, sipping a Vermentino, and basking in the glory of all that is wine!
Finding a bottle of Sardinian wine is exceptionally difficult when you're outside of Italy. The majority of the vineyards produce small batches that focus on quality over quantity. Since you can't enjoy most Sardinian wines outside of Italy, take advantage of the opportunity to visit these wineries in Sardinia and drink as much wine as possible.
Ready? I'm going to cover the 15 best wineries in Sardinia. They're not listed in any particular order, because I don't play favorites with Sardinian wineries! I'll take any excuse to enjoy a good glass of wine…
To learn more about the secrets of wine in Sardinia, read my post A Guide To Sardinian Wines.
15 Incredible Wineries In Sardinia
Argiolas Winery
Argiolas is one of the largest wineries in Sardinia and is owned and operated by the Argiolas family. The first vines were planted in 1906 on their gorgeous 250 hectares of land; however, the estate was officially founded in 1938.
If you happen to stumble across a bottle of Sardinian wine in your home country, it'll likely be a bottle of Argiolas. They have an impressive portfolio of award-winning wines across the spectrum of Sardinian varietals— from Monica and Nuragus to Vermentino. They also produce more wine than any other winery in Sardinia— 2.2 million bottles per year!
Argiolas is also a big fan of hosting guests and offers extensive wine tours and cooking classes! While I've never taken a cooking class at Argiolas, I would love to someday. On the other hand, I have toured the vineyards and the winery many times – last was in May – and enjoy it through and through.
What better way to spend a day than studying under local chefs to learn traditional Sardinian dishes, all with a glass of Grenache in hand?!
Argiolas and the other wineries in Serdiana can be easily visited on a day trip from Cagliari. For more, check out my post The Most Incredible Day Trips From Cagliari.
Vini Pala
Nestled in the rolling hills of Serdiana in southern Sardinia, Pala Winery is the epitome of combining tradition with innovation in the Sardinian wine industry. The winery first began in 1950 and currently comprises 68 hectares, all of which they tend using only organic farming practices.
Pala plants local Sardinian varietals, including Vermentino, Bovale, Cannonau, Monica, Carignano, Nasco, and Nuragus. Each year, they produce 360,000 bottles.
Visiting Pala Winery and the Pala Estates is a joy! It's a place to revel in the beauty of all that is wine. They host events, wine tasting, and fairs. Call ahead and find out what activity suits your fancy.
Audarya Winery
Firstly, I have to express my obsession with the name of this winery. Audarya is a Sanskrit word that translates to "nobility of spirit." This name was chosen for the winery as it represents the devotion, humility, and sacrifice of someone who tends and harvests grapes. Audarya is actually one of the newest wineries in Sardinia. The average age of their vines is 25 years old. Don't let the newness fool you, though; Audarya has aligned itself with traditional methods of growing grapes. They harvest predominantly Cannonau, Nuragus, and Vermentino, and they make an excellent Monica.
You'll also love their fun wine labels, featuring black and white renderings of animals dressed in period clothing.
Enjoy a wine tour and tasting; you'll score a small meat and cheese plate paired with four different wines to sample. The tasting room windows face the idyllic Sardinian countryside. If you're lucky, the staff may allow you to tour the barnyard, which has tons of sweet little goats!
Cantina di Santadi
Santadi Winery is a delightful winery to stop by for a tasting and tour. It's located in the village of Santadi, in the Sulcis peninsula in the southwestern region of the island.
Founded in 1960, Santadi Winery now spans 500 hectares of soft, rolling vineyards that all sit within an 18-mile radius of the winery. Having such quick and easy access to all their grapes means they can transport them quickly. It also means that when you visit the estate, you'll be surrounded by miles of rolling vineyards. It's a remarkable experience! Moreover, you'll be mere steps from the stunning white sands of Porto Pino beach.
Santadi's calling card is their Terre Brune wine. In my humble opinion, a trip to Sardinia isn't complete without sampling a bottle of Terre Brune from Santadi, one of the top wineries in Sardinia!
Make sure to also read my post A Short Guide To Santadi.
Cantina di Calasetta
Established in 1932, Cantina di Calasetta Winery is one of the oldest wineries in Sardinia. Perched atop Sant'Antioco island that hovers just off the coast of southwest Sardinia, the old vines at Cantina di Calasetta Winery produce incredible wines. Covering 200 hectares of land, they mainly grow Carignan grapes. However, there is a small amount of Vermentino and Moscato produced as well.
Cantina di Calasetta Winery has a wine shop, tasting room, and offers guided tastings.
Check out my post A Complete Guide To Calasetta, Sardinia.
Capichera
Capichera Winery dwells in the stunning Arzachena region, near the world-renowned Costa Smeralda. Capichera are most well known for their Vermentino. In the 1970s, they pioneered a drastic improvement in the aging process of pure Vermentino grapes in barrels. This vinification in purity is Capichera's crowning jewel, and it's something you need to try a glass of yourself!
Book a tasting of their fantastic wines in the company of one of the estate's owners. Keep in mind that they are only open Monday through Friday, not on the weekends!
Check out my post A Complete Guide To Costa Smeralda.
Mancini
Standing tall and proud in the north-east corner of Sardinia in the Gallura region, surrounded by monolithic granite stones and centuries-old oak trees, Mancini Winery is a testament to bold Sardinian wines.
Mancini Winery has set up their Balajana estate nestled in the town of Luogosanto, in a seemingly ancient structure that has been lovingly renovated. During your tour and tasting, you'll wander among 18 hectares of vineyards and sample six of their stellar wines. The pride of Mancini is their ruby red Cannonau: it is dry, full-bodied, and elegant. They also make a golden straw yellow Vermentino that is well-structured and delightfully smooth.
Make sure to book your spot at one of the best wineries in Sardinia, and don't miss out on visiting this idyllic winery.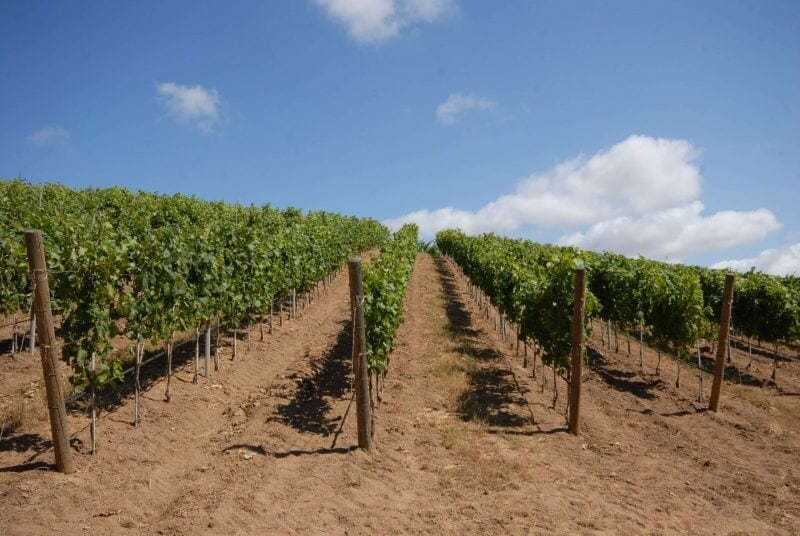 Siddùra Winery
Perched near the medieval village of Luogosanto, Siddura winery sits in the heart of the Gallura region.
Siddùra Winery's tasting room also serves as a contemporary art gallery. The thick stone walls are contrasted with crisp, white couches, while the paintings add splashes of color and abstract lines.
It's a relatively new winery, founded in 2008. The newness of this winery is evident in the building's modern design, constructed to look like stone arms welcoming you in. The land of Gallura is steep, imposing, tough, and uneven. The forest-filled mountains and rocky hillsides provide a sharp contrast to the sleek design of this modern winery— although it's worth mentioning that it is constructed mainly from stones; it's the design that screams 'modern!'
Just driving to the winery is an experience in itself. I highly recommend visiting Siddùra Winery, one of the newest and trendiest wineries in Sardinia.
Vigne Surrau
Surrau Winery – also called Vigne Surrau – sits at the entrance to Sardinia's Costa Smeralda in the northeast of the island. While the winery is relatively new, opening in the early 2000s, that was far from the genesis story of Surrau. The founders of Surrau are native Sardinians who have been involved in the art of viticulture for generations.
Surrau's vineyards span 50 hectares, split into seven different parcels all over Gallura, with 70% of the grapes being Vermentino. Their wine is enormously refreshing.
When you visit Surrau, you will feel as if you have been welcomed with open arms into the world of Sardinian wine. Smiling faces, stunning views, and refreshing wine await you at Surrau.
Make sure to read my post A Guide To Visiting Vigne Surrau.
Tenute Olbios
Tenute Olbios Winery is situated very close to the city of Olbia. It's a lovely winery that has been designed with clean lines. It's elegant— supremely elegant! The tasting room has granite rock walls, oak-beamed ceilings, and an enormous fireplace to cozy up next to in the winter months.
On the wine tour and tasting, you'll get to try three different wines that have been paired with local cheese, tender meats, and flaky bread served with handmade jam. The jam really can be a showstopper, friends. I'm talking about prickly pear jam or lavender jams… divine! Book a visit to the cellar for a wine tasting and lunch at their high-class restaurant.
Vini Mura
Mura Winery was established in 1979 just a handful of kilometers from Olbia. Situated in a stunning valley where the river La Castagna flows, Mura Winery might as well be heaven. Operating on 13 hectares of land and producing just 60,000 bottles per year, Mura winery is a quaint Sardinian winery most well known for their Vermentino. They also produce bold reds like the Cannonau and the Carignano. Due to their proximity to the sea, their wines are known for having strong minerality and balanced acidity.
I recommend sampling a bottle of their Cortes Cannonau while sitting in the sunshine, basking in the beauty of the stunning Mediterranean landscape.
Antichi Poderi in Jerzu
Antichi Poderi in Jerzu is not a traditional winery; it's a wine cooperative with over 430 wine grower members. Initially, Antichi Poderi was founded as a collective by 45 members in 1950. It has grown exponentially over the decades and represents a wide range of products. They are most well known for their classic Sardinian varieties like Cannanoau and Vermentino.
You can visit the winery located in Jerzu for a wine tour and tasting. Jerzu is situated in the Province of Nuoro, roughly 70 kilometers northeast of the capital Cagliari. Jerzu is a gorgeous place to visit; it is home to fantastic rock climbing routes, ancient archeological sites, caves, and waterfalls! The town is also renowned for being a hub for winemaking. It is the perfect place to get to know the ins and outs of the Cannanoau.
On the Antichi Poderi Winery's guided tour, you will get to explore the cellar and sip on two different wines with a snack to boot! I highly recommend calling ahead to make a reservation as this winery can get quite busy.
Sella e Mosca Winery
I'm over the moon for Sella e Mosca Winery. It's a colossally creative estate overflowing with 650 hectares of vineyards and Mediterranean flora, including oleanders and eucalyptus trees. It was founded in 1899, and you can taste the age, the tradition, the blazing bounty of Sardinian grapes in each glass. Given their age and accolades, you'd think that Sella e Mosca might rest on their laurels. No chance. Sella e Mosca is a formidable winery continually pushing boundaries in the wine industry.
In fact, Sella e Mosca pioneered a successful introduction of Cabernet Sauvignon to the island. Of course, Sella e Mosca also grows award-winning native varieties like Vermentino, Cannonau, and Torbato.
You're welcome to visit the Sella e Mosca tasting room any day and pay per glass to sample their wines. I recommend doing a wine tour and tasting— usually priced at €25 euros a person— to taste four wines and go on a tour of their historic yet whimsical estate!
Also, it's good to know that Sella e Mosca is conveniently situated close to Alghero Airport.
Visiting Alghero? Make sure to read my post What To See And Do In Alghero Sardinia.
Famiglia Orro
You will find this small winery in Tramatza, in the Sinis region not far from Oristano. Davide Oddo, the founder, is an agronomist and a researcher at the University of Sassari, and he pours his knowledge into making really excellent wines. The best varietal you can try at Famiglia Orro is the Vernaccia, a traditional grape of the region which Davide made a point to revive – and thriving it is now. From the more traditional meditation wine, he kept searching for innovation and now you can even appreciate a sparkling light Vernaccia wine, perfect fro an aperitivo.
Before the wine tasting experience – which includes several tastings of spreads and olives that the winery also produces – you will be taken to the small but well curated Museo Enologico, where you will learn more about the history of the Vernaccia wine and the production making process.
Vitivinicola Ledda
Vitivinicola Ledda resides in the Alghero region of Sardinia. Let me tell you – Alghero is not just beaches! Visit the Vitivinicola Ledda Winery for a highly informative experience. The tour guides speak fantastic English and will fill you in not only about their winery, but also on the impressive history of wine in Sardinia.
Vitivinicola Ledda Winery is a small, family-run business that produces its own wines and olive oils. Enjoy a tour of the vineyard and the olive groves and taste four or five wines paired with grapes, flatbread, cheese, and meat. This really is one of the top wineries in Sardinia.
Cantina Santa Maria La Palma
Visiting the Cantina Santa Maria La Palma Winery is truly an unforgettable experience. On the guided wine tour, you'll wander the vineyards and grounds and trace the entire wine production process phase by phase. Peeking into the doors of every department, you'll gain a wealth of knowledge about winemaking. The tour is an hour and a half long— much longer than other wineries in Sardinia.
Most well known for their traditional Sardinian varieties of Vermentino, Cannonau, Cagnulari, and Monica, 700 hectares of rolling vineyards comprise the Cantina Santa Maria La Palma, located near the seaside city of Alghero in northwestern Sardinia.
Final Thoughts on the Best Wineries in Sardinia
Fuel your passion for wine, food, and history with a Sardinia wine tour. Visiting any of these 15 Sardinia wineries will help you make the most out of your visit to the island. Even if you just want to buy a glass on your trip, you now know which wineries and labels to look out for.
Sardinia is home to incredible wine and unique wine tasting experiences. Whether you're a wine aficionado or just someone with a case of wine wanderlust, I hope that sharing my thoughts and experiences on the best wineries in Sardinia helped you start your journey of sipping!
Discover the history behind every bottle and bask in some of the most beautiful vineyard landscapes in the world!
Further Readings
Make sure to read my other posts about Sardinia:
Pin It For Later!