There are many fantastic Alghero restaurants. This is a city of a thousand colors and traditions. This small town in northwestern Sardinia, which has been inhabited and influenced by the Catalan since the Middle Ages and still keeps a very Catalan soul, has so much to offer to the tourists and is a very popular destination among foreigners, Italians and even Sardinians, who never miss a chance to visit.
From the defensive walls to the beaches and the cliffs; from the local boutiques to the many unique buildings in the city; from the caves to the archeological sites and the local wineries – there is a lot you can't afford to miss, or your holiday would simply be incomplete.
But all that walking and exploring will surely make you hungry. The good news is that there are many fabulous and authentic restaurants in Alghero. And being a fan of the city I visit on a regular basis, so I have tried many! That's why I decided to make a list of the best restaurants in Alghero!
These are small local businesses – run by local families, with local stuff, and that have a strong focus on local and seasonal ingredients. And of course, locals love to eat there, as well as tourists, which means that they are 100% authentic!
Keep in mind that Alghero is a marine city. The best dishes you can have will be based on seafood and fresh fish – the freshest the cooks can put their hands on!
You should also read my post 21 Best Restaurants In Sardinia – Recommended By A Local.
The Best Alghero Restaurants
Trattoria al Refettorio
Among my favorite Alghero restaurants, despite being slightly pricey, Trattoria al Refettorio offers some of the best seafood dishes in the city. They offer plenty of different choices and also have vegetarian, vegan, and gluten-free options. The wine selection is fantastic, and the location beautiful too, with tables available outside and even indoors, in a beautiful room. Service can be a bit slow on very busy nights.
There is an adjacent pizzeria too. I haven't tried it, but some say it's one of the best pizza in town.
The restaurant is located in a nice and central part of Alghero, Vicolo Adami 47. It is open every day from 12:00 to 3:00 pm and from 7:30 to 10:30 pm. Make sure to book in advance.
Trattoria lo Romani
Another excellent restaurant, it's the kind of place you should go to get a good dose of comfort food and local dishes. I love their pasta and their bombette, sort of meatballs in a delicious tomato sauce.
The restaurant is run by Gigi and Vittoria, a couple: he is from Tonara and knows everything about meat and the more traditional Sardinian recipes, while she specializes in seafood dishes: you will have a wide selection of foods to choose from. The wine list is extensive too.
Expect to spend between €20 and €40 per person. Vegetarian and gluten-free options are available. You can find Lo Romani in Via Principe Umberto, 29. It is open Wednesday to Sunday from 12:30 to 2:30 pm and from 7:30 to 10:30 pm and on Monday and Tuesday from 7:30 to 10:30 pm. Advanced bookings recommended.
Nautilus
This is the kind of place you want to visit for a special and possibly romantic night out. You can ask for a table on the terrace, overlooking the harbor, for an even better experience.
Overlooking Alghero's tourist harbor, Nautilus is a favorite of both locals and tourists. From appetizers to desserts, it's difficult finding something to complain about. I truly enjoyed the mixed seafood grill, but their pasta dishes are also excellent. The prices are a bit high – expect to pay €60 and above – but worth it. Service is spot on.
Nautilus is located on Alghero's defensive walls, in Forte della Maddalenetta, 4/A. It is open daily from 12:00 to 2:30 pm and from 7:00 to 11:00 pm. Make sure to book in advance.
Da Musciora
Some will tell you Musciora is the best restaurant in Alghero. It's not my favorite, but there's no denying it is one of the best Alghero restaurants. Everything is skillfully prepared and plated so that you can be satisfied under every aspect – and even snap wonderful food pictures. The dishes are all based on seafood and often are a creative version of more traditional recipes.
If you want to have a meal at Musciora, you'd better book in advance. You will find the restaurant in Via Giuseppe Mazzini, 59. It is open on Friday, Saturday and Sunday from 12:45 to 3:15 pm and from 7:30 to 10:45 pm; and on Monday, Wednesday and Thursday from 7:30 to 10:45 pm.
Sa Mandra Agriturismo
Sa Mandra is not located inside Alghero – it's an agriturismo – but in the countryside not too far from the city. They serve delicious traditional dishes and also organize several activities to show tourists how life used to be in Sardinia – they even have a small museum!
You can book your spot on their website and spend some very pleasant hours there. Their address is Strada Provinciale 44, km1, 07041 Alghero SS. Agriturismo Sa Mandra is open for dinner on Friday from 8:00 to 11:00 pm and for lunch on Saturday and Sunday from 1:00 to 4:00 pm.
Prosciutteria Sant Miquel
A nice place either to grab a quick bite or have a full meal, Prosciutteria Sant Miquel offers a great selection of salami, prosciutti, cheese, and wines. The prices are fair and the portions are enough to fill your stomach before – or after – a long day dedicated to exploring Alghero.
Location is lovely in the heart of the historic center of Alghero and close to the Bastions. Service is spot on, and on a side note, even the music selection is excellent!
Prosciutteria Sant Miquel is located in Via Misericordia, 20. It is open every day from 6:30 pm to 12:00 am.
Vecchio Mulino
This restaurant offers any type of Italian dish you might want to try, but you will love it for their pizza and pasta. They offer vegetarian, vegan, and gluten-free options as well so that you don't have to worry about dietary restrictions. Pizza is perfection: soft yet crispy dough, very fresh toppings. It will melt in your mouth.
Their address is Via Don Deroma 3. It is open from Wednesday to Monday from 6:30 to 11:30 pm. It's a popular place so make sure to book in advance.
Kings
I tried this place with my sister by pure chance one time we decided to go to Alghero on a whim and loved it – it's easily one of the best Alghero restaurants. It has a strong focus on fish and seafood, with lots of raw dishes to try – and only the freshest ingredients are used. Location is amazing: on Alghero bastions so depending on the time of year you visit, you can have your dinner while enjoying a beautiful sunset.
You can book a table on their website, and find the restaurant in Bastioni Marco Polo, 5. They are open daily from 7:00 to 11:30 pm.
La Cullera
La Cullera is known to be one of the best restaurants in Alghero. Located in a nice area nearby the harbor but is still secluded enough to give you some privacy. They specialize in seafood-based dishes, prepared with fresh fish, but also offer some other traditional dishes.They have an extended wine list and an even better liquor selection. La Cullera also offers vegetarian, vegan, and gluten-free options.
Prices at La Cullera are mid-range. You will find it in Via Sannino 7. It is open every day from 12:30 to 3:00 pm and from 7:00 to 11:00 pm.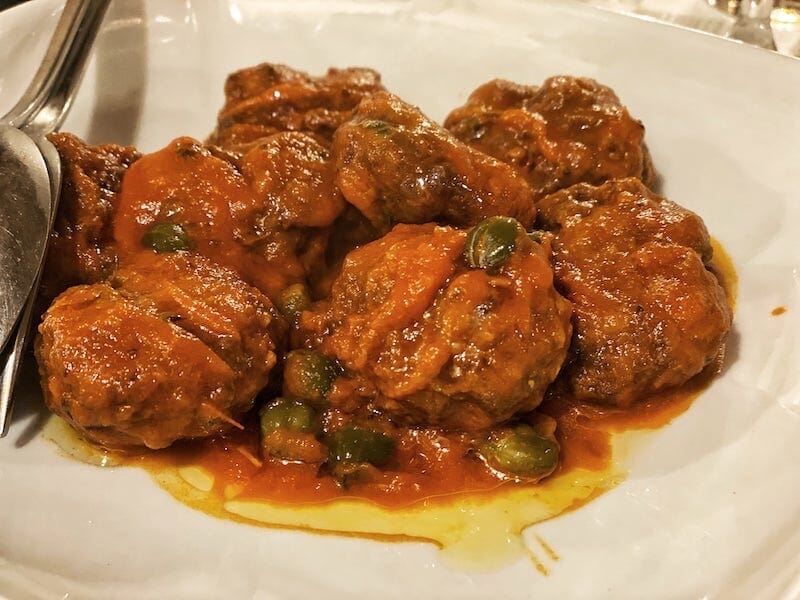 Enhorabona
Located nearby the beach and with an excellent view, Enhorabona offers some great seafood dishes. The ingredients are always fresh, the staff is very skilled and the prices are fair. If you want to enjoy a meal while admiring the Mediterranean Sea, this is the right place for you.
They offer vegetarian-friendly and gluten-free options, so if you follow a vegetarian lifestyle you don't have to worry about finding something to eat.
Their address is Via Giuseppe Garibaldi 101. It is open daily from 1:00 to 2:30 pm and from 7:00 to 10:00 pm. It opens at 9:00 am on Wednesdays.
Gioia Mi
The perfect spot for a quick lunch and for an aperitif, Gioia Mi specializes in delicious crostoni – sort of enormous bruschetta topped with the freshest ingredients. They have a nice variety of drinks too and the location – with tables in the square and a lovely internal area – is lovely.
You will find Gioia Mi in the heart of the walled city in Via Simon 32. It is open Thursday till Tuesday from 8:00 am to 12:00 am. Closed on Wednesdays.
Focacceria Milese
Not an actual restaurant but rather a quick lunch and aperitif spot, Focacceria Milese is specialized in focaccia, local style. You will find an incredible selection of freshly made sandwiches to eat on the spot or to take as a quick lunch to the beach. It's a very popular place among local and tourists and it is very budget friendly.
Focacceria Milese is located in Alghero waterfront, in Via Giuseppe Garibaldi 11. It is open every day but Tuesday from 7:00 am to 1:00 am.
Further Readings
These posts will help you plan your trip to Alghero:
Pin It For Later!