Alghero is a lovely town to visit year round. Thriving in the late spring summer months, when tourists flock to visit from all over Italy and the rest of Europe, the Catalan enclave of Sardinia has lots to offer even in the off season, when most people you'll see around are locals and weekenders.
If you have a long holiday weekend (for example, a bank holiday) and wish to plan a quick city getaway, definitely consider going to Alghero! It's really well connected to most of Europe via budget flights, it's nice to explore, it has a fabulous selection of restaurants and bars, and it provides a great base to visit the rest of north-western Sardinia.
If you don't know where to start when planning your long weekend in Alghero, don't worry: I have spent many weekends there and know the city really well, and I am here to help! Continue reading for a perfectly crafted Alghero itinerary.
Make sure to also read my post A Useful Guide To Alghero.
The Best Long Weekend In Alghero Itinerary
The starting point of this long weekend in Alghero itinerary is that you have 3 full days in town. When we visited last time, my sister and I arrived on a Friday afternoon and spent 3 nights there.
You'll be on a mission to explore, but the good news is that Alghero is small and easy to explore and you will never feel overwhelmed! The idea is that you'll first explore the city, and then start exploring the surroundings – which are just as interesting.
At the end of this Alghero itinerary you will find a practical guide with tips on how to get to Alghero, how to move around, and a selection of places to stay and good restaurants.
Finally, let's see how you can also spend a long weekend in Alghero.
Day 1, Arrive in Alghero
Depending on the time you arrive, you really should keep it easy! I recommend heading to Alghero's bastions for a sunset walk and a drink. The views over Capo Caccia from the bastions as the sun goes down are breathtaking! Have an early dinner and plan to go to bed early so that you wake up full of energy the day after.
If you arrive to Alghero in the morning, plan to explore the historic center (as per the second day in this Alghero itinerary) so that you have extra time to visit nearby Bosa or Castelsardo.
Day 2, Morning – Explore Alghero
Alghero is known as the Catalan enclave of Sardinia, so don't be surprised to see street signs in two languages or if you hear people speaking a language that is not quite Italian, nor Spanish! They speak Catalan! This small town is packed with character and history.
Head to the historic center to appreciate the narrow cobbled alleys; the churches; the defensive walls and the bastions. Alghero is also the capital of the Coral Riviera of Sardinia, so you'll find lots of small shops and jewelries selling coral, as well as a coral museum.
Fish and seafood are kings in local cuisine, with lobster easily found. The traditional way of serving lobster in Alghero is "alla Catalana" – the Catalan way: with fresh tomatoes and finely sliced white onion, extra virgin olive oil and lemon.
Half a day is enough to explore the city, so after lunch you can head to one of the archeological sites nearby.
Day 2, Afternoon – Alghero sites and wine tasting
Nuraghe are archeological sites only found in Sardinia. There are many scattered around the island, and one also right outside Alghero, called Palmavera. Smaller compared to the more famous Su Nuraxi of Barumini, Palmavera is actually very well kept, beautifully immersed in nature and very easy to visit.
Once you are done visiting the Nuraghe, if you have your own car, you can head straight from Palmavera to Anghelu Ruju Necropolis – a small but interesting burial site.
Tickets to Palmavera Nuraghe are €5; if you want a cumulative ticket (Palmavera + Anghelu Ruju Necropolis) that will be €8. There are explanation panels around the site, and you can also get an audioguide once you get there. Both sites are open daily from 10:00 am to 6:00 pm.
If you want to visit both sites, you can get a combined ticket here.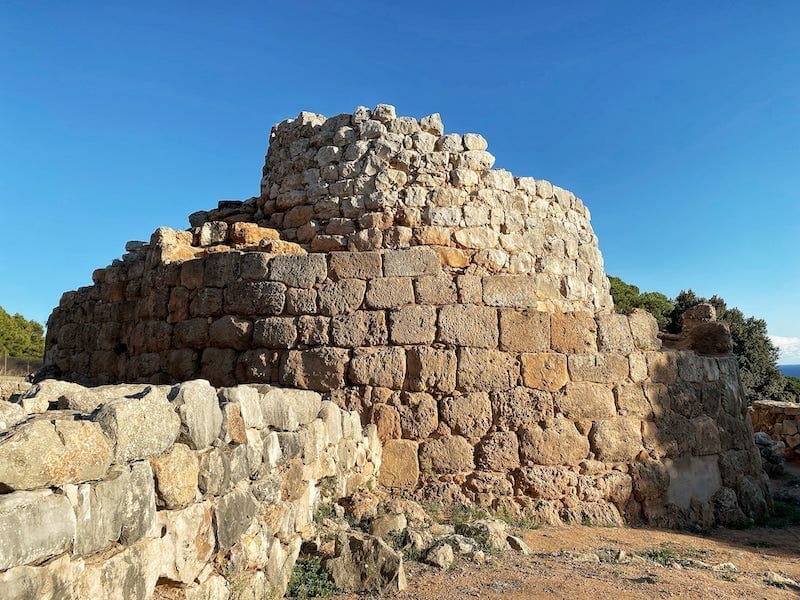 You don't need a guided tour to visit Nuraghe Palmavera, but in case you want one, you can book it directly with the company that manages the site by calling +393294385947 – the website (which is only in Italian) doesn't specify prices and whether tours are available in languages other than Italian, but it's worth checking out anyways.
Alternatively, you can book a guided tour online that also includes transportation and a visit of the nearby Anghelu Ruju Necropolis, and a knowledgeable local guide in English.
The easiest way to get to Nuraghe Palmavera is by car, but if you prefer you can bike or hop on bus 9320 or 9321 – get off at Lazzaretto Beach and walk from there (about 20 minutes) or ask the driver to drop you off at the Bivio Le Bombarde and walk from there (about 15 minutes). To get from Nuraghe Palmavera to Anghelu Ruju Necropolis by bus, you'll have to travel s back to Alghero, and from there hop on bus 9322 – it's a 20 minutes ride.
You can get tickets to the site here. Alternatively, you can join this private tour of Nuraghe Palmavera with a local guide. For a cheaper tour, click here.
For more information, read my post A Guide To Nuraghe Palmavera.
Almost right across the street from Anghelu Ruju Necropolis you will find Cantine Sella & Mosca, the largest wine producers in Sardinia. They run several wine tasting tours (also in English), with visits to the cellars and a historic overview of how the winery was founded.
Prices of the tours vary from €15 to €50 per person. I recommend either the selection wine tasting, where you try their signature wines, or the Vigneti e Cantine, where you also have the option to visit the vineyards and have 4 wine tastings. Make sure to book your wine tasting experience in advance via the website or call them directly.
For a wine and olive tasting experience in Alghero, click here.
Don't forget to read my post A Guide To Visiting The Cantine Sella E Mosca.
Day 3, Morning – Go to the beach or nature reserve
If you are visiting Alghero between late spring and early fall (between mid May to mid October), you should definitely take advantage of the good weather and spend the morning at one of the local beaches.
There are many beaches in and near Alghero. The main urban beach is Lido di San Giovanni. You can literally walk along the waterfront of Alghero to get there. It's a good, well serviced beach though not nearly as nice as others in the area – don't have high expectations as there are much better places in Sardinia.
If you fancy a better place, head to either Le Bombarde or Lazzaretto – they are right next to each other. Another nice beach a short driving distance from Alghero is Mugoni.
You can drive or also bike to the beach if you want – though you'll have to be extra careful as there is no fully dedicated bike lane. Don't want to drive? Buses 9320 and 9321 will take you to Le Bombarde or Lazzaretto Beach from Alghero – it takes around 20-30 minutes, depending on traffic.
You should also read my post The Best Beaches In Alghero.
If you are visiting Alghero in the off season, a day at the beach is probably not a good addition to this Alghero itinerary. In this case, I recommend instead heading to Porto Conte Regional Park. This is a fantastic place to go hiking and biking, and offers stunning coastal views and lots of wildlife.
Once there, you should also visit Le Prigionette Nature Reserve, a beautiful reserve of Mediterranean scrub with a bunch of good walking and biking trails and where you should be able to spot even more local wildlife.
A guided tour is probably a good idea to make the most of the park, especially if you want to spot wildlife and get a better understanding of the delicate local ecosystem. Guided tours of Porto Conte – usually by bike or electric car – are offered by Explore Alghero – to enquire about tours you can send them an email to [email protected].
You can reach Porto Conte by car from Alghero. There is a €5 admission fee for cars and €3 for bikes or pedestrians. You can also opt for a guided tour from Alghero that you can book here.
Day 3, Afternoon – Neptune's Grotto
The Grotte di Nettuno (that's their name in Italian) are among the most beautiful, famous and visited in Sardinia. They are located near the promontory of Capo Caccia, which is a great area to go for a walk and for sunset watching, so you could try to time your visit and hit two birds with one stone.
Admission to the caves is €14 for adults and €7 for children up to the age of 12.
You have two options to get to the caves:
Join a boat tour departing from Alghero. Several companies charter passengers from Alghero to the caves and back. You will have to book the tour in advance, directly at the harbor. The ferry costs €16 for adults and €8 for children. Make sure to double check whether you have to pay for admission to the cave separately.
Drive to the Capo Caccia area and walk the Escala de Cabirol, a 654 staircase that offers breathtaking views of the cliffs and the sea.
Of the two, I much prefer going via the staircase as it is very scenic – but it really depends on how fit you are!
You will have to book your visit of Neptune's Caves in advance if you plan to go there independently – you can do that here. Make sure to get to the parking lot well in advance as you'll have to pay for your tickets and it takes about 15 minutes (with no stops) to walk down the stairs. Going up after the visit takes around 15 to 20-25 minutes, depending on your level of fitness and how often you stop to catch your breath or take photos.
For more information, read my post A Guide To Neptune's Caves.
Have an extra day or so? Continue reading!
OPTION #1 BOSA
About one hour drive from Alghero, Bosa is factually the prettiest village in Sardinia, and one of the prettiest in Italy, so if you have some extra time (even half a day is enough), definitely add it to your schedule. Plus, the drive to get there is extremely scenic.
Built along the banks of the Temo River, the surroundings of Bosa are pretty too. You can wander around town, visit the Malaspina Castle, enjoy a boat ride along the coast or along the river.
There is a good restaurant where you can go for lunch: Hotel Mannu. Don't let the ugly building put you off. Food is fabulous.
Make sure to also read my post A Useful Guide To Bosa.
OPTION #2 CASTELSARDO
Another option would be to go to Castelsardo, a lovely, colorful hilltop village right by the sea, with gorgeous coastal views. There is a castle with a museum on top, and several trails that go along the coast.
To take in all the views in Castelsardo, you may want to hop on a tuk tuk. You will find one parked below the historic center. A short ride normally costs €5 per person and takes you to a couple of viewpoints; a longer tour is in the range of €20 per person and lasts about one hour, taking you to the best panoramic spots and dropping you off at the castle where you can continue exploring. If you wish to have an English speaking guide, get in touch with Nicolas (also via whatsapp) at +393701057562.
One of the best restaurants in Castelsardo is Il Cormorano. They have a fabulous selection of seafood dishes. My favorite pasta dish is the spaghetti with langoustines, which are made with homemade pasta.
Head over to my post What To See And Do In Castelsardo.
Practical Guide
Guided tours of Alghero
Alghero is small enough that you can really easily explore it on your own, but if you feel a guided tour would add to your weekend in Alghero, then definitely go for it. You could for example opt for a walking tour of Alghero that will take you around the historic center. If you don't have a car, opt for a wine tasting experience that includes transportation. And if you are a fan of wildlife, there is a fully responsible dolphin watching boat tour.
For a guided walking tour of Alghero, click here.
For a wine and olive tasting experience in Alghero, click here.
For a dolphin watching experience, check out this tour.
How to get to Alghero
Alghero is well connected to the rest of Italy and Europe via a number of regular and budget flights. You will find connection from a number of European capitals such as London, Madrid, Vienna, Dublin, Brussels, Budapest and Barcelona.
Make sure to also read my post How To Get To Sardinia.
How to get from the airport to the city
Getting from Alghero Fertilia Airport to the city is very easy.
The easiest thing to do is to rent a car – several companies have their headquarters in the airport, which is fairly small. From the airport, take SP 44 to Alghero, then turn left onto SS 291dir, and finally SP 42. It will take you about 15 minutes.
Alternatively, you can count on the public bus that leaves approximately every hour. Tickets cost around €1 and the journey lasts between 20 and 30 minutes, depending on the time of day and traffic.
If you'd rather go by taxi, you will find one just outside arrivals. Unfortunately taxis from the airport to the city don't work on a flat fee rate, so you are looking into a minimum of €25 during the day, which can vary based on the number of passengers and bags. There's also a surcharge for night rides, between 12:00 am and 7:00 am.
Finally, you can get a private or shared shuttle. Prices will vary between €20 and €35 for a shared service, and up to €100 for a private one.
You can book your shared transfer here or here.
You can book your private transfer here.
For more information, read my post How To Get From Alghero Fertilia Airport To The City.
How to move around
Alghero actually has a good public transportation system, so if you want to limit yourself to the city boundaries, you don't need to rent a car and can just hop on the bus or rent a bike when you need it. Otherwise, having a car is always a good idea if you want to explore a bit further (ie go to Bosa or Castelsardo).
My go to company for car rental is Discover Cars, which is actually a comparison site – you can book both car and insurance there. Check them out here.
Head over to my post A Guide To Renting A Car In Alghero.
Where to stay in Alghero
There are some excellent accommodation options in Alghero – hotels, guest houses and even small self-catering apartments. So, no matter what your travel style is, you will find something suitable. Here is a selection of places to stay.
CASA VILLAMARINA – Outside Alghero in the gorgeous vineyards of Cantine Sella & Mosca, this is an incredible place to stay while in Alghero. Enjoy a delicious breakfast of homemade cakes and pastries every morning, and the quietness of the countryside location.
ALGHERO ROOF GARDEN – If you want to stay in the heart of the historic city, this is an excellent option. Pick a room with a view for an extra treat.
S'ARENA DORADA – Beautiful small apartment close to Alghero Lido and within walking distance to the city center.
MUSICA GUEST HOUSE – About 15 minutes walk from the center of Alghero, it has spacious, modern rooms fully equipped with everything you need. There is a massive breakfast spread each morning. It's a great choice if you want to stay in the city, but on a smaller budget.
HOTEL DOMOMEA – Nice hotel in the center of Alghero, walking distance from all attractions. Superior rooms are definitely better than the budget ones!
Check out my post The Best Hotels In Alghero.
Where to eat
I have tried all the restaurants on this list and wholeheartedly recommend them. In some cases, you will need to book in advance.
NAUTILUS – Fabulous seafood restaurant located right on the walls of Alghero. Book in advance for a table with views over the harbor. It's pricey, but worth it.
TRATTORIA AL REFETTORIO – Modern cuisine in the historic center of Alghero. It mostly serves seafood. It's mid-range to pricey, depending on what you drink, and you will be better off booking a table in advance. There is an adjoint pizza place.
THE KINGS – Seafood and fish dishes (lots of raw) are the main food served in this nice restaurant located on the bastions and will gorgeous views of Capo Caccia. It's pricey. Make sure to book in advance.
TRATTORIA LO ROMANI – In the heart of the historic center, it serves comforting food in a friendly, easygoing setting. The prices are mid-range prices. It can be quite busy, so book in advance.
FOCACCERIA MILESE – Perfect spot for a quick lunch, with delicious sandwiches made to order. It's closed on Tuesdays.
GIOIA MI – Another good lunch spot in the center of Alghero. Their crostoni and bruschette are top notch.
PROSCIUTTERIA SANT MIQUEL – Great spot if you like charcuterie and wine. It's in the historic center.
Read my post The Best Restaurants In Alghero.
Pin It For Later!