You won't ever have troubles finding where to stay in the magnificent island of Sardinia. From the nicest budget hotels to the most luxury ones, there is no shortage of perfect places to sleep, with plenty of options for all tastes, budgets and needs.
There even are many incredible villas for rent in Sardinia, which are perfect if you fancy the idea of staying in a more private kind of accommodation, self catering and in a gorgeous location, you really won't have troubles finding a place to stay.
If you want to step up your budget game and rent something private, just for you and your friends or family, but don't know where to start looking, you are in the right place. There are plenty of villas for rent in Sardinia, and they are all beautiful and excellent for escaping the noisy reality that some places become during the peak summer months.
Just remember that, if you intend to visit in the summer months between July and September, you have to secure something by the end of February at the latest, as good places tend to get rented out quickly!
Here is selection of the best villas for rent in Sardinia, starting from the South of the island and moving anti-clockwise on the map.
20 Stunning Villas For Rent In Sardinia
South Sardinia
Beacon of Hope – Capo Spartivento
Capo Spartivento is an incredible location for a likewise incredible villa. The promontory is famous for its lighthouse, which is still operating to guide the boats in and out the Gulf of Cagliari and is also a luxury boutique hotel. The villa is not that far from the lighthouse, but you will need to take a taxi boat to reach it. It's surrounded by nature and four coves where you can sunbathe in all peace and privacy.
The villa can host up to 12 people, there's a chef always on-site – so you won't even need to cook – and it has six bedrooms and six bathrooms, four floors, a panoramic veranda, and much more. The scenery is simply breathtaking. It's easily one of the best villas for rent in Sardinia.
Adobe Sculpture – Is Molas, Chia
Is Molas is an exclusive resort nearby Chia, surrounded by nature and amazing beaches. If you want to enjoy the crystal-clear waters and white sand but prefer to stay in a more exclusige place, you can rent a villa.
Adobe Sculpture is divided into four buildings, can host up to 8 people, and doesn't lack anything you may possibly need for a fabulous stay. From a swimming pool to a studio and a fitness center, from a big garden full of plants to a huge outside relaxation area, you will not need to leave the villa to enjoy a holiday to its fullest.
However, in case you want to use the resort's many facilities, they are there, available for you. No wonder many think of it as one of the best villas for rent in Sardinia.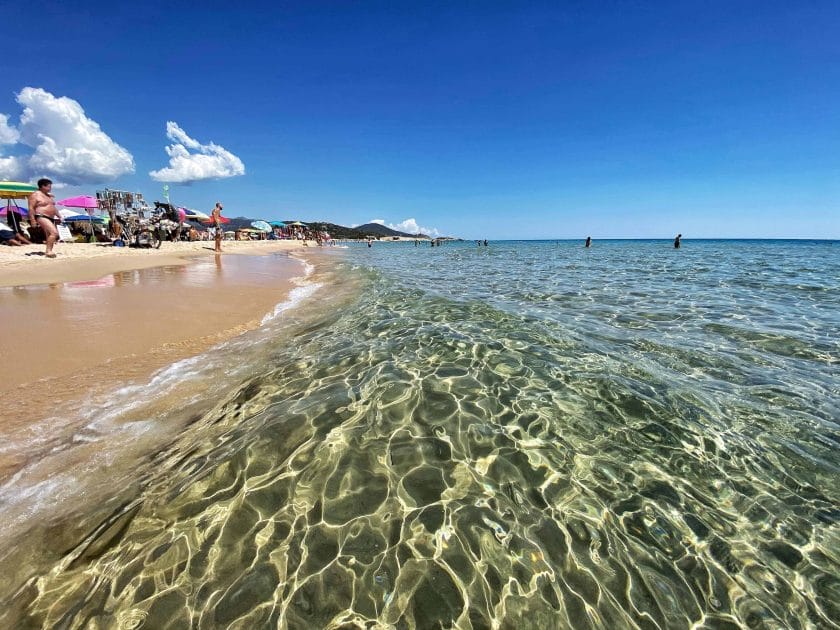 Luce Luminosa – Is Molas
If you have a knack for architecture and design, this villa in Is Molas is the perfect one for you. It was designed by Italian-Lithuanian architect Massimiliano Fuksas, and features floor-to-ceiling windows, a bright blue sofa and metallic dining chairs. It's all picked personally to give you the feeling of a real home away from home.
Outside you will find a well kept garden and a swimming pool for those days you don't even feel like going to the beach. The patio is perfect for dining al fresco, and a roof-top terrace will allow you to take in the surrounding landscape, perhaps while relaxing in a jacuzzi.
As it is located in a resort, you will have access to a tennis court and a golf course. The ancient city of Nora and Furcadizzu Beach are also nearby.
Jungle House, Pineta is Morus – Santa Margherita di Pula
Santa Margherita di Pula is one of the top locations in South Sardinia, with both excellent beaches and other attractions – such as the Punic-Roman city of Nora.
Jungle House is a housing complex that features a private villa, with its private beach and other amenities. The house is furnished and equipped with everything you might need for a top-tier holiday, and you won't need to leave it unless you actively choose to.
Villa Amelia – Villasimius
Another excellent place for the summer holidays, Villasimius is an area with a high concentration of resorts, hotels, and some of the best villas for rent in Sardinia. Here you will be able to find a nice, isolated villa to spend a peaceful stay at!
Villa Amelia is equipped with every comfort; it has a broad garden where you can have a walk or read a book, or have a barbecue. You can bring your pets and have free WiFi and free parking on site.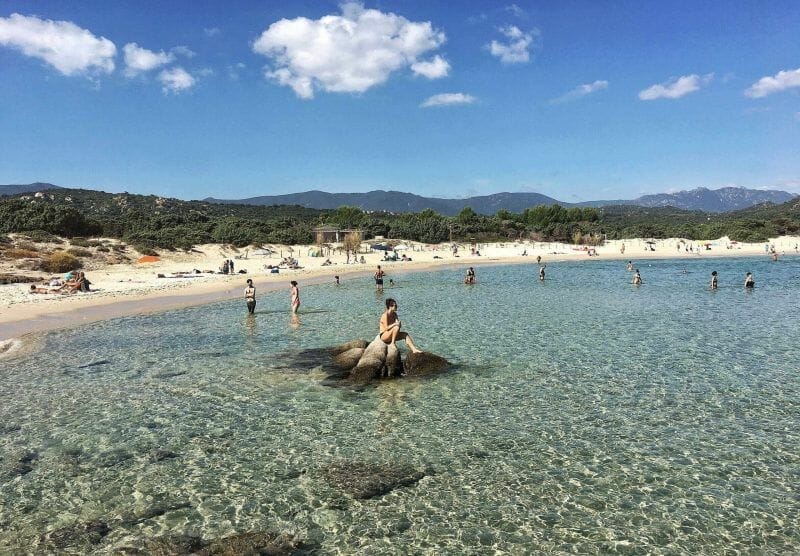 East Sardinia
La Casa sul Mare – Costa Rei
Costa Rei is famous for its turquoise waters and pristine sand beaches. There are a few luxury resorts to make your jaw drop – the scenery is a great part of the magic – but it's not impossible to find a villa there either. In fact, it's what most people do here – my parents did that before they eventually bought their property right in Costa Rei!
La Casa sul Mare is at a mere 4 minutes' walk from the beach, has free WiFi and free parking, and lots of space for you and whoever is tagging along in your Sardinian holiday. It's located in a quiet area in Costa Rei so that nothing can disturb your peace.
Silver at Dawn – Santa Maria Navarrese
Santa Maria Navarrese is one of Ogliastra's gems. This region in the east of Sardinia is a palette of colors, from the green of the mountains to the several blue shades of the sea. There is plenty to do here, from hiking your way to a beach or an ancient ruin to trying some of the very typical food this region has to offer.
Silver at Dawn is a modern, eco-friendly villa immersed in the wild Ogliastra nature – easily one of the most astonishing villas for rent in Sardinia. It is not too far away from the beaches. The whole building offers great views on every side of the area and is furnished with everything you might need. The infinity pool is the cherry on top of this beautiful cake.
North East Sardinia
Villa Smeralda – San Teodoro
San Teodoro is a beautiful marine village not too far away from Olbia, with incredible beaches and all the facilities you might need for a relaxing holiday. Renting a villa here means being close to one of the island's main cities – and its airport – and at the same time spending some quality time in a piece of paradise.
Villa Smeralda is located nearby a great beach, Spiaggia Isuledda, and is equipped with every comfort you may need. The swimming pool is simply stunning and so are the views from the garden. Free parking and free WiFi are only some of the many things included in this villa.
Garden of Plenty – Porto Istana
The location of this villa is stunning. If you chose to stay here, you would be staying close to some breathtaking beaches, close to Olbia and all its comforts, and also immersed in Sardinian nature.
Garden of Plenty is made of bright, spacious rooms with floor-to-ceiling windows, a barbecue area, stylish furniture, and much more. The garden is the best place to spend your time – of course, after you come back from the beach – reading a book or simply enjoying the sea breeze.
Sea & Rocks – Pittulongu
Pittulongu is located near Olbia and overlooks the Tavolara National Park. Everything is at a stone's throw here, so why don't you rent a villa and enjoy the area as much as you can?
Sea & Rocks is right in front of the beach. The rooms are bright, wide, and well furnished, there is a rooftop terrace with a Jacuzzi, a spacious garden, and a lot more. There even is a small shower right at the door so that you can get rid of the sand before entering the villa.
Saltwater Seafront – Golfo Aranci
Golfo Aranci is another among the most famous holiday destinations in Sardinia. Here you will find stunning beaches, luxury resorts, restaurants, kiosks and bars, places to go shopping for both traditional souvenirs and designer clothes, and much more. Renting a villa here won't surely mean you'll be stranded in the middle of nowhere – Olbia is quite close, too, and here you will find some of the best villas for rent in Sardinia.
Saltwater Seafront is immersed in nature and overlooks the beautiful Sardinian sea. The rooms are equipped with every comfort, there are two kitchens (one inside and one outside, complete with a barbecue area), a spacious garden with a swimming pool, and much more. The villa is built and furnished following the typical Sardinian style so that you can completely immerse yourself in the island's atmosphere.
Costa Smeralda
Grand Finale – Porto Rotondo
Among the best villas for rent in Sardinia, Grand Finale sleeps up to 10 guests across 5 bedrooms (and has 5 bathrooms to match). The interior of the villa is at the same time stylish and cozy, and equipped with whatever you may need for a comfortable stay (including a pizza oven, of all things!).
Step outside and you will be immersed in a lush garden with lots of plants, and find a fun swimming pool to relax and have a swim. Porto Rotondo and all the main beaches of Costa Smeralda are at short driving distance, too.
Sweet Sardinian Solitude – Porto Rotondo
Porto Rotondo is, together with Porto Cervo, the place where VIPs go on holiday every year and one of the trendiest summer holiday destinations in the Mediterranean. Filled to the brim with luxury resorts, restaurants, bars, and exclusive clubs, the tiny village is indeed one of the must-sees of Sardinia.
Renting a villa here means you will not only enjoy an incredible holiday in one of the most exclusive places in Sardinia but could also end up meeting some celebrities – just in case you are interested, of course!
Sweet Sardinian Solitude is made of three separate buildings and a huge garden enclosing the property. The furniture is wisely chosen and set so to be eye-catching but not excessive, and the whole complex is bright and made with a huge focus on comfort and relaxation.
Smeralda Set – Porto Cervo
Smeralda Set is the typical luxury villa, in a traditional Sardinian style, equipped with everything you may need during your holiday – and more. The two blocks forming the property can host a total of 10 people, who can enjoy the pool and the house's many amenities, from the kitchen to the terraces.
It's located in Porto Cervo, the right place if you want to see what celebrity life looks like: from yachts to exclusive clubs and restaurants, from luxury shops-filled streets to incredible villas. Why not rent one yourself, then?
A Pearl in Paradise – Porto Cervo
Porto Cervo is home to some of the best villas for rent in Sardinia, and A Pearl In Paradise is certainly one of them. This villa is perfect for a family or a group of friends. It has everything you need to feel like a celebrity.
Picture wood ceilings, beautiful views, a patio for al fresco dining and sunset drinks, and access to a communal pool. Mind you, these are only a few of the many amenities there!
North Sardinia
Rock of Ages – La Maddalena
La Maddalena Archipelago is one of the best places to visit in Sardinia. Visiting this group of islands is something you can't possibly regret, as you will never see anything similar anywhere else in the world – I promise!
A great place to stay in La Maddalena is Rock of Ages villa, a unique luxury home designed to show the best views of the archipelago sea. The furniture and the rooms are all wisely placed to create a pleasant visual effect, and the villa isn't missing a single thing to be considered a top-tier holiday home.
Wilma's Watch – Santa Teresa di Gallura
Santa Teresa di Gallura is another popular summer holiday destination in North Sardinia. Home to some amazing beaches and attractions, it's an area with a lot to see and do, where you will never be bored. Renting a villa here would give you the opportunity to either spend some quiet days away from the bustling mundane life or to dive right into it, depending on what you prefer.
Wilma's Watch is slightly inspired by The Flintstones' series (hence the name!) and offers a nice combination of isolation from the neighbors and vicinity to everything you might need – which is to say, the village itself. Everything, from a barbecue area to a swimming pool, is included and put there to guarantee the best experience for every guest.
Paradise Hill – Trinità d'Agultu e Vignola
Trinità d'Agultu e Vignola is the pearl of Costa Paradiso, an area of North Sardinia where mountains and sea meet to create a stunning scenario. The village here is equipped with everything a tourist might find necessary for a perfect holiday, but the land's conformation makes for several small, private coves where you can forget all about mundane and chaotic city life.
Paradise Hill is, as the name suggests, built on top of a hill overlooking the sea. The rustic style mixes well with the surroundings, but don't let this villa's appearance trick you: it's fully equipped with every comfort you might want, and it's the ideal abode for the ones who like a quiet atmosphere and breathtaking views.
Villa Holiday Park – Stintino
Stintino doesn't need any introductions. It's a wonderful place, with stunning beaches – ever heard of La Pelosa? – and close to many larger towns and their facilities and comforts. Visiting Stintino is an experience you will remember, because there is plenty to see, do, and taste (local food is delicious!). Moreover, there are a few historical places you might want to check out, in case you aren't the type to spend a whole holiday lying on a beach.
Villa Holiday Park is a nice place where to stay isolated from the crowds that are common in Stintino, but without giving up on comfort. It's equipped with everything you need, from free WiFi to a private swimming pool, and it's located on the beachfront. An excellent place to stay indeed!
North West Sardinia
Alghero Villa Mistral – Alghero
The Catalan city is another Sardinian destination that doesn't need any introductions. Its uniqueness is bound to captivate you, and so are the food and the people there. If you visit Alghero, you can't skip a trip to Capo Caccia, Neptune's Caves, and the ancient Anghelu Ruju Necropolis. And of course, use some of your time to explore the city, its historical center, and have a walk on the defensive walls – sunset from there is incredible!
This villa is equipped with everything necessary, from free WiFi to a fully-furnished kitchen, and you can even rent a car here, or park yours in the free parking. The terrace and the garden both give pretty views of the Sardinian countryside, and the villa's interior is designed to follow the typical traditional style, focusing on comfort and simplicity.
Further Readings
For more ideas on places to stay in Sardinia, these posts may be useful:
Pin It For Later!