Let's get real. Who doesn't want to feel like the Little Mermaid? When you go diving in Sardinia, it's going to feel like the real deal. If only Flounder would tag along!
This dream Italian island nestled in the heart of the Mediterranean offers you truly unique diving experiences right off the stunning coastline, or off the small islands that float offshore. Discover beautiful kelp forests, shipwrecks, and spectacular marine life in the turquoise blue waters of this idyllic Italian island. Whether you're a first-time diver or an experienced diver, a trip to Sardinia isn't complete without time spent underwater!
I'm going to dive right in — pun intended — and talk about some of the frequently asked questions about diving in Sardinia – from the best time of year to dive to what kind of marine life you can expect to see in Sardinia's waters. Then, I'll get right to it and cover where to go diving in Sardinia.
Diving In Sardinia Quick-Facts
Best time of year to go diving in Sardinia
Sardinia is the second-largest island in the Mediterranean and is approximately 250 kilometers long by 100 kilometers wide. This Italian island welcomes a wide variety of marine life in the warmer months of the year — including spring, summer, and fall. However, in the winter months, most marine creatures migrate to find more temperate waters.
During the summer, the water temperature gets as warm as 82°F (26°C), and in the winter, it shoots down to 59°F (15°C), but usually is around 54°F (12°C). That means that the best time of year go diving in Sardinia is during the hot summer months — you're more likely to spot dolphins then too!
What is the marine life like in Sardinia?
Some of the most exciting underwater creatures to see are dolphins, whales, and giant eagle rays. If you happen to be a diving nerd, you will also have the chance to spot the ever-elusive sunfish between the months of March and June!
Furthermore, there are an abundance of tuna, groupers, and barracudas to see, as well as octopus, lobsters, squids, moray eels, and pipefish— not to mention basking sharks! But don't worry, there have only been 50 shark attacks in Italy since 1900, and there has never actually been a single accident with sharks in Sardinia. Seriously, don't stress about the sharks.
Are there dive sites all over the island?
Most of the diving in Sardinia occurs off the east coast of Sardinia because the west coast faces strong, westerly winds which decreases visibility, increases water currents, and all-around makes for a more challenging dive, surely not suitable for beginners.
However, if you do decide to go to one of the more western spots, you'll be getting away from the tourists and will have a more private, personal, secluded experience. There are dive centers located in the west, too, so you won't be struggling to find a center to dive with.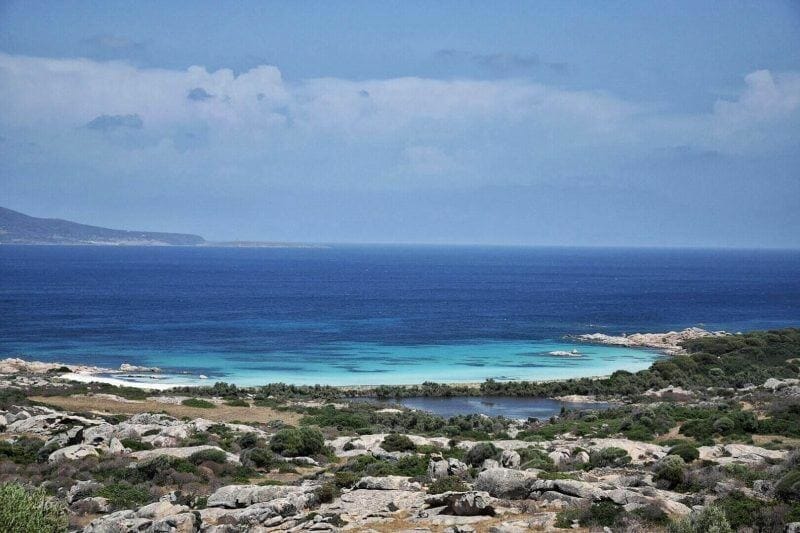 What can I see in winter when diving in Sardinia?
Good question! As I already mentioned, most of the marine creatures and critters in the Mediterranean waters around Sardinia migrate during winter to find warmer waters. However, if you're planning to go diving in Sardinia during winter, what kind of underwater flora and fauna will you see? Year-round, no matter the season or water temperature, you will see sea sponges, sea fans, nudibranchs (sea slugs), red coral, and sea horses, just to name a few.
And while sea slugs don't sound that exciting, trust me — they are! These teeny-tiny, mostly phosphorescent sea critters are astounding to spot. They are truly the "Where's Waldo" of the diving world! Lastly, you'll be able to see the largest mussel species in the entire world, the Pinna Nobilis fan mussel. It's quite impressive and special to see. But remember, you can't take it out of the water as it is highly protected.
Is Sardinia a good place to learn how to scuba dive?
Absolutely! Due to calm, clear waters with incredible visibility, easy shore diving is popular in Sardinia. In fact, Sardinia has often been described as having the best diving in Italy, so it's a great place to learn how to dive.
These are some diving courses in Sardinia:
Continue reading to discover where to go diving in Sardinia.
Where To Go Diving In Sardinia
Capo Testa
How do calm and clear waters sound? Perfect for beginners, or experienced divers too, Capo Testa is situated in the north of Sardinia and is renowned for the crystalline waters, which are as calm and clear as glass. We're talking up to 50 meters of visibility here! That means when you're underwater, the water is so clear that you can see up to 50 meters in front of you.
That's a substantial distance considering other popular diving spots in Europe sometimes have 5 meters visibility because of the current, thermoclines, and particles of sand, mud, and clay present in the water. So 50 meters of visibility is a big deal!
In Capo Testa, you can expect to see red stony coral, eels, lobsters, and even a turtle or two! There is also an ancient Roman column lying beneath the surface, as well as a shipwreck— the wreck of Santa Teresa di Gallura. The ship is stuck in the sand between 15 to 50 meters below the surface, so you can check it out from the outside, or you can actually get inside of it to explore!
Check out my post A Complete Guide To Santa Teresa Di Gallura, Sardinia.
Orosei Gulf
The Orosei Gulf lies in the East of Sardinia in the province of Nuroro. This gulf is home to vast and varied scenery for divers. Whether you're looking for shipwreck diving, cave diving, or abundant flora and fauna, the Orosei Gulf has something for everyone!
First off, let's talk about the Nasello shipwreck – a WWII cargo ship that is 45 meters long. This wreck lies on her port side in the sand and is covered with neptune grass, also called Mediterranean tapeweed. The vessel has been split into two sections; you can swim around the prow to see the steam propulsion and the helm to see the bronze propeller.
Moreover, there's also Bianca's Garden, a spectacular underwater sea garden brimming with sea fans and sponges. This starts at about 16 meters and flows down a volcanic lava slope to about 24 meters.
Lastly, if you have never tried cave diving, muster up your courage and get ready to try it; when it comes to the Cavern of Oysters, your bravery is well rewarded! The Cavern of the Oysters is a true sight to behold! It's nearly completely covered with ancient oyster fossils and will leave you awestruck.
These are some diving tours you can book online:
Capo Carbonara & Villasimius
Capo Carbonara its in the south-eastern section of Sardinia in Villasimius and is home to the Protected Marine Area of Capo Carbonara. The Capo Carbonara Marine Protected Area is positively overflowing with marine life. Honestly, the underwater landscape is captivating.
Expect to see abundant waving yellow anemones and stark red gorgonians — brittle, tree-like coral. You'll also likely run into shoals of mahi-mahi, groupers, sea bass, and even goatfish! And if you're lucky, you might spot a rare endangered monk seal (don't hold your breath for that, chances are virtually non-existent). Add that to the bucket list, right?!
There are also two rocky islands to dive around, Cavoli and Serpentara. The latter is known for being a popular spot to see and swim with dolphins. So if you have to pick just one island, definitely go with Serpentara. Keep in mind you can't disembark there as it is highly protected.
Villasimius is an absolute paradise for wreck diving — it's a graveyard for tons of sunken ships! Make sure to check out the shipwrecks, including a Roman galley, a 15th century Aragonese ship, the Egle steamship from 1943, and the Elba Ferry.
Here are some of the best dives in Capo Carbonara that can be booked online:
Make sure to read my posts A Complete Guide To Villasimius, Sardinia and A Useful Guide To Punta Molentis Beach, Villasimius.
Asinara
Asinara is an island floating off the north-western tip of Sardinia. Curiously, the name Asinara translates to "donkey-inhabited." Indeed, the island is nearly wholly uninhabited. In 2001, the census listed the population as "one person." However, the name comes indeed from the Latin "sinuara" – which means sinuous and refers to the shape of the island and its rugged coastline.
Regardless, the waters around Asinara are a protected natural area best described as a treasure chest! You'll find an enormous amount of micro and macro biodiversity, as well as striking seabeds filled with clefts and recesses. You'll see rare species like the ribbed Mediterranean limpet (a sea snail), and you can even spot dolphins if you drift further out!
Check out my post Your Guide To The Astounding Island Of Asinara.
San Pietro & Carloforte
There's a very small island hanging off the southwest side of Sardinia called San Pietro. San Pietro is completely encompassed by stunning, unpolluted waters, and is known for being one of the less-popular diving spots in Sardinia. By less popular, I don't by any means wish to convey that it is any less spectacular! It's just a little more off the beaten path, which means that you'll have a less touristy and more private diving experience.
Since San Pietro dwells in the waters on the west side Sardinia, that means things do get windy around here! Diving in Carloforte is best for experienced divers, not for beginners; there will be a current to battle with, and likely lower visibility than on the east side of the island.
The only town in San Pietro is Carloforte, and it's renowned for tuna fishing. Explore the waters around La Tonnara – the historic old tuna fishery. La Tonnara is sure to leave a lasting impression on you. Those tuna fish grow big – I mean, really big!
Make sure to read my post A Complete Guide To Carloforte And Isola Di San Pietro, Sardinia.
Sant'Antioco
Sant'Antioco is actually another island separate from Sardinia, but it hovers close enough to count. It lies just south of San Pietro and is another spot to witness Sardinia's entertaining wildlife. Giant mantas and dolphins can be sighted among the meadows of Posidonia Seagrass that will make you feel like you're in a giant underwater garden! There are also otherworldly natural rock formations underwater that make for fantastic dives.
Off the western side of Sant'Anticoco island lies the alluring cove called Cala Lunga (Calasetta). Tucked away from tourists, it feels almost like your own private oasis! It's best described as a heavenly diving experience.
Nereo Cave
Nereo Cave – also called the Grotta del Nereo – lies just a handful of miles from the Alghero and is one of the best spots to dive in all of Sardinia. It's a veritable underwater gem! The Nereo Cave is one of the biggest marine caves in the Mediterranean waters. It has tunnels that stretch for 350 meters. While 350 meters is an impossible figure for divers to play with, you're sure to love diving a few meters down and seeing the lobsters, congers, octopus, nudibranchs, and moray eels tucked all along the tunnel.
There are actually three different entrances to the caves; two are shallow, and the third can be found all the way down at 30 meters. If you are certified and capable of entering through the deeper entrance, you'll be able to swim through the chimney and magically exit through one of the shallower openings. Floating up through this chimney is not only an incredible challenge, but it's immensely rewarding – you'll be surrounded by fascinating crustaceans and marine flora and fauna.
Island of Caprera
Directly inside the throbbing heart of the Maddalena Archipelago is the island of Caprera, which is situated just 50 kilometers north of Olbia. This island is often called a diving mecca. There are tons of diving sites perfect for all skill levels— including you, pros!
There are stunning coral reefs, caves, narrow passages, as well as colossal rock formations that make for a really fun diving experience. Caprera Canyon is also a hotspot for fin whales and dolphins! It's said that they usually spend their entire summer right here in this spectacular whale sanctuary that spans from Sardinia to Corsica to Genova. Sounds like paradise to me!
Final Thoughts On Diving In Sardinia
If you're looking for a truly memorable Mediterranean diving experience, look no further than the Italian island of Sardinia. From the large underwater caves and the shipwrecks to resplendent marine life, Sardinia is a paradise for divers.
Whether you're looking to float up nearly 30 meters through the renowned Grotta del Nereo passage or you want your imagination sparked at the Cavern of Oysters, you are sure to make unforgettable memories at each and every one of the best diving spots in Sardinia.
If I missed one of your favorite diving spots in Sardinia, let me know in the comments below! Alternatively, if you've gone diving at one of the spots I recommended, I'd love to hear your story!
Further Readings
Make sure to read these other posts if you are planning a trip to Sardinia:
Pin It For Later!