We could all hours browsing social media just staring at amazing pictures of Sardinia. This island, where I grew up, is the place to be in the summer – though I insist that there are many more things do to in Sardinia throughout the year.
My Instagram feed (oh hey, by the way, my Instagram is @strictlysardinia) is a series of Sardinia images of gorgeous beaches; quaint villages; surfing locations. It's a slice of heaven on earth.
Not only do I like looking at pictures of Sardinia. I also like taking them: I never go out without my camera, and take photos whenever I can. So, I thought I'd write a guide to the best photo locations (and the best time to visit them) in Sardinia.
Where To Take The Best Pictures Of Sardinia
Cagliari
National Geographic listed Cagliari among the most underrated destinations in the Mediterranean. And let me tell you: my hometown really is a special city! The city is indredibly photogenic, but I do have my favorite spots. Here they are.
Poetto
Poetto is an excellent place to get a feel for the island and to take some beautiful photos. Besides, it's a locals' favorite. Easy to reach by bus from the center of town, this long beach is packed with things to do and interesting sights. The photo you see above was taken from Le Palmette kiosk. Another great photo spot is the Ospedale Marino, an abandoned hospital that is at the same time charming and disturbing to see.
Poetto is great to photograph throughout the day. I especially love it at sunset!
GOOD TO KNOW: Right by Poetto, Molentargius Nature Reserve is one of the best places to visit in Sardinia for wildlife and birdwatching. Make sure to bring a long lens to capture the gorgeous pink flamingoes that live there.
Make sure to read my posts Everything You Need To Know About Poetto, Cagliari' Best Beach and The 7 Best Beaches In Cagliari.

Sella del Diavolo
Sella del Diavolo is by far one of my favorite spots in Cagliari, not only as it's perfect to take gorgeous pictures of Sardinia, but simply because, although being within easy reach from the city center, it feels like a million miles away.
Easy to reach on a short hike that starts in Calamosca Beach, once you get to the top of the promontory you get some of the most impressive views of Poetto beach below and of Molentargius Protected Natural Oasis.
The best time to go is either in the morning (sunrise from there is splendid) or in the afternoon (though this isn't a sunset spot).
Faro di Sant'Elia
Close to Calamosca beach, a short hike leads you to the lighthouse. The surrounding area is packed with incredible photo opportunities. You will love the view from the Sant'Ignazio abandoned fortress. The small beach below is Calamosca, one of the urban beaches in Cagliari and a favorite of the locals.
The best time of day to go is in the late afternoon, especially for sunsets.
Villanova
My friend Margherita calls me Miss Vicoletti (narrow alleys) for wherever in the world I may be, I make it a point to take photos of all the small streets. It's where I find the best photo opportunities, and I enjoy the atmosphere. Villanova, one of Cagliari's historic district, is one of the best places to take city life pictures of Sardinia.
The photo above was taken in Via San Domenico.
The best time of day to go to take photos in Villanova is in the late afternoon – in the summer season, any time between 6:00 and 7:00 pm. That's when there's the most action before it gets dark.
Castello and Stampace
I have yet to decide whether I prefer Villanova or Castello. In doubt, I spend time in both of them. Castello is another perfect Sardinia photography locations. Contrary to Villanova it hasn't undergone any major renovation work, with the result that most of its buildings are crumbling.
Castello has all the charm of the narrow alleys that Villanova has, but added to that there's the fact that it's on a hill, so the views of the city are stunning. Thanks to it's orientation, it's a great place to photograph at any time of day: go to the terrace of Via Santa Croce for the perfect sunset view. On the other side, towards Piazza Mafalda di Savoia, there's beautiful sunrise views. And all the alleys in between are perfect throughout the day.
Head to Via Santa Croce to take perfect views and perfect photos of the sunset setting over Stampace. 
Alghero
Alghero is one of the best places for Sardinia photography – in fact, it's one of the most popular places to visit in Sardinia. This lovely small town on the northwestern coast of Sardinia is simply picture perfect. Whether you walk the alleys of the historic center; or along the Bastions, you will have many photo opportunities.
Some of the best sunset pictures of Sardinia are from the Bastions of Alghero, overlooking Capo Caccia. 
Check out my posts What To See And Do In Alghero Sardinia.
Bosa
Not far from Alghero, Bosa is known to be one of the prettiest villages in Italy, and is a great photo location. Home of the delicious Malvasia wine, Bosa is a great place to wander the streets of the historic center. Make sure to walk along the banks of Temo River for colorful photos, or walk up to Malaspina Castle (also known as Serravalle) for breathtaking views and more photo opportunities.
But there's more! Not far from Bosa, Badde Aggiosu, Marrargiu and Monte Mannu reserve is the best spot to admire the griffon vulture, peregrine falcon, golden eagle and other species – so an amazing place for wildlife photography.
For higher chances of seeing and photographing wildlife, make sure to visit in the summer months.
Another place for incredible wildlife pictures in Sardinia that is close to Bosa is Capo Marrargiu Marine Biopark.
Make sure to read my post What To See And Do In Bosa Sardinia.
Carloforte
You will fall in love with Carloforte the minute you will see from the ferry, as you approach San Pietro island, where it is located. This gorgeous city of Tabarkine origins (the inhabitants landed there from Tabarka, a Tunisian island where Genoese merchants had settled centuries before) is incredibly colorful and photogenic. It's alleys and staircases are quite the perfect photo spot.
Head to Capo Sandalo for the best sunset photo opportunities.
Make sure to read my guide to Carloforte.
The Beaches
There is no doubt that beaches offer some of the nicest pictures of Sardinia. The ones mentioned here are pretty much random.
Baccu Mandara
Close to Cagliari (around 40 minutes drive) this locals' beach is fantastic place to take iconic summer pictures of Sardinia.
Baccu Mandara orientation makes it a great photo location both in the late morning (that's when I took my photo) or at sunset. In order to take this photo (one of my favorite of my Sardinia photos repertoire) I walked to the left of the beach and climbed the rocks (it's fairly easy, but do wear at least flip flops as it may be slippery). The view from there are simply stunning.
Are you not inspired to write a good caption for your sunset photo? Check out this post for the best sunset captions for Instagram.
Cala Antoniareddu
This small cove at around one hour drive west of Cagliari is picture perfection. It's never too crowded, even during the peak summer months, and it's the perfect location for amazing pictures of Sardinia. 
The best time of day for the colors of the sea to really pop up is between 12:00 and 4:00 pm during the summer months. Make sure to walk the trail to the left of the beach for the best panoramic views.
To get to this beach drive on SP 71 until a sign pointing to La Pinnetta, where there's a gated parking lot and a short trail. Alternatively, you can hike all the way there from Cala Cipolla, following a trail that goes by Capo Spartivento. Or get there by boat from Capo Malfatano.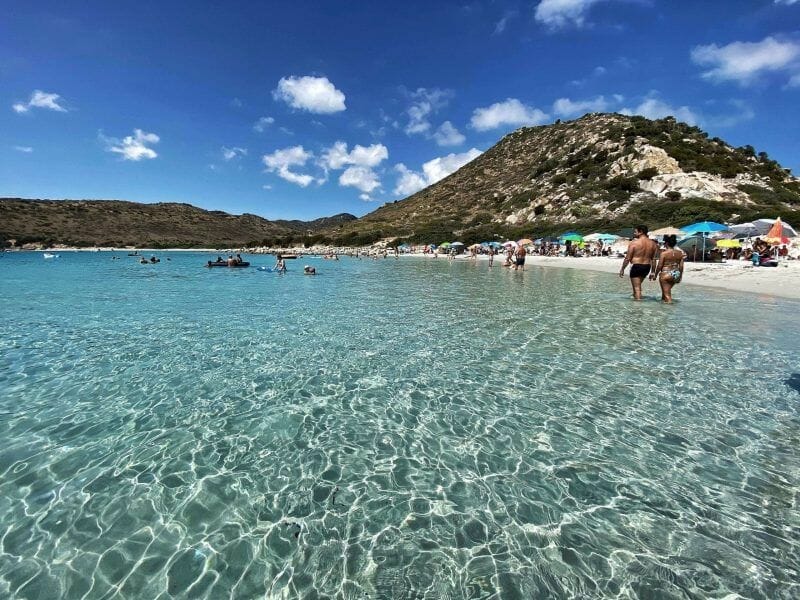 Costa Rei and Villasimius
Costa Rei and Villasimius are home to some of the best beaches in Sardinia. Punta Molentis and Porto Giunco, in Villasimius, have the clearest waters you can ever hope for. Costa Rei – where you will also find Cala Sinzias, Cala Pira and Monte Turnu – has a variety of incredible photo settings and – if you like sunrise photography – is one of the best photo locations in Sardinia.
One of the best photos you can take in Costa Rei is from Santa Giusta – or what locals call Scoglio di Peppino. You have to walk all the way south along the main beach until you reach a massive rock formation. Unfortunately it gets very crowded during the summer months, so if you are keen on shooting photos there avoid the weekends and try to visit in May or October.
Check out my posts The Inside Scoop & Best Kept Secrets: Costa Rei In Sardinia and A Complete Guide To Villasimius, Sardinia.

Cala Zafferano
Cala Zafferano is in a highly patrolled military area, and the beach can only be accessed by boat (departing from Capo Malfatano or Porto Tramatzu) during the summer months. It may sound a bit of an ordeal to get there, but it is 100% worth it.
For it is hard to reach, the beach is virtually empty. The incredibly clear turquoise waters, the whiteness of the sand and the dunes make it one of the most beautiful photo locations in Sardinia.
For the best photos, plan to be in Cala Zafferano between 12:00 and 3:00 pm.
La Pelosa
Another highly protected beach, another place to take amazing pictures. There is little doubt that La Pelosa Beach, in Stintino – on the northwestern tip of Sardinia – is a truly photogenic place.
It's a small beach of around 300 meters with incredibly fine white sand and shallow clear waters. In front of it, Isola Piana and Isola dell'Asinara are quite the perfect view. Finally, on the left of the beach, a 16th century Spanish watchtower (Torre La Pelosa) is another incredible landmark to photograph.
Only a limited number of visitors are allowed in La Pelosa during the summer months. You will have to book your visit by an app that was created specifically for the purpose. Strict regulations for visitors are in place. 
Check out my post A Quick Guide To La Pelosa, Stintino.
Maddalena Archipelago
On the northeast of Sardinia, La Maddalena Archipelago has more islands than you can think of – the 7 main ones are Caprera, La Maddalena, Santo Stefano, Santa Maria, Spargi, Budelli and Razzoli.
The best way to explore Maddalena Archipelago is on boat tours such as this one, during which you get to enjoy perfect views – it's a great occasion to test your Sardinia photography skills.
The islands are mostly made of granite rocks and Mediterranean vegetation and the beaches all have incredibly white sand and clear waters of a million shades of blue.
Budelli, home to a pink beach, is highly protected. Caprera, which you can reach by car from La Maddalena via the bridge in Passo della Moneta, is famous for being the home of Italian hero Giuseppe Garibaldi, who lived there for 26 years – you can visit the Compendio Garibaldino and the Casa Bianca there.
One of the most famous pictures of Sardinia is by far that of Cala Coticcio, a gorgeous small cove in the Maddalena National Park, in Caprera Island. You can get there by boat or on a short hike. Another truly famous beach is Cala Napoletana.
Make sure to read my post A Complete Guide To La Maddalena, Sardinia.
Costa Smeralda
Among the most famous and glamorous summer holiday destinations in the Mediterranean, Costa Smeralda is a great place for Sardinia photography. Places such as Grande Pevero, Spiaggia del Principe and Capriccioli will appear in all their glory if you actually photograph them with a drone.
If you want the effect of a desert beach, make sure to visit in the spring or early fall months.
Make sure to double check drone regulations before flying drones in Sardinia because some areas are under military surveillance. You may also want to check whether you can fly a drone when there are people around.
Check out my post A Complete Guide To Costa Smeralda.
Gorropu Gorge
Gorropu Gorge is one of the deepest canyons in Europe, and Sardinia's prime destination for rock climbing. The gorge is located between Barbagia and Ogliastra and can only be reached via hike from either Dorgali or Urzulei. Depending on which trail you decide to follow, you will be walking along Rio Flumineddu.
The walls of Gorropu Gorge and the rock formations make it a challenging photo location – but the sense of achievement for taking great photos there will be enormous.
Make sure to wear appropriate gear for the hike, as the terrain can be treacherous. Avoid visiting in the summer months as the heat is fierce.
Check out my posts The Best Hikes In Sardinia and Where To Go Climbing In Sardinia.

Su Nuraxi, Barumini
Scattered around Sardinia there are some around 7000 nuraghe, and if you have a knack for archeology each and every of them is a fantastic place for unique pictures of Sardinia. These sites date to a period between 1900 and 730 BC, and the most famous one is by far Su Nuraxi, in the small town of Barumini (at about 45 minutes drive from Cagliari) – it's a UNESCO World Heritage Site since 1997.
I am not a master of photography of archeological sites, but if you want to get a proper idea of what nuraghe look like, head over to the Instagram profile of Sardinian photographer Fabrizio Pinna here.
Su Nuraxi is open daily from 9:00 am to 5:00 or 8:00 pm depending on the season. To visit the site you need a guided tour, which can be purchased directly on the site. Tours depart every 30 minutes.
Not far from Su Nuraxi, the Giara Plateau is a great location for wildlife Sardinia photography. 
More Amazing Pictures of Sardinia
As I have said, my list of locations to take pictures of Sardinia is not exhaustive. There are fantastic places that have lots of street art in Sardinia – the traditional kind though! There are some incredible and unique archaeological sites, such as the famous nuraghe.
And sailing in Sardinia gives a chance to take even more amazing photos – it is one of the top things to do in Sardinia.
Further Readings
Make sure to read my other posts about Sardinia:
Pin It For Later!