There are many beautiful nature reserves and national parks in Sardinia.
Sardinia may be known for its beaches and upscale holiday destinations, but there's a whole lot more to this island than lounging around on the sand!
We actually have so many nature reserves in Sardinia, as well as two beautiful national parks. They boast some truly incredible scenery – think waterfalls, mountains, rock formations, gorges, jagged coastlines, huge cliffs, caves, forests, and scrublands. And they're all bursting with plants and wildlife.
If you like hiking – especially with some fantastic views to reward you (as well as the chance to explore ancient ruins as you trek) – you're going to absolutely love it here.
I've chosen some of my favorites parks in Sardinia, as well as regional parks in Sardinia and nature reserves in Sardinia, to get you started on planning the best trip to Sardinia ever. Get your hiking shoes ready and pack your favorite water bottle – adventure awaits!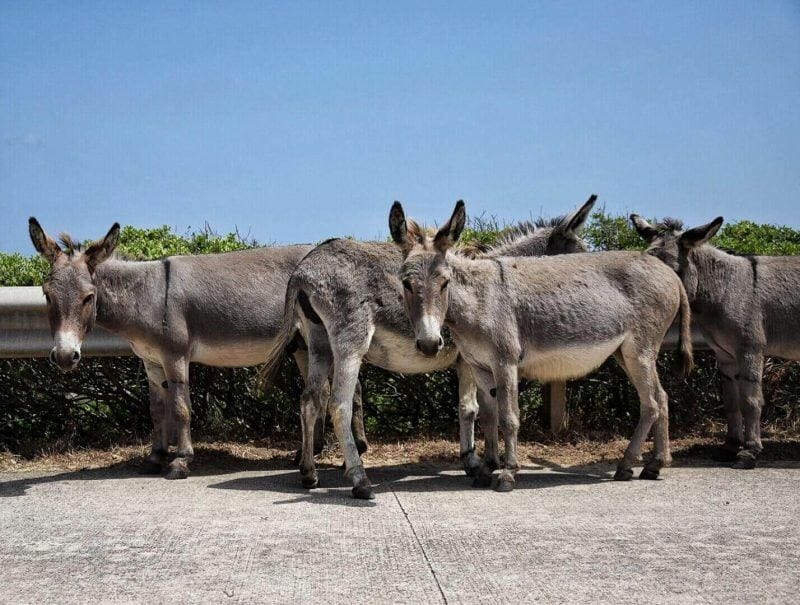 The Most Beautiful National Parks In Sardinia
Parco Nazionale dell'Asinara
Asinara is the second-largest island of Sardinia. It is named after its shape – Sinuara, or sinuous in Latin – and it is known for the asini bianchi (albino donkeys) that live here. Across its 51 square kilometers are rocky coasts, Mediterranean scrubland and macchia, and isolated beaches.
Though the entire island is now a national park (one of the two national parks in Sardinia), welcoming hikers and day-trippers, its past was very different. Asinara was the home of Italy's top maximum-security prison in the 1970s, before being designated a national park in 1997.
Because of its remoteness, it can only be accessed by boat. But also because of its remoteness, the island of Asinara is a paradise for wildlife – and those who come to seek it.
BEST TIME TO VISIT: Autumn or Spring.
HIKING TRAILS: There are several marked trails for hiking in Parco Nazionale dell'Asinara, passing medieval ruins, abandoned buildings, and rugged coast. Lengths vary up to 18 kilometers.
Situated off the northern coast of Sardinia, the only way to get to Asinara Island is by catching a licensed ferry from Porto Torres (trip time 1 hour 15 minutes) or Stintino (45 minutes).
Make sure to check out my post Your Guide To The Astounding Island Of Asinara.
Parco Nazionale Arcipelago La Maddalena
Spread over 12,000 hectares and with more than 180 kilometers of coastline in all, the archipelago of La Maddalena is a must-visit for anyone looking for a place to get away from it all. These islands and their surrounding seas have been one of the national parks in Sardinia since 1994.
There are more than 60 islands to explore here, big and small, the major ones being Budelli, Razzoli, Santa Maria, Spargi, Santo Stefano, Caprera and La Maddalena. Budelli boasts incredible pink beaches, while Caprera offers the reward of secluded coves and rugged treks to glistening inlets.
BEST TIME TO VISIT: Summer.
HIKING: There are numerous well-marked hiking routes across many of the islands. The easiest to access are those on La Maddalena and Caprera.
The main island of La Maddalena can be reached by boat from the mainland (Palau). Though you can base yourself in La Maddalena town and explore from there, excursions and boat tours of the national park frequently leave from Palau.
These are the best ones:
La Maddalena archipelago full day boat tour from Palau – a great tour of the archipelago, departing from mainland Sardinia.
Full day boat trip to the Maddalena archipelago – a well reviewed tour departing from either La Maddalena or Palau.
Full day boat trip to the islands of La Maddalena – another excellent option for a great day at sea.
La Maddalena archipelago catamaran tour – a fantastic option if you wish to travel on a smaller boat.
Make sure to read my post A Complete Guide To La Maddalena, Sardinia.
The Nicest Nature Reserves And Regional Parks In Sardinia
Other than national parks, there also are some fantastic nature reserves and regional parks. Here are the ones you shouldn't miss.
Molentargius Nature Reserve
In the east of Sardinia's capital city, Cagliari, you'll find Molentargius Nature Reserve – a natural oasis on a backdrop of city living and urban scenery. This old salt works ceased operation in 1985 and became a recognized Ramsar Wetland in 1999.
Since then, it's been a haven for wildlife, particularly migrating birds, which nest here in the winter months and one of the best known nature reserves in Sardinia. Several species live within the ponds, but Molentargius' most iconic visitors are the pink flamingos.
Seeing them gather and fly in V formation at dusk is a spectacular sight, while dawn is also a prime time to see avian life flourishing among the pools and ponds of the reserves.
BEST TIME TO VISIT: Winter.
HIKING: Though not home to hiking as such, there are numerous pedestrian paths and promenades offering strolls for all ability and fitness levels. Cycling is also a good way to explore the park.
From the center of Cagliari, the best way to get to the nature reserve is to hop on a bus from Matteotti station, getting off at Poetto at the Ospedale Marino bus stop, then walking a few minutes to the gate. If you have a car, it's a nine-minute drive.
You can also visit Molentargius on a guided tour such as this electric bike naturalistic tour or this 2-hours bike tour in the flamingo oasis
Check out my posts A Complete Guide to Molentargius and 10 Parks In Cagliari You Should Visit.

Parco di Porto Conte and Capo Caccia (Alghero)
Situated in northwestern Sardinia, the protected area of Parco di Porto Conte boasts 5,000 hectares of dramatic coastline, forests, lagoons, and sandy beaches.
This is one of the most famous regional parks in Sardinia, and I actually wonder how long we'll have to wait for it to be recognized as one of the national parks in Sardinia!
The park as a whole – which has been described as one of the most beautiful nature parks in the whole of the Mediterranean – is dedicated to the protection of the flora and fauna that populate the varied landscapes of the region.
Capo Caccia is one of the most stunning places in the park. It has to be one of Sardinia's most captivating areas – think steep, white cliffs on a thin sliver of land that juts out into the sea. There are grottoes here, too; the fascinating Grotte di Nettuno boast a lake within the stalagmite-clad cave.
BEST TIME TO VISIT: Early Autumn.
HIKING: There are some truly incredible hiking opportunities here, with a trek to Punta Giglio – on the eastern side of the bay – offering spectacular views of Capo Caccia. Many other hikes are not too strenuous at all.
You can reach Porto Conte by car from Alghero within 20 minutes. Alternatively, opt for a guided tour from Alghero that you can book here.
Make sure to check out my post What To See And Do In Alghero Sardinia.
Regional Natural Park of Tepilora, Sant'Anna and Rio Posada
Made up of three conjoined areas, this UNESCO-recognized area of natural beauty covers 140,000 hectares in the province of Nuoro and feels like a land that time forgot. The untouched wonder of this place certainly paints a different side from the Sardinia that many know. It definitely is one of the best regional parks in Sardinia.
Because of its breathtaking scenery, it's a very popular place to visit in Sardinia. Within the area are 17 municipalities with a population of 50,000 – but when visitors are here, that can soar to five times as many!
Extending from the northern forests of Tepilora to the mouth of the Rio Posada, there are streams and waterfalls here, as well as meadows and forests, all with rolling hills and dramatic valleys that make it feel like a fantasy landscape. It's the perfect place to explore.
BEST TIME TO VISIT: Winter and Spring.
HIKING: There are multiple hiking trails throughout the park, all taking in its varying landscapes, some passing by archaeological sites.
If you are traveling from Cagliari, it will take you three hours to drive to Posada. From Olbia, it's just over an hour's drive.
Oasi Bidderosa
Bidderosa Natural Park is a protected area that is only open from May to October. There, you will find 5 small beautiful coves that are among the best beaches in Sardinia – but not only. There also are a multitude of hiking and biking trails which you can explore independently or on guided tours which are available directly at the park.
BEST TIME TO VISIT: Late Spring and Summer.
HIKING: There are multiple walking, biking and hiking trails throughout the park.
Oasi Bidderosa is easily reached from Orosei, a small town at about 45 minutes drive from Nuoro and 1 hour and 15 minutes from Olbia. You will need to reserve your admission in advance by calling at least 72-hours in advance to secure your spot. This is their website to book your spot – it's only in Italian but it is rather self-explanatory.
For guided tours of Oasi Biderosa, click here.
Giara di Gesturi
Shared between the provinces of Medio Campidano and Oristano in south-central Sardinia, Giara di Gesturi – or "Jara", as it is called in Sardinian – is Sardinia's heartland, a rolling green plateau well known for being home to wild horses, and one of the most famous nature reserves in Sardinia.
Much of this area is coated with macchia and ancient oak woodlands, making it the perfect place for wildlife. All seasons are different here, with spring ushering in wild orchids and lush heather, making for a colorful scene.
There are no less than 23 nuraghe – ancient ruins built by Sardinia's indigenous culture some 3,000 years ago! These serve to heighten the sense of traveling to another time that Giara di Gesturi offers those who visit.
BEST TIME TO VISIT: Spring.
HIKING: There's wonderful hiking to be had in Giari di Gesturi. Well-trodden trails lead around interesting sites, such as lakes and seasonal pools, where you may be able to catch sight of the resident wild horses as they drink (early morning or late afternoon is the best time to spot them).
It's reasonably close to Cagliari, being just over an hour away by car via the E25 and SS197. You can also opt for this half day tour of Su Nuraxi di Barumini departing from Cagliari.
Make sure to check out my posts A Guide To The Altopiano Della Giara Di Gesturi and A Guide To Nuraghe In Sardinia.

Marghine and Goceano Park
Known for its many nuraghe, the rugged region of Marghine and Goceano is a mountainous area stretching through much of north-central Sardinia. The highest mountain here, Punta Palai (1,200 meters above sea level), marks the edge of these highlands and is characterized by tower-like peaks.
Along with Goceano, Marghine has one of the highest concentrations of archaeological sites anywhere in Sardinia, with more than 100 nuraghe dotting the forested hills and valleys. Because of its remote location, many of the nuraghe here are in very good condition.
The area of Tamuli, in Macomer, is a must-see, with three so-called "giant's tombs", conical menhirs, and a nuraghe to see. Elsewhere, another place of archaeological intrigue is the Necropolis of Filigosa.
It goes without saying that this is one of the best regional parks in Sardinia.
BEST TIME TO VISIT: Autumn and Spring.
HIKING: The park has a total of 31 recognized paths that wind through forests and skirt the mountainsides, making them perfect for an adventurous hiker.
To get to this mountainous wonderland, it takes about two hours from Cagliari. It's also possible to catch a train from Cagliari station bound for Olbia, alighting at Macomer.
Gorropu Gorge
Dubbed "the Grand Canyon of Europe", Gorropu Gorge is a deep slice in the earth etched out of the landscape by the Rio Flumineddu over millennia. At some points, the limestone walls of this jagged gorge can dive to a depth of 500 meters.
To appreciate the beauty of this place to its fullest, it's best to get down into the gorge itself to see it up close. The scenery here is characterized by imposing walls and building-sized boulders. It really is one of the best nature reserves in Sardinia.
It's possible to head on a guided tour of the gorge via jeep, but some hiking is still required to soak up the spectacular sight of the gorge (the walk back out is very steep).
BEST TIME TO VISIT: Spring and Early Autumn
HIKING: There are two main routes. The most impressive is Genna Silana. It's an eight-kilometer trail that takes two hours (one way). The second is a bit easier: 14 kilometers to Gorropu from Dorgali. Be sure to bring enough water with you if you visit in summer (though I strongly discourage you to do so: this is a place you should visit in the spring and fall) – and don't forget to refresh your aching feet in the riverbed!
It is around a two hours 45-minute drive from Cagliari to the gorge, but from Olbia, it's around one and a half hours' drive along the coast to reach it. You can also consider joining this hiking trip to Gorropu from Dorgali.
Check out my post The Best Hikes In Sardinia and A Guide To The Gorropu Canyon Hike.
Altopiano del Golgo
This is a magical plateau like something straight out of the past – a place where donkeys, pigs and goats graze amongst the macchia and woodlands, all located around 400 meters above sea level in striking distance of the traditional shepherding village of Baunei.
But the Altopiano del Golgo is also known as Su Sterru (meaning "Abyss"). This name refers to its most famous feature – a vast cave network, and one of the deepest karst caves in Europe, burrowing around 270 meters into the earth.
BEST TIME TO VISIT: Spring, Summer and Autumn.
HIKING: At Altipiano del Golgo, you'll find the start of one of Sardinia's best hikes, which runs from here all the way to Cala Goloritze. Here, you can also catch the southernmost trailhead for the Selvaggio Blu hiking trail.
Make sure to read my post A Useful Guide To Cala Goloritzé.
Driving, it takes around two and a half hours to reach Altipiano del Golgo from Cagliari. There is a bus, but it only runs as far as Baunei (take the 103 and change for 301/303 at Muravera).
You should also read my post A Short Guide To The Altopiano Del Golgo.
Limbara Mountain Park
Standing at an impressive 1,362 meters above sea level, Mount Limbara is the centerpiece for Limbara Mountain Park, and one of the best regional parks in Sardinia. Though a 1936 wildfire destroyed much of its cork oak forest, today it is still surrounded by dense woodlands of pine, with a fair few examples of giant sequoia adding to the majesty of the place.
There are plenty of trails and roads winding through all this stunning natural beauty, making it ripe for exploring. The views out over Sardinia and even as far as La Maddalena on clear days are captivating.
BEST TIME TO VISIT: Summer.
HIKING: Hiking trails are abundant around Limbara. There are many easy trails leading directly towards the mountain and its summit. (Note that some parts of this park are fenced off for military facilities.) 
It's best reached from Olbia, which is just over an hour's drive away. Or you could opt to stay in Tempio Pausania, which means the park will only be half an hour away by car.
Sinis Montiferru Park
One of the most impressive regional parks in central Sardinia, Sinus Montiferru is partly named after the extinct volcano that dominates the scenery – and partly after the Sinis peninsula, where it is situated.
This park is famous for the wildlife found among its macchia and dense forests of cork oak and chestnut, including wild boar, the Sardinian wildcat, and the Sardinian hare. There are also many waterfalls in the area that gush into twisting, turning streams.
The coastal parts of this park are just as wild, with rugged rocks and gleaming limestone formations (such as the S'Archittu) playing host to avian life such as peregrine falcons and cormorants.
All in all, it's a remote place connected via deserted roads that wind through the landscape, making it great for intrepid explorers.
BEST TIME TO VISIT: Spring.
HIKING: Hiking here means taking a trail that descends from the hills to the coast. You can even hike to the top of Montiferru itself – it's actually not too demanding.
It takes around two hours to drive here from both Cagliari and Olbia. Take your pick!
Gennargentu Park
Gennargentu Park is situated in south-central Sardinia. It's typified by vast, open landscapes, carved with rugged valleys and hillsides. Abundant with beautiful vistas and wide-open skies, it's thankfully very easy to make the most of this gorgeous nature spot. This is one of the best regional parks in Sardinia!
Here you can explore deep gorges, pastures, and forests, all extending toward the turquoise seas and sheer cliffs of Gulf of Orosei. The Gennargentu massif (1,800 meters above sea level) is the most rugged part of the park.
In this serene place, studded with remote towns and villages, you will find Punta Marmora, one of the highest mountains in Sardinia (1,834m).
BEST TIME TO VISIT: Spring and Summer.
HIKING: There are plenty of quiet hiking trails where it's rare to cross paths with other hikers. It's also possible to climb Punta Marmora, which offers incredible views across the whole island – an awe-inspiring experience. It's a popular place to hike in the night of 10 August, to admire shooting stars first, and see the sunrise in the morning.
It is a three-hour drive from Cagliari to Gennargentu Park, while it takes two and a half hours to drive from Olbia.
Monte Arci Park
This isolated massif located in southwestern Sardinia is known for its three volcanic basalt towers – Trebina Longa (812 meters above sea level), Trebina Lada (795m), and Corongiu de Sizoa (463m).
There is a little bit of everything here, from forests that make it cool to hike when it's hot to the Nuragic ruins that feel as though you could be discovering them for the first time. It's easy to see why it's one of the best regional parks in Sardinia.
Due to it being so easy to access, there are convenient facilities dotted around, like barbecue spots and picnic areas for visitors to use. This makes Monte Arci a popular spot for friends and families to come and enjoy a breath of fresh air at.
BEST TIME TO VISIT: All Seasons.
HIKING: There are many hiking trails, which are very well signposted and easily accessible. Even unofficial paths are well-trodden here.
Getting to Monte Arci Park from Cagliari is a simple matter of driving – just one hour and 20 minutes via the E25.
Monte Linas-Marganai-Oridda-Montimannu Park
The combined area of Margani, Monte Linas, Montimannu and Oridda is a place of scenic, serene beauty. With granite peaks, including the 1,236 meter Monte Linas itself, and forests that mix original holm oaks with pines, this park also boasts a beautiful waterfall.
Streams flow along trails and forested walkways, wildlife roams freely, and you can bathe in the lush greenery of trees. You could opt for a guided trek, either on foot or on horseback!
Margani plays host to the Botanic Garden of Linasia and the Grotto di San Giovanni – one of the longest natural tunnels in Europe.
BEST TIME TO VISIT: Summer.
HIKING: Hiking here is all about following the park's many shaded pathways and groves in what becomes a cool oasis of green in the summer months.
From Cagliari, it's a one hour and 50-minute drive to the park (take the E25).
Sulcis
One of the most extensive regional parks in Sardinia, Sulcis – set in the southwest – offers a glimpse into the wilder side of the island. Here you'll find everything from dense forests and ancient landmarks to remote beaches where you can relax for an afternoon.
Remote and sparsely populated, there are a whole lot of peaks among its karst landscape, including the beautiful Monte Genna Spina (970m) and Monte Is Caravius (1,116m).
The most famous part, however, is the WWF-supported oasis of Monte Arcosu (948m) – one of the few places where the rare Corsican red deer roams. Numerous other endemic species of flora and fauna can be found here, too.
BEST TIME TO VISIT: Summer.
HIKING: There are many trails in Sulcis. Hiking is particularly good in the WWF portion of the park, with trails marked by information boards and handy signs; there's also an information centre that you can visit.
Sulcis is just over an hour's drive from Cagliari. You can also get there by public transportation. First take the train to Decimomannu, then catch a bus.
Sette Fratelli-Monte Genis Regional Park
The perfect place to spend a day immersed in nature, the Sette Fratelli-Monte Genis Regional Park is just a stone's throw from Cagliari. Created in 1989, the northern area comprises Monte Genis, a large forested massif teeming with wildlife.
The south is centered around the Sette Fratelli – or "Seven Brothers" in Italian – named after the seven jagged peaks here, the tallest of which is Punta Sa Ceraxa (1,016 metres in height).
One of the largest parks in Sardinia, this rocky area is covered with river valleys, swathes of holm oak forest and macchia scrubland – all easily explored thanks to its accessible, well-marked trails.
BEST TIME TO VISIT: Spring and Fall.
HIKING: There are different well-marked trails available to everybody, from children with families to more expert hikers, with picnic areas and other facilities available, too.
Easily accessed by public transport from Cagliari, there's a bus that runs a few times a day to Bivio Burcei bus stop. By car, it's just over an hour's drive from the capital.
Final Considerations
With two national parks, and so many more regional parks and nature reserves, you won't have troubles getting a fix for nature and clean air on the island. Sardinia is a great destination to visit year round – in fact, come in the late spring and early fall if you like to enjoy nature at its best and couple your nature focusses trip with some much deserved beach time!
Further Readings
You may find these other posts useful in planning your trip to Sardinia
Pin It For Later!