Many people assume that since it is an island, the weather in Sardinia must always be nice. But alas, while Sardinia certainly enjoys more days of sun and milder winters compared to the majority of the European continent (after all, it's only 200 km north of Africa!), it's far from being a tropical paradise and it does get seasons.
I have already written a detailed post about the best time to visit Sardinia which provides guidance on when to visit depending on what you expect to do during your trip. In case you are curious to know what the weather is like on the island in the various seasons and months, this post will be an interesting read.
| | | | | | |
| --- | --- | --- | --- | --- | --- |
| MONTHS | Average Celsius High | Average Fahrenheit High | Average Celsius Low | Average Fahrenheit Low | Average Rainfall (mm) |
| JAN | 14.3 | 57.74 | 5.5 | 41.9 | 49.7 |
| FEB | 14.8 | 58.64 | 5.8 | 42.44 | 53.3 |
| MAR | 16.5 | 61.7 | 7.1 | 44.78 | 40.4 |
| APR | 18.6 | 65.48 | 8.9 | 48 | 39.7 |
| MAY | 22.9 | 73.22 | 12.4 | 54.32 | 26.1 |
| JUN | 27.3 | 81.14 | 16.2 | 61.16 | 11.9 |
| JUL | 30.4 | 86.72 | 18.9 | 66 | 4.1 |
| AUG | 30.8 | 87.44 | 19.6 | 67.28 | 7.5 |
| SEP | 27.4 | 81.32 | 17.1 | 62.78 | 34.9 |
| OCT | 23.1 | 73.58 | 13.7 | 56.66 | 52.6 |
| NOV | 18.3 | 64.94 | 9.3 | 48.74 | 58.4 |
| DEC | 14.4 | 57.92 | 6.6 | 43.88 | 48.9 |
The Weather In Sardinia – A Guide To Seasons In Sardinia
Sardinia knows four different seasons, although winter is much shorter compared to summer, which is a full 5-months affair running from mid May to mid October. Below is a more detailed description of the weather in Sardinia in the various seasons.
Winter
Winter in Sardinia is cold, though we generally see an alternation between mild weeks with beautiful sunny days which are perfect for a walk at the beach or a hike, with dump, rainy days and much colder temperatures. While the coast hardly gets snow, the mountains get a regular intake throughout the winter months. The coldest months are usually January and February. Heating is certainly needed, as well as a warm coat.
Make sure to read my posts Does Is Snow In Sardinia? and 13 Reasons To Visit Sardinia In Winter.
Spring
Spring in Sardinia is beautiful, and many will tell you it's the best time to visit. Longer days, lesser chances of rain, milder temperatures and vegetation in full bloom make it a truly happy time.
Check out my post A Guide To Visiting Sardinia In Spring.
Summer
With its gorgeous beaches, Sardinia is a popular summer holiday destination. Temperatures on the island begin to raise in mid May – though the sea temperature is still too cold to swim – with the peak being in July and August and summer usually ending in mid October, when we enjoy our last days at the beach.
Days are long and sunny, with the occasional summer storm. The average temperature in the summer is around 28.5 °C (that's 83.3 °F) – which means we actually get peaks of 35° or 36° C (95° to 96.8° F) on a regular basis, and even more when a hot front approaches.
Summer is peak season in Sardinia – when kids are off school, many families will visit from Italy and other countries in Europe, and the island can get truly busy. If that's when you intend to come, you will need to book well ahead!
Autumn / Fall
Autumn is a lovely time to be in Sardinia. With mild weather, lots of festivals, and the grape and olive harvest, there's a lot going on. November is when we normally expect the first rain and the temperatures start dropping more consistently then, but if the weather is sunny and the day warm, the end of October and the beginning of November may still be perfect for a beach day!
BONUS! Wind in Sardinia
Sardinia is one windy island and a perfect destination for sports such as wind-surfing or kite-surfing.
You may experience different kinds of wind during your visit, but one that you can easily recognize is mistral, a wind blowing from France that comes in gusts that may well sweep you off your feet. The mistral is a welcome change in the summer, when it gives us a break from the heat (though gusts can be so strong that it's impossible to go the beach). But in the winter months, it usually brings even colder air. One fun fact about mistral is that it blows for odd numbers of days – one; three; five etc.
April and May are sandstorm season in the Saharan countries, and when wind from that part of Africa blows all the way to Sardinia we experience a thick rain that leaves a coat of yellow / brownish dust on everything.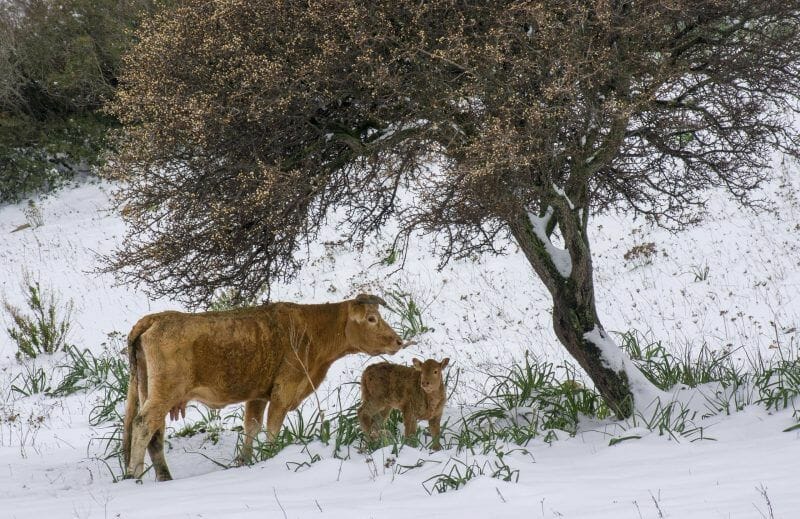 The Weather In Sardinia – A Month By Month Guide
January
January is one of the coldest months in Sardinia, and usually of the rainiest too. The average daily temperature is 10°C (50°F), but keep in mind the mountainous interior will be much colder than that, and temperatures drop at night. A beach holiday at this time of year is impossible, but you can still go on walks, as well as visit the archeological sites and museums. As this is the heart of the low tourist season, you will find flights for a real steal and you will be able to have the island to yourself and fully experience local life.
February
February is the peak of Carnival season in Sardinia, with festivals such as the Sartiglia in Oristano and the Mamoiada Carnival (famous for its mamuthones masks) taking place – so if you are into cultural experiences, it's a great time to visit.
You can expect cold weather, with average temperatures having only slightly increased since January, and lots of rain and humidity. Incidentally, I am writing this post in February and we are currently experiencing bright, sunny days but a very cold front – which came after weeks of endless rain.
February is also the best season for oranges – head to areas like Muravera, Monastir and Villacidro for the best, juiciest ones.
March
Spring in Sardinia officially begins in mid-March, and that's when days are finally longer. However, the weather can be quite unpredictable – with high chances of rain. An old saying we have in Italy goes like this: "Marzo è pazzerello: esce il sole e prendi l'ombrello" – March is a bit crazy: the sun comes out, so go fetch your umbrella. This actually and properly sums up how unpredictable the weather in Sardinia can be in March, so ever changing!
With an average temperature of 16.5°C (61.7°F), beach days are still far away, but we can enjoy nice hikes and cultural activities.
April
Comes April and people in Sardinia – well, at least in Cagliari where I live – get restless, almost unable to wait for the summer to arrive so that we can go to the beach.
During April temperature starts properly increasing, and we can hope for an average high-temperature of 18.6°C (65.5°F). While rain can occur, the end of April (and the beginning of May) is also when hot fronts come and we experience an Indian summer, with temperatures getting as high as 32°C (89.6°F). We'll then head to the beach in hordes – though the water is still too cold for swimming – before the weather turns spring-like again.
By April, everything is in bloom. It is a great month to go hiking.
May
Tourist season in Sardinia officially starts in May. Longer, warmer days with temperatures that can get as high as 22°C (71.6°F) make it a pleasant month for hiking (I took the photo above in May last year) and we finally start heading to the beach on a more regular basis.
May can also be a terribly rainy month – even though the chart above suggest that the average rainfall is 26.1 mm, there have been years when May brought daily thunderstorm that made it impossible to explore.
All in all, you can be optimistic about the weather in Sardinia in May – but be flexible with your plans, and pack accordingly.
May 1st is also when Sardinia celebrates Sant'Efisio with a massive traditional parade in Cagliari – it's a beautiful festival you may want to experience.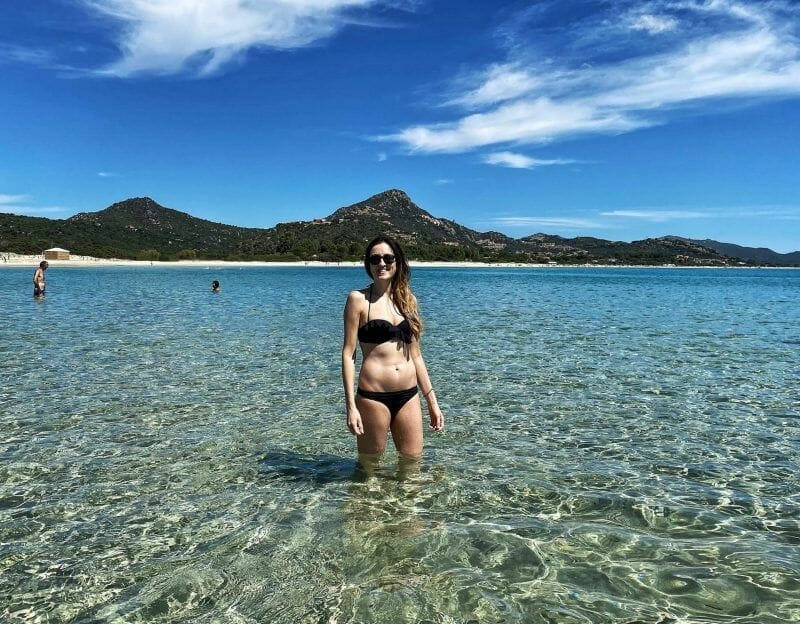 June
June marks the beginning of beach season in Sardinia, and while the biggest tourist crowds have yet to arrive, beaches are as good as they get. Days are super-long, sunny and dry. Chances of rain are slim, though at times it can be windy and the sea temperature is still quite cold.
Temperatures can go up to 26°C (78.8 °F) though the occasional hot front can make them increase dramatically – my sister got married in June and it was 32°C (89.6°F) that day!
Sunsets in June are as beautiful as they get.
June is also the peak of cherry season – Burcei is the most famous place for this delicious fruit.
July
With sunny, dry and long, hot days July is by far the best month for a beach holiday in Sardinia – which is why many opt to visit then (though the most crowded month remains August!). It's also the month with the lowest chances of rain – so if you want a good-weather-guarantee, you may opt to visit then.
Temperatures often rise well above 30°C (86°F), but if you go to the beach you can just jump in the water to cool off. By the way – with so much sun and heat, you will want to wear lots of sun block and drink plenty of water to stay hydrated. Leave that beer for the sunset, when temperatures finally start to cool a bit.
Peaches are ripe and juicy in July, so if this is your favorite fruit you'll have plenty to eat!
August
Although chances of rain are higher in August than in July, the temperatures are even higher – with an average high of 30.8°C (87.4°F) and the average low around 19.6°C (67.3°F). The sea is also warmer – having accumulated heat throughout the summer.
Sardinia gets incredibly busy in August, as most Italians go on holidays right around Ferragosto – on August 15th, which is a national holiday. If that's when you intend to visit, make sure to book your accommodation well in advance (and get a room with air conditioning!) and be prepared to pay higher prices for transportation and accommodation.
August is when Berchidda Time in Jazz festival (among others) occurs – another great reason to visit then.
Make sure to read my post A Guide To Visiting Sardinia In August.
September
September is a great month for a beach holiday in Sardinia. Most of the crowds will be gone; the temperatures start decreasing (with an average high of 26°C, which is 78.8°F) making it more comfortable; and the sea temperature is as warm as it gets. Add to this that the prices of accommodation and flights start dropping, and you'll want to book a holiday there and then.
The only minor downside of a beach holiday in September is that days are shorter.
September is when figs and prickly pears (a fruit that is typical of Sardinia, and whose plant looks like cactus) are ripe and ready to eat.
October
October is a lovely month to visit Sardinia, as you can have a nice, varied holiday with beach time, hiking, sightseeing and lots of festivals. Temperatures are in the range of 23-24°C (around 75°F), so still warm enough to go to the beach (though days are much shorter), and the sea is still quite warm. The chances of wind and rain start to increase.
October is shoulder season, so the prices of flights, hotels, car rentals and other services decrease a lot, making it very convenient to travel.
November
Autumn in Sardinia officially starts in November. This is the rainiest month of the year, and temperatures – although still quite mild – begin to drop. You can expect an average of 13°C (55.4°F), with highs going all the way to 19°C (66.2°F).
On sunny days, you can still enjoy a nice walk at the beach and a good hike – especially if you are into foliage; but it's no longer time for a beach holiday. Instead, you will be able to visit the many archeological sites such as Nora, Su Nuraxi of Barumini and Tharros, and the excellent museums.
With so few tourists visiting Sardinia in November, the prices of flights and accommodation drop and traveling then is very convenient.
December
December is meant to be a cold month in Sardinia, with lots of rain (or snow in the mountains), and short days. Interestingly though, the weather is usually really nice around Christmas – at least, it is in Cagliari where I live, and we often celebrate with nice walks at the beach.
The average-high temperature in December is 14.4°C (57.9°F) – so still much warmer than in Northern Europe. But humidity, rain and wind may affect the perceived temperature and you may feel much colder.
Not many tourists opt to visit Sardinia in December, but if you decide to visit, you'll find the island a pleasant place to explore, and the atmosphere beautiful in the weeks leading up to Christmas.
Further Readings
For more information, about Sardinia you may want to read the following posts:
Pin It For Later!