With its paradisiac beaches within quick reach from all of Europe and the Mediterranean basin, Sardinia is a favorite summer holiday destination. But is summer really the best time to visit Sardinia?
If you've been to this site before, you've definitely seen me say that any time is a good time to travel to Sardinia – and I honestly believe this to be true, because this wonderful region at the heart of the Mediterranean, where I grew up and where I currently live, has something to offer in any season.
However, if yours is the first (of many to follow!) trip to Sardinia, I may as well help you pick a good time to visit, right?
This post will tell you exactly that – when the best time to visit Sardinia is. I will provide a brief overview of the weather on the island, and the pick the best and worst months to visit. Keep in mind that inevitably, much you'll see written here is based on personal opinion and experience!
A Guide To Best Time To Visit Sardinia
The Weather In Sardinia
While many people in Northern European countries seem to believe Sardinia is a tropical island, it actually isn't and it does get seasons – though granted, the weather doesn't vary as dramatically as it does in other places. Summer in Sardinia is probably the longest season; whereas winter is short, mild and rainy along the coast, and colder and snowy in the mountainous interior.
One thing you need to bear in mind is that Sardinia is a big island – the second largest in the Mediterranean, after Sicily. This means that what I will report here in terms of weather is an estimate. For more accurate information about the specific destination you are planning to visit, you can look at this site.
Another thing to consider is that although summer in Sardinia is meant to be sunny and dry, you may experience thunderstorms and rain – at times significantly more than expected. For example, it's hardly meant to rain in August, but in 2018 we experienced a thunderstorm almost every day!
| | | | | | |
| --- | --- | --- | --- | --- | --- |
| MONTHS | Average Celsius High | Average Fahrenheit High | Average Celsius Low | Average Fahrenheit Low | Average Rainfall (mm) |
| JAN | 14.3 | 57.74 | 5.5 | 41.9 | 49.7 |
| FEB | 14.8 | 58.64 | 5.8 | 42.44 | 53.3 |
| MAR | 16.5 | 61.7 | 7.1 | 44.78 | 40.4 |
| APR | 18.6 | 65.48 | 8.9 | 48 | 39.7 |
| MAY | 22.9 | 73.22 | 12.4 | 54.32 | 26.1 |
| JUN | 27.3 | 81.14 | 16.2 | 61.16 | 11.9 |
| JUL | 30.4 | 86.72 | 18.9 | 66 | 4.1 |
| AUG | 30.8 | 87.44 | 19.6 | 67.28 | 7.5 |
| SEP | 27.4 | 81.32 | 17.1 | 62.78 | 34.9 |
| OCT | 23.1 | 73.58 | 13.7 | 56.66 | 52.6 |
| NOV | 18.3 | 64.94 | 9.3 | 48.74 | 58.4 |
| DEC | 14.4 | 57.92 | 6.6 | 43.88 | 48.9 |
Travel Seasons In Sardinia
Peak Season
Sardinia's peak season is the summer: June, July and August and the first half of September get the highest numbers of tourists. Temperatures are hot and you can expect the average to be between 28° and 32° C (82.4° and 89.6° F), and when a heat wave hits the island they can get up to 40° C (that's 104° F). The good news is that Sardinia gets regular winds so it's hardly ever suffocating.
Peak season is a great time for a trip to Sardinia if your main interest is beach hopping.
However, that's also the most expensive time to visit, with flights and ferry tickets as well as accommodation typically more expensive – you will need to book well ahead of time to find good deals.
Make sure to read my posts Is Sardinia Expensive and How To Visit Sardinia On A Budget.
Contrary to many other places in Italy, Sardinia doesn't empty out during the summer months – locals enjoy their summer at the local beaches, so you can rest assured that can still have a local perspective – albeit with a high presence of tourists.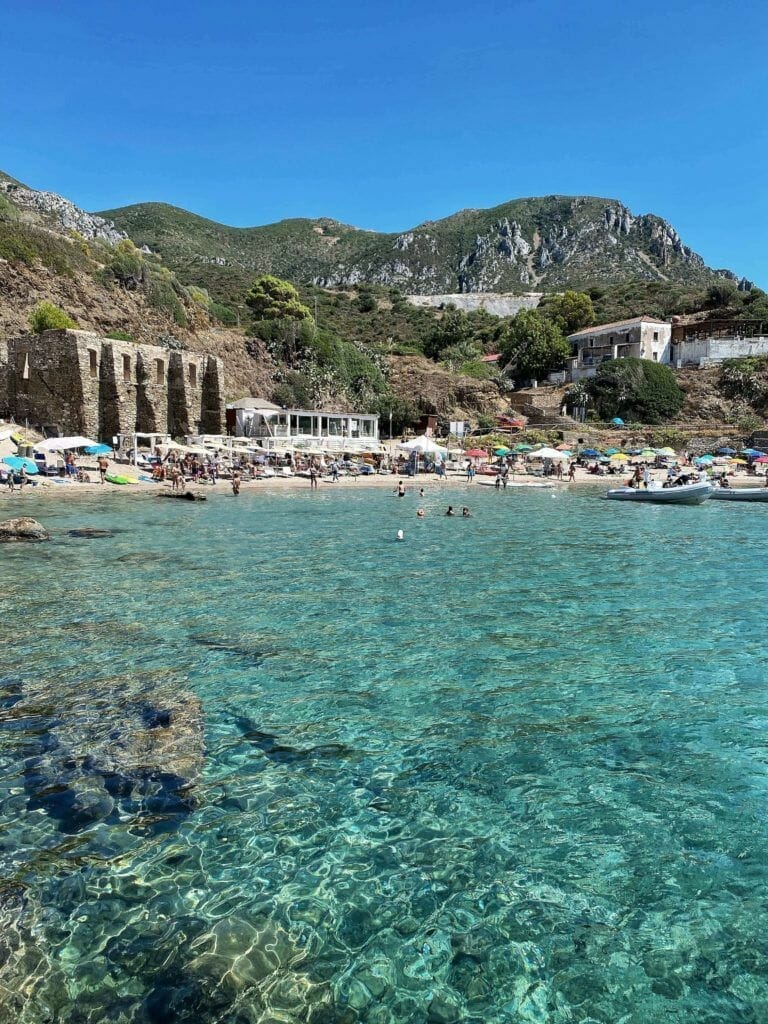 Shoulder Season
Sardinia's shoulder season is March to May (when the island is in full bloom), the second half of September and October. This is probably the best time to visit Sardinia if you want to enjoy (almost) everything that it has to offer. March and April aren't good beach months to be honest: temperatures aren't warm enough to lay at the beach. May is warmer, but the sea is still freezing cold to swim. September and October are just about perfect: the sea temperature is nice for swimming.
Shoulder season is the best time to visit Sardinia if you want to enjoy the many hiking trails, and it's perfect for a sightseeing holiday.
Another reason to travel during shoulder season is Sardinia's prime events and festivals, such as Sant'Efisio Parade in Cagliari, or Autunno in Barbagia (a series of weekend festivals running from September to December included in the mountain region.
One more reason to travel to Sardinia during shoulder season is that it's cheaper! Prices for flights and accommodation begin to drop, but pretty much everything is open for business. It really is a win-win!
The main downside of visiting Sardinia in the shoulder season is that the weather can be a bit unpredictable, with strong winds and occasional rain, so you will have to be a bit more flexible about what you do.
Low Season
The months from November to February included mark low season in Sardinia. Days are shorter, colder and the chances of rain (or snow in the mountains) much higher. On top of that, the very same Mistral wind that comes as a blessing to cool the island off during the summer, makes Sardinia colder than you'd probably like in the winter.
So, while you can enjoy a nice walk at the beach and can go sightseeing, low season really isn't beach season. This is also when many beach resorts close; entire villages that are packed with tourists during the summer will be pretty much close for business; and archeological sites observe reduced hours (but let me stress that they do remain open throughout the winter).
Having said so, if you opt to stay in larger cities – ie Cagliari or Alghero – everything will be open, you will have more of a local experience, and you will be able to enjoy sightseeing with none of the crowds.
Make sure to read my posts Does It Snow In Sardinia? and 13 Reasons To Visit Sardinia In Winter.
Some will tell you that November to February is the worst time to visit Sardinia – especially if it is your first time on the island. But I like to disagree. Of course I am a local, and that makes me inevitably biased, but I think Sardinia is fabulous during the winter months.
First of all, although it rains more than at other times of year, Sardinia still gets a lot of sun in the winter – thus being one of the best destinations for winter sun in Europe. This means you will still be able to enjoy plenty of time out, and even go on hikes (though granted, you have to be more flexible in case the weather doesn't cooperate).
Secondly, this is a great time to appreciate the culture of Sardinia, with fantastic events such as Autunno in Barbagia or Sardinia's Carnival – Carnevale di Mamoiada and the Sartiglia in Oristano just to name a couple.
Finally, it will be as cheap as it gets!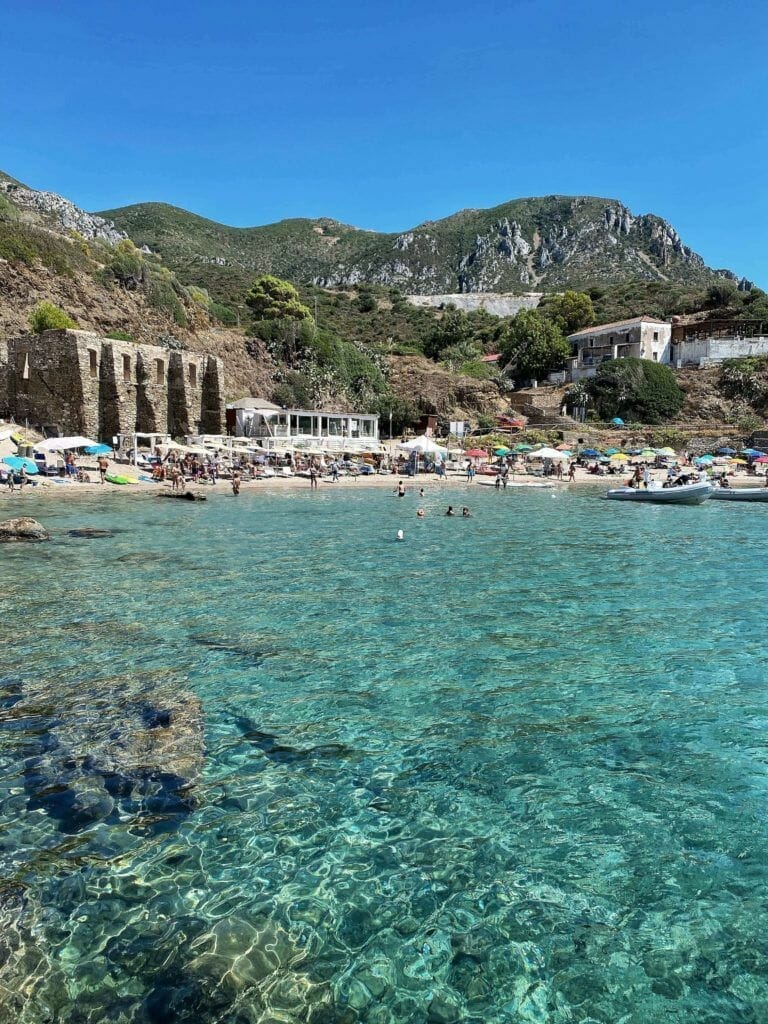 Best Time to Visit Sardinia for Beach Hopping
If all you want to do during your trip to Sardinia is relax at the beach, then there's no doubt: visit Sardinia in the summer months, from June to mid September. That's when the island gets proper beach weather – warm, sunny days with occasional wind and very low chances of rain.
Here are a few tips to make the most of summer in Sardinia:
Be prepared for larger tourist crowds and never expect beaches to be empty;
Book in advance for best flight and accommodation deals;
Accept prices may be a bit higher than expected.
GOOD TO KNOW: Sea temperatures are much warmer towards the end of the summer.
Check out my post The Best Beaches In Sardinia.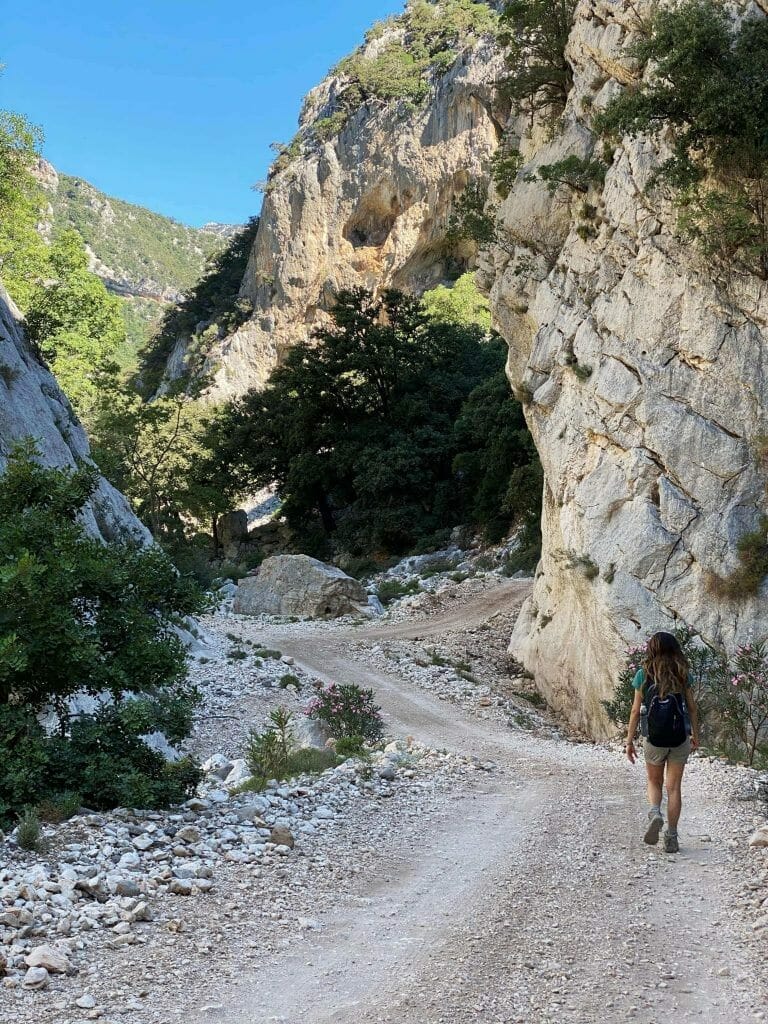 Best Time to Visit Sardinia for Hiking
If your main interest is hiking, then plan to visit Sardinia between March and May, and in October. Spring is a great time for hiking as nature is in full bloom. That's also when days start to get longer, temperatures are still very mild and pleasant and the chances of rain lower. October is a great month for coastal hikes or hikes to reach secluded beaches, as you will still be able to swim once you get there!
The following are some tips for hiking in Sardinia:
Always wear hiking shoes: some trails can be trickier than you'd expect;
Wear a hat and sunblock: the sun can still be fierce!
Never hike alone: some areas are very isolated and if you get lost or injured you'll have a hard time getting help;
Read my posts The Best Nature Reserves In Sardinia and The Best Hikes In Sardinia.
Best Time to Visit Sardinia for Sightseeing
You can enjoy sightseeing in Sardinia throughout the year, though chances are that the heat of the summer will make you want to desist and head straight to the beach. For the chance of visiting cities, villages and archeological sites without the heat of the summer months or without having to worry about rain or cold weather, visit Sardinia during shoulder season – March to May, September and October.
Here are some few tips for sightseeing in Sardinia:
You don't really need to book attractions or museums in advance, but double check their website for up-to-date opening hours;
Some sites are infinitely better with a guide: you usually can hire one on the spot;
Some museums and sites in smaller towns close for lunch break.
Head over to my posts The Best Museums In Sardinia and The Best Archeological Sites In Sardinia.
Worst Months to Visit Sardinia
The second half of July and August are by far the worst month to visit Sardinia. Don't get me wrong: Sardinia is not awful in August and if this the only time of year you can travel, you will find the island as beautiful as always. I am usually here then and I love it – I go to the beach; I roam around; I go out for dinner and drinks and what not. But you know, this is my home!
You see, many Italians traditionally take their holidays in August, typically during the two central weeks of the month, around "Ferragosto" – a national holiday that falls on August 15th. And that's when they will travel to Sardinia, along with many other international families whose kids are finally off school.
If you intend to travel to Sardinia in July and August, you will have to book your flights or ferry well in advance – as early as January, I should say! The same goes for accommodation, especially if you are hoping to find a good deal.
If you visit in August, you can expect to find traffic jams going to the beach (especially at weekends) and once there you may struggle to find a parking spot. Beaches tend to get very crowded, and you may struggle finding room to lay your towel far enough from other tourists. You will have to book restaurants in advance.
Make sure to read my post A Guide To Visiting Sardinia In August.
Main Events in Sardinia
Not a month goes by in Sardinia without a festival, and whether you are hoping to get some insights into the local culture and history; experience Sardinian traditions; taste local food or wine or listen to good music, there will be something. The table below shows you the best events taking place each month, by interest and location.
MONTH
EVENT
LOCATION
FOCUS
February
Sa Sartiglia
Carnevale di Mamoiada
Oristano
Mamoiada
culture / carnival
traditional carnival
May
Sant'Efisio
San Simplicio
Cavalcata Sarda
Cagliari
Olbia
Sassari
culture / religion
culture / religion
culture / religion
June
Girotonno
Carloforte
food / culture
July
S'Ardia
Sedilo
culture
August
Time in Jazz
I Candelieri
Calici di Stelle
Corsa degli Scalzi
Berchidda
Sassari
Jerzu
Cabras
jazz music
culture / religion
wine
culture / religion
September
S. Maria di Sibiola
Serdiana
religion
October
Autunno in Barbagia
Su Prugadoriu
Villages of Barbagia
Seui
traditions / food
Day of the Dead
November
Autunno in Barbagia
Su Prugadoriu
Villages of Barbagia
Su Prugadoriu
traditions / food
Day of the Dead
December
Autunno in Barbagia
Villages of Barbagia
traditions / food
For a more complete description, read my post The Best Events And Festivals In Sardinia.
Final Thoughts On The Best Time To Visit Sardinia
No matter when you decide to visit, I am sure you will fall in love with Sardinia and will vow to visit again. As this post has tried to point out, there is plenty to see and do on the island throughout the year, and no matter what your interests are.
Have you already been to Sardinia? When? I'd love to hear your thoughts about it – just drop a comment!
Further Readings
For more information, you may want to read the following posts:
Pin It For Later!