Sardinia is a renowned summer holiday destination among travelers due to its crystal-clear waters, its unique beaches, and its wild atmosphere. Many travel to Sardinia in the summer to make the most of its gorgeous beaches. But should you travel to Sardinia in October?
Absolutely! As a native of this marvelous island, I can assure you that Sardinia is much more than just beaches! It offers numerous possibilities in every season, and it will surprise you with its different atmospheres, its archeological sites, its food and wines and, most importantly its people.
Curious to see how you can make the most of Sardinia in October, and of Sardinia in autumn in general? Continue reading.
Make sure to also read my post The Best Time To Visit Sardinia.
Why Visit Sardinia In October
The weather is very pleasant
In Sardinia, more often than not, summer does not end on the 21st of September, but it can go on until mid-October. This allows travelers to continue enjoying its beaches and tourist destinations without the typical summer crowding. Also, the weather is less hot and humid than it can be during summer. Thus, it is even more pleasant to wander around the island.
Later on, in November, rain becomes more frequent, and temperature decrease. Don't get me wrong: it can certainly rain in Sardinia in October, but it's certainly less frequent compared to the rest of the fall.
It's not as crowded
As you surely know, Sardinia is an incredibly popular summer holiday destination. The largest crowds of tourists visit in July and August, and the number of people starts decreasing in September when kids go back to school, offices open in full force again, and everything goes back to business as usual.
Come to Sardinia in October, and you'll see the largest crowds are gone. Chances are you'll have the beach to yourself – well, perhaps not at the weekend; you will be one of a few even at the most famous archeological sites; and finding a table at a good restaurant will be much easier.
Enjoy the colors of the landscape
Sardinia in October is absolutely incredible. Fall is a magical season here, because it gives you the possibility to see the nature change. In fact, at the beginning of the season, the island shows the same yellow fields and green trees that it has during summer. But in the space of a few weeks, fields turn green and trees start to take on colors ranging from yellow, to brown and red.
If you are interested in foliage, there are many places to visit in Sardinia in October to enjoy it. Among them, I would especially recommend the forest of Badde Salighes, in the province of Nuoro, where Villa Piercy is located; or Laconi, where you can wonder around the marvelous Parco Aymerich.
Check out my posts A Guide To Visiting Villa Piercy and A Guide To Laconi And Parco Aymerich.
Moreover, the rain that may fall in October will offer you the chance to see the various small waterfalls scattered around the island at their best, given that during the summer it almost never rains, and most of the torrents are dried.
So here's one more reason to visit Sardinia in autumn: you will have the chance to enjoy the beauty of natural landscapes in a way that only this season can offer.
It's cheaper!
Is Sardinia Expensive? Many people ask me this question and I certainly can't deny it is. Visit the island in the peak summer months and you'll have troubles finding a cheap rental car; hotels will be definitely more expensive than you'd wish, and so the rest of tourist services. When the crowds are gone, prices become more reasonable – but the charme of the island remains. One more reason to visit Sardinia in autumn!
Now that you know why October is definitely a good month to visit Sardinia, let's see how you can make the most of it!
What To Do In Sardinia In October
Have a picnic in the woods
It doesn't matter if you travel with your family, your friends, or by yourselves. A picnic in the woods is an experience you should not miss. There are many woods and parks in Sardinia where you can stay and eat, or even barbecue with the equipment which is already in the park. Fall is a magical time to do so, because you can relax and enjoy the nature that is changing front of you. Of course, the most important thing is to pay attention, and clean up after yourselves.
Go for a hike
Fall is one of the best seasons to go hiking in Sardinia: the temperatures are milder and it doesn't usually rain much, so you can fully enjoy the experience. You can take long walks and breathe fresh air without sweating and suffering the heat. There are so many incredible hikes on the island, that it could be difficult to choose which one you would prefer. For instance, you could decide to go trekking in old mines, or wild coasts, or even along marvelous canyons.
Check out my post The Best Hikes In Sardinia.
Go surfing
If you love surfing, fall is definitely the best time of the year for doing this sport here in Sardinia. Given its position, Sardinia it is a windy island, and when the mistral or strong winds blow, waves can reach 3- or 4-meters heights.
There are few amazing spots where you could surf. The most famous one is Capo Mannu, in Oristano, but there are also beaches in the northern and southern parts of the island that are perfect for that.
Head over to my post Where To Go Surfing In Sardinia.
Relax at the beach
Take this with a pinch of salt as October can be a bit of a hit and miss when it comes to beach-weather. At times, October feels like proper summer with very hot (if only shorter) days that are truly sunny and warm and the water is still perfect for swimming. I took the photo above at the beginning of October a couple of years ago, for example.
Other times, October is already fall proper – but that doesn't meant you can't enjoy the beach! You can go for long walks along the beach and admire it in all its beauty, with none of the crowds!
Don't forget to read my post The Best Beaches In Sardinia.
Go climbing
Sardinia is a paradise for those who like climbing, and fall is certainly one of the best times of the year to do it. Again, the sun is not too strong, and the rocks don't overheat, so you can climb safely.
Climbing in Sardinia is an amazing experience, also because there are many different types of rock walls, and each part of the island offers a breath-taking view for climbers to enjoy.
Read my post Where To Go Climbing In Sardinia.
Enjoy Sardinia's nature
As I wrote before, Sardinia offers much more than just beaches.
Nature has been kind here, and it created many different places that are worth visiting. For instance, the island is full of beautiful ancient caves that you can visit. Among them, there are the Grotte di Nettuno – Neptune's Grotto – in Alghero, that are located near the amazing Capocaccia, from where you can see the entire coast. I would also recommend the area of Dorgali, where you could visit the caves of Ispinigoli, among other beautiful things.
Scattered through the island, there are different natural reserves, in which it is possible to admire Sardinian flora and fauna. For instance, in the area of Alghero you will find Porto Conte Nature Reserve; in the southern part of the island, you could visit the reserve of Gutturu Mannu, and Molentargius Nature Reserve, where pink flamingos live.
Check out my post The Most Beautiful Natural Parks In Sardinia.
Visit a few archeological sites
Many archeological sites are opened to visitors all year, and going to see them in fall is a great idea if you want to enjoy them without the heat and the crowd typical of summer months.
Sardinia has an ancient and interesting history, and many archeological sites pre-date the Roman empire. If you're interested in this kind of attractions, you should definitely see some of the many Nuraghe scattered through the island – there are more than 7000 of them – or the Domus de Janas and the Giants' Tombs. I definitely recommend to go visit Monte d'Accoddi, which is a unique pre-nuragic altar located in the province of Sassari.
Of course, there are also many archeological sites that are evidence of the Punic and Roman civilizations in Sardinia. Among them there are the famous Tharros and Nora, as well as the several roman baths you can find in the island.
Check out my post The Most Impressive Archeological Sites In Sardinia and The Must See Nuraghe Of Sardinia.
Attend a festival
Sardinian culture is ancient, and it does not end with the many archeological sites you can visit. There are many festivals and many ancient traditions that take place during fall. For instance, the most important festivity in this season is the one that corresponds to Halloween, named either Is Animeddas or Su Mortu Mortu, depending on the area. During this festivity, people leave food and wine for the dead to enjoy.
This tradition is not surprising, given the importance that food and wine have in Sardinian culture. In fact, there are many festivals that are focused on food or wine.
Between September and December, the most important festival taking place in Sardinia is definitely Autunno in Barbagia – literally translated "fall in Barbagia". During this festival, which takes place in more than 30 towns located in the Barbagia region, in the heart of Sardinia, locals open their houses' courtyards to visitors – for this reason it is also known as cortes apertas – and they cook typical dishes and offer local wines.
The best thing of Sardinian culture is that we like to share our food and wine, we enjoy company, and we want all visitors to feel welcome. For this reason, I strongly suggest to attend Autunno in Barbagia if you come to Sardinia during these months.
Don't forget to read my posts A Guide To Oliena and The Best Festivals In Sardinia.
Explore the cities
Obviously, cities are beautiful year round. However, fall brings with it a unique atmosphere. Tourist season has ended, towns are less crowded and quieter, and people go back to their every day life.
If you come to Sardinia in autumn, you can walk around town peacefully. You can enjoy monuments and museums without having to deal with the crowds, or only eat a gelato and take long walks without really going anywhere.
Small towns in the heart of the island are particularly charming during this season, thanks to the festivals I mentioned above, but also because of their traditional buildings. Many of them are also known for some murals (graffiti) that display the life in town. The best town to admire traditional murals in Sardinia is Orgosolo.
Seaside cities are also nice to visit during fall. You will find a completely different atmosphere compared to the summer months. You will not find a festive, loud mood, but a cozy, quiet atmosphere.
Head over to my post The Prettiest Cities In Sardinia.
Tips To Visit Sardinia In October
Wear layers
It is always a good idea to bring and wear layers in Sardinia in autumn, considering that the weather can change a lot from the end of September to the beginning of December. Keep that in mind, when you plan your trip to Sardinia.
October is mostly still t-shirt weather during the day, but you will need some warmer layers for the evening. Bring t-shirts, sweaters and long trousers for the evening. If you come in November, you should know that temperatures drop significantly, so a warm jacket is a good solution to avoid feeling cold, especially in the evening.
Check out my post What To Pack For Sardinia.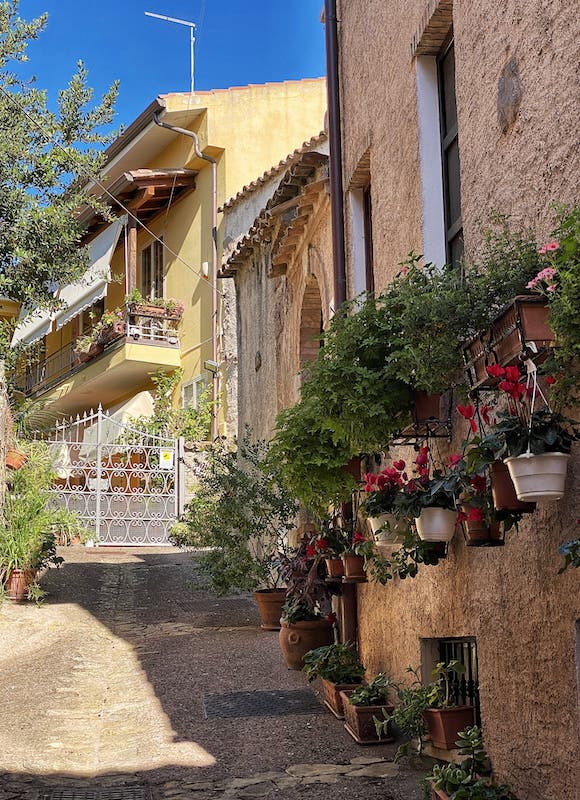 Bring comfortable shoes and clothes
Especially if you're planning to walk a lot, comfortable clothing is a must. If you intend to visit towns and archeological sites, or go on hikes, you need to wear the right equipment. Sneakers and hiking shoes are the best choice in these cases.
Buy sunscreen and an umbrella
The sun is still strong and hot in October, and if you don't wear sunscreen you could still get sunburnt. On the other hand, if you decide to come after the second half of October an umbrella could save you from an unexpected shower.
Pin It For Later!