Are you planning a trip to Sardinia and considering what to wear in Sardinia? You've come to the right place! I am a local, and can share plenty of insightful information on what to pack and what to leave home.
With its beautiful coastlines, gleaming beaches, fantastic food, fascinating history, and friendly people, Sardinia is an all-round amazing destination.
A trip to the Mediterranean island is bound to be filled with fun nights out, explorations into nature, and days spent swimming in the sea. With all there is to do here, it can be tricky to work out just what to wear in Sardinia, and what the perfect Sardinia packing list should look like.
First things first, Sardinians are both glamorous and practical. Our style isn't about flashy, over-the-top designer labels – it's about dressing smart casual. Dressing in outfits that are appropriate for the situation is also important. If you're heading out on a hike in the mountains, you will need an outfit that you feel comfortable in, and if you're going to a place of worship, covering up is essential.
Another thing you will need to think about is the time of year you'll be visiting. It's not always hot in Sardinia, so knowing what to wear in Sardinia for different seasons is helpful. Mainly, you will need a few basic staples that can be dressed up or down.
But don't worry; getting your Sardinia packing list right isn't too difficult. Here to help is my guide on what to wear in Sardinia to make sure you look great and are totally prepared to have a fun trip.
What To Wear In Sardinia – Important Considerations
Sardinia definitely isn't Patagonia. You won't have to worry about packing for extremes or being in the middle of nowhere.
But with enough hiking and adventurous activities to lure in intrepid travelers, there are still some things you shouldn't forget. For me, there are just three things to keep in mind when deciding what to wear in Sardinia.
Style
Sardinia is the kind of place that is both stylish and casual, so when deciding what to wear in Sardinia, you will want to make sure you consider both points. Evenings out at bars and restaurants will call for fashionable clothes, but not too over the top – it's a pretty relaxed look.
Daytime style will be more about practicality and dressing for whatever activity you're doing. For example, visiting churches and places of worship will mean covering up and dressing modestly, but bikinis are perfectly acceptable for days spent on the beach.
Weather
Sardinia may have the image of being a hot island all about beaches and sunshine, but that's not always the case. Packing your suitcase full of summer dresses and shorts ready for long hot days is a good idea in the height of the season, but not all year round.
Winter is mild on the coast, but in the mountains, things are much more on the chilly side, and there's also rain to deal with. Even in autumn and spring, light jackets, particularly in the evening, are what to wear in Sardinia.
Shoes
Shoes can be a tricky item of clothing to get right when you've only got space in your bag for a few pairs. Weight restrictions can also add to the issue of not being able to bring all the shoes you need — or want to bring — on your trip.
A comfortable pair of sandals or trainers will be good for city strolls and trips to museums, and flip-flops are always a go-to for beach trips; they're easy to kick off and put on and cool for those warm days.
But if you're planning to do any hiking, you will need a good pair of walking shoes. Depending on the time of year, this can vary – from walking trainers to boots. My go to hiking shoes are the Merrel Mohab – in their waterproof version.
Make sure you pack smart footwear for the evening, too — they don't have to be heels or brogues, just something that doesn't look too scruffy.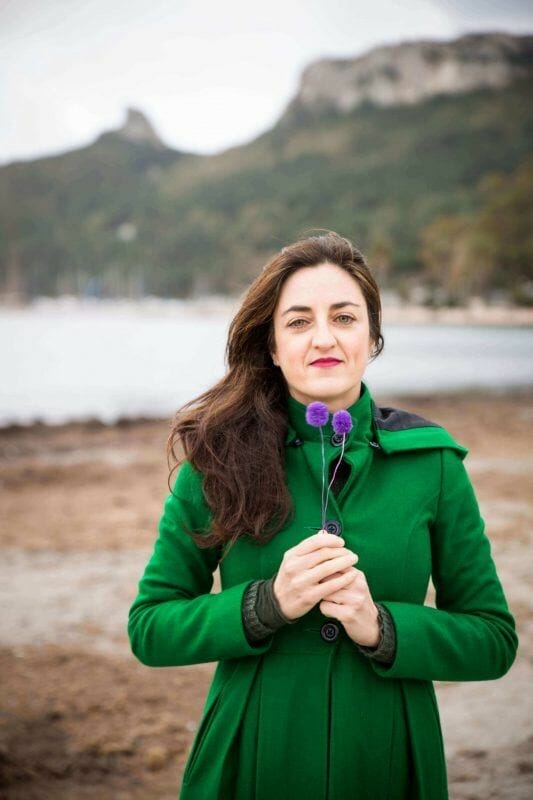 What To Wear in Sardinia In The Fall / Winter
Packing for autumn and winter in Sardinia is all about layers.
As the fall starts to bring in cooler temperatures to Sardinia, the baking sun of summer may not be as strong, but days are still fairly warm. Temperatures are in the early 20°s, which is a lot warmer than other parts of Europe at the same time of year.
Check out this post for the best places to visit in Europe in October.
Here is a selection of items I recommend:
A light jacket such as Hydroflex Rain Jacket. Another good option is Kuhl Spyfire Hoody.
A cardigans or a light jumper. I recommend Lea Pullover and for something extra warm the Kuhl Alska.
T shirts and lightweight long-sleeve shirts are what to wear in Sardinia in the fall. I recommend the Kuhl Athena pullover, comes in several colors, and the Kuhl Svenna shirt. Both of them are long sleeves.
Kuhl W'S Born T is short sleeves and it is comfortable, lightweight.
A pair of shorts for warmer fall days. I love Horizn Shorts.
Bathing suit
A pair of good walking shoes – they are perfect for exploring and look very stylish too.
A hat.
Skirts or dresses for dinner. I recommend Kuhl dresses as they are comfortable, easy to wear and you can easily dress them up. Check out the Kandid Dress.
There is increased rain and wind as the winter approaches, however, and the temperature drops to around 10°C or lower. For winter in Sardinia, make sure to also pack:
A windproof and/or waterproof jacket such as Hydroflex Rain Jacket.
Trainers are what to wear in Sardinia to walk around during the day.
A good pair of pants – Kuhl Cabo pants are perfect for everyday use; and Freeflex Move if you are looking for something uber comfortable.
Stockings, in case you want to wear a skirt or dress. Trust me, you'll need them.
A warmer jacket to wear at night, such as

Kuhl Spyfire Hoody,

or a coat.
A good pair of boots.
And if you're thinking about exploring the interior or mountains, then bring extra layers and even a scarf.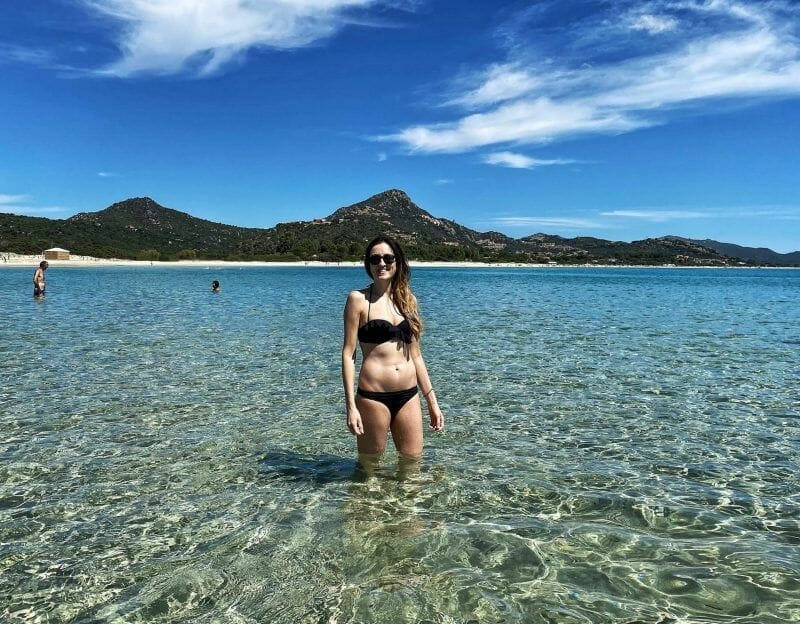 What To Wear In Sardinia In The Spring / Summer
Spring and summer on Sardinia are beautiful times of year to explore the islands. In spring, expect longer hours of sunshine and fresh temperatures of around 16°C in March and April.
As the flowers start to bloom, the countryside becomes a place of perfection for hiking, and you will want to pack similarly to fall in Sardinia. Make sure to pack the following items:
As summer comes around, the temperatures soar, averaging 28.5°C in July and August. This time of year means less thought about layers to keep warm and more about how to stay cool and protect yourself from the sun.
Here are some items you should pack:
Flowing dresses are definitely what to wear in Sardinia in the summer. Make sure to check out the Kandid Dress.
Loose, lightweight shirts and T-shirts such as Kuhl W'S Born T.
Shorts such as Horizn Shorts.
A sunhat or cap to keep the sun off of your head.
Sunglasses are also a must (more on that later).
A pair of flip flops.
Hiking trainers work well.
Don't forget to pack your bathing suit – and a beach cover-up (i.e. a kaftan) is always useful.

Other Things To Pack For Sardinia
Now that you're totally clued up on what to wear in Sardinia – from the stylish to the practical – and you've got some outfits to think about, what else do you need to pack?
That's a good question! (Hint: you'll need more than just cool outfits).
While you may have a few essentials in mind already, to help you out, I'm going to run you through my must-have items to put on your Sardinia packing list.
Mosquito repellent
I wouldn't call mosquitoes a problem in Sardinia, but we do have them – some places more than others. Stintino, for example, with its relatively sheltered harbor and nearby salt flats, can mean mosquitoes are more present.
Mosquitos congregate anywhere near standing water or dense undergrowth, and you'll find them in places with less breeze and air-flow. They are more active at dawn and (especially) dusk.
Mosquito repellent is a sensible option, especially if you're prone to getting bitten. Repellent with anywhere between 15 to 30% DEET should be adequate. If you want something natural, go for something containing citronella, which is very effective at keeping mosquitoes at bay.
Using repellent and wearing long trousers or skirts and long sleeves around the times/places mosquitoes gather should be enough to prevent you from being bitten.
Get your mosquito repellent here.
Sunblock
Sunblock is a must if you're traveling to Sardinia any time of year, of course, but most definitely if you're planning a summer trip.
Winter is still a great time to visit Sardinia; that's because we still get around nine hours of sunshine in the day. Even if you're out hiking and it's a particularly sunny day, you can still get burned, even if it feels cooler. Clouds don't necessarily offer SPF protection either!
But in terms of summer, I definitely recommend you come prepared with sunblock (SPF30 and upwards). Waterproof is a good idea, especially if you like snorkeling and swimming.
If you plan on being on the beach all day (and why not!), it's a good idea to spend the hottest portion of the day in the shade. Take breaks in the shade, wear a sunhat, and keep hydrated.
Get a top quality sunblock here.
Moisturizer
Chances are you'll be spending a lot of your days outdoors in Sardinia. If you're not in the sea or on the beach with the sea air on your skin the whole time, you'll be exploring – outside.
Sardinia sometimes gets called "L' Isola del Vento," because of the breezes that varying parts of the island get throughout the year. While this makes our island less humid, even in summer, the slight downside is dryness.
You can combat that with a good moisturizer. such as this one. Bring your favorite for day and/or night. You could opt for a face moisturizer containing SPF for sun protection, or a moisturizing sunblock.
After a day at the beach, make sure to wash all that salt off your face and body, and don't forget to use moisturizer. Even outside of summer, all that wind and dry air can really take its toll on your skin, so… moisturize!
Get a good moisturizer here.
Day bag
A day bag really is a must for any Sardinia packing list, at any time of year.
Whether something in the realm of Osprey such as the Osprey Daylite Plus is more your thing, or if you want something more like a giant tote or handbag or even a trendy Fjällräven daypack such as this one, you definitely shouldn't forget to bring one.
For exploring towns and cities, something more casual or stylish is better if you want to blend in. A good hiking backpack will be useful if you're in Sardinia to hike, or if your day at the beach involves having to trek through macchia landscapes to get there (like on Caprera in La Maddalena, for example).
Either way, make sure your bag has enough space to fit everything you need for the day but isn't so big that it ends up being impractical and bulky.
Check out the best day packs on Amazon here.
Plug adapter
Being part of Italy, on Sardinia, we use the Italian plug adapter with two or three round pins. You'll need one of those if you plan on charging your laptop, your phone, or using any electrical appliance you're bringing with you.
Simple, really, but a plug adapter can so easily be something you overlook.
Note that if you're from the US and you've got something that's grounded (i.e. the plug has two flat blades and one round pin), your adapter will need to be able to fit that. If it's non-grounded that you need, the adapter will have holes for two flat blades.
Look for a suitable plug adapter here.
Power bank
A power bank may seem like an optional item, but I beg to differ!
I'm sure you will agree that losing battery on your phone while you have maps loaded is not fun at all. Or how about when you're in town just about to search reviews for somewhere great to eat for dinner and your phone is on 1%? Also not fun.
The simple solution here, people, is a power bank such as this one. All you have to do is make sure it's charged, then you have your very own back-up battery so your phone has double the juice it would typically have.
You can also get larger power banks that work for laptops – perfect if you need to get some work done, perhaps at a cafe with no power outlets.
Search for a good power bank here.
Sunglasses
Sunglasses are a must. Much more than just statement eyewear, a good, reliable pair of shades work in tandem with sunscreen and wearing a sunhat to provide you with comprehensive sun protection.
For this reason, it's good to get yourself a pair of sunglasses that have adequate protection – UV 400 (or 100% UV absorption) is the best.
Bear in mind that price doesn't necessarily equal good UV protection; darker shades don't mean more UV absorption, and wraparound shades protect your eyes more.
If you like to be outside all the time, you should invest in a good pair of sunglasses such as these ones, for sure!
Water bottle
Sardinia gets hot in the summer, with average temperatures in July and August hovering around 28.5°C. With that in mind, the best way to deal with the heat is by keeping yourself hydrated.
And the best way to keep yourself hydrated is to take your own water bottle with you. So make sure to add a good water bottle to your Sardinia packing list. I recommend a flask such as this, as it will keep your water nice and chilled throughout the day, even if you leave it in the sun.
There's no excuse to go around buying multitudes of plastic water bottles while you're out and about, further adding to our planet's plastic problem. Instead, find a good quality water bottle such as this and bring it with you on your Sardinia vacation.
Some water bottles even come with built-in purifiers (Lifestraw, for example) – not that it is needed in Sardinia, where tap water is safe to drink. But if you want to invest in one, you may want one of these as they ensure that "unsafe" water becomes safe to drink after it passes the filter as you drink. Genius!
Get your water bottle here.
Lightweight / quick dry beach towel
A proper Sardinia packing list calls for a good quick dry towel!
I love days at the beach – who doesn't? – but one thing that frustrates me about packing for a day at the beach is the towel situation. After you dry off with a towel, it just becomes damp (and heavy), and gets the rest of your stuff wet.
That was the situation before I discovered quick-dry beach towels. If you aren't a convert already, then you should grab one (or two or three) of these.
These microfibre towels dry in a matter of minutes after drying yourself post-swim. They're super absorbent, lightweight, and can roll up to a tiny size, meaning they're ultra-packable, too. A must-have!
Get your quick dry towel here.
Umbrella
You wouldn't think a Sardinia packing list would call for an umbrella, but pack a small one, just in case!
It's all well and good having a water-resistant coat to stops you getting soaked by rain. But when it's warm, wearing additional layers to stop you getting wet just makes you hot and sweaty. An umbrella, then, is a good option for those sudden downpours.
We don't get a whole lot of rain in summer in Sardinia, though, so the main thing about umbrellas (especially the packable type with a telescopic handle) in this case is that they're convenient.
You don't have to unpack a coat and struggle to put it on when you're caught in a downpour – just put the umbrella up. Plus, you won't look like a soggy tourist if you're in a city or town. Simple but very effective.
Get a packable umbrella here.
Further readings about Sardinia
Make sure to check out my other posts to help you plan your trip:
Pin It For Later!