Finding the best Airbnb Cagliari may be easier said than done.
Cagliari, the capital of Sardinia, is a fantastic city with lots to see and do. Perched on the hills and right on the Mediterranean, the city is packed with interesting sights – think Roman and Punic ruins (but not only); beautiful churches; well curated museums; colorful, quaint streets.
Add to this the nature reserves right in the city and a handful of beautiful beaches with promenades lined with palm trees; an excellent offer of restaurants, bars and nightlife and you will be ready to jump on the next plane.
If you are looking to spend a few days in the city, you are probably also looking for a good place to stay. In this case, consider looking for a good Airbnb in Cagliari. Airbnb Cagliari is legal and you can use it for short stays and even for longer ones.
Airbnb rentals work pretty much the same way hotels and bed and breakfast do: hosts will register their property with local authorities; record each and every guest checking in, and – in some but not all cases – demand a separate payment of a tourist tax (this is a very common thing in Italy).
Whether you are looking for a budget friendly Cagliari Airbnb; a more plush option or somewhere where you can take your kids or your dog, I have you covered! I was born and raised here, I know which the best areas in the city are and I have done all the research for you, to bring you strictly the nicest airbnbs in Cagliari.
Make sure to also check out my post The Nicest Hotels In Cagliari.
Before I select the top Airbnbs in Cagliari for you, let me give you a quick introduction on Cagliari's neighborhoods.
A Quick Introduction To Cagliari's Best Areas To Stay
Cagliari is divided into four historic districts, each of them beautiful, each of them offering a different scene and suitable for a different kind of traveler. Other than those, there are two more areas where you may want to look for your Cagliari Airbnb.
These are the best neighborhoods in town:
CASTELLO – This is one of the most charming neighborhoods in the historic center of Cagliari, and where you'll find the highest concentration of attractions. There are plenty of viewpoints for stunning city views; a few bars and cafés and just a couple of restaurants, but little in terms of shops and other services. Easy to reach on foot from the rest of the historic center, it's closed to traffic for non residents, parking is scarce and public transportation still lacking.
STAMPACE – Colorful Stampace is a maze of narrow alleys, colorful buildings, interesting sights and one of the local nightlife hotspots, with plenty of excellent restaurants, cafés and bars, as well as nice shops. Parking is scarce on site, but there are paid parking lots nearby and the area is very well connected by way of public transport. The bus and train station (with connections to the airport) and the harbor are very close by.
LA MARINA – Across the street from Stampace, La Marina is a lovely neighborhood with historical buildings, beautiful churches, small plazas, archeological sites, great restaurants and pizzerie and some of the best Airbnbs in Cagliari. Again, traffic is restricted to residents only and parking inside the quarter is virtually impossible, but there's plenty of paid parking spot right outside, and public transportation is easy to get. It's at about 5 minutes walk from the bus and train station and across the street from the harbor.
VILLANOVA – It's not a secret that this is my favorite neighborhood in Cagliari. With low-rise colorful buildings, airy squares, a few beautiful churches, lots and lots of nice shops and just the right amount of cafés, restaurants and bars, Villanova has retained all of its local character, and it is just about perfect for any kind of traveler. Buses don't travel through the district, but a quick walk will take you to the edges, where public transportation and paid parking lots abound.
SAN BENEDETTO – Right outside the historical center of Cagliari, San Benedetto is an up and coming more modern neighborhood and one of Cagliari's business hubs. It's where the San Benedetto Market is located, as well as the Teatro Lirico, and you'll find a beautiful park (Parco della Musica) as well as shops, cafés, restaurants and pubs. Parking is never an issue, and it is very well connected by public transportation.
POETTO – Cagliari's main beach is a fantastic neighborhood to stay if you want to have nature at your doorstep. Molentargius Nature Reserve (where pink flamingoes nest and live) is right behind it, and Sella del Diavolo promontory easily accessible. There is a well kept walking / biking and running lane if you want to exercise, as well as lots of bars and restaurants. Poetto is well connected to the rest of town by public transportation, and free parking abounds.
Other neighborhoods in Cagliari
There are other areas of Cagliari where you may find very good Airbnbs. Neighborhoods such as Genneruxi, Quartiere del Sole or Su Planu (where I live) are very peaceful and well connected to the center of town, and have all services you may need – but they are far from most attractions and you'd depend on transportation for whatever you may wish to do.
Places like San Michele, Sant'Avendrace, Is Mirrionis neighborhoods are ok during the day, but a bit dodgy at night. By all means avoid Sant'Elia – it's reputation for being a rough place isn't for nothing.
Quartu Sant'Elena, a mid-size town next to Cagliari, usually offers great deals. Close to the beach (but not like Poetto), it is far from all the best attractions and the restaurant scene isn't nearly as good as it is in Cagliari.
Finally, continue reading for the best Airbnb Cagliari. All the properties I mention are listed on Airbnb, some are listed both on Airbnb and Booking.com. In that case, I have included a link to Booking.com as it is my choice for accommodation bookings.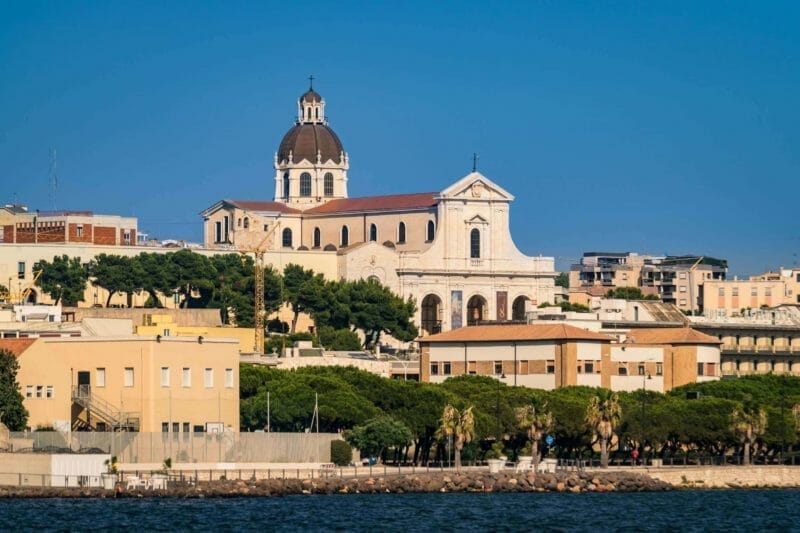 The Best Airbnb Cagliari
Apartment in Via Firenze
LOCATION – Bonaria
SLEEPS – 4
SUPERHOST – Yes
Nicely located in one of Cagliari's nicest residential neighborhoods, about half way between the historic center and Poetto Beach, close to the Basilica di Bonaria and Monte Urpinu park, this large apartment is the best Airbnb Cagliari for a small group of friends or for a family with children, and very budget friendly if you consider how big it is.
There are two bedrooms, two bathrooms, a large dining area with a comfortable couch, a spacious, fully equipped kitchen and two balconies where you can enjoy your morning coffee. There even is free parking on the premises.
Click here for the latest rates.
Charming Marina B&W
LOCATION – La Marina
SLEEPS – 4
SUPERHOST – Yes
By the lovely S. Eulalia Church, in the heart of La Marina district, this is one of the best Airbnbs in Cagliari historic center. It sleeps up to four guests, there is a fully equipped kitchen (including a washing machine), it's been beautifully refurbished and has great reviews. It's steps away from all the action, but nicely tucked in a quieter street so you get quality sleep at night. Paid parking is found minutes away in Via Roma or at the train station.
Click here for the latest rates.
Single House in Cagliari Center
LOCATION – Villanova
SLEEPS – 6
SUPERHOST – Yes
One of the nicest Airbnbs in Cagliari, located in Villanova's Via Giardini, this apartment is perfect for a family or a group friends, and has everything you need for a comfortable stay. The price is absolutely unbeatable, especially if you can share the costs.
It sleeps up to six guests; it has two bathrooms and a fully equipped kitchen including a washing machine, and large dining area. There even is a small backyard perfect to enjoy your morning coffee or an evening drink on sunny days. The closest parking lot is at San Benedetto Market.
Click here for the latest rates.
Vecchio Corso
LOCATION – Stampace
SLEEPS – 6
SUPERHOST – Yes
In the heart of Stampace, one of the most lively historical neighborhoods in Cagliari, this is a prime Airbnb Cagliari, moderately priced and perfect for a family with children or for a small group of friends, as it sleeps up to six guests and even has two bathrooms. Each and every detail is taken care of – from the very comfortable beds to the cozy couches in the living room, to the kitchen where you can prepare a full meal (in case you get tired of dining out in one of the restaurants right at your doorsteps).
Click here for the latest rates.
A Domu Tua
LOCATION – Villanova
SLEEPS – 3
SUPERHOST – Yes
In the heart of Villanova, this studio apartment is extremely budget friendly and suitable for a solo traveler or a couple. It has all amenities that will make your stay comfortable (and prolonged stays are welcome), and it is close to the center of action.
Bonus points for being one of the few Airbnbs in Cagliari that allows pets!
Click here for the latest rates.
Domus Cordis
LOCATION – Castello
SLEEPS – 3
SUPERHOST – Yes
This nice Airbnb in Cagliari Castello district is incredibly stylish and actually quite budget friendly, if only a bit lacking in natural light (as in fact most of the places in Castello). Perfect for a solo traveler or for a couple, the apartment is fully equipped with everything you may need for a great stay. The bed is located in a nook under the very high wooden ceiling. You'll find a fully equipped kitchen, a washer and even a drier. Pet are allowed.
Click here for the latest rates.
LOCATION – La Marina
SLEEPS – 4
SUPERHOST – Yes
Right House is seemingly one of the most expensive Cagliari Airbnb, but it's perfectly located near via Roma, in the Marina District, and considering it sleeps up to four guests it may end up being cheaper than you'd think. The apartment is spread across two floors, with the bedrooms and two bathrooms on the top one.
The spacious kitchen and the living room with vintage touches on the lower floor and the marble floor are extra-elegant. Pets are allowed.
Click here for the latest rates.
Casa Vacanze Marlins Cagliari
LOCATION – San Benedetto
SLEEPS – 2
SUPERHOST – Yes
Located in San Benedetto, Casa Vacanze Marlins Cagliari has many details that make it the perfect Cagliari Airbnb for a family with children. There is a large double bedroom and a smaller one that sleeps up to two, a large kitchen and dining area, and one large bathroom.
Parking is not available on the premises, but there is plenty of free and paid parking in the area, where you will find plenty of grocery shops, boutiques and all sort of other services.
Click here for the latest rates.
Poetto, Villetta alla Quinta Fermata
LOCATION – Poetto
SLEEPS – 6
SUPERHOST – Yes
If you want to be right by the beach, this small apartment in Poetto will be your best option. It has two small but comfortable rooms (one is perfect for the kids to sleep in), a small but fully equipped kitchen, a spacious living room and even a small garden when you can bask in the sun. It's literally moments away from the beach, so an ideal place to stay in the summer months. Even better: pets are allowed.
Click here for the latest rates.
Elisa's House for Families or Friends
LOCATION – Villanova
SLEEPS – 4
SUPERHOST – Yes
This nice Cagliari Airbnb in Villanova district sleeps up to four guests. Perfectly located close to all attractions, bars and restaurants, it is equipped with anything you may need for a comfortable stay. There is a good sized kitchen, one bathroom, a small backyard, and even a washing machine. It's perfect for a family or a small group of friends. Pets are allowed.
Click here for the latest rates.
Final Tips To Make The Most Of Your Cagliari Airbnb
Pack light
Many of the best Cagliari Airbnb are located in the historic center, in old buildings where elevators aren't available. You may be fortunate enough and find that your place is on the first floor, or that there actually is an elevator. But if there isn't, having to carry a heavy suitcase all the way to the top floor will be a real hassle. Pack light, and preferably use a backpack instead of a suitcase. Thank me later!
Remember floors are numbered differently
For those of you flying in from North America, this may be a bit confusing. In Italy, the first floor is always the one after the first flight of stairs. We use "piano terra" to refer to ground floor.
Communication with your host is key
Most Airbnbs in Cagliari will have a booklet handy with plenty of information on activities, places to visit, good restaurants nearby etc. Your host is usually the best person to ask for information, and the first person you should talk to for anything you may need at the apartment.
Further Readings
If you are planning a trip to Cagliari, these posts will come in handy:
Pin It For Later!