I know where the best pizza in Cagliari is, and I am about to spill the secret.
Get ready because I'm about to shout it from the mountain tops— I LOVE PIZZA. This girl is one heck of a pizza aficionado, and I'm ready to sing my love for pizza all day, every day. So it only makes sense that I had to find an excuse to troll the streets of the Sardinian capital city to sample from the best Cagliari pizzeria.
When I say sample, don't you dare picture me nibbling a bite or two and sipping a glass of wine (or craft beer) with my pinky up. When I say sample, I mean to say that I stuffed my face and devoured every last morsel of the pizza from these top pizzerias. It's pizza we're talking about here!
I'll do my very best to ensure that I describe the top Cagliari pizzeria – those that are 100% authentic and beloved by locals – in tantalizing detail, so you'll know where to find the best pizza in Cagliari! So sit back, relax, and maybe eat a snack before reading this article. Warning: drooling may occur.
Most people in Italy consider pizza to be strictly a dinner dish, but the attitude is now changing with places such as Framento that are now also open for lunch. We don't go out for dinner before 8:00 pm here n Cagliari.
You should also read my post 21 Best Restaurants In Sardinia – Recommended By A Local.
Where is Cagliari?
First things first. I want to make sure you all know where Cagliari is located before diving into the details about Cagliari best pizzeria!
Cagliari is the capital city of the Italian island of Sardinia, which lies in the Mediterranean Sea to the West of Italy. Cagliari is a vibrant city filled with colorful buildings and blessed with kilometers of coastline. There's a lively party scene, an idyllic beach (well actually, more than one), and plenty of ancient ruins and stunning architecture to explore.
For reference, Sardinia is the second-largest island in the Mediterranean Sea, second to Sicily. The population of Cagliari is approximately 155,000. It is the regional cultural, political, artistic, and educational center of Sardinia. If you're planning a trip to Sardinia, it's quite likely you'll be routing through Cagliari. Hopefully, you won't just be transiting through, though. Cagliari definitely merits a visit! Even if it's just for the best pizza of your life…
Cagliari definitely isn't famous for pizza. I mean – after all, the modern version of pizza was invented in Naples. But in recent years, many a good pizzeria have opened in Cagliari so it's just a matter of picking the place that you think suits you the most (or where you can find a table, that is!).
Are you ready to sink your teeth into the best pizza in Cagliari? Let's get right to the good stuff.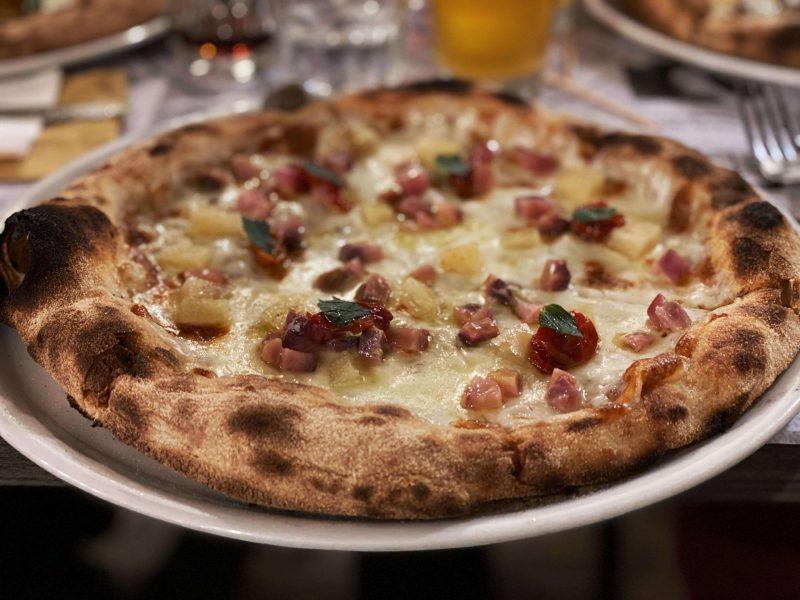 Where To Have The Best Pizza In Cagliari
Keep in mind that this list for the best pizza in Cagliari is not in order of best to worst; it's just my top 13 favorite pizzerias in Cagliari! Just as a mother attests she has no favorite child, each of these pizzerias serves up mouthwatering pizza so delicious that it makes me want to cry. The order is random, as my little heart couldn't take playing favorites.
Framento
Opened a few years ago, Framento makes the best pizza in Cagliari. In fact, I think it is the best pizza in the world. Brace yourself for incredible pizza, outstanding service, and delectable local ingredients. You can trust that the ingredients are fresh and prepared to perfection at Framento. Framento also has a great wine and beer list and a wide selection of craft beers on tap.
Moreover, you're sure to love Framento's atmosphere. This Cagliari pizzeria can be trusted not just to deliver incredible pizza, but a fantastic Italian atmosphere as well. You'll be surrounded by locals—not just tourists—and will feel encompassed by laugher, delicious smells, and a buoyant ambiance.
At Framento, the prices are reasonable as well, ranging from 7 euros to 17 euros. Although the pizzas are certainly not enormous, they are filling and will leave room for dessert— or for more pizza! I once made the mistake of ordering two pizzas for myself and sure enough there was nothing left at the table, between my friends and myself.
Keep in mind that while the menu is small, there are vegetarian and vegan options available. The signature pizza is "Immuginazione" but at times you won't find it on the menu – it's so popular that they often run out of ingredients. Their "capricciosa" is absolutely delicious. And if you fancy dessert, opt for their magnificent Chiaramello.
Framento is located in Corso Vittorio Emanuele II 82. It's open for lunch and dinner, but opening days vary depending on the season. Reservations are definitely recommended, especially for larger groups and at weekends. Feel free to mention my name when calling – Claudia Tavani. They will know who you are talking about – I am a regular there. Dogs are welcome.
Sa Matracca
I recently tried this pizzeria and decided to immediately include it in my selection. The restaurant is small and cozy, and a little bit hipster is I may say. Whoever picks the music must have incredible taste as when we visited we only listened to Queen. But it's actually the pizza you go there for, right?
So back to pizza. The dough is perfection. Thick, crispy, doughy crust on the outer bits, nice and thin otherwise, a touch of semolina is added for an extra bite. They make classic pizzas and more innovative ones – my sister had one with shrimps. There are plenty of options for lactose intolerants and even for vegans (they do have vegan mozzarella!) and most of their desserts are lactose free and vegan too (the chocolate cake below is what I had and it is vegan).
Prices are in line with those of the best pizzerie in Cagliari – expect to pay around €25 per person for a pizza, a drink and dessert. Service is friendly and informal.
Sa Matracca is located in Via Ospedale 20, in the historic district of Stampace. It's open daily from 8:00 pm to midnight. They work with two main shifts – one starting at 8:00 pm and one at 10:00 pm. Reservations are definitely recommended, especially at weekends. Dogs are welcome.
Maiori
A bit outside of the main nightlife hotspot for Cagliari, but in a stunning location, Maiori is one of the best Napoli-style pizza in Cagliari. The main focus here is definitely pizza, but you'll also find a selection of delicious appetizers, which include small montanare style pizza, supplì and other deliciously fried stuff.
Pizza is mouthwatering: a classic dough of high quality flour, the best seasonal ingredients on the market, and the talent of the chef put together perfect combinations. There is a great selection of wines and beers to quench your thirst, and there is an ever-so-interesting cocktail and pizza pairing, for an intriguing experience. There is a good selection of desserts too.
Prices are in line with those of the best pizzerie in Cagliari, and service super-friendly too.
Maiori is located inside Palazzo Doglio in Vico Logudoro 1, on the lower side of the Villanova District. It's open daily from 6:00 pm. Make sure to reserve a table if you visit during the weekend.
Amalfi Pizza e Gin
One of the latest additions in Cagliari's pizza universe and it certainly lived up to expectations. Pizza here is Napoli-style: thicker, moist and crispy dough topped with quality ingredients and baked to perfection on a wood-fire oven. You'll have ample choice between classic pizzas and more innovative ones. I had the anchovies, bottarga (also known as Sardinian caviar) and zucchini flowers and it was delicious.
There is a good choice of desserts and while they they are good, I'd say they aren't in the same realm of the pizza. As the name suggests, Amalfi Pizza e Gin offers pizza and cocktail pairings, so definitely opt for that for a unique culinary experience.
Location can't be beat here. Comes summer, and you'll have the most beautiful sunset in the world to accompany your meal – just opt to sit on the terrace for that. We celebrated my birthday there and the views did not disappoint!
It's a bit more expensive than the other pizzerie in town (you'll pay around €32 per person for a pizza, a wine or cocktail drink, and a dessert) but the location makes it certainly worth it.
Amalfi Pizza e Gin is located in the Castello District, in Via Santa Croce 49 – a stone's throw from the popular Libarium Nostrum café, a popular cocktail bar in Cagliari. It's open daily from 6:00 to 11:00 pm for dinner, and Saturdays and Sundays for lunch too from 12:30 to 3:00 pm. Book your table well in advance if you are keen on sitting on the terrace.
Grains
If you feel like you're already a pizza aficionado, then Grains might just knock your socks right off. I'm serious. Bring a spare pair of socks.
Grains makes hands-down one of the best pizza in Cagliari. With every new menu item I eat, I experience awe. The pizza is thin, but the dough crusty at the same time, and the ingredients are fresh and fragrant. It's not the kind of pizza you want to inhale; it's the kind of pizza you want to revel in.
Situated on a quaint street, Grains has a lovely small outdoor seating area. The whole restaurant is downright picturesque! The owner is a real star – 100% Sardinian, he speaks perfect English and he'll do his best to make you feel at home, to recommend you the best pizza of the day and to pair it with the best beer.
There are two vegan pizza options and a couple of other vegan menu options. I highly recommend booking a table at Grains in advance as this place is always crazy busy. Another recommendation—try the tiramisu! It's a little slice of heaven.
There are two different locations. A smaller place that mostly does delivery is located in Cagliari's via Dante; whereas a larger one is found in Viale Colombo in Quartu Sant'Elena, a city neighboring Cagliari. It's open daily from 7:30 pm to midnight. Definitely book a table in advance. Dogs are welcome.
P-Bread
Founder Stefano is a dough genius and so pizza at his P-Bread is absolutely delicious. I have visited for the first time recently, and I can already say I am planning to go again. P-Bread is actually a bakery with an attached restaurant / pizzeria, and it shows.
They are open for breakfast for you to taste top-notch croissants (one of the very few places in town that actually offers French style croissants).
Go for lunch and you will be able to try their selection of freshly made sandwiches and their "pizza alla pala" – a rectangular pizza that is more Roman-style, incredibly fragrant and rich of fresh ingredients.
Dinner is all about pizza. There is a selection of classics and experimental ones. I tried their tuna, lemon and pistachio and I licked my fingers at the end. Desserts are just as good.
P-Bread is all about top-notch quality ingredients. The restaurant is cozy and welcoming – much like the staff. There is an incredible selection of craft beers and excellent organic wines. Oh, and you can even buy bread to bring home.
P-Bread is located at the very beginning of Viale Colombo in Cagliari, not far from the more central via Roma. It's open daily from 7:30 am (9:00 am on Sundays) to 3:30 pm and from 7:00 to 11:00 pm. It's best you book in advance.
Sa Scolla
With amber lighting and a modernist, minimal environment, Sa Scolla has an upscale flair that encourages guests to focus on one thing and one thing only— the pizza (though to be fair there are also a few other dishes on the menu). We are talking about one of the best pizza in Cagliari here.
Creating artisan pizzas from locally sourced, distinctive products, Sa Scolla 's pizzas change with the seasons. I tried Gian Piero's Garden pizza with zucchini, bottarga, and goat cheese. For those who need a little memory refresh, bottarga is salted and cured fish roe – a bright, orange-colored delicacy. The dough is light and well-leavened, the cheese is exquisite, and the pizza is a vivid, blazing example of what Italian pizza is (and what other pizza isn't). This is pizza!
Sa Scolla is located outside the center of Cagliari, in Via Luigi Galvani 2. It's open daily, but make sure to reserve a table well in advance as it is usually booked up. They also reply via messenger through their facebook page.
Levante
With nimble fingers that sprint along the dough, leaving dashes of basil and dollops of mozzarella behind, Levante is pizza heaven and serves some delicious pizza.
As one of the locals' favorite Cagliari pizzeria, I implore you— go to Levante. This trendy Cagliari pizzeria is brimming with locals. It's not a tourist hotspot, it's a local hub – close to the center of town, but in an area that is not exactly a nightlife hotspot. And trust me, that's a good thing. However, booking a table in advance is a supremely good idea. With extraordinary menu options like smoked swordfish pizza, I still opted for their classic pizza with eggplant. I savored every last scrumptious bite!
One thing to note about Levante is that they don't serve wine. However, they do feature a wide range of craft beers. Lastly, they are also vegan friendly!
Levante is located in Via Ottone Baccaredda 101. It's open daily from 7:30 till around midnight. Call ahead to reserve a table.
La Pizzetta d'Oro
A Cagliari classic, la Pizzetta d'Oro has been around for nearly 50 years. This is the best take -away pizza in town. The pizza is authentic, and a staple for locals and tourists alike.
Keep in mind that there are no tables to sit at. This restaurant operates on a take-away basis only. However, there is a nice little square just outside where you can sit on a bench and enjoy your pizza. Exceptionally affordable, slices are only 2 euros each. I recommend buying two pizzas to feel fully satiated.
With "gold" in the name, this Cagliari pizzeria certainly is a real gold mine!
Pizzetta d'Oro is located in Via della Pineta 29, a bit outside the center of town. Open daily from 6:00 to 10:00 pm, you may want to call in advance to reserve your pizza and set a time to fetch it. I mean it!
Civico 8
One of the top pizzerias in Cagliari, Civico 8 concocts lofty, daring, gutsy pizzas that defy the boundaries of what a pizza is and can be. You won't find traditional pizzas here; instead, prepare to encounter unique flavor profiles and a wild mix of ingredients. Civico 8 takes pride in being different from other pizzerias. Everything from the presentation to the colors to the tastes challenges your idea of 'pizza.'
Don't worry about the price tag, either. Although this is an upscale, trendy restaurant dishing up lavish, fancy pizza, it won't break the bank! The average price per pizza is 12 euros.
You're definitely going to want to book a table in advance because this restaurant is always buzzing with people. Reserve ahead and don't be turned away drowning in disappointment, when you could be drowning in mozzarella.
Civico 8 is located in Viale Regina Margherita 8, just off Via Roma. It's open daily from 8:00 pm to midnight, they have seating inside and outside but make sure to book a table in advance.
Gallo d'Oro
Gallo d'Oro is one of the best pizzerias in Cagliari for good reason. This pizzeria is a perfect balance of traditional recipes and innovative cuisine.
If you love thick, soft Neapolitan-style pizza, then Gallo d'Oro pizzeria should be your first stop in Cagliari. Their most creative dish is their star-shaped pizza. Each point of the star is topped with different ingredients, so each bite is an otherworldly experience! Where else would you get to try a star-shaped pizza?
My favorite though is the Amatriciana pizza – granted, it is salted but the guanciale and pecorino cheese on the pizza are heavenly!
There are various locations of Gallo d'Oro. My favorite is the one in Via Dante Alighieri 62. It is open daily from 7:30 to 11:00 pm. Make sure to book in advance at the weekend.
Zona Tre
Zona Tre – also called Zona 3 – is located a bit outside of the city of Cagliari. Technically, it's in Monserrato, but it would have broken my heart to have left it off the list, so forgive me. It is still technically in the Cagliari area, so I think it's close enough to count.
Zona Tre are known for their variety and originality. Their delicious pizzas are handcrafted with airy dough and first-class ingredients. Although it might not look like much from the outside, just order a pizza, and you'll see why I'm swooning. I do recommend booking a table in advance, though! The place is tiny and extremely popular.
Service is basic – you will have to fill out a form with your chosen pizza. Keep in mind that they make pizza in 3 different sizes, so if you order the small one you can try various toppings.
Zona Tre is located in Via Seneca 51 in Monserrato. You will need a car to get there – if you don't have a rental car, just call a taxi. It's open daily from 5:00 pm to midnight. Book in advance.
Forno Dinamico
Ah, the glorious Forno Dinamico. The infamous Cagliari pizzeria where even the salad comes inside a pizza crust. They seriously make a bowl out of pizza dough. It's not just ingenious— it's divine!
While you can feast on traditional pizzas like marinara, margherita, and Napoli, it's their pesto Carlofortina that really steals my heart! Paired with a salad— the pizza bowl salad, of course, this is my order, friends!
Make sure to call ahead and make a reservation as there are only five tables inside. This ridiculously affordable pizzeria is well worth the visit— and the possible wait time.
Forno Dinamico is located in Via Sonnino 220. It's open daily from 7:30 to 11:00 pm.
Impasto
At Impasto pizzeria, mouthwatering pizza is the name of the game! Situated in a vibrant part of town, the outdoor seating area is the place to be on a cool summer evening. Inside, the restaurant is a perfect balance of old architecture with modern touches. Now, let me express my adoration of the pizza.
Most impressively and blessedly, Impasto is focused first and foremost on the flour. The quality of the flour is immensely important and means that Impasto's pizza is delicate yet crunchy, light yet flavorful. They are known for saying that the dough is evolution, and the motto of Impasto is patience. Pasta, pizza, bread. These three menu items are the vision and cornerstone of everything that Impasto does.
Impasto turns pizza into art – all while keeping it pure and simple.
Impasto is located in Via Savoia 4. It is open daily from 12:00 pm to 12:00 am. Book in advance!
Il Pepe Rosa
This is a local institution!
Il Pepe Rosa pizzeria has a truly extensive menu, and the portions are huge! Located about 20-minute walk from the city center, Il Pepe Rosa is worth every single step it takes you to get there. It's a hidden gem in Cagliari, as it's not in the regular tourist area. However, this doesn't mean that you don't need to book a table in advance— you do! This pizzeria is enormously popular with locals, and making a reservation is a must.
Try the potato and fresh Salsiccia pizza for a mind-blowing experience! I also truly enjoy the pizza with verdure gratinate and the one with pears, stracchino cheese and radicchio – I know it sounds like a weird combination but I promise you it's fabulous. Although I haven't tried the calamari myself, my friends raved about it.
Pepe Rosa is located in Via della Pineta 108. It's open daily from 12:00 to 3:00 pm and from 7:30 pm to 12:00 am. It's only open for dinner on Mondays. Definitely book in advance.
L'Oca Bianca
Last but not least, we come to L'Oca Bianca, for the best pizza for thin crust fans. Nestled right in the heart of the old quarter in the Marina district, right on Napoli street, L'Oca Bianca is a Cagliari treasure. What I love most about L'Oca Bianca is that they don't just serve up delectable pizza from their traditional wood-fired oven, they also dish up Moroccan couscous, curries, and paella. L'Oca Bianca is a world-class cosmopolitan restaurant that blows my mind every time.
L'Oca Bianca occupies three stories, so there's plenty of room to move around. If you're worried about your wallet, keep in mind that L'Oca Bianca also serves lunchtime plates for just 5 euros.
L'Oca Bianca is located in Via Napoli 38. It's open daily from 7:30 pm to midnight.
Final Thoughts On The Best Cagliari Pizzeria
What is my idea of perfect happiness? A slice of pizza. More specifically, a Sardinian slice of pizza from any of these aforementioned Cagliari pizzeria! The holy trinity of dough, sauce, and cheese is something you just have to experience in Cagliari for yourself.
I hope that my thoughts on – and experiences with – the best pizza in Cagliari gave you some food for thought and helped make your dining plans a little easier!
Buon Appetito!
Further Readings
Make sure to read my other posts about Cagliari
Pin It For Later!