Where's the best aperitivo in Cagliari?
Cagliari is a city with a million things to offer. Much older than meets the eye, it has lots of remains and buildings from different eras, to testify to the constant flux of people that came and went. It is incredibly colorful, enriched by the same people's styles and traditions, which have left a trace in the modern aspect and culture; and it's breathtakingly beautiful like you would expect from a marine city, built on a hill, that has lived throughout several millennia during which it flourished and grew more and more, resisting wars, epidemics, and other adversities.
In other words, visit Cagliari and you have a lot to explore and discover to keep busy.
But you can't spend the whole day going back and forth, up and down the city streets, right? You deserve some rest and a good snack sometimes. And what's better than a good aperitivo, maybe enjoyed while looking at the sunset, from one of the best panoramic spots in Cagliari? Or even simply sat in a fancy bar, resting after a long day?
If you are looking for the best aperitivo in Cagliari, you are in the right place. I am a local, and have tried many places in town. I have my favorite, and will share them with you. These are places we locals truly enjoy, and where tourists are still a novelty.
Don't know what aperitivo is? Here, let me tell you!
What Is Aperitivo?
Before diving into the list of the best places for your aperitivo, let me tell you what this actually is. Traditionally, Italians call "aperitivo" a drink that is typically served before a meal, supposed to be specially made to increase your appetite so that you enjoy your food better. However, the drink is commonly paired with some light food, from potato chips to some peanuts and even bruschetta, to actually start the meal instead of just teasing your appetite.
There are two variations of the aperitivo: aperitivo (sometimes also called "aperitivo rinforzato"), which is the usual pre-meal drink accompanied by a modest serving of some cold or warm appetizer or snacks; and apericena, which is the basically the same as a brunch, except it replaces dinner instead of lunch.
A good aperitivo drink can be anything, really. Some people love a spritz (a cocktail made of Aperol or Campari and Prosecco wine); others prefer a Hugo (that would be my sister) or even a stronger cocktail like a Negroni. Finally, there are other people that simply prefer a good glass of prosecco or wine or a beer for their aperitivo (that's typically my case).
Now that you are ready to order, here is a selection of the best aperitivo in Cagliari, tried and tested by yours truly!
Where To Have The Best Aperitivo In Cagliari
Sabores
Sabores is probably my favorite wine bar in Cagliari. It's a boutique and an aperitivo place, as well as a small restaurant, located in the heart of the Marina District, in Via Baylle 6. They promote local products, made by Sardinian farmers – often even handmade, like the pasta – and are incredibly proud of their shop. All wines served are organic. It indeed adds value to the place and helps small businesses stay afloat. You can enjoy some great boards of local cheese and meats, with excellent wine as a bonus. Prices range from €15 to €30.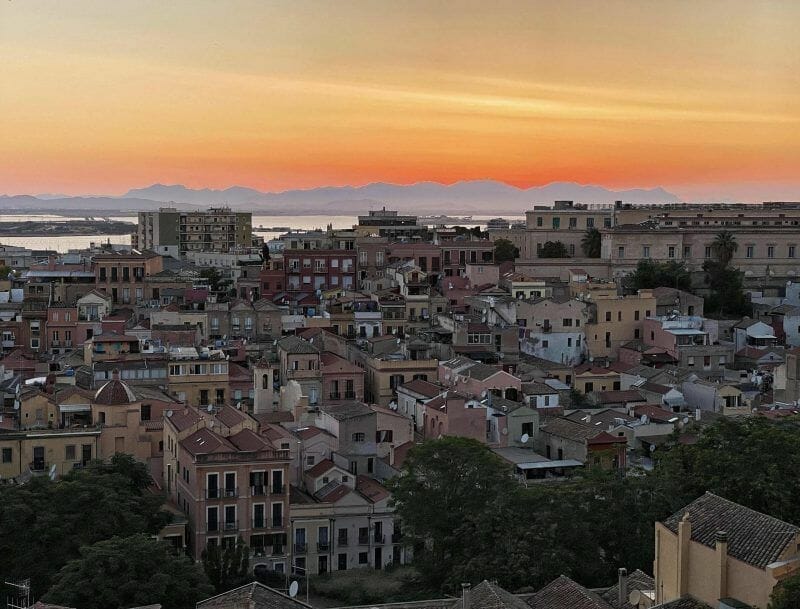 Libarium
One of the best cocktail bars in Cagliari, and an incredible sunset location too! This is the place you should go to if you want to sip your cocktail while looking at a stunning view. Libarium is located in one of the best panoramic spots in Cagliari, in Via Santa Croce 33/35 in the Castello District, and it offers both aperitivo and light meals in case you want to eat some more. They also have vegetarian-friendly options. It's not cheap by local standards, but cocktails are really good and let's say that you pay some extra euros for the spectacular view.
Locanda Caddeo
Locanda Caddeo has been open for 15 years and has several shops around Cagliari and some other neighboring towns such as Quartu Sant'Elena. It serves food and drinks made with locally-farmed ingredients and has very fair prices. You can eat a light meal or enjoy a drink in a nice place, and relax after a long day of walking.
You can find Locanda Caddeo at the following addresses:
Via Roma, 5 – Cagliari
Corso Vittorio Emanuele, 1 – Cagliari
Piazza Costituzione 17, Caglairi
Viale Colombo, 69 – Quartu Sant'Elena
Piazza del Popolo, 51 – Pula
Viale Matteotti- Villasimius
Inu Wine Bar
As the name suggests, this place is a wine bar that specializes – or better, only serves – local products, from wines to cheese and cold cuts, it's all Sardinian products, and they're all delicious. They have a selection of wines by the bottle and by the glass, occasionally serving bottles of famous wines such as Argiolas Turriga. The place is nice and cozy, the prices are fair and they offer gluten-free options as well. Be sure to take some pictures, they will surely make their way to your Instagram feed!
You can find Inu Wine Bar on Via Sassari, 50.
Ex Tipografia
I go to Ex Tipografia regularly and truly appreciate their selection of local, national and international wines – I was able to have one of my favorite Stellenbosch wines there a few months ago!
The bar/restaurant was built inside an old typography and is unique. You can enjoy your cocktail, a glass of wine and some snacks or have a full meal in a peaceful, old setting with a nice vibe.
You can find Ex Tipografia in Largo Carlo Felice 80m in the historic Stampace District. Its prices range from €10 to €50, meaning it can fit any budget. As an added bonus, it serves one of the best breakfast in Cagliari!
Make sure to read my post The Best Budget Restaurants In Cagliari.
Babeuf
Babeuf is a unique wine and cocktail bar in the Villanova District where you can enjoy your aperitivo and read some good books. They often have some musical and culinary events as well. The place is cozy and private, ideal for the ones who prefer a more relaxing atmosphere that the buzzing streets of the busier Stampace and La Marina. They offer vegan, vegetarian, and gluten-free options and their prices range from €7 to €20.
You can find Babeuf in Via Giardini, 147/A.
Florio
One of the locals' favorite aperitivo in Cagliari, Florio is located in Piazza San Domenico, in the heart of the Villanova historical district. This is a bar where you can enjoy some drinks (the beers are excellent!) and grab a bite too. They offer gluten-free and vegetarian options and focus on the use of locally-farmed ingredients.
Spirits Boutique
Located in via Dettori in La Marina district and the second wine bar of the chain – after the one in Olbia – Spirits Boutique makes the best out of its surroundings, which meddles just perfectly, and offers quality cocktails and alcohol. You can't miss their original liquor, Macchia Mediterranea. The Cagliari shop is a new opening, so be sure to leave a review!
La Paillote
For one of the best aperitivo in Cagliari – complete with a stunning view – head to La Paillote. Located near Calamosca, on the way to Cala Fighera beach, this restaurant and bar is the place you should go if you want to enjoy one of the best sunsets in the area while having your aperitivo. Just imagine doing that while sipping on your cocktail! If you decide to have dinner, count on delicious food too – it's one of my favorite restaurants in Cagliari.
You will need a car to get to La Paillote – or a taxi from the center of town.
Le Palmette (Poetto)
Actually made of two parts, a restaurant and a cocktail bar, le Palmette is a nice place on the beach (Poetto, the locals' favorite beach!) where you can either sit down and have a nice meal – their seafood dishes are particularly great – or just have your aperitivo while admiring the waves crashing on the shore. It's especially popular during the spring and summer months and at sunset, so you may want to book a table before you head there. Prices range from €15 to €50.
Salsamanteria
Part shop and part restaurant, Salsamenteria is another small business where you can either buy local food to bring home with you or eat it at a table, right there. An excellent place for an aperitivo, it serves a lot of products made with locally-farmed ingredients, for reasonable prices.
You can find La Salsamanteria on the very central Via Sonnino, 154.
Pin It For Later!