There are many excellent Cala Gonone boat trips. Here, I will help you decide which option is best for your needs.
Cala Gonone is a pretty village on the East Coast of Sardinia, part of Dorgali's municipality, and is favorite holiday destination for both locals and tourists. It's well served with hotels, resorts, and fun activities to do; and it's also great for families and solo travelers alike, thanks to the huge variety of options available.
You can choose between adventurous hikes throughout the Gulf of Orosei or lazy sunbathing on its beaches; exploring the village's streets and boutiques or the many historical ruins further up in the mountains; rent a bike to move around the area or book a boat tour and see all that's difficult to see by foot.
Cala Gonone boat tours depart regularly from the small harbor and are indeed the best way to explore the Gulf of Orosei comfortably, without any challenging, hours-long hike. There are several options to fit every need and budget – I will highlight them below, and share a few tips and tricks that will help you make the most of your day.
Make sure to read my posts A Short Guide To Cala Gonone and The Ultimate Guide To The Gulf Of Orosei.
The Best Cala Gonone Boat Trips
There are a few options leaving from Cala Gonone each day. You can choose the one that suits you best. Below is a table that sum ups the best Cala Gonone boat trips options. For more details, continue reading.
| | | | | |
| --- | --- | --- | --- | --- |
| OPTION | HOP-ON HOP-OFF CRUISE | ZODIAC RENTAL | ZODIAC TOUR | PRIVATE SAIL/BOAT |
| PRICE | FROM €30 | FROM $290 | FROM $80 | FROM $290 |
| DURATION | 7+ HOURS | FREE | 8+ HOURS | 8+ HOURS |
| INCLUDED | GUIDED TOUR | UMBRELLA UPON RESERVATION, SNORKELING GEAR | SKIPPER, UMBRELLA UPON RESERVATION, SNORKELING GEAR, LUNCH DEPENDING ON THE OPTION | SKIPPER, DRINKS, LUNCH |
| EXCLUDED | GROTTE DEL BUE MARINO TICKETS, LUNCH, UMBRELLAS AND TOWELS | SKIPPER, GROTTE DEL BUE MARINO TICKETS, LUNCH | GROTTE DEL BUE MARINO TICKETS | |
Hop-on hop-off cruises are the best options for families and for travelers who don't want to spend a ton of money on a boat tour. There are several boats available, with a capacity ranging from about 60 to about 300 people. There will be staff on board of the boat, but don't expect to have a proper guide: the information you will receive is very basic.
The tour is very complete and includes two to three stops on the main beaches, for a quick dive or a longer swim. Photography lovers also adore this type of tour, because the boat is the most stable out of all the boat tours options.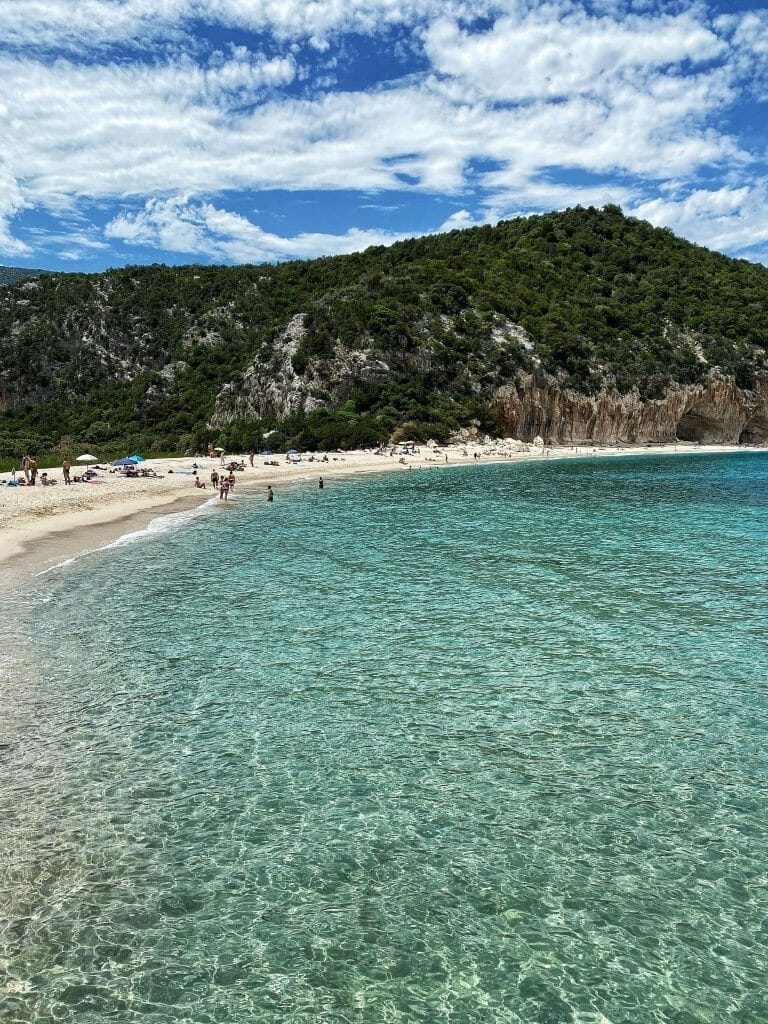 In Cala Gonone, you also have the option to rent a zodiac (a a 40 horsepower 4-stroke engine if you don't have a license, faster ones if you do) and therefore plan your trip according to your schedule and needs.
A zodiac is small, easy to drive, and will give you the freedom that a big boat doesn't. You can approach some coves more easily, dock nearby the shore – but always respecting the rules! – and stay in a place for as long as you please.
This option is quite similar to the previous one, but it saves you the hassle of driving a zodiac all around the Gulf of Orosei. The drivers are always very skilled and know a lot about the area, the beaches and everything you might be curious about.
If you want to explore what's nearby Cala Gonone with the best means of transportation and have a local guide with you all the time, this is the right choice.
The boats used here can fit a maximum of twelve people and are equipped with fridges, air conditioning, and a shaded cabin for the hottest hours of the day.
It's the most expensive option in Cala Gonone, but it's also an excellent chance to spend a day on a beautiful sailboat, with a skilled guide and the beautiful Gulf of Orosei scenery.
Cala Gonone Boat Trips Itinerary
Every corner of the Gulf of Orosei is breathtaking and deserves its own post, but here's the main (though not all) places you will see during your Cala Gonone boat trip.
Grotte del Bue Marino
Known in English as the Sea Oxen Grotto, this complex cave system is one of the most beautiful gems in the Gulf of Orosei. You can visit them with a guided tour – be sure to book your spot in advance – but make sure you have enough time to do so during your boat trip. Many boat tours departing from Cala Gonone stop at the grotto, but not all – if it's something you want to see, make sure to double check it's included in your itinerary!
Head over to my post A Useful Guide To The Grotte Del Bue Marino.
Cala Luna
The cove originated from the erosion of a river and is currently the longest (about 800 meters) beach in the area. Cala Luna is so unique that has been used as a set for several movies. This is also one of the best spots for snorkeling in the area. Be sure to bring a waterproof camera with you!
Make sure to read my post A Complete Guide To Cala Luna.
Piscine di Venere
Their name, which literally means "The Pools of Venus", is quite fitting. The water in these natural pools is so clear that the boats seem to be floating in the air. It's the must-go spot for a quick, incredible dive! You can't even tell how deep the water is, because it's so clear that the bottom looks just a few centimeters away.
Cala Mariolu
Cala Mariolu is one of the most famous beaches in the area. It got its name from the monk seals that used to steal the fish from the fishermen – who in turn called them thieves, marioli. It's probably going to be one of the longer stops on your tour. Enjoy the pristine sand (or rather, tiny white pebbles that look like snow flakes) and the turquoise water, you will never see anything like this again in your life.
Read my post A Short Guide To Cala Mariolu.
Cala Goloritzé
Cala Goloritzé originated from a landslide in 1962 and is therefore quite a recent cove. Boats can't land there, but you can take some pictures or you can dock at 300 meters from the shore and either swim or row your way to the beach.
Head over to my post The Ultimate Guide To Cala Goloritze.
Rules To Follow During Cala Gonone Boat Trips
Here are some useful tips that will help you make your day better, and some rules you should follow during your boat trip:
The sun is quite strong in Sardinia, don't forget your sunscreen!
Don't take anything from the beaches. Stealing sand, shells, pebbles from Sardinian beaches is forbidden and may result in a fine of up to €6000. Read more about it here.
Wear comfortable clothes, flip flops or sandals and bring an extra towel and swimsuit.
Bring enough water and food for the day – there is only one kiosk in Cala Luna.
Bring some pocket money to use in kiosks.
Practical Information
How to get to Cala Gonone
Getting to Cala Gonone is easy if you have a car. You will have to drive to Dorgali, and from there continue on State Road SS 125 Orientale Sarda which will bring you right there. It will take you around 20 minutes drive on a very windy road from Dorgali.
Cala Gonone was quite difficult to reach until 1860 when they opened a tunnel in the mountains? That's why the nature and beaches are still quite pristine!
Where to sleep in Cala Gonone
Cala Gonone is the best starting point for all Cala Gonone boat trips that go to the Gulf of Orosei. Thankfully, there are a lot of good accommodation options there. I have selected the best ones for you.
Purple Flower Suit Apartment – If you like your privacy and prefer to spend a holiday free of tight schedules and timetables, your best option is renting an apartment. This one is close to the beaches, equipped with every comfort, and has free Wi-Fi and free parking. Guests love it. Book it here.
B&B Casa del Sole – A great Bed and Breakfast in an excellent part of Cala Gonone. You will spend your holiday in a nice place equipped with every comfort, from private bathrooms in every room to a coffee machine. Wi-Fi and free parking are included, and the B&B is pet-friendly! Book it here.
Hotel Nettuno – One of the best hotels in Cala Gonone, equipped with everything you might need for a wonderful stay. Several rooms even have a balcony. The hotel offers a delicious breakfast, free Wi-Fi, free parking, and there even is a swimming pool. The view from the hotel's balconies is also stunning. Book it here.
Further Readings
For more boat tours in the area, make sure to read my posts:
Pin It For Later!