If you are traveling in the Cagliari area, wine tasting at Cantine Argiolas in Serdiana is a must!
As you often read on this side, there are tons of different activities you can enjoy during a trip to Sardinia. From the classic sunbathing at the beach (if you are visiting Sardinia in the summer) to exploring ancient ruins; from shopping to museum-hopping; there really is something for everyone.
If you are a foodie, and even better if you love wine and everything surrounding its production, visiting a winery might be the perfect experience for you!
There are many wineries in Sardinia that give you the opportunity to enter their property and show you their daily work: if you happen to be visiting the South of Sardinia, Argiolas Winery in Serdiana is the place you need to look for. They offer several types of activities, from a simple tour of their bodega to cooking courses and excursions in their territory.
This is by far my favorite winery in Sardinia. I find they make excellent wines, and the location is beautiful – Serdiana, in the heart of Parteolla, is one of the most underrated places to visit in Sardinia.
Curious to discover more about the winery and the area? Continue reading as I am about to reveal all its secrets – and trust me, I know them all!
Make sure to read my post The Best Wineries In Sardinia. You should also read my post A Quick Guide To Serdiana.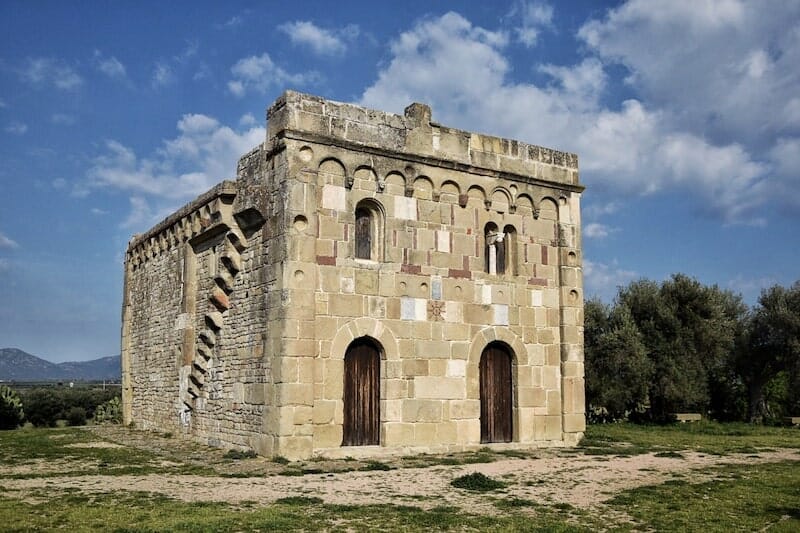 Serdiana
Serdiana is a tiny, pretty village not too far away from Cagliari. This is where my mom is from, where some of my relatives still live, and where we actually lived until I went to primary school. I regularly visit – to see relatives or to simply enjoy the area, which is gorgeous!
If you are looking for a unique day trip from Cagliari, you should definitely head to Serdiana. Among the most famous attractions, you shouldn't miss Santa Maria di Sibiola Church, built in the 12th century, and the natural pond Su Stani Saliu, where you can admire a huge variety of birds – including pink flamingoes – and other swamp animals.
But there's more! Serdiana, much like the Parteolla region where it's located, is famous for the production of top quality olive oil and wine. There are many wineries in the area, but my favorite is by far Argiolas. To put it simply, they make what I think are the best wines in Sardinia.
Let me tell you a bit more about them!
A History Of Cantine Argiolas
Cantine Argiolas were founded in 1938 and is now run by the founder's nephews. Its main focus has always been producing and exporting Sardinian wines made with endemic grapes – from the most famous names to lesser known ones – and making a name for itself. Argiolas Winery is now among the most internationally renowned Italian wineries.
The grapes are farmed in fields that have the ideal conditions to provide an excellent product: the ground is rich and the land is sunny and sheltered by almost any winds.
The Best Wines At Cantine Argiolas
Argiolas Winery has a huge selection of products, from the most famous Sardinian wines to lesser known but nonetheless delicious ones. Here are some of my favorites.
Turriga
By far my favorite wine in the world – and that says a lot! Turriga is a dark red wine, an incredible blend of various grapes which include Bovale, and excellent to accompany meat and seasoned cheese, with a strong, firm taste. It's an expensive wine so you want to save it for special occasions.
Get your bottle of Turriga here.
S'Elegas
A Nuragus, one of the best Sardinian grapes, this is a fruity, soft yellow wine and one of their best sellers. It's great when paired with seafood-based dishes and soft, fresh cheese.
Iselis Monica
Monica is one of the best Sardinian red wines, and this Iselis Monica is simply delicious. You can serve it with pasta and meat, fish and cheese, and you won't disappoint your guests.
Argiolas winery also has another Iselis, made with Nasco grapes, which are lesser known but still excellent. Iselis Nasco is a yellow wine that tastes amazing if paired with any risotto.
Is Argiolas
Is Argiolas is a Vermentino – one of the most famous Sardinian grapes – that can be paired with lots of foods but tastes especially great with first courses and medium-seasoned cheese.
Is Solinas
A ruby red wine with a full, warm taste, excellent with first courses and the traditional Sardinian roasted piglet, Is Solinas is one of the best Carignano wines you can get your hands on.
Korem
Korem is one of the so-called "excellences" in Argiolas winery, meaning it's one of the wines they are most proud of. This red wine is excellent with any meat-based dish and with pecorino cheese.
Make sure to read my post A Guide To Sardinian Wines.
Making The Most Of Cantine Argiolas
The winery, like I have already said, offers a nice variety of activities for visitors. Here are the most interesting ones.
Wine tasting tours
Wine tasting tours are, of course, the most requested and famous activity in the winery. You will be guided throughout the buildings, and the guides will show and explain the process of wine making. At the end of the tour, you will have the opportunity to try various different wines and typical Sardinian products which pair well with them.
There are several different wine tasting tours. Prices range from €18 to €38 depending on whether you are looking to have a group experience or a private one. Tours range from classic to original which are only for groups, to top and prestige.
Want to go straight to the point? Opt for the Cellar Masterclass and just go in to taste the wines. You can either try the Cannonau Experience, which costs €50, or the Perfect Pairing one, which costs €60.
Wine tasting tours can be done Monday to Friday at 11:00 am or 3:00 pm, and on Saturdays at 10:30 am for Prestige Experiences only.
Cooking classes
Cooking classes will allow you to pair wine tasting to traditional Sardinian dishes. During these lessons, experts will teach you how to make either fregula or ravioli, giving you lots of information about the ingredients needed, when these dishes are made, how to make them perfect, and so on. After the class, everyone sits at a table and eats what has been cooked: nothing goes to waste!
The price of cooking classes ranges from €90 to €100 depending on what you wish to prepare. The experience is available Monday to Friday from 10:30 am.
Don't feel like cooking? Why don't you opt for the Wine and Restaurant experience? You can opt for the surf, the turf and even the surf and turf tasting. Prices range from €54 to €58 and you must book at least three days in advance.
Excursions
You can choose among different types of excursions, there are more traditional ones – like the vineyard tour ending in a picnic in the middle of their olive plantation (Aperitif in the Vineyard) – or some other fun variation, like the Segway tour that will lead you through the countryside roads, all the way to their vineyards and back.
Of course, wine and food tasting are included! Most of the tours will also show you around Su Stani Saliu and Santa Maria di Sibiola Church, so you can kill two birds with one stone.
The Aperitif in the Vineyard Experience costs €25 and can be enjoyed from July to mid September on Wednesday and Thursday at 5:30 pm; and from mid September to June included on Tuesday and Thursday at 10:30 am.
The Segway Tour is available for a minimum of four guests on Wednesday at either 3:30 or 5:30 pm. It costs €60.
Cantine Aperte
This literally means "open wineries" and it's an event that typically takes place every year in May and allows you to visit the best wineries in the area of Serdiana and the neighboring Dolianova – among them there obviously is Cantine Argiolas, but you can also visit Audarya and Pala in Serdiana, and the Cantina Sociale di Dolianova among others. It's a very festive event with lots of locals, and during which you are normally also able to visit historical sites in the area.
Argiolas Wine Bar at Cagliari Airport
If you haven't had time to visit Argiolas Winery in Serdiana, you will be happy to know that there is an Argiolas Wine Bar in the departures terminal of Cagliari Airport. They obviously have all the Argiolas wines you can think of, and a great menu of sandwiches and light meals to enjoy right before you fly off!
Practical Information
Cantine Argiolas opening hours and contacts
Argiolas Winery can be visited Monday to Saturday. Whichever experience you are looking to have, you will need to book it at least 24 hours in advance by either calling +39070740606 or by sending an email at pren[email protected] – they speak both English and French.
The Wine Shop is open Monday to Friday from 9:30 am to 1:00 pm and from 3:00 to 6:00 pm and on Saturday from 9:00 am to 1:00 pm.
How to get to Cantine Argiolas
Argiolas Winery is actually located inside Serdiana, and the village is quite easy to reach from Cagliari – there is only one possible route!
You will need to take State Road SS 554, turn towards Dolianova-Ballao and take State Road SS 387 all the way to Serdiana. It takes about twenty minutes.
Don't feel like driving? You can join a guided tour departing from Cagliari. Book it here or here.
Further Readings
These other posts will be useful when planning a trip to Southern Sardinia:
You should also make sure to visit my post A Guide To Sella E Mosca Winery.
Pin It For Later!