Sardinian wines deserve way more attention than they have received so far.
Sardinia is an idyllic Italian island in the Mediterranean Sea that boasts more than 2,000 kilometers of coastline and plentiful craggy mountains. The combination of a rough and rugged interior landscape and oceanic elements in the soil produce truly astonishing wine.
The island is home to a wide variety of native grapes, from the Nuragus to Cannonau to Vermentino. Whether you're a fan of rich reds or delicate whites, you're in for a real treat when it comes to wines in Sardinia.
Ready to deep dive into the marvelous Sardinian wines? In this post, I will cover the best ones, broken down varietal by varietal.
Make sure to also read my post 15 Must Visit Wineries In Sardinia.
The Most Famous Sardinian Wines
Cannonau
Cannonau – also called Cannonau di Sardegna – is the local name for French Grenache or Spanish Garnacha. Recently, it has been evidenced that the Grenache varietal may have actually originated on Sardinia soil. This is Sardinia's signature red wine. In fact, one in every five bottles of wine on the island is a Cannonau. This is the most planted variety on the island, totaling around 30% of all the grapes grown on the island.
The most exquisite bottles of Cannonau are found in central Sardinia, in the provinces of Ogliastra and Nuoro. However, Cannonau grapes are grown all over the island.
Cannonau wine generally has a low acidity level and high alcohol content. The flavors can range from charmingly fruity to dark, rich, and structured with spicy earthiness.
For the best bottle, try the Pala 2013 Riserva of Cannonau di Sardegna. Expect flavors of sun-dappled ripe raspberries blended with cooking spices like anise and pepper. The generous, velvety tannins will forge new flavor pathways on your palate.
I would also like to recommend a glass of Contini 2014 Sartiglia Cannonau. This richly round wine is constructed with notes of wild herbs, cherries, and blackberries. Expect genuinely smooth tannins that lead to a significantly pleasurable drinking experience.
Get your bottle of Cannonau here, here or here. For a real treat, get this bottle.
Vermentino
Vermentino is the celebrated classic white wine of Sardinia. The only DOCG wine of Sardinia –the highest ranking among the 4-tier Italian classification – this grape has been grown for centuries in the northern tip of the island in the Gallura province. Nowadays, it can be found throughout the entire island; though the best remains in Gallura.
Vermentino vines are often planted facing north, so to avoid direct sunlight and heat – especially relevant during the summer months!
Blessedly, Vermentino does not have the sharp, zingy acidity that usually comes to mind when you think of Italian white wines. Don't be fooled, though; you will certainly encounter a level of refreshing acidity. This variety of Sardinian wine is dry and full-bodied, and typically still – though you may come across a bottle that is slightly sparkling. When you sip a glass, you taste a hint of the sea. Known for a kiss of saltiness, expect some saline minerality and notes of lemon, white flowers, and almond to land like feathers on your tongue.
Among the best Vermentino wines of Sardinia there are those produced by Sella & Mosca winery in Alghero, one of the best on the island having won several prestigious awards. The family-run wineries like Capichera and Mudra also produce high-quality Vermentino. However, my heart lies with the Vigne Surrau 2014 Sciala Superiore. It's a creamy wine that is perfectly balanced by the saline minerality and congenial acidity.
For a bottle that is under $20 USD, opt for a Piero Mancini 2014. It's a more juicy, fruit-forward wine that carries notes of peach and apricot.
The perfect accompaniment for Vermentino wine is fish, seafood and seafood pasta dishes.
Get a bottle of Argiolas Costamolino Vermentino here and one of Is Argiolas Vermentino here.
Nuragus
Nuragus is grown in the south of Sardinia, primarily in the Cagliari province. Although it is one of the most planted varieties on the island, this is one of the lesser-known varieties of Sardinian wine as only a small quantity is exported each year, mainly to mainland Italy! Germany, France, and the United Kingdom receive a small number, but only a tiny amount makes it to the USA. This grape varietal isn't planted anywhere else on earth, so this truly is one of the Sardinian wines you need to try when on the island.
Nuragus wine is dry, light-bodied, and highly approachable, even though it does have a certain level of marked acidity. It's the perfect patio wine, with notes of citrus fruit, green apples, and a mild zesty taste.
Most of the best Nuragus di Cagliari wine cost less than $15 a bottle. This is a wine that isn't meant to be aged or chilled either – it will mute its flavors and make it taste quite bland.
The best Nuragus bottles are S'Elegas Nuragus di Cagliari from the renowned winery Argiolas. It has notes of melon, pear, and honey and is a soft, dry wine that has a high alcohol content.
The Cantine di Dolianova Perlas Nuragus di Cagliari is a well-balanced Nuragus that I'm sure you'll find highly pleasing. Expect delicate nuances of ripe apple and white flowers.
Carignano del Sulcis
Carignano del Sulcis is a Sardinian wine cultivated in the south-western corner of the island. The wine – known in Spain as Cariñena/Mazuelo and in France as Carignan – is predominantly grown in the province of Sulcis and Carbonia-Iglesias, where more than 4,000 acres are used for its production; however, it spreads into the provinces of Cagliari and Teulada.
This is a red or rosé wine. It's worth noting that the rosé form of this wine usually has an alcoholic strength of just 11%, which is considerably lower than other international rosé wines.
Generally light to medium-bodied, Carignano is an earnest and good-natured wine. Its flavors are gentle with modest tannins.
A must-try is Cantina Mesa's 2013 Buio. It's a straightforward wine that leads with notes of cranberry, cherry, and basaltic. It has elegant tannins and a whisper of floral blossoms.
One of the more powerful bottles is Cantina Santadi's Terre Brune. It's a riserva wine aged in barrique and is an intense garnet color. It carries lusty notes of dark marasca cherries and a whiff of clove.
Get your bottle of Carignano del Sulcis here or here.
Bovale
Bovale is a wine that actually has 24 different names thanks to the different varieties of the Sardinian language spoken in Sardinia. Regardless, this variety is most often labeled as Bovale or Muristellu, which is the most commonly used Sardinian term for the grape variety. The grape is grown throughout the island; however, it is mainly found in the Mandrolisai area, in Nuoro.
Interestingly, the Bovale variety is one of the very few grape varieties in the entire world to have a distinctive genetic similarity to wild grapevines. Despite its somewhat wild nature, it is best described as a friendly wine. It's smooth and not overly complex. Its grapes have a thick skin, which affords it a well-balanced and grateful tannic structure for a medium-bodied red wine.
When buying a bottle of Bovale, keep in mind that it does best when aged for a few years. On the palate, you'll notice medium acidity and aromas of blue and red berries.
Among the best bottles there is La Giara, Bovale Isola Dei Nuraghi from 2016. This wine has great depth and pronounced floral and fruit notes.
For a real treat try Pala Essentija Bovale. Be warned; this wine is difficult to find! It's an earthy red wine that has aromas of leather and soil.
Get your bottle of Pala Essentija Bovale here.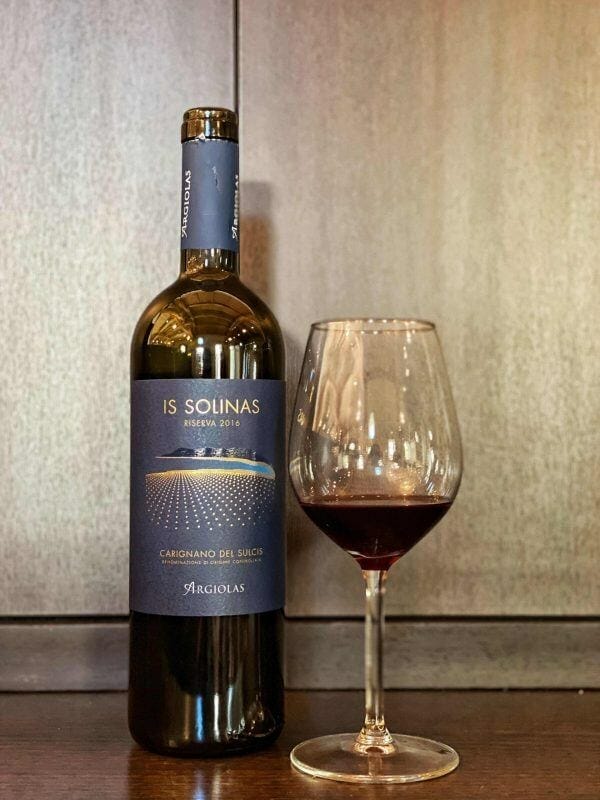 Malvasia
Malvasia is a breezy white wine. Be that as it may, Malvasia is actually the name of several grape varieties, including both red and white! In France, these grapes go by the name of Malvoisie. However, in regards to the Sardinian one, the grape is white.
The Malvasia di Bosa – a lovely small town south of Alghero – is one of the rarest wines of Sardinia. Even if you are in Sardinia, you'll likely not find a bottle at the first wine shop you pass by.
This can be a dry or sweet wine- though it is the sweet version that is best known. Yet it is a wine that brims with romance, delivering languid notes of honeysuckles and almond.
If you can get your hands on a bottle of Giovanni Battista Columbu, Malvasia di Bosa Riserva count yourself lucky. The bouquet is intense and persistent, and the aroma is wonderfully nutty. This golden wine is a true delight!
Vernaccia
Grown on Sardinia's west coast around Oristano, where according to legend it was brought by the Phoenicians around 3000 years ago, this sherry-like fortified white wine is a truly unique Sardinian wine. It's an oxidative white wine aged for between three to four years in barrels. The complexities of Vernaccia only deepen over time until you get lost in an enigma of umami flavors that will leave you dazed and confused — and completely elated.
This is a full-bodied white wine with high alcohol content ranging from 15 to 19%. When drinking a young Vernaccia, you can expect to encounter musty and nutty aromas.
Vernaccia wine is actually ranked among the best wines in the world. Yet it's nearly impossible to encounter a bottle outside of Italy!
The Silvio Carta, Vernaccia Di Oristano Riserva is the bottle to try. If you can find an old bottle from the 1960s or 1970s, you're in for the ride of your life! However, you're more likely to encounter bottles from the early 2000s, which are still masterful. This wine has exceptional structure and flavors of chestnuts, butter, and orange peel.
Another outstanding bottle is the Contini, Vernaccia Di Oristano Riserva. Their wine is aged for 15 to 20 years in chestnut and oak barrels and gives off complex nutty and caramel notes.
Torbato
Torbato is an ancient white variety that is exclusively grown in the northwest of Sardinia, where it was brought in from Spain. This rare grape has been revived largely thanks to the wine estate Sella e Mosca. Thus, it's one of the rarest wines from Sardinia you may encounter.
This crisp and dry white wine has a nice minerality. With modest aging, creaminess and richness will develop. Torbato is typically a still wine, but the sparkling kind is usually a favorite, best enjoyed as an aperitif and to accompany dishes of fish and seafood, as well as seafood pasta dishes.
The Sella and Mosca's Bianche Torbato from 2014 is a fabulous wine. The wine will appear a deep lemony gold color, and your palate will brush up against traces of pears and flint. The finishing sensation is uniquely chalky, with a hint of salinity.
Sella and Mosca's 2005 Bianche Torbato has a lot more personality, with intense aromas of honey and nuts.
Cagnulari (Graciano)
Another grape that was brought from Spain, Cagnulari is cultivated in Sardinia's northwestern quarter, strongly associated with the territory of Usini. This is one of the lesser-known grape varieties in Sardinia and yet one of the best Sardinian wines.
Ruby-hued red, the Cagnulari wine was actually revitalized by Giovanni Cherchi, who brought these ancient, native grapes back to the fore. Therefore, the vineyards and winery Vinicola Cherchi is synonymous with Cagnulari wine.
Cagnulari wine is medium-bodied and has hearty and ample tannins. This is a slightly dusty wine with low minerality and notes of plums, cherries, and raspberries. The bold fruit sensations are complemented by a brisk minerality and some aromas of herbs.
Try a bottle of 2016 Azienda Vinicola Cherchi Isola dei Nuraghi Cagnulari and bask in the vibrant ruby color before you sip this divine dark-fruited wine.
Pascale di Cagliari
A lesser known Sardinian wine also called Giacomino or Barberone, Pascale di Cagliari is a red wine grape variety originally from Tuscany and now found in Sardinia, more precisely around Alghero and the southwestern tip of the island. The wine is ruby ​​red in color, and rich in tannin, yet gentle on the palate.
You won't commonly find bottles of Pascale di Cagliari, since this grape is mostly used to blend with other varieties, such as Carignano. If you want to try it, get hold of a bottle of Dettori Renosu Rosso when in Sardinia. At around $15 USD for a bottle, this blend of Cannonau, Monica and Pascale di Cagliari will leave you satisfied.
Other Sardinian Wine
The ones mentioned in this post are only some of the best Sardinian wines, and of the many grapes found on the island. Here are some other varieties to keep your eyes on:
MONICA – A deep, red wine that is easy on the palate. The Cantine Audarya in Serdiana is definitely one of the best bottles you can get your hands on.
SEMINDANO – A white wine that pairs well with pecorino.
NASCO – Mostly grown around Cagliari, was introduced by the Romans and is usually paired with local sweets.
GRECO NERO – Typically blended with Gaglioppo wine, it comes from the region of Calabria, but also found in Sardinia. It's a fruity wine where you'll notice hints of plum and cherry.
GIRO – Brought to Sardinia from Spain, it was a popular variety in the past but after phylloxera ravaged in the late 19th century, only a modest quantity is now produced, mostly in the region of Cagliari and Oristano. It's a great pairing to sebadas – Sardinian fried cheese pastries.
MOSCATO – A rich, fruity wine that is typically served on special occasions – and often homemade!
Final Thoughts On Sardinian Wine
For a prize winning Sardinian wine, make sure to invest on a bottle of Turriga. Produced by the Argiolas winery of Serdiana (the same of S'Elegas, by the way), this wonderful wine is a blend of 85% Cannonau and 5% each of Bovale Sardo, Malvasia Nera and Carignano. Expect to pay $40 a bottle as a minimum – but I promise you won't regret it.
Get your bottle of Turriga here.
While the idyllic Sardinia might often be regarded as a beach vacation spot, it really is quite the haven for delectable Italian wine. With so many native varieties carefully cultivated and kept in existence with a rare level of earnestness, Sardinia is truly a magical place for wine.
Whether you are planning a trip to Sardinia or planning on ordering your next case of wine, I hope this article illuminated you on the best Sardinian wines out there. I have a certain level of reverence for them, and I hope that it has shown through – and perhaps, that it lit a little spark in you.
Where and when to enjoy Sardinian wines
If you plan to visit Sardinia, you may want to go on a wine tasting tour to get a better understanding of Sardinian wines and how they are produced. Many wineries now offer wine tasting experiences where you'll be also let into the history of the family and the vineyard. The best wine tours are at Cantine Argiolas in Serdiana, in Southern Sardinia, and the nearby Cantine Pala. If you find yourself near Alghero, consider visiting Sella e Mosca.
If you want to book your wine tasting experience online, you can consider this one here.
Wine festivals are quite a thing in Sardinia! If you visit in May, attend Cantine Aperte in Serdiana for a weekend of winery-hopping. Calici Sotto Le Stelle in Jerzu takes place each August and the Sagra del Vino Novello (new wine) of San Vero Milis, in the province of Oristano, is one of the most popular festivals in the region.
Cheers! Or should I say— Alla salute!
Further Readings About Sardinia
For more readings about Sardinia, make sure to check my other posts:
Pin It For Later!