Is it easy to get from Naples to Sardinia?
Naples is a magical city. Most of those who've been there say that it's bewitching: you simply can't help falling in love with it. We Italians even have a saying: "vedi Napoli e poi muori" – something that goes along the lines of "see Naples and then die" and which means that since nothing compares to the beauty of Naples, you can die after you've seen it.
Now, Napoli is certainly gorgeous. But Sardinia is too – in a wholly different way.
Many tourists decide to visit Sardinia after a stop in Naples, which is an excellent idea, both because Sardinia is always worth a trip, and because Naples is a marine city, with its own harbor and airport, which makes traveling to and from the city quite easy.
There are several options to get to Sardinia from Naples: you can opt to fly or to take the ferry. Both options have different schedules and frequency depending on the season – summer being the window of time with the most flights and ferries – but you can rest assured that if you happen to be in Naples you will have no troubles reaching or leaving the island, no matter the time of the year.
Prices, of course, vary depending on the companies and the time of the year. A low-cost flight will generally be cheaper than a regular one, and ferries are usually more expensive than flights (I know, that's weird!).
In this post, I will summarize the best options to get to Sardinia from Naples.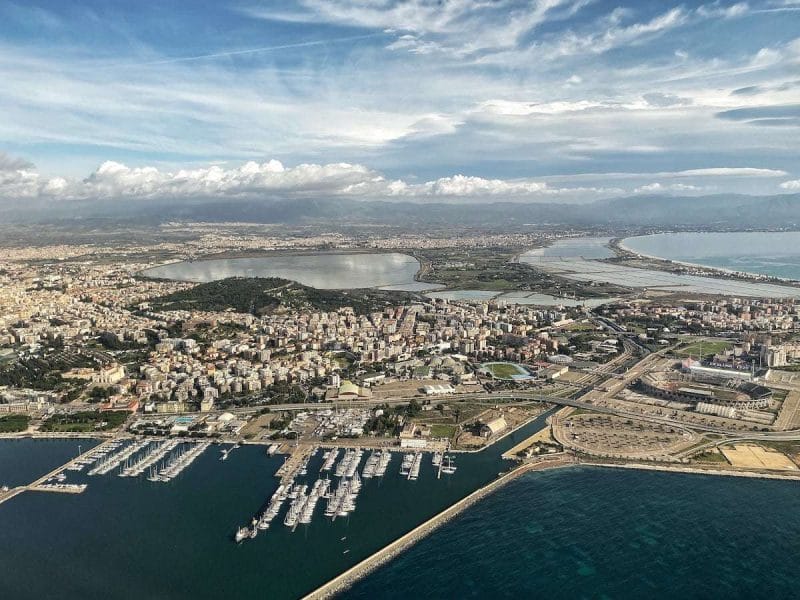 Flights From Naples To Sardinia
Naples has an International Airport called Napoli-Capodichino, which is one of the busiest airports in the South of Italy and is served by several regular as well as budget airlines. Many of them, of course, fly to one or more Sardinian airports. A direct flight from Naples to one of the Sardinian airports usually takes between 1 hour and 1 hour and 30 minutes, depending on the weather and where you are flying to. Here are some more details.
Naples – Cagliari
At the time of writing, Ryanair operates four weekly flights – this schedule will stay as such until the end of March. From April onwards, there are daily flights with varying schedules, departing at a different time every day.
Volotea operates up to 4 weekly flights in the spring, until the end of May, and daily flights during the summer; EasyJet offers 3 weekly flights until the end of June; and from July on it offers 6 flights per week. Volotea doesn't fly to Cagliari at all in February and March, and has very few flights in January. Easyjet doesn't fly to Cagliari during the winter months.
You can check the schedule and prices of flights from Naples to Cagliari here.
Naples – Olbia
There aren't any flights from Naples to Olbia during the winter.
Volotea operates 3 flights per week in June and October; 4 flights per week in September; and a flight per day in July and August.
EasyJet flies to Olbia every day except on Tuesdays during the spring and summer months (starting from April).
You can check the schedule and prices of flights from Naples to Olbia here.
Naples – Alghero
Ryanair flies to Alghero biweekly in January and three times a week from February onwards. The days vary depending on the month, so be sure to always check their website!
Volotea and Easyjet don't operate flights from Naples to Alghero.
You can check the schedule and prices of flights from Naples to Alghero here.
Ferries From Naples To Sardinia
Ferries are a great option if you are traveling with your family and would prefer bringing your car to the island. Getting to Sardinia by ferry means you'll spend a day (or a night) on the boat, so many opt for a cabin or at least a comfortable chair – which is also my recommendation because ferry trips are long!
Naples harbor is ancient and quite bustling, though it's not much of a passengers harbor anymore.
The only Sardinian harbor with direct connections from Naples is Cagliari. The route is served by Grimaldi Lines, which travels from Naples to Cagliari on Mondays and Fridays, departing at 7:00 pm. The number of weekly trips doesn't vary from winter to summer.
Check out the schedule and book your ferry from Naples to Sardinia here.
Further Readings
Looking for more ways of getting to Sardinia? Check out the following posts:
Pin It For Later!