Do you want to take the ferry to Sardinia? This post is for you!
Getting to Sardinia by ferry is one of the two ways to reach the island and the only viable option if you are traveling with your own vehicle (car or motorbike). There are several ferries to Sardinia every day and, despite them being less frequent during the winter, it's always possible to travel to Sardinia by ferry, no matter the season.
In this post, I will share all there is to know about traveling to Sardinia by ferry – with tips on the best routes. But first of all, let me tell you why you should consider doing it!
Why Should You Take The Ferry To Sardinia?
Truth be told, I usually recommend flying to Sardinia and then renting a car when you are on the island. It's easier, and definitely quicker. Yet, some travelers find traveling by ferry to be a better option.
Traveling by ferry is usually the most common option for families with small children (it's easier to just pack everything in the car rather than fit a stroller, toys and anything the child may need and take it on the plane), and is also very appreciated by people who are afraid to fly or can't take a plane for whatever reason.
You will have a choice of both day and night trips available to get to Sardinia: day trips are shorter ( 5 to 6.5 hours), as they are usually on fast ferries; while night trips take up to 10 or even 12 hours depending on your departure city and on the sea conditions, but you will have a chance to overnight in a cabin.
All ferries have cabins – the most comfortable option if you're traveling overnight – and comfortable chairs for passengers. Moreover, there are a lot of common spaces such as restaurants, playgrounds for the kids and so on.
The main downside of taking a ferry to Sardinia is that if you want to bring your own car, it can be very expensive – and you will have to book months ahead of your trip to find a spot at a reasonable price, especially if traveling in the summer.
If you find that getting a ferry to Sardinia truly is your best option, continue reading for the best routes.
Getting The Ferry To Sardinia: Best Routes
There are several companies that operate the ferry to Sardinia – Tirrenia, Grandi Navi Veloci, Moby, Grimaldi Lines, Corsica Ferries, among others.
The island has six harbors directly linked to a dozen cities, both Italian and European. Here's a list of the main Sardinian harbors and the cities the ferries to Sardinia travel to and from.
Cagliari
Cagliari harbor is located inside the city and is only 200 meters away from the bus and train station, making your trip to Sardinia very easy from the beginning. Docking in Cagliari means you'll get to see a beautiful city and enjoy the pretty views of the area as soon as you arrive, or as soon as you depart: whether you are going to stay in one of the many resorts, visit somewhere in the hinterland, or drive to another location, Cagliari is an excellent starting point.
You can travel to Cagliari by ferry from Civitavecchia, Napoli, and Palermo. No ferries from outside Italy travel to Cagliari.
For information on ferry tickets and routes to Cagliari, click here.
Olbia
Olbia is the busiest harbor in Sardinia and is considered the classical gateway to Costa Smeralda. The ferry area is located in the Isola Bianca docking terminal, and the harbor itself is just a short drive from the main city.
Most of the people coming to Olbia just pass by the city and drive straight to their holiday location, which is a pity! Olbia is well-served by public transportation and is a lovely city to visit if you have some time on your hands.
You can take a ferry to Olbia are Civitavecchia, Genova, Livorno, Piombino (Italy).
For information on ferry tickets and routes to Olbia, click here.
Porto Torres
Porto Torres harbor was built by the Romans and has never ceased its activity. The city itself is ok – there is a lovely beach – so if you happen to be docking here, be sure to explore it a bit before leaving for your final holiday destination! The harbor is just a short drive from the city center and the main attractions.
Porto Torres is an excellent harbor if you are planning to stay in northern Sardinia: you will dock in a favorable spot to reach not only Sassari and its famous beaches but the Asinara Archipelago and Alghero as well.
Ferries to Porto Torres run from Civitavecchia, Livorno and Genova (Italy); Ajaccio and Porto Vecchio (Corsica, France); Tolone, Marseille and Nizza (France); Barcelona (Spain).
For information on ferry tickets and routes to Porto Torres, click here.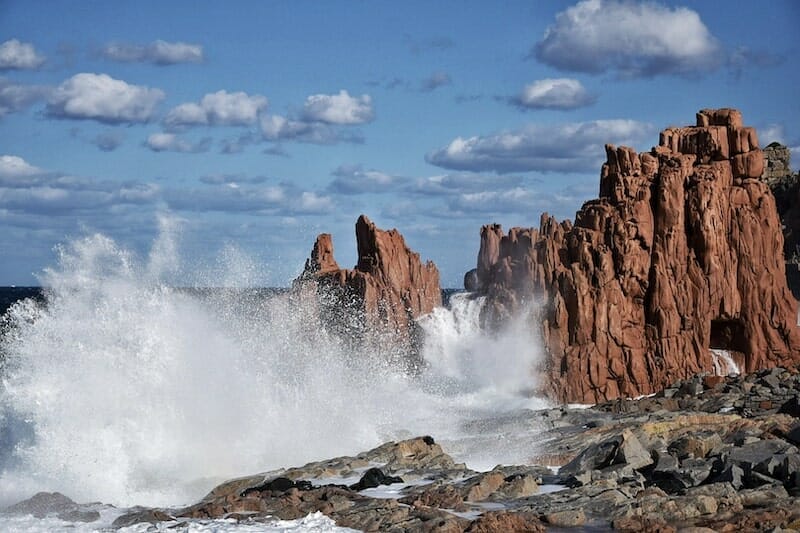 Arbatax
Arbatax is a marine hamlet of Tortolì and has become one of Ogliastra's most important cities thanks to its – mainly commercial – harbor. Famous for the gorgeous beaches (especially Porto Frailis) and its Rocce Rosse (Red Rocks, also celebrated in a fun music festival), its economy revolves around fishing and the cargos docking and leaving the harbor, but it's the best option for tourists who want to explore Ogliastra and the Gulf of Orosei.
The only city to and from where ferries to Arbatax operate is Civitavecchia, in Italy.
For information on ferry tickets and routes to Arbatax, click here.
Santa Teresa Di Gallura
Santa Teresa di Gallura is a pretty famous tourist destination, with stunning beaches and numerous attractions, that will leave every visitor satisfied with their stay. Not many, however, know that this village on the Northern Coast of Sardinia, only a few kilometers from other excellent places like Palau and not far from La Maddalena Archipelago, is also the location of a small harbor.
The majority of people arriving and departing from Santa Teresa di Gallura come from or go to Corsica: the only route operated by ferries is, in fact, the one to and from Bonifacio, right in front of La Maddalena Archipelago.
For information on ferry tickets and routes to Santa Teresa di Gallura, click here. Make sure to also read my post How To Get From Corsica To Sardinia.
Golfo Aranci
Golfo Aranci is, like Santa Teresa di Gallura, mostly known for the many beauties of its territory. However, its harbor is one of the busiest on the island! Located at only about 20 kilometers from Olbia, Golfo Aranci is the other gateway to Costa Smeralda and a great option for many tourists, since it serves the purpose of lessening the tourist flow towards the bigger city.
Golfo Aranci city center is only 1 km from the docking area and the beautiful beaches and tourist attractions are just a few minutes' drive from there.
You can travel to Golfo Aranci from Civitavecchia, Livorno, Piombino and Savona (Italy); Ajaccio, Bastia, Porto Vecchio (Corsica, France); Nizza and Tolone (France).
For information on ferry tickets and routes to Golfo Aranci, click here.
Further Readings
For more information on how to get to Sardinia and how to move around the island, you may want to read these posts:
Pin It For Later!