There are many incredible beaches in Costa Smeralda. This is a place that doesn't need any introductions. It's considered one of the most expensive, lavish holiday destinations in the world, and rightfully so.
Costa Smeralda was founded in the 1960s by Prince Karim Aga Khan IV, who invested billions and gathered the most important experts of the time to transform that wild, abandoned corner of northern Sardinia into the vacation paradise it is today.
Costa Smeralda, with its incredible resorts and touristic hubs, from Porto Cervo to Romazzino to Cala di Volpe, is a magnet for celebrities and wealthy people who will undoubtedly boast their possessions.
If you can afford it and want to see some famous faces, plan a trip to Costa Smeralda and have a walk around the luxury-yacht-filled piers and the ever-bustling village streets.
If you are not a fan of mundane life but you still want to sunbathe on some exclusive, stunning beaches with pristine sand and emerald water, here's a list of the best places in the area.
Always keep in mind that Costa Smeralda is an exclusive, expensive corner of Sardinia, so if you are looking for a cheap holiday, you might need to put some effort into your hotel's and restaurant's research.
If you want to see many beaches but don't have much time, you can actually consider this excellent guided tour departing from Olbia that also goes to the lovely San Pantaleo village.
There's also this tuk-tuk tour that is a fun option and an alternative way of exploring the coast.
Make sure to read my posts A Short Guide To Arzachena and A Complete Guide To Costa Smeralda.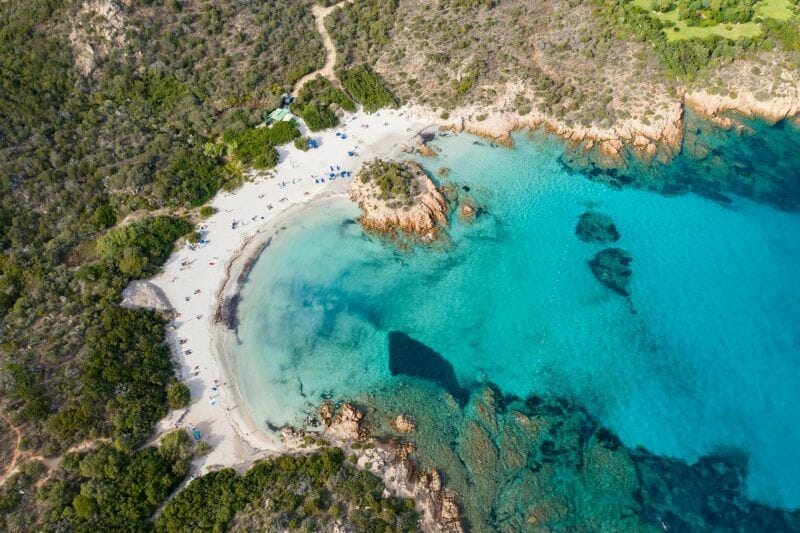 The Best Beaches In Costa Smeralda
Principe Beach
The beach, which obviously got its name from the Costa Smeralda founder, is one of the main celebrity hubs in the area but, despite its enormous fame, it managed to stay quite well-preserved and neat.
Prince Karim Aga Khan IV, in fact, was a strong believer in sustainable tourism and insisted that everything in Costa Smeralda had to be planned and built with regards to the pre-existing nature.
Spiaggia del Principe (that's the name in Italian) is considered among the 20 most beautiful beaches in the world, especially thanks to its pristine sand and the pink granite rocks that both shelter it and go all the way below the sea level, giving the water incredible shades.
Romazzino
Located nearby the more famous Principe beach, Romazzino is a bit quieter – but still crowded, since there's a huge resort there and a big chunk of the beach is their property. Its sand is slightly thicker than in other Costa Smeralda beaches, but the water is as pristine as ever, excellent for snorkeling, and very safe for kids.
Other than the homonymous resort, there are several kiosks and restaurants in the area, and the beach is surrounded by Mediterranean shrub, which shelters it from the wind – all in all, a great place where to spend a full day.
Cala di Volpe
One of the most incredible (and exclusive) beaches in Costa Smeralda, Cala di Volpe is made of pinkish sand and crystal clear water, surrounded by Mediterranean shrub and pink granite rocks, and often populated by celebrities.
This beach is particularly famous not only for its stunning beauty but also because it was the set of a James Bond movie in the 1970s.
The resorts in the area own the majority of the beach, but it's still possible to access it without breaking the bank. You just have to deal with the crowd!
Pevero Beach
Pevero beach is actually made of two beaches, Piccolo (Small) and Grande (Big) Pevero. Both beaches are sheltered from the winds and offer a great choice of services, from hotels – they are a few minutes away from Porto Cervo – to any water sport you could think of.
The clear waters are safe for swimming, amazing for snorkeling, and always calm, thanks to the beaches' position.
Cannigione
Cannigione is another village full of hotels and resorts that you can use as a base for your Costa Smeralda explorations. Its beach offers the typical scenario you'd expect from any place in the area: pristine sand, stunning waters, unbelievable seabed – snorkeling is a must!
From Cannigione, you can take your car and do some beach hopping – it's close to every place that counts – or enjoy some great times in one or more of their famous restaurants or clubs.
Capriccioli
Capriccioli is by far my favorite beach in the area. It is also considered the best beach for families with kids. Like most of the beaches in Costa Smeralda, it has white, thin sand and incredible turquoise waters, and is an excellent snorkeling spot.
Capriccioli is very close to Porto Cervo and all its facilities, and it's sheltered from the wind by the typical Mediterranean shrub: both of these features make it an excellent sunbathing spot where to spend a great day.
You should also read my post A Guide To Capriccioli Beach, Costa Smeralda.
La Celvia
La Celvia is a 300 meters long beach at walking distance from Capriccioli. It's well-served by restaurants, bars, and kiosks, and people like to go there for lunch and sunbathing in the afternoon hours, especially because it's also well-sheltered from the wind and shaded from the sun – so that you can enjoy your meal without getting sunburnt.
Like any beach in Costa Smeralda, La Celvia has pristine white sand and water shining with a palette of blues and greens. Expect to take amazing pictures!
Liscia Ruja
One of the largest beaches in Costa Smeralda, it's a fantastically equipped beach where you will find everything you need for a perfect day – though don't worry, if you are on a budget you will find plenty of space where you can place your umbrella for free.
This lovely beach has fine, white sand and emerald waters where it's refreshing to swim and snorkel.
From the beach, you can admire the Soffi and Mortorio Islands. Not far from it you will find Petra Ruja beach, which is a bit more secluded and less crowded.
Further Readings
Looking for more beaches in Northern Sardinia? These posts will come in handy:
Pin It For Later!