Which are the best beaches in South Sardinia? You are in the right place to find out!
Sardinia is a vast island, and its coasts have a hundred different features and shapes. The geography of the island has caused a million combinations of terrain and created a multitude of beaches and coves, all different from one another. The winds – especially mistral – constantly blowing on the shores have further contributed to the coastline's shaping.
South Sardinia beaches are generally longer, sandy – definitely compared to the rocky, small coves common in the north and east of the island. If you plan to visit this area and hit the best beaches in South Sardinia, you're in the right place: this is where I am from, so I though I'd select the ones you should not moss.
If you want to explore south Sardinia beaches, you will most likely land in Cagliari airport or dock in its harbor. My (evergreen) recommendation is bringing your own car or renting one: it will make your trip a lot easier since getting around Sardinia by public transportation can be a real nightmare. You will find a lot of rental car offices inside the airport and some agencies scattered around Cagliari.
For information on renting a car in Sardinia, read this post.
Now, let's get to the point of this post: here's the list of best beaches in South Sardinia.
13 Best Beaches In South Sardinia
Poetto, Cagliari
Poetto is not only a beach, it's an institution. It's Cagliari's urban beach, loved and roamed by the locals at any time of the year. We go there to escape the city chaos and crowds and to catch some fresh air; we go there to run and bike, grab a bite (both in a restaurant or in a street food kiosk), enjoy some water sports (when the weather is good) and do a lot more.
Poetto is free to access – meaning there's no admission fee, but that's the case for most beaches in Sardinia – and, if you have your umbrella and your food, you can virtually enjoy your day at the beach for free.
In case you are not fully equipped for sunbathing, you can rent everything you need in one of the kiosks along the beach – which is about 10 kilometers long, sandy, and with very shallow eater.
Make sure to read my post Everything You Must Know About Poetto Beach.
Nora, Pula
Nora Beach is located right next to the homonymous archeological site and is, therefore, a beautiful beach, both for the crystal clear and shallow water – perfect for kids – and for the spectacular view you will have.
The beach overlooks the Punic-Roman ruins and is, moreover, shielded by a cliff on one side and the Torre del Coltellazzo watchtower on the other, making it an excellent and safe spot even during the windiest of days!
Check out my post A Short Guide To The Ancient City Of Nora.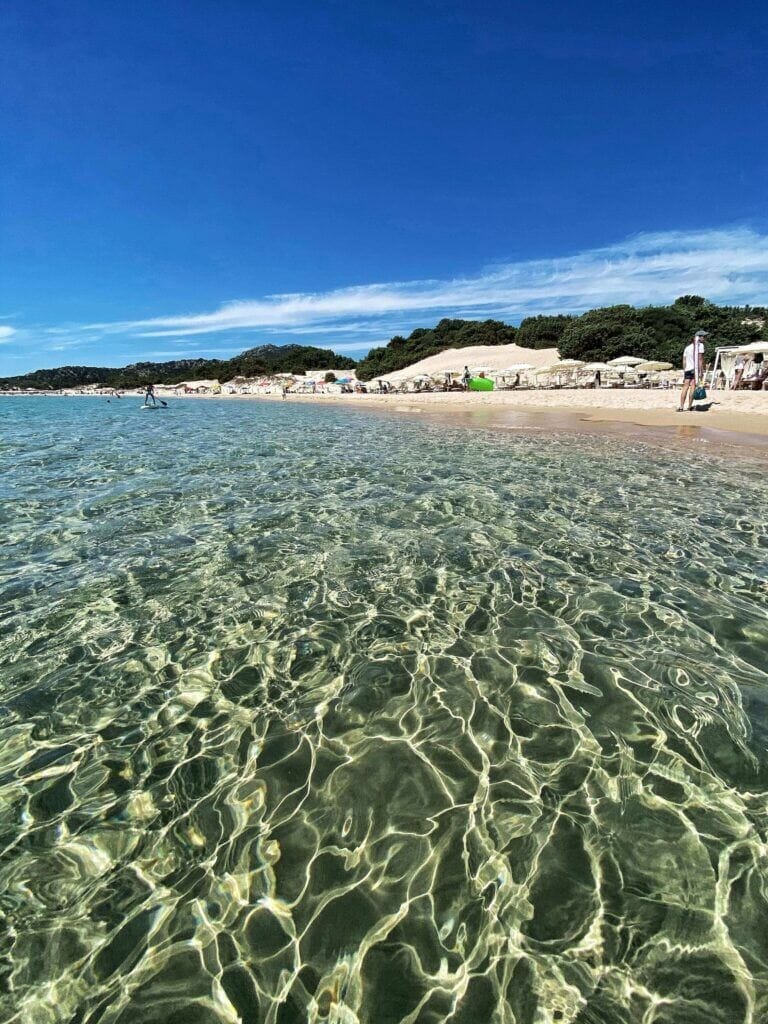 Chia Su Giudeu, Domus de Maria
Su Giudeu is probably the most famous beach in the Chia area. It's about 600 meters long and gets easily crowded because of its fame, partially due to the many TV commercials filmed there.
The beach is very well serviced and equipped with everything you might need for the day: there is no shortage of kiosks and the nearby Chia Laguna Resort offers several services and activities to enjoy, both alone and with family or friends.
Read my post A Guide To Chia Su Giudeu Beach.
Cala Cipolla, Domus de Maria
Located very close to the more famous Chia, Cala Cipolla is a small cove (about 200 meters) with pristine waters and fine sand. The place is known and appreciated by many and, being quite tiny, it is often very crowded – but this doesn't diminish its charm.
If you are staying in Chia, you should definitely spend a day in Cala Cipolla (it's well worth your time) and maybe explore a bit further, towards Capo Spartivento and its lighthouse – which has been converted into a pretty boutique hotel.
Head over to my post A Complete Guide To Cala Cipolla.
Tuerredda, Teulada
Tuerredda is a beautiful beach in the Chia area, part of Teulada municipality. Its main charm, other than the ever-transparent shallow water perfect for snorkeling and swimming, is the white-sand beach divided into two smaller, arch-shaped coves.
The 500 meters long beach never gets too crowded because access is actually limited to no more than 1100 people between the free-to-access beach and the various bath houses (which must be booked in advance). It's not possible to book in advance so if you plan to visit you will have to head there nice and early.
Being located in one of the most popular tourist hubs of South Sardinia, there are plenty of services, restaurants, kiosks, and resorts. You won't get bored for sure!
Make sure to read my post A Guide To Tuerredda Beach.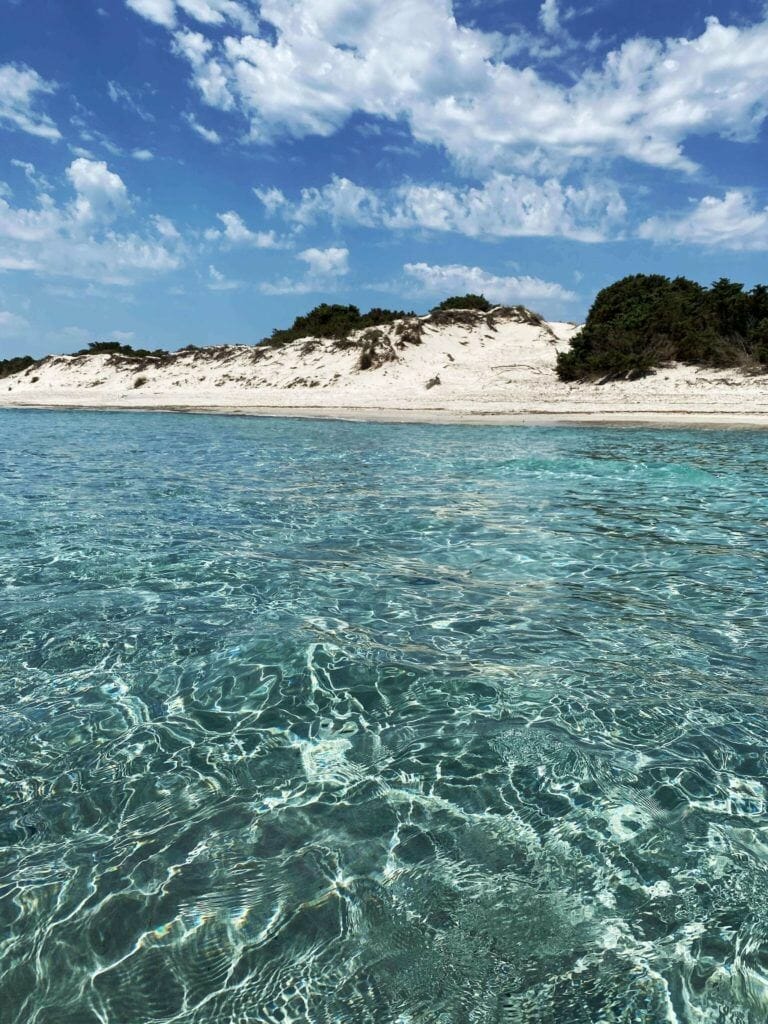 Cala Zafferano, Teulada
Cala Zafferano is one of the most beautiful and well-preserved South Sardinia beaches. The only problem with it is that is it located in a military zone and can only be seen from afar.
You can get close to Cala Zafferano by boat (zodiac rentals are available in various harbors nearby, like Porto Tramatzu), but docking is forbidden and the military patrol the area. However, they are not that strict and will let you get on the beach and explore a bit, but you will still be banned from planting an umbrella and going too further into the area.
For more information, read my post The Ultimate Guide To Cala Zafferano.
Is Arenas Biancas, Teulada
Is Arenas Biancas is a long, sandy beach, also part of a military base and only open to the public during the summer months. The shallow waters make it one of the best beaches in South Sardinia for families and snorkeling lovers, but its main attraction is another: the beach is made of tall, beautiful dunes surmounted by Mediterranean shrub.
The dunes are, of course, protected and there is a set of rules that you are expected to follow, also because, don't forget it, you are stepping on military land. It's absolutely forbidden to climb the dunes (the photo above was actually taken on the beach, in a part that was accessible), leave trash behind, pick up pebbles, sand, and the like. Rangers patrol the area, ready to fine anyone who's not abiding by the rules.
More information is available on my post The Best Guide To Is Arenas Biancas.
Porto Pino, Sant'Anna Arresi
Porto Pino is one of prettiest beaches of South Sardinia. Located in Sant'Anna Arresi municipality, it consists of about 6 kilometers of shoreline (divided into four areas), a big pine grove, a pond where rare birds nest and rest, and many other things you'll discover during your visit.
Porto Pino's flora is almost unique in Sardinia: there are several trees that can only be found here and make the area a great point of naturalistic interest – which in turn has led to several programs to keep the place safe from environmental damage.
Of course, such rare features make for breathtaking waters and sand: Porto Pino is one of those places that, once you have been there, you will never forget.
Make sure to read my post A Guide To Porto Pino.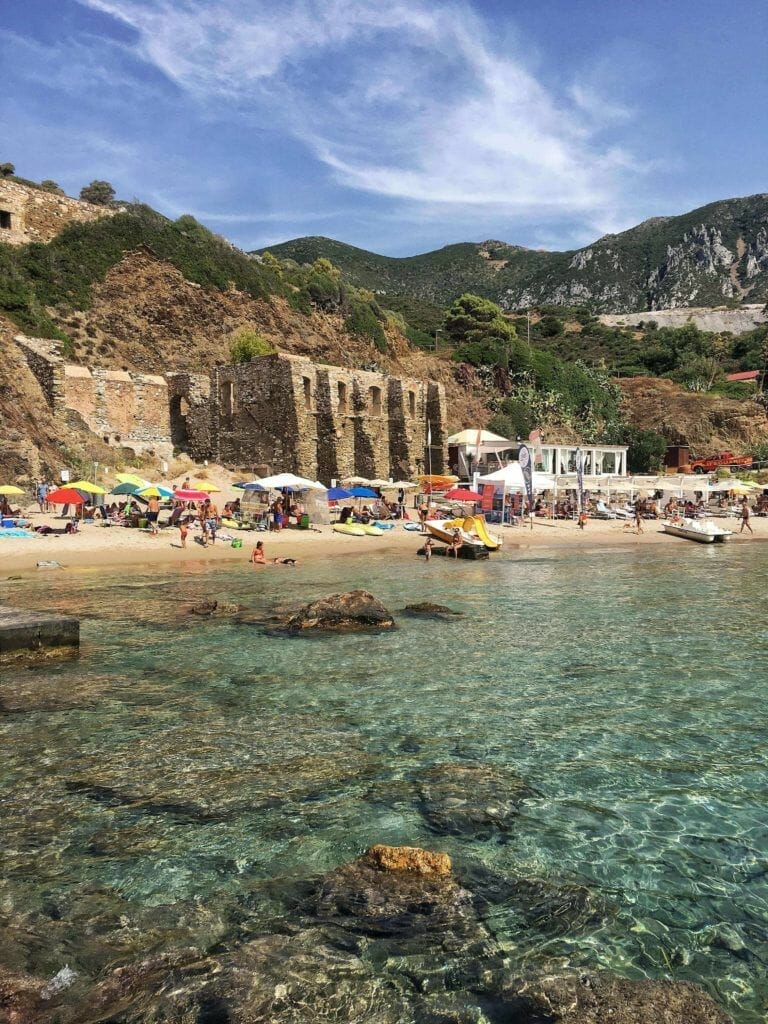 Masua Pan di Zucchero, Iglesias
Masua is a small village that, in the past, flourished thanks to the mines in the area. Pan di Zucchero is a charming, small cove that has been loved by locals for decades and is now becoming famous among tourists as well.
The name of the beach comes from the rock stack you will see in the water – it's quite a big and unique landmark, 133 meters tall and its shape resembles the homonymous type of lettuce (called pan di zucchero, in Italian).
Departing from the beach are various boat tours that will take you along the coast for a chance to admire the beautiful Porto Flavia, a harbor carved in the rock to serve the mines of the area (you can visit the mines of Porto Flavia on guided tours too).
The beach is a great spot to spend a day with family because the waters are very shallow, but be careful on windy days: the sand can be a real pain, and the underwater currents can make swimming very dangerous!
Read my post The Complete Guide To Masua Pan Di Zucchero.
Punta Molentis, Villasimius
Punta Molentis is composed of two small coves, and is located in the Villasimius municipality. In recent years, due to the constant erosion by the weather and the overcrowding of the place, access to the beach has been limited.
Punta Molentis is part of the Protected Marine Area of Capo Carbonara, so remember there are several rules in place and you might get fined if you don't respect them. Among other things, it is forbidden to walk on the dunes, pick up pebbles and sand – but this is a universal rule in Sardinia – and to take starfish out of water.
Only 500 people are allowed in Punta Molentis every day and there is no way to book your spot in advance: if you want to spend a day there, be sure to be in the parking lot before the beach opens (at 8:00 am, and it closes at 8:00 pm). However, if you book a bed and umbrella at the local Stabilimento I Due Mari you will pay just €15 for the day and you can arrive comfortably by 10:00 am (but no later than that). You will have to call +39 3934077632 to reserve your spot.
Check out my posts The Best Beaches In Villasimiusand The Best Guide To Punta Molentis.
Porto Giunco, Villasimius
Porto Giunco is another beach in Villasimius municipality, also part of the Protected Marine Area of Capo Carbonara. It's a larger beach compared to the ones nearby, which means that it rarely gets overcrowded (make sure to walk to the center of the beach to have more space).
Its shallow and pristine waters make the beach ideal for families and a paradise for snorkeling: there even are a few scuba diving schools in Villasimius, if you want to try it!
Another thing you can do in Porto Giunco is hike up to the Spanish watchtower. It's an easy 30 minutes walk that starts at the very end of the parking lot, on a trail that is very easy to follow. The views once you get to the top are absolutely stunning (that's where I took the photo above). From there, you'll understand why it's one of the best beaches in South Sardinia.
Head over to my post The Best Guide To Porto Giunco.
Cala Sinzias, Castiadas
Cala Sinzias is a breathtaking beach in the Costa Rei area, relatively unknown to tourists but incredibly popular with locals who claim it's one of the best South Sardinia beaches – so don't go there expecting to find an empty beach. Here, you will find your usual crystal-clear water and soft sand, though the water gets shallow almost immediately – and a pretty scenario.
The beach is right next to an eucalyptus and Mediterranean shrub grove, and the thousand aromas of the plants and of the sea create a mix of fragrances that you will remember for a long time.
There are two or three paid parking spots close to the beach. Make sure not to park your car randomly as the street police patrols the area and fines anyone who's not parked properly.
Read my post A Short Guide To Cala Sinzias.
Cala Pira, Castiadas
Cala Pira is immediately next to Cala Sinzias and is just as beautiful. Kids love its shallow waters and so do scuba divers and snorkelers. Located in Cala Pira there is a Spanish watchtower. You can walk up there for incredible views of the beach below.
The beach is always well sheltered from the wind but small – so if you want to claim a good spot make sure to go there early as it can get very crowded. Make sure to find a proper parking spot for your car as fines are common!
Cala Pira can also be reached on boat tours that depart daily from both Villasimius tourist harbor and the main beach in Costa Rei.
Read my post The Essential Guide To Cala Pira.
Pin It For Later!