Cagliari is a beautiful city that has a lot to offer to whoever visits. Yet a major tourist destination, it is incredibly walk-friendly and as such there is nothing better than going on one or many walks in Cagliari to uncover its real beauty. But there's more! While the historic center of town is the most touristy spot to go for a walk, if you venture outside you will find places that we locals enjoy year round and where we love going for a walk – the best bit is that you can easily get there by bus!
Are you curious to discover the best walks in Cagliari? The continue reading this post.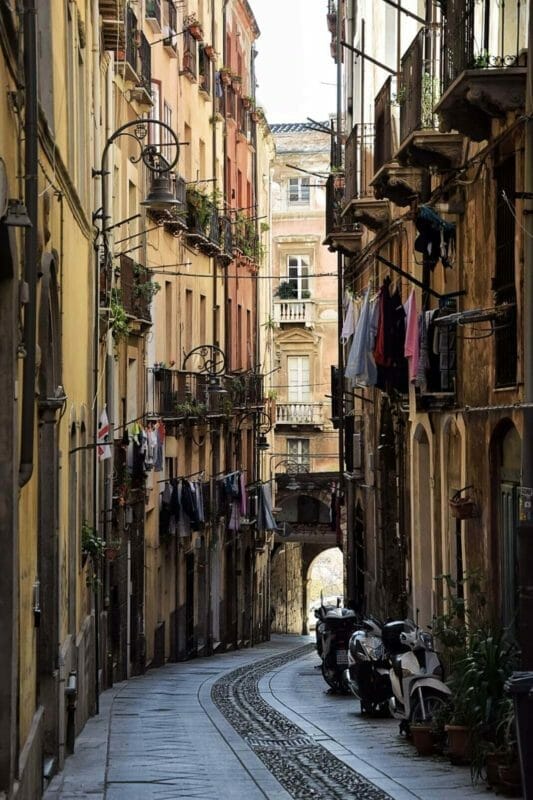 5 Walks In Cagliari To Discover The City
Castello Historic District
Of all the historic districts in Cagliari, Castello is the most pleasant one for a walk. This is where you will find some of the most famous landmarks in Cagliari, as well as some of the most incredible views of the city – in fact, my favorite sunset spot is in Via Santa Croce!
Many buildings in Castello are derelict – but that only adds to the charm. Others have been beautifully restored. The area is still very much local, with a few nice cafés and bars, the odd restaurants and art gallery or shop.
Opt to start your walk from Porta Cristina, the entry gate to Castello. From there, you can either head to the Cittadella dei Musei where the Archeology Museum is located, or to the St. Pancrazio Tower, from where you can enjoy marvelous views.
You can follow whichever alley you prefer – they will all eventually lead you to the Bastione after having passed by the beautiful Cathedral, and from there you can descend to the gorgeous Piazza Costituzione and either take it left and head to Villanova, or right to go towards the Marina and Stampace districts.
Let's take it left!
Along the Alleys of Villanova
Once you are in Piazza Costituzione, you have the option of taking Via Garibaldi, one of Cagliari's most popular shopping streets, or Via Sulis, which has been completely and beautifully restored in recent years. Continue walking and you will get to Piazza San Giacomo, one of the nicest squares in the city, and from there another stretch along either Via San Giacomo or Via San Domenico will take you to the beautiful Piazza San Domenico, at the end of which there is a nice cloister.
Villanova has lots of nice bars that locals love, small shops, restaurants and cafés and is one of the nicest spots for walks in Cagliari.
Sella del Diavolo Promontory
Any time the sun is out, Cagliaritani (that's how people from Cagliari are called) step outside to make the most of the good weather – yes, that happens even in city that is bless with so many sunny days. One of the perks of the capital of Sardinia is that nature is nicely intertwined in it, so you don't have to go far to enjoy a hike.
Take the bus number 6 to Calamosca (one of Cagliari's urban beaches) and at its back you will find the entrance to a trail that leads all the way up to Sella del Diavolo – Devil's Saddle, one of the city's most famous landmarks and an incredible viewpoint to admire Poetto Beach below.
According to legend, demons led by Lucifer fought over Cagliari against God's army, led by Archangel Michael, who managed to chase them away. Lucifer's saddle fell into the water of the gulf (incidentally called Gulf of the Angels) and as it calcified, the mountain took the shape of a saddle.
The trail to get to Sella del Diavolo is one of the nicest walks in Cagliari. It's easy to follow and well marked but I recommend wearing hiking or at least running shoes for that. Getting to the top and the many viewpoints can take you anything between 30 to 90 minutes, depending on how often you stop and how far you go.
From Calamosca, you can also reach the area of the lighthouse and St. Ignacio Fort. It's a great place for a walk if you want to get off the beaten path, and guided tours are great if you are curious to discover a lesser known part of the history of Cagliari.
A walk along Poetto Beach
This is definitely one of the best and most popular walks in Cagliari for the locals – throughout the year and – I'd dare say – regardless of the weather and time of day. Go at sunset time during spring and fall and you will see people of any age enjoying the views, stopping at one of the many bars, cheerfully chatting with friends. On any given Sunday during the winter this is the best place to catch a bit of air and forget about the city life.
We go to Poetto to run, bike, skate, walk, swim, bask in the sun and much much more – that's how much we love it.
The best bit is that Poetto Beach is incredibly easy to reach – any P bus departing from town (if you are staying in the historic center you can go to Piazza Matteotti or Via Roma) will take you to the beach and back. Get off at the first stop along the beach and start walking from there.
Birdwatching at Molentargius Nature Park
One final place to go for a nature walk in Cagliari is the Parco di Molentargius, one of the most beautiful nature reserves in Sardinia. Easily accessed from various places in town (the best one for you will probably be Poetto Beach) it can be explored on foot and by bike (just rent one at the entrance). The park is a great place to observe the beautiful pink flamingos that live in this part of Sardinia, as well as many other bird species.
Make sure to read my post A Complete Guide to Molentargius.
Guided Tours Of Cagliari
Cagliari is a safe city where it is pleasant to walk around, and for any of the walks mentioned in this post you'd need a guide. However, if you feel you need a bit more information about the city, you may want to join a guided tour – walking or not! Here are the ones I recommend:
Cagliari segway tour – the most popular and recommend tour in town.
2-hour sightseeing bike tour – a popular walking tour around the historic center of Cagliari.
Walking tour of the historical center – if you care to see the best of Cagliari on foot, this is the best tour.
Further Readings
Are you planning on visiting Cagliari? Make sure to check out my other posts:
Pin It For Later!