Are you looking for a Cagliari itinerary? I am a local, and I have you covered!
If you are planning to visit South Sardinia, you'll probably land at Cagliari Airport and use the city as a base for your adventures. You will probably also want to visit Cagliari and wonder, how long would it take to see every important attraction? What do I absolutely need to see?
If you want to enjoy the city to its fullest, and maybe even explore some of its hidden corners, a long weekend in Cagliari – for example, 3 days in Cagliari – will give you plenty of time. If you follow a strict schedule and plan to head out early, you can see a lot. The good thing about Cagliari is that the historic center is quite compact and easy to explore on foot, and getting out of the city is also fairly easy, so you can even take some day trips outside the city.
A Fantastic Cagliari Itinerary
Cagliari and its surroundings are full of history, inhabited since very early times. There is plenty to see and do during this 3 days Cagliari itinerary – in fact, chances are you will regret not having booked a longer stay!
From museums to ancient ruins, from the historical districts that bear the weight of the centuries with pride to the many churches and parks, and from the panoramic spots to the restaurants loved by the locals, you won't find yourself short of things to see, do, try and remember once your holiday is over.
Day 1 Cagliari Itinerary – The Historical Center
The first day of this Cagliari Itinerary will be spent visiting the ancient districts of Cagliari. The four historic quarters are a treasure chest for travelers, as they offer a variety of sights and attractions that span from Roman ruins to modern buildings.
Here's a list of the attractions you can't miss in each district.
La Marina
As the name suggests, this is the city marine district, founded by the Pisan to serve as the harbor. It was a fortified district inside the fortified town, so to protect it from every attack coming from the sea.
Despite the old walls having been destroyed, there is still plenty to do and see. La Marina is known as the night and shopping district: the most famous store is La Rinascente, a massive department store with lots of international and Italian brands; but there are plenty more. Among the main attractions, you can't miss Sant'Agostino, Sant'Eulalia, and Sant'Antonio churches.
For more information, read my post A Guide To Cagliari's La Marina District.
Stampace
The oldest among the four districts, Stampace was inhabited since the Roman era but became an essential part of Cagliari in the 13th century, under the Pisan. It was the merchants' area, where they lived and had their shops. Walking around its streets is always fascinating, as you can clearly see how lively it was – and still is.
You can't skip a visit to the Roman Amphitheater and Tigellio's villa, the Botanical Garden, and Sant'Efisio church. This last one is, despite being small and modest, the city patron Saint's temple, from where the procession in his honor starts every year on May 1st, marking the beginning of Cagliari's most heartfelt festival.
Last but not least, try and have a walk in Corso Vittorio Emanuele. It's filled with bars, restaurants, and shops, and it's the heart of nightlife in Stampace.
For more information, read my post A Guide To Stampace District.
Villanova
The most recent district out of the four. Villanova was the farmers' and artisans' district, and it's still adorned with all kinds of flowers and plants to keep the old traditions alive. Despite having a less interesting history, Villanova is full of wonders to discover: from the two museums (EXMA and Polveriera) to the many churches (among them, San Saturnino Cathedral is a must-visit!), you can't skip some hours there.
If you prefer more mundane activities rather than museums-hopping, you can go on a shopping spree in Via Garibaldi and Via Sulis.
For more information, read my post A Guide To Cagliari's Villanova District.
Castello
Castello is the high part of the city, it overlooks Cagliari and its gulf and it's the area that will need most of your time during this Cagliari itinerary, as it's full of things to see. It was the headquarters for the ruling classes throughout the centuries and many of their manors and residences are still there, ready to be visited.
You absolutely can't skip a trip to the Archeological Museum, the Cathedral, the two bastions (Santa Croce and Saint Remy), the watchtowers, and the promenade under Bastione di St. Remy. There is a lot more to see, though, so be sure to plan your day with care!
For more information, read my post A Guide To Cagliari's Castello District.
For a guided tour of the historic districts of Cagliari, click here.
Make sure to read my post The Best Things To Do In Cagliari.
Day 2 Cagliari Itinerary – Cagliari natural sites
The second day of your Cagliari itinerary will be spent in the city's natural sites, on its urban beach, and exploring some panoramic spots in the area. Poetto beach is the locals beloved escape plan. This is literally where we go whenever need to catch some fresh air, enjoy a snack or a coffee inside one of the many bars, or have a run and do some light sports.
Read my post A Full Guide To Poetto Beach.
While you are at Poetto, you can try and have a hike to Sella del Diavolo or Fortino di Sant'Ignazio – or both.
Sella del Diavolo – the Devil's Saddle – is a unique rock formation that resembles, you guessed it, a saddle. The legends say that it was Lucifer's saddle, which had fallen into the sea during a battle between demons and angels. The reality is that geology often creates incredible works of art: the hike to the top isn't too straining, and the view is breathtaking.
Check out my post A Guide To The Sella Del Diavolo.
Fortino di Sant'Ignazio is a military fort on top of Sant'Elia Hill. Designed in 1792 to stop the revolutionary French army from invading Cagliari, it was soon converted into a hospital for people affected by contagious diseases. The fort is now in ruins, but Sant'Elia hill hasn't lost its charm.
Hiking the hill is quite easy, not much more than a walk, and once you reach the top, you will be greeted by a spectacular view of the Gulf – after all, the place was chosen thanks to its strategical position! Sunsets are particularly stunning.
Make sure to read my post A Guide To Cagliari's Fortino Di Sant'Ignazio.
Another place in the area that you may want to see is Molentargius Park. It's a natural park, an oasis for waterbirds, from the most common to quite rare species, that find a safe place to rest and nest between the swamp's vegetation. Guided tours are available and recommended: if you want to see the pink flamingos and the other Molentargius inhabitants, it's better that you trust a guide, who will teach you all the tips – and etiquette! – for a pleasant visit that won't endanger the animals.
For a guided tour of Molentargius Nature Reserve, click here.
Head over to my post A Guide To Molentargius Nature Reserve.
Day 3 Cagliari Itinerary
Depending on your interests, you have the option of going on three different day trips out of town.
Option 1 – A day trip to Barumini and the Giara
The third day of this Cagliari itinerary would be spent on a trip outside Cagliari, visiting some of the most unique attractions the area has to offer. Your first stop will be the Barumini Nuraghe complex, a group of prehistoric ruins left behind by the Nuragic civilization, who used to populate Sardinia about 6000 years ago and built these typical, cone-shaped towers and the village surrounding them.
There are about 7000 nuraghe in Sardinia, all in different conditions – from the incredibly well-preserved ones, like Su Nuraxi of Barumini, to some piles of rocks in the middle of nowhere. Su Nuraxi is the most famous one – possibly because it's the one that has been the subject of most excavation and research.
The site can only be visited with a guide, and this will help you put everything in perspective. You can get a tour upon arrival – they depart roughly every 15 minutes from the ticket office, they are offered in various languages and are included in the price of the ticket.
Check out my posts A Guide To Su Nuraxi, Barumini, A Short Guide To Barumini and The Most Impressive Nuraghe In Sardinia.
The second stop will be the Giara plateau, a particular area of Sardinia that, due to its unique conformation, is host to plants and animals that can only be found there. The most famous examples are the Giara horses, which are smaller than normal horses (but not classified as pony), have dark fur, and are notoriously shy – as most wild animals are, anyway.
Dress comfortably for this day trip, you'll have a lot to walk and, despite there not being any challenging part, you are going to need lots of water and good walking shoes. Bring your camera too, there are plenty of incredible photo opportunities!
For more information about the Parco della Giara, click here.
For a guided day trip to Su Nuraxi and the Giara, click here.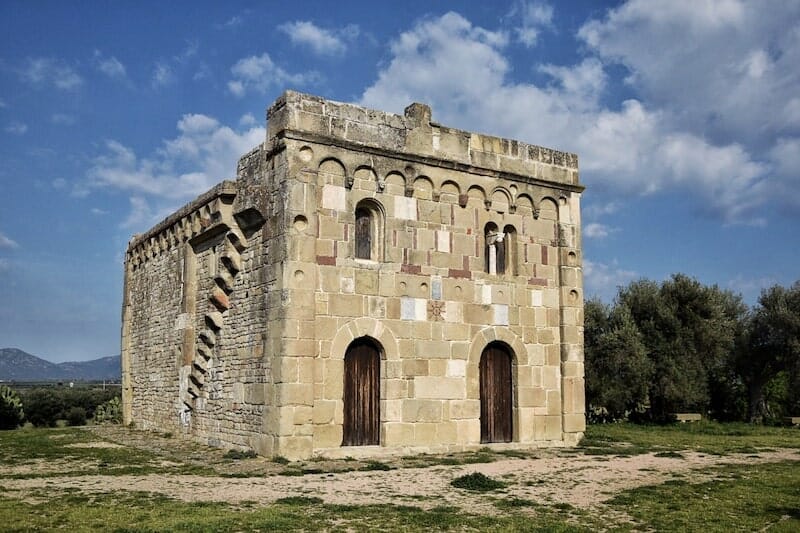 Option 2 – Wine, churches and more
Another option you could consider on your last day in Cagliari is heading to Serdiana, a lovely small town(about 20 minutes drive from Cagliari. It's a place I truly love – my mom was born there and part of our family still lives there.
Serdiana is home to some of Sardinia's best kept secrets. You will find a gorgeous Romanesque Church located in the countryside outside Serdiana – Santa Maria di Sibiola, where traditionally all members of my family get married; a salt-lake called Su Stani Saliu that home to unique bird species including pink flamingoes, and Argiolas Winery, which is one of the best in Sardinia.
Depending on what time you get to Serdiana, you can visit the church and the salt lake before or after your wine tour. Just make sure to book your wine tasting experience in advance by getting in touch with Argiolas Winery.
Make sure to read my post A Guide To Cantine Argiolas, Serdiana.
If you don't have a car, or would rather join a guided tour that included transportation, you may want to consider this tour here or here.
Option 3 – Roman sites and beaches
Finally, another option for an easy day trip out of town would be to check out the ruins of Nora, just outside of Pula, and then spend the rest of the day in one of the many beaches in the area, from Santa Margherita di Pula to the gorgeous Su Giudeu or even Cala Cipolla.
Nora is one of the best kept archeological sites in Sardinia and a fabulous example of the stratification of historic eras and cultures that characterizes the island. The site includes layers of Phoenician, Punic and Roman remains, and there are some beautiful mosaics to spot too.
Nora is about 50 minutes drive from Cagliari and very easy to reach if you have your own car. If you prefer not renting one and would rather join a guided tour, there are some that depart from Cagliari too. For more information, click here.
Make sure to read my posts A Complete Guide To Nora, A Short Guide To Pula, A Guide To Chia Su Giudeu Beach and A Guide To Cala Cipolla.
Practical Information
How to get to Cagliari and how to move around
Getting to Cagliari from mainland Italy or Europe is not difficult. There are plenty of flights from the main cities (Milan, Venice, Rome, as well as Barcelona, Paris, London, Amsterdam and more) that will allow you to travel comfortably and with your most fitting schedule. The flights, obviously, increase in number during the summer, but there are at least three days of the week when you can reach the island, all year round.
Check the price of flights to Cagliari here.
For the price and schedule of ferries to Sardinia, click here.
Once at Cagliari airport, getting into the city is easy. If you decide to rely on public transportation, there is a train station outside Cagliari-Elmas airport: follow the signs pointing "to the trains" and you'll be there in 3 minutes. Trains leave regularly and take about 10 minutes to get to town.
You also have the option of booking a private transfer that can take you all the way to your hotel – which is particularly convenient if you have luggage and don't want to dodge the hills and stairs of Cagliari historic center. You can book your private transfer from the airport here.
Check out my post How To Get From The Airport To Cagliari.
Once you are in Cagliari, you can use the urban line, called CTM, to get around the city. Their buses run quite often and cover pretty much all of Cagliari, including the beaches. Otherwise, your best option is a walk. Driving in Cagliari is not recommended: it's chaotic and anyway the historical center is a ZTL (no-cars zone).
For the day trip out of town recommended in this itinerary, you have the option of joining a guided tour which includes transport. But alternatively you can rent a car too. The best place to do that is the airport.
Make sure to read my post A Guide To Renting A Car In Cagliari or simply check out the prices of car rental here. Make sure to book your car well in advance to secure the best prices!
Where to sleep
There is no shortage of good places to stay in Cagliari, whatever budget you have. The ones below come highly recommended – by me!
Villa Fanny
An old noblemen's residence, Villa Fanny is your ideal place to stay if you want to be immersed in nature and comfort and don't mind spending some extra money. Everything is taken care of, the rooms are equipped with anything you might need, and the location is incredible. A little piece of paradise right inside Cagliari! Free Wi-Fi and airport shuttle service are also included.
Cramu Bed And Breakfast
Located nearby the Botanical Garden and the Roman Amphitheater, this B&B features all comforts, spacious and bright rooms, free Wi-Fi, and two breakfast options, buffet or Italian.
La Dolce Cagliari Holiday Home
Located in an excellent area of town, the place is equipped with all comforts, including free Wi-Fi and non-smoking rooms, and is close to Piazza Yenne and several other attractions. It's a great choice if you are planning to stay in the historical center and have everything in the palm of your hand.
For more accommodation options, read my post Where To Stay In Cagliari.
Where to eat
There are many incredible restaurants in Cagliari. The ones below are my favorite in the city, where I am a regular customer!
Framento Pizzeria – This is a nice pizzeria in the Stampace district. You will love their pizzas so much that I am sure you will want to visit again. Their prices are pretty budget-friendly (from €15 to €25 for a full meal, depending on what pizza you get) and the location is very fitting for a peaceful dinner after a day of adventures.
Sabores – One of my favorite small restaurants in Cagliari. Located in la Marina, it serves delicious, well-plated dishes, and with fair prices ranging from €10 to €30. Samuele will help you pair your meal with an excellent organic wine.
B-Liv – My favorite place in Cagliari Stampace district for breakfast, brunch, and lunch in B-Liv is the ideal stop whether you just need to grab a quick bite or want to sit down and enjoy a proper meal. The location is great, and the prices are fair.
Bombas – Located in Castello, Bombas is an excellent hamburger place where everything is made with local products: they take great pride in giving visibility to the area's farmers. Burgers are delicious and the potato chips are impossible to resist.
Make sure to read my posts The Best Restaurants In Cagliari, The Best Pizzerie In Cagliari, The Best Vegan Restaurants In Cagliari, The Best Wine Bars In Cagliari and Where To Stop For A Coffee In Cagliari.
Pin It For Later!