Are you looking for a budget accommodation for your trip to Sardinia? Well, in this case, you'll probably want to know if there are any hostels in Sardinia.
Unfortunately, there aren't many and some of them are far from the most populated cities. In fact, as an alternative to expensive hotels, many budget travelers decide to rent an apartment or book a guest house.
That said, I have selected the best hostels in Sardinia, so if you are really looking for a backpacker's experience, this is where to go.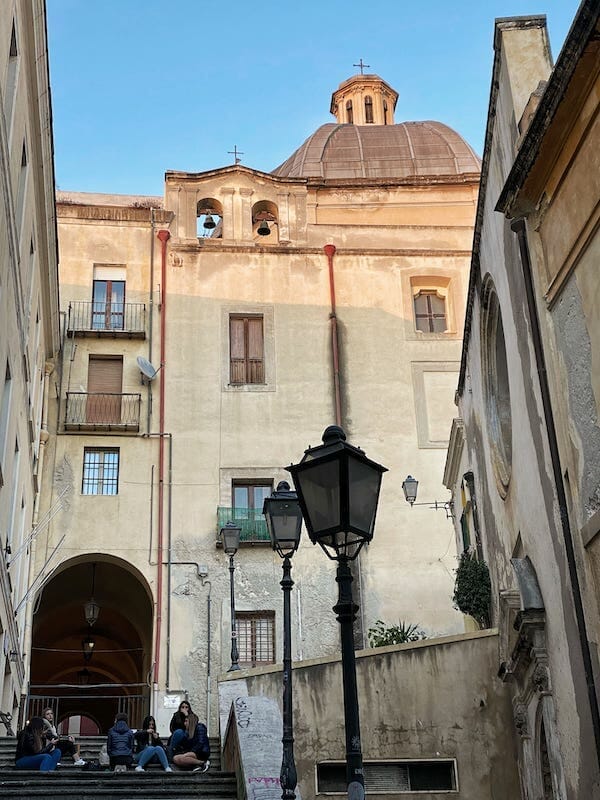 The Best Hostels in Sardinia
Hostel Marina Cagliari
Built inside a 14th century monastery, the Hostel Marina is a great budget accommodation in Cagliari, perfect to visit the city and the nearby locations. The Hostel is located in the historic city center, precisely in the Marina district, which is packed with restaurants where you can taste Sardinian dishes.
The hostel offers private rooms as well as twin, triple and quadruple rooms, great for couples or for groups. There are also male, female and mixed dormitories, both with six beds in total.
If you are traveling with your family or with a large group of friends, you can book the Family Room which has 6 single beds.
As for the services, the hostel has free WiFi, a bar and a 24-hour front desk, very convenient if you want to spend the night out in Cagliari.
Finally, as a local I have to add that the hostel is also one of the most active social places in the city, with regular events and exhibits. It's a great place to meet other travelers and locals alike.
Ostello di Cala d'Oliva all'Asinara
Located in Cala d'Oliva in the Parco Nazionale dell'Asinara, I recommend this hostel if you love nature and want to discover a wilder side of Sardinia. Since Asinara was once home to a high security prison, the hostel is located inside an old structure which was used as barracks for the jail guards.
The hostel has rooms with two or more beds, and only common bathrooms available for all guests. Breakfast and dinner are included in the price – the hostel indeed has a bar and offers common meals for all the guests – which you will need, since there are no actual restaurants in Asinara.
Keep in mind that the hostel has a functional decor, and also lacks amenities such as free Wifi. However, if you prefer nature to comfort, you will surely like this place.
Let me be clear: this is a very basic (though clean) hostel, and you can expect a very basic service. Don't expect gourmet meals (they are quite bland indeed).
I have stayed at this hostel multiple times and I can say it could do with some renovation works. It was once the only place to stay in the entire island. The recent opening of a new guesthouse in Cala d'Oliva will hopefully force the cooperative that manages the hostel to work a bit harder to please their guests.
One of the advantages of this hostel is the proximity to the coast and therefore, to various beaches such as Cala dei Ponzesi and Cala Sabina. An easy trail takes you to Cala Sabina in about 15 minutes.
As the hostel is located quite far from the harbors of Cala Reale and Fornelli, where ferries from mainland Sardinia dock, you will need to ask to be picked up. The hostel can help you arrange guided tours of the island too.
The hostel is not actually present on any booking site, so in order to make a reservation you need to send an email with your request.
Muma Sant'Antioco
Located in the city of Sant'Antioco, on the small island of the same name, the MuMa is a tidy and organized hostel with a sea view. It is very close to the city center and to various beaches of the island.
The Muma has double, triple and quadruple rooms, so it is a good accommodation option for couples, groups or families. Every room has a bathroom, hair drier and free WiFi.
The hostel also offers a continental, Italian or vegetarian breakfast, a bar, parking spots (free) a garden and a hall. You can also rent a bike directly in the hostel, so you can easily move around the island without a car.
On a positive note, the hostel also has what appears to be an art gallery and staff is actually truly nice and available.
Piccolo Catalunya Hostel Alghero
As said in the introduction to this guide, hostels in Sardinia are scarce, even in the major cities. In Alghero however, you will find the Piccolo Catalunya Hostel, which can be your budget HQ for your trip on the northern west coast of Sardinia.
The hostel is very close to Lido d'Alghero's beach, Maria Pia beach, Las Tronas Beach and the Alghero's marina.
It offers double, triple and quadruple rooms, as well as mixed and female dormitories with 4 to 6 beds. Included in the price of the room you will have a continental breakfast. You will also enjoy WiFi and the staff will help you arrange day trips and transfers around the area.
Glemerald Hostel Pula
Located in Pula, on the south-eastern coast of Sardinia, the Glemerald Hostel Pula is very appreciated by tourists, since it is close to the ancient city of Nora, one of the most important archeological sites of the island.
This small hostel has a wide garden with tables and chairs, a bar, a restaurant, free parking spots and free Wifi.
As for the rooms, the Glemerald Hostel has family rooms (4 single beds and 1 double bed), double rooms, triple rooms (1 single bed and 1 large double bed) and quadruple rooms (4 single beds or 2 single beds and 1 double bed).
You will be able to enjoy a good breakfast included in the price of your stay, as well as use the WiFi. The hostel also helps arrange guided tours of the area and transfers to and from the airport.
A Few Words On Hostel Sardinia, Quartu S. Elena
Quartu Sant'Elena is a city located a few miles from Cagliari (in fact, by now the cities expanded so much that they border). Here you used to find Hostel Sardinia, one of the most popular hostels in Sardinia. Unfortunately the hostel has recently been closed, and the owners are focusing on more boutique stays near Cagliari's Poetto Beach.
Further Readings
For more options on places to stay in Sardinia, read the following posts:
Pin It For Later!