Su Giudeu is one of the most famous beaches in the area of Chia, in the southwestern tip of Sardinia. Locally known as Spiaggia di Su Giudeu, this gorgeous sandy beach is the continuation of S'Acqua Durci (fresh water, in Sardinian) beach, from which it is separated by a small rocky reef. This paradisiac beach is a favorite of locals and tourists alike, and gets really crowded in the summer months with day-trippers from Cagliari.
The beach is so breathtakingly beautiful that it's been the set of many movies and commercials – with typical scenes of castaways ending up in a tropical island and unable to get out.
Well I have good news for you: Su Giudeu is even more beautiful in real life than it is on screen. And better news even: contrary to what TV commercials suggest, the beach is actually very easily accessible.
Curious to find out more? Continue reading!
Everything You Need To Know About Su Giudeu Beach
Su Giudeu Beach, Chia
Su Giudeu is a gorgeous 600 meters long sandy beach in the municipality of Domus de Maria, in Southern Sardinia. The beach is characterized by the most beautiful, golden fine sand and pristine, clear waters, nicely shallow – thus being a perfect place for families with children who have the perfect environment to play endless games!
Su Giudeu is accessible to disabled and wheelchair users.
At the back of the beach there is a lagoon where – depending on the season: it usually dries out with the summer heat – pink flamingoes can be spotted. Surrounding the beach you'll see beautiful Mediterranean bush and sand dunes, which – much like other dunes in Sardinia – are protected and not accessible.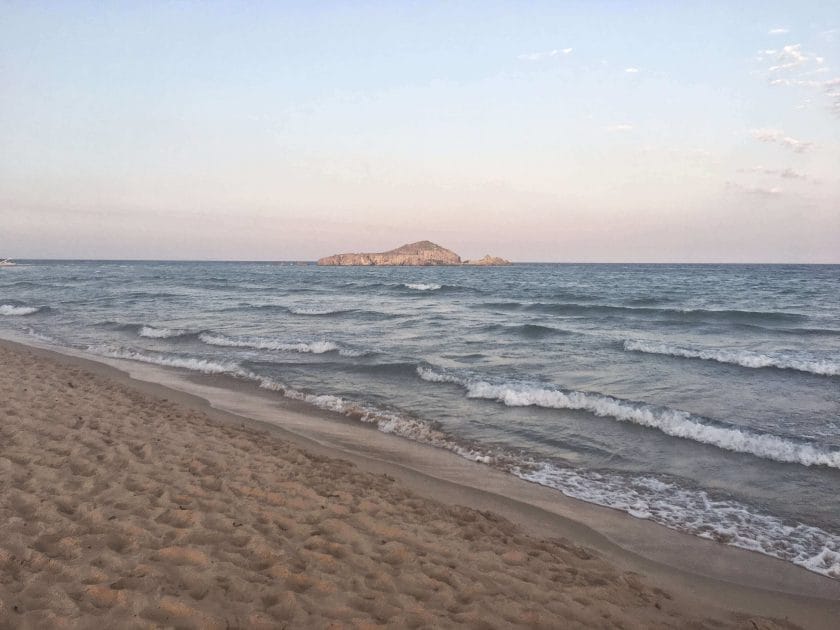 Facing the beach there is a small island which – depending on the tide – can be reached on foot. You can easily go up to admire the views and explore, but you will need rock shoes to wander around!
As it is very exposed to the wind, Su Giudeu is a favorite surfing spot for locals in the winter months. On the other hand, when the wind blows during the summer it's almost impossible to stay, as sand flies literally everywhere.
The beach is equipped with several kiosks serving food and drinks; places where you can rent umbrellas and sun-beds as well as pedal boats, and whatever else you may need for a fun day in the sun. Located in the nearby Chia Laguna Resort you will also find a diving center and a place to sign up for horse riding experiences.
Toilets are located near the parking lot, right before getting to the beach, and require a small fee of €0.50 for maintenance.
How To Get To Su Giudeu
The best way to reach Su Giudeu beach is by car.
From Cagliari, take SS 195 towards Pula. Turn left on Viale Chia and continue driving for a few more km, then turn left on Viale Spartivento until you reach Hotel Aquadulci, where you will be able to spot the lagoon.
There are various parking lots close to the beach. The closest ones are more expensive and get filled up more quickly.
Don't want to rent a car? Why don't you join a guided tour of Chia and the nearby beaches departing from Cagliari? For more information, click here.
Other Useful Information
Here is some more information that will help you make the most of your day at Su Giudeu.
AVOID ON WINDY DAYS – Honestly, unless you are a fan of the wind and being covered in sand from head to toe and even in your mouth, this is not the place to go on a windy day.
DON'T TAKE SAND – It is forbidden to take sand, shells, pebbles and stones from Sardinian beaches. If you are caught with it, you'll get a fine.
DON'T WALK ON THE DUNES – I know what you are thinking: it's just sand. But is it, really? Beach dunes are actually barriers against wind, storms and the natural living environment of many more species of vegetation and wildlife you may imagine. Dunes are protected in Sardinia, and usually fenced – they certainly are in Chia and Su Giudeu beach, and there are signs that say walking on them is prohibited. Yet, I regularly see people who jump the fence to take a photo or – worse – to take their child to pee (that's when there are toilets nearby). Just don't be that person, and don't walk on the sand dunes!
ONLY LEAVE FOOTPRINTS – Garbage bins are scattered along the beach, separating organic waste from plastic, cans, glass etc. Use it for smaller items and bring any larger items home with you.
Other Nearby Beaches
Sa Colonia, Porto Campana and Chia are the natural continuation of Su Giudeu beach. If you walk all the way to the northern side of the beach, you will get to the Aragonese watchtower too!
On the other hand, if you walk across the promontory to the south, you will get to Cala Cipolla, a small cove nicely sheltered from the wind (a much better spot to hang out on windy days).
Further away from Cala Cipolla, you can walk all the way to Capo Spartivento where you can see a lighthouse now turned into a luxury hotel and, from there, go all the way to Perda Longa, a lesser visited beach.
Check out my post The Best Beaches In Chia.
Where To Stay In Chia
Most people in Chia stay in one of the many resorts, but there also are a few good villas you can easily rent. The following are just a couple of options:
VILLA SA ROCCA MANNA – A gorgeous villa by the sea perfect for a family or group of friends; it's equipped with anything you may need for a perfect stay.
FARO CAPO SPARTIVENTO – If you can splurge, this is the best hotel in the area.
AFFITTACAMERE LE RONDINI – A nice guest house in nearby Domus de Maria for a more budget friendly option.
Make sure to also read my post The Best Hotels In Chia.
Further Readings
Spending your holidays in Sardinia? Make sure to read my other posts:
Pin It For Later!