Spigola alla vernaccia – sea bass in vernaccia wine – is an incredibly simple, yet tasty dish you will often find served at restaurants and trattorie in Cagliari and southern Sardinia. It's a recipe that carefully mixes the delicate flavor of fresh Mediterranean fish with that of olives and of the vernaccia wine it is cooked with.
Typically prepared in the oven, this dish can also be cooked in a pan and even baked in oven paper – the latter being a method that will further help preserve its juices.
Making a good spigola alla vernaccia is actually very easy. Just follow this recipe!
Tips To Make Spigola Alla Vernaccia
Use Vernaccia wine
Vernaccia is a Sardinia-only wine and it has quite a unique flavor. If your local wine shop doesn't sell it, try to buy it online – Contini and Silvio Carta are two of the best local producers and there are some online wine shops that sell their bottles.
If that doesn't work, substituting it with another dry white wine is definitely an option but keep in mind the taste won't be exactly the same.
Use the whole seabass
For this recipe, it's actually best that you use whole fish and not just the fillets. You can ask your fishmonger to clean the fish of its stomach and intestines for you.
Don't scale the seabass
Most recipes will suggest you do, actually. However, I find that keeping the sea bass scaled will keep its meat juicier, and taking the skin and bones off will be immensely easier once it's cooked.
Use sea bream if you prefer
You certainly can use sea bream for this recipe. Keep in mind sea bream a less fatty, much drier fish compared to sea bass, so adjust the cooking time accordingly to make sure it doesn't dry out.
Add sun-dried tomatoes for extra flavor
For an even more flavorful dish stuff the stomach with it.
Yield: 4
How To Make Spigola Alla Vernaccia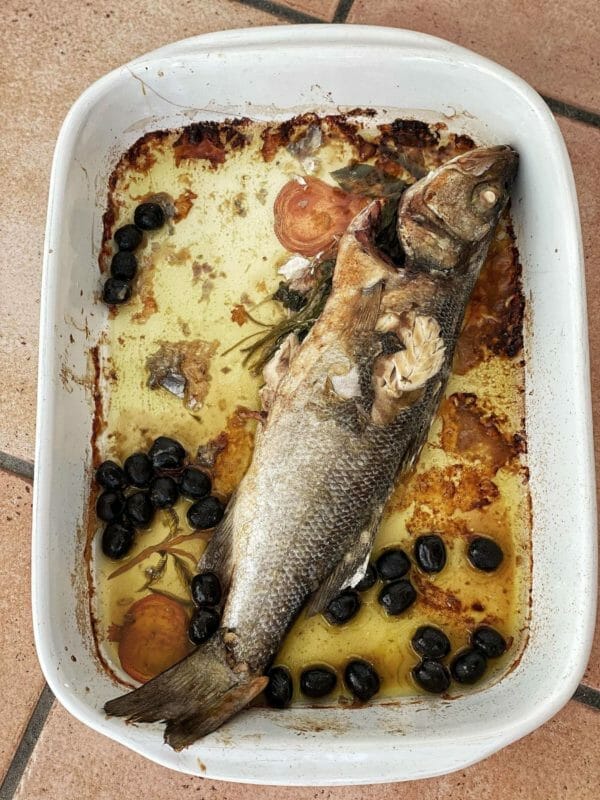 A quick recipe for a successful spigola alla vernaccia.
Ingredients
2.2 pounds (1 kg) whole sea bass
1/2 cup (70 gr) of black olives
1/2 cup (100 ml) of extra virgin olive oil
1 cup (200 ml) of Vernaccia wine (200 ml)
1 clove of garlic
Parsley
Salt
All purpose flour
Instructions
STEP 1 - CLEAN THE SEA BASS
Clean the sea bass by taking out its stomach and intestines. Wash it under cold water.
STEP 2 - FLOUR THE SEA BASS
Pre-heat the oven at 356°F (180°C).
Mix the flour with the salt and lightly cover the fish with it, then stuff the sea bass with the garlic - which you should keep in large chunks - and the parsley.
STEP 3 - ADD THE OTHER INGREDIENTS
In a large baking tray, pour the olive oil, then lay the fish.
Add the olives and pour the wine.
STEP 4 - COOK THE SEA BASS
Place the tray in the oven. After about 20 minutes, turn the fish and continue cooking on the other side. If you see the sauce is drying up, add a bit more wine.
Notes
Cooking time varies depending on the size of the fish and on the kind of tray you use.
Nutrition Information:
Yield:
4
Serving Size:
1
Amount Per Serving:
Calories:

232
Total Fat:

4g
Saturated Fat:

1g
Trans Fat:

0g
Unsaturated Fat:

2g
Cholesterol:

29mg
Sodium:

200mg
Carbohydrates:

25g
Fiber:

1g
Sugar:

0g
Protein:

17g
Further Readings
For more recipes, you may want to read the following posts:
Pin It For Later!