Each country has its own tomato and egg typical dish, and in Sardinia that is pani frattau.
There is a saying here in Sardinia (in fact, in Italy) that good food should never go to waste. Some of the best recipes in Italy were invented this way, and this is very much the case with pani frattau (which some also call pane frattau). The dish was indeed invented by Sardinian shepherds with the objective to use up old and broken pieces of pane carasau bread – the wafer-thin and incredibly crispy flatbread that is typical of Sardinia.
Frattau (or vrattau, depending on where you are in Sardinia) in fact means "broken."
Now, without further ado, let's get to the recipe for pani frattau. You will see that it is very easy to follow.
Tips To Make And Eat Pani Frattau
Soak the bread in broth
Pani frattau is prepared by soaking pane carasau in broth, topping it with a thick tomato sauce and grated Sardinian pecorino cheese, and a poached egg. The kind of broth used varies from place to place – traditionally, it would have to be mutton broth, but that is on the heavy side. A vegetable broth is a quick and easy alternative, and if you are in a hurry you can simply soak the bread in water.
Don't compare it to pizza
Often compared to pasta or even to pizza, if you decide to try it (and you really should!) you will see that pani frattau is actually very different from either of them. The only thing it has in common with a pasta or pizza dish is that is is incredibly satisfying, both to the palate and to the body – a real energy boost indeed.
Pani Frattau is best eaten at diner
The dish would traditionally be eaten for dinner – that's when the shepherds would go back home with their leftover pane carasau to use for the recipe. Yet, like most egg dishes, it makes for a fantastic brunch or for a very nutritious lunch. Pair it with a glass of Cannonau for perfection.
Use pani carasau
The best would obviously be the one you can buy fresh locally, but I suppose that's not an option for most. You should be able to get it at a good Italian grocery store. Alternatively, you can order it on Amazon here.
Yield: 2
How To Make Pani Frattau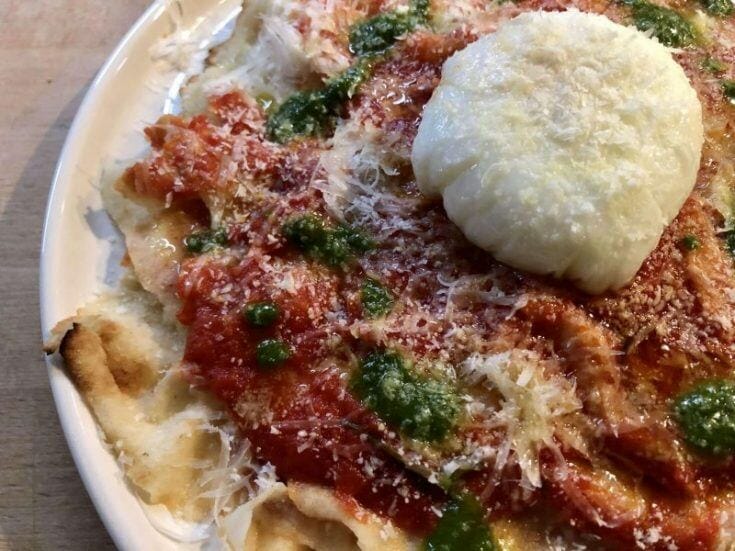 A traditional recipe, with the use of a vegetable broth instead of the classic sheep broth.
Additional Time
5 minutes
Total Time
1 hour
20 minutes
Ingredients
For the tomato sauce
3 cloves of garlic
2 tablespoons of extra virgin olive oil
1 sprig of rosemary
1 sprig of thyme
3 pinches of fine salt
2.5 cups (600 grams) of tomato sauce
For the broth
1 onion
3 carrots
1 celery stick
1/4 cup (25 grams) of porcini mushroom
6.5 cups (1.5 liters) of water
For the basil sauce
15 basil leaves, washed
5 tablespoons of extra virgin olive oil
1 pinch of salt
Other ingredients
2 fresh eggs
Water to cook the eggs
1/3 cup (30 grams) of grated pecorino Fiore Sardo
1/2 grams (80 grams) of grated semi-seasoned pecorino
3 or 4 sheets of pane carasau bread
Instructions
Step 1 - Prepare the tomato sauce
Peel the garlic and fry the whole cloves with oil and rosemary for a couple of minutes, then and add the tomato puree and a little salt.
Cook over low heat for half an hour.
Step 2 - Prepare the broth
Cut the celery stick, carrots and onion into pieces.
Put the ingredients in a pot together with the dried mushrooms and cover with 1.5 liters of water.
Bring to the boil, then cover with a lid and cook over low heat for one hour.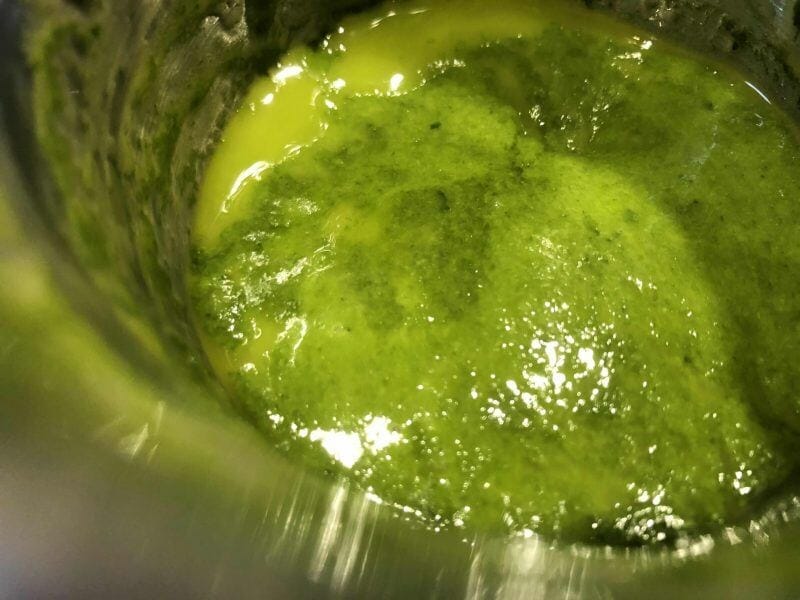 Step 3 - Prepare the basil sauce
Put the basil leaves with the oil and salt in a blender and blend everything.
Step 4 - Prepare the poached egg
Heat the water in a saucepan.
Place some cling film in two bowls and grease with a little oil.
Break the eggs and pour them into the cellophane.
Close the cling film and tie with a piece of string.
Put the eggs in hot water and let it cook for about 5 minutes.
Immediately remove from the water once ready to prevent them from continuing cooking.
Step 5 - Prepare the dish
Soak the pane carasau bread in the broth for 30 seconds.
Place a layer of bread on a dish and put a little sauce and fresh grated pecorino cheese on top.
Make 3 layers.
In the third layer also add the pecorino fiore sardo cheese and the basil sauce.
Finally place the poached egg on top with the addition of a little salt.
Serve hot!

Notes
The secret for a perfect dish is to prepare the layers while cooking the egg and immediately lay the egg on top when ready.
Nutrition Information:
Yield:
2
Serving Size:
1
Amount Per Serving:
Calories:

914
Total Fat:

71g
Saturated Fat:

19g
Trans Fat:

0g
Unsaturated Fat:

49g
Cholesterol:

336mg
Sodium:

2756mg
Carbohydrates:

41g
Fiber:

10g
Sugar:

18g
Protein:

34g
Where To Eat Pani Frattau In Sardinia
To be honest, this is not a dish you will easily find on a restaurant menu. You will really have to go to restaurants that only serve very traditional Sardinian food, or request it specifically. Having said so, here is a selection of restaurants where you should be able to taste it:
PANI E CASU – one of the best traditional Sardinian food restaurants in Cagliari.
MEC PUDDU'S – a Sardinian fast food chain that pairs dishes prepared with local ingredients with fast service and very reasonable prices.
SU CUMBIDU – one of the most popular restaurants located in Cagliari's La Marina quarter, it offers good food in an easygoing environment.
PANEFRATTERIA – located in Sassari, the name is a clear indication of what this place specializes in. You will have several options to choose from, aside from the traditional one.
IL RIFUGIO – in the heart of Nuoro, they serve pani frattau and the prices are more than reasonable.
You can also make a request for pani frattau at any good agriturismo.
Further Readings
For more readings about Sardinian food and wine, check out these posts:
This post was written by Strictly Sardinia contributor Gianni Simonetti. All photos in this post to be credited to Gianni Simonetti. Make sure to check out his Instagram channel for more delicious recipes.
Pin It For Later!