Spaghetti con le vongole (internationally known as spaghetti with clams) aren't a Sardinian food – at least not in their classic version. In fact, the dish originated in Campania – the region where Napoli is, that is.
Yet, it's a very common dish to find in the best restaurants in Cagliari – and beyond – where a more local version of them is usually on the menu, often called "spaghetti con le arselle" (though we make them with vongole, clams in English) and with a touch of grated bottarga (dried and salted fish roe, also known as Sardinian caviar) for extra flavor.
If you want to prepare this very simple, comforting seafood dish, you are in good hands. I will tell you all the secrets to the tastiest, creamiest (with no added cream!) spaghetti con le vongole à la Sardinian.
How To Make Spaghetti Con Le Vongole
You don't need to add extra salt
Other than the salt you use for the pasta, you will see this recipe doesn't call for extra salt. Clams are salty enough to give the dish a full flavor, so if you add salt it may end up being too salty. Just taste the sauce before adding sauce and you'll know what I mean.
Only use spaghetti
For this specific recipe, you will want to use spaghetti, linguine or bavette – as long as they are top quality. Fresh pasta, egg pasta or short pasta won't give the dish justice.
Soak the clams
Nowadays, most of the time clams come already clean fresh from the fishmonger. However, there is always the chance of a bit of sand so, unless you want your spaghetti with clams and sand, make sure to soak them for a while, and drain them properly before cooking them.
Don't pick all the clams from the shell
For this dish, you really should leave at least some of them in their shell. It adds to the dish and the fun of eating it!
Don't add too much oil
There really is no need. Extra virgin olive oil has a strong flavor and may end up covering that of the clams and of the other ingredients.
Add some spice
In fact, I actually recommend dried cayenne pepper for this dish. Just cook a tiny amount with the garlic sauce for that extra touch – remember to take out the seeds as they are the hottest bit, and if you use too much it will cover the other flavors.
Don't add parmesan
No. NO. N.O.! This would be a fatal mistake; it would completely ruin the dish. Any cheese, even Italian-famous Parmesan cheese, has a strong, overpowering flavor that completely covers the delicate one of the clams.
Or basil
Again, this is a no no. Basil is quite strong in flavor and while Italians love it, not all dishes call for it. Stick to flat-leaf parsley for a perfect dish.
Yield: 5
Spaghetti con le Vongole recipe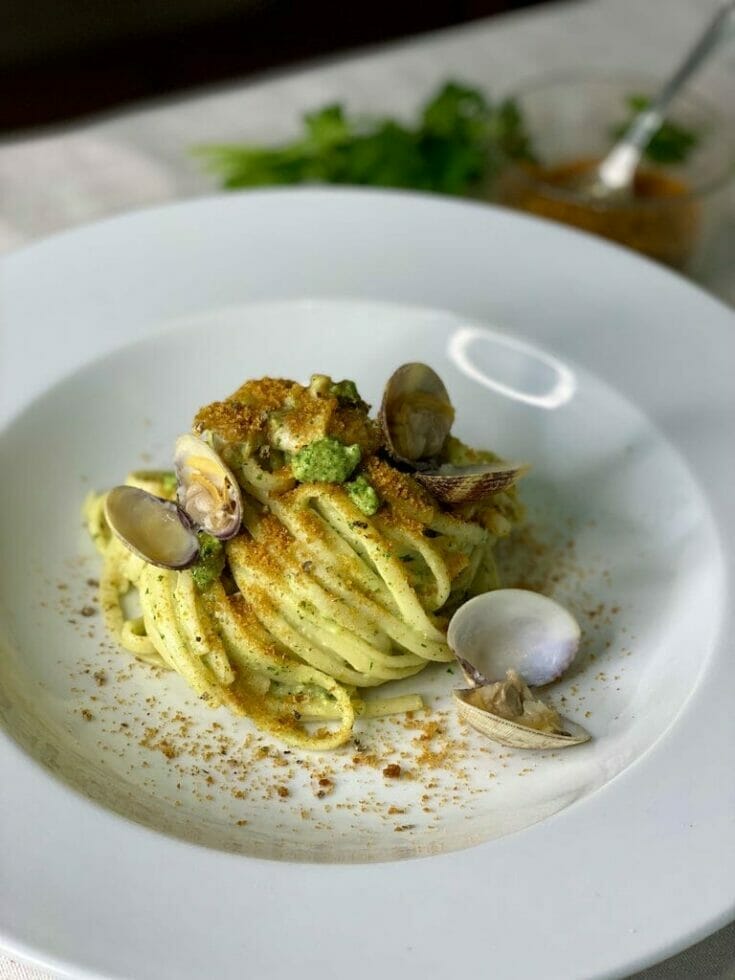 An easy to follow recipe to prepare spaghetti con le vongole at home - the Sardinian way.
Total Time
1 hour
11 minutes
Ingredients
0.8 pounds (360 grams) spaghetti or linguine
3 cloves of garlic, chopped
4 tablespoons of extra virgin olive oil
2.2 pounds (1 kg) fresh, clean clams
1 bay leaf
salt for the pasta water
For the final dish
Finely chopped parsley
5 teaspoons grated bottarga
white pepper to taste
Instructions
STEP 1 - SOAK THE CLAMS
Clams should come already clean when you buy them, but I still recommend they don't have any sand, so it's best soak them in water for about one hour to fully purge them.
STEP 2 - COOK AND PICK THE CLAMS
Boil the water to cook the pasta
In a large pan, warm up a clove of garlic and the bay leaf.
When the pan is properly hot, add the clams and place a lid. Let them cook for a few minutes, until they open.
Once they do, pick them out one by one, tossing any that hasn't opened at all.
Keep some of them with the shell, for serving, and make sure to also save the water the clams have released when they cooked: filter the water with a kitchen cloth to remove any leftover sand.
STEP 3 - PREPARE THE GARLIC SAUCE
Chop the two remaining cloves of garlic in half and place them in a small pot with cold water. As soon as the water boils, throw it away. Repeat this process for three times.
Once done, place the cooked garlic in a mixer with parsley, two teaspoons of bottarga, two spoons of extra virgin olive oil, and a ladle of clams water. Blend and set aside.
STEP 4 - COOK THE PASTA
Once the water boils, throw in the pasta. Meantime, warm up the remaining water from the clams in a pan with the remaining olive oil.
Drain the pasta one minute before full cooking time and skip it with the clam water on high heat. Once it's cooked, add the clams and the garlic cream.
STEP 5 - SERVE THE PASTA
Serve the spaghetti with clams by adding some clams in their shell, the remaining bottarga, white pepper and some more garlic cream.
Nutrition Information:
Yield:
5
Serving Size:
1
Amount Per Serving:
Calories:

545
Total Fat:

16g
Saturated Fat:

2g
Trans Fat:

0g
Unsaturated Fat:

10.8g
Cholesterol:

134mg
Sodium:

2525mg
Carbohydrates:

41g
Fiber:

2g
Sugar:

1g
Protein:

56g
Further Readings
For more recipes, you may want to check out these posts:
Pin It For Later!